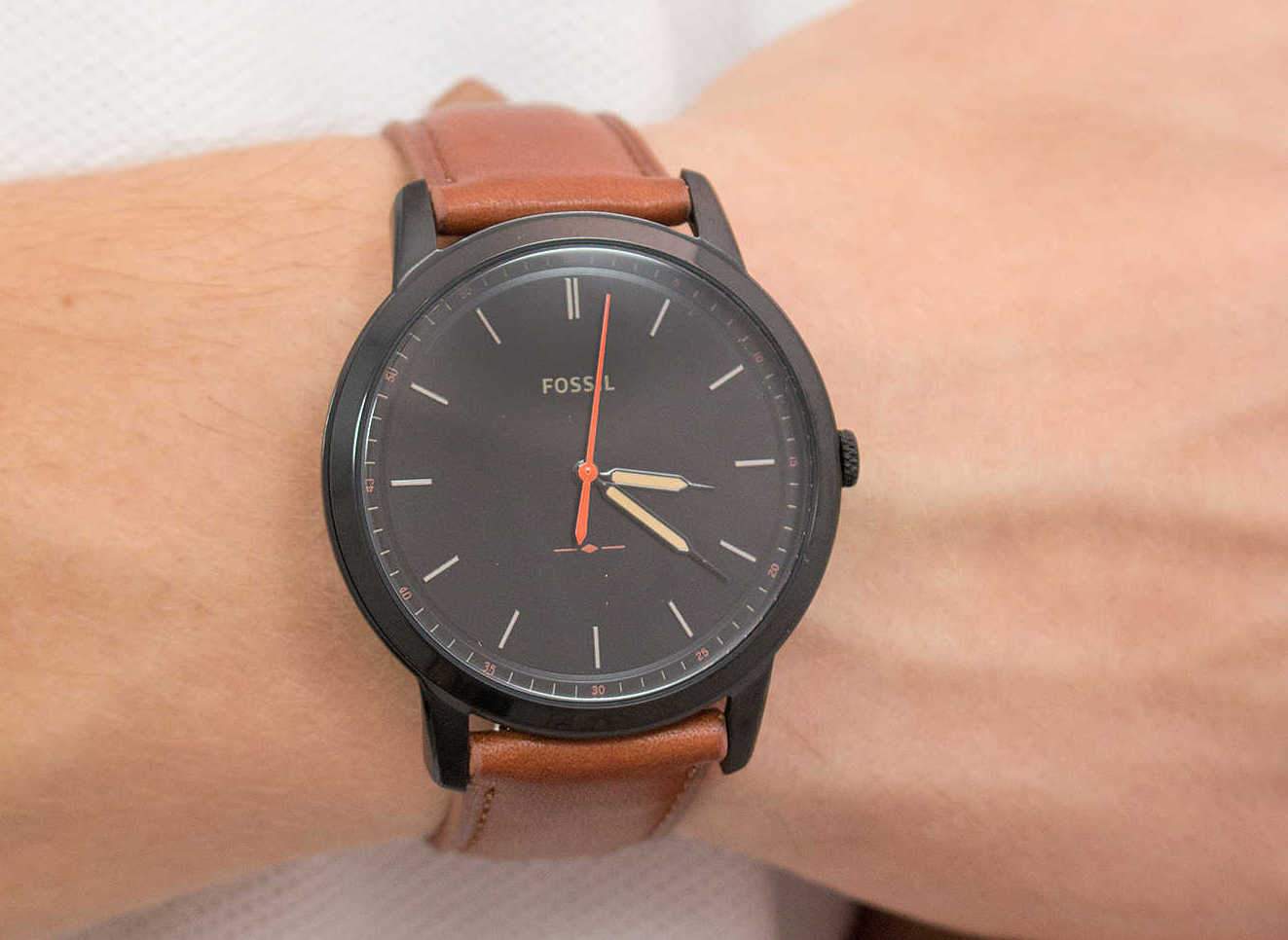 Fossil's FS5305, deemed "The Minimalist" by the American watchmaker, is equally notable for its thin case design and its striking modern aesthetic. Although Fossil has a multitude of colors and strap designs in its Minimalist collection, today we will be evaluating the black-dialed three-hander with the light brown leather strap. Fossil attempts to apply a minimalist philosophy to every element of the watch, including the case, strap, and dial. The style of this watch is very reminiscent of the Fossil Groups' Skagen brand watches, known for their modern and simple Scandinavian designs. The simple quartz movement so common to Fossil watches also fits in with that theme, although this probably wasn't as intentional as the other elements.
> > > Click here to see ratings, reviews, specifications and prices on Amazon < < <
Minimalist Case
The black stainless-steel case is remarkable for its combination of large diameter and thin profile. Matching that theme is the thin crown situated at the 3 o'clock position. Viewed from the side, this case is barely thicker than the strap it comes with. A solid case back uses an uncluttered design, notable mainly for its silver-finished interior which stands out against the rest of the black case. At 44 millimeters in diameter, the case sits large on the wrist, although this is a fairly normal size for Fossil watches these days.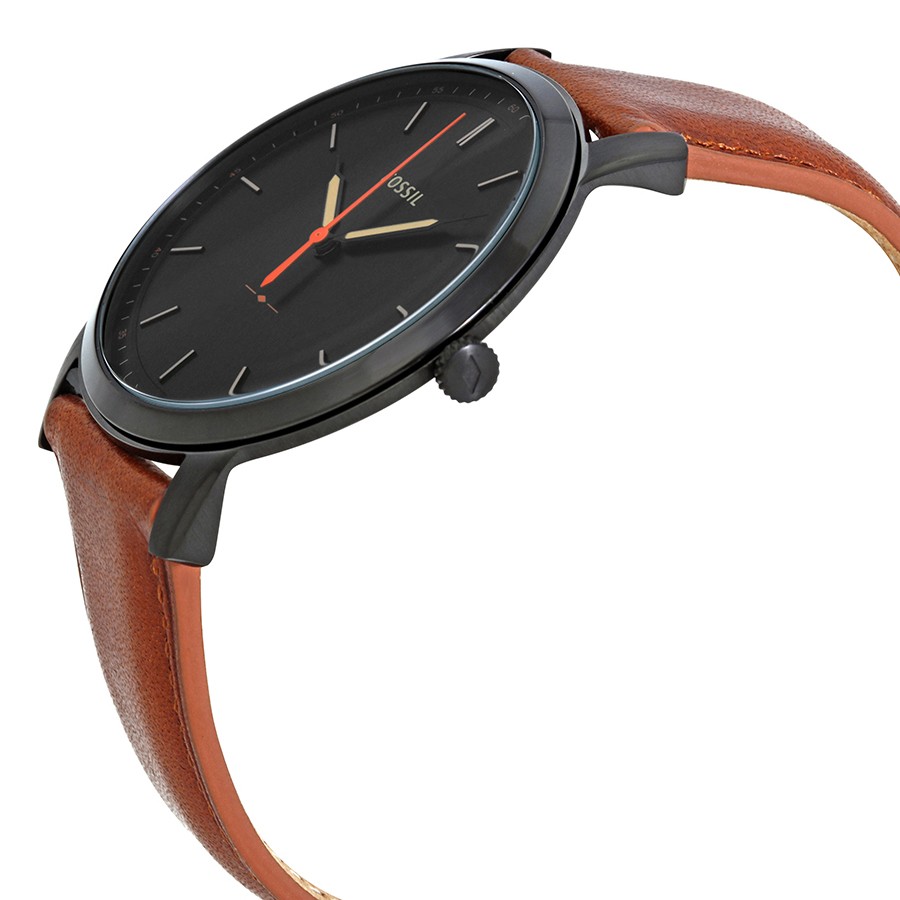 Water resistance is rated at 50 meters, meaning the watch is suitable for some light recreational swimming, although I wouldn't try it, especially as it is not a great environment for a dress watch in the first place and Fossil recommends against submerging the leather strap. The mineral dial is paper-flat against the stationary outer bezel, keeping the design as thin as possible. This really is an ideal case for anyone who is easily annoyed by their timepieces snagging on a dress shirt.
Sharp Dial
The FS5305 Minimalist uses a nice, clean dial design, as you would expect on a watch with such a name. We have some sleek khaki-colored hour markers, with matching minute markers punctuated by orange numerals on the outer chapter ring. Repeating the orange theme is a nice little dash-arrow-dash design under center.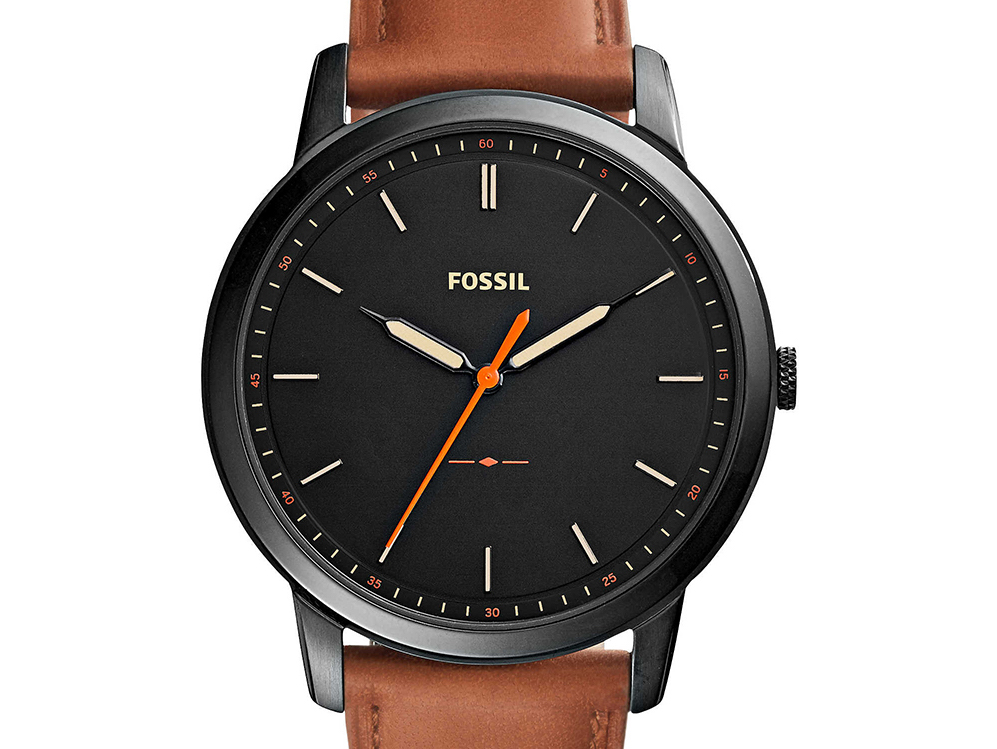 > > > Click here to see ratings, reviews, specifications and prices on Amazon < < <
The large orange seconds hand stands out strongly on the dial, even next to the orange markings on the dial. The hue is a bit too bright for this dial, in my opinion. It is definitely the most striking element on the watch, and just seems a tad too aggressive for such an otherwise understated design. "Fossil" is prominently written across the top of the dial, directly between the center of the watch and the dual hashes serving as the 12 o'clock markers. You might be surprised at how large the dial is, as it takes up most of the case's 44 millimeter width; the thin fixed bezel takes little space away from the dial.
Soft Leather Strap
A soft, 22-millimeter wide leather strap looks attractive on this watch with its light, orange-tinted color that complements the seconds hand in a subtle way. Fossil has designed this to be an interchangeable strap, directing shopper to its wide range of strap options that will fit the Minimalist.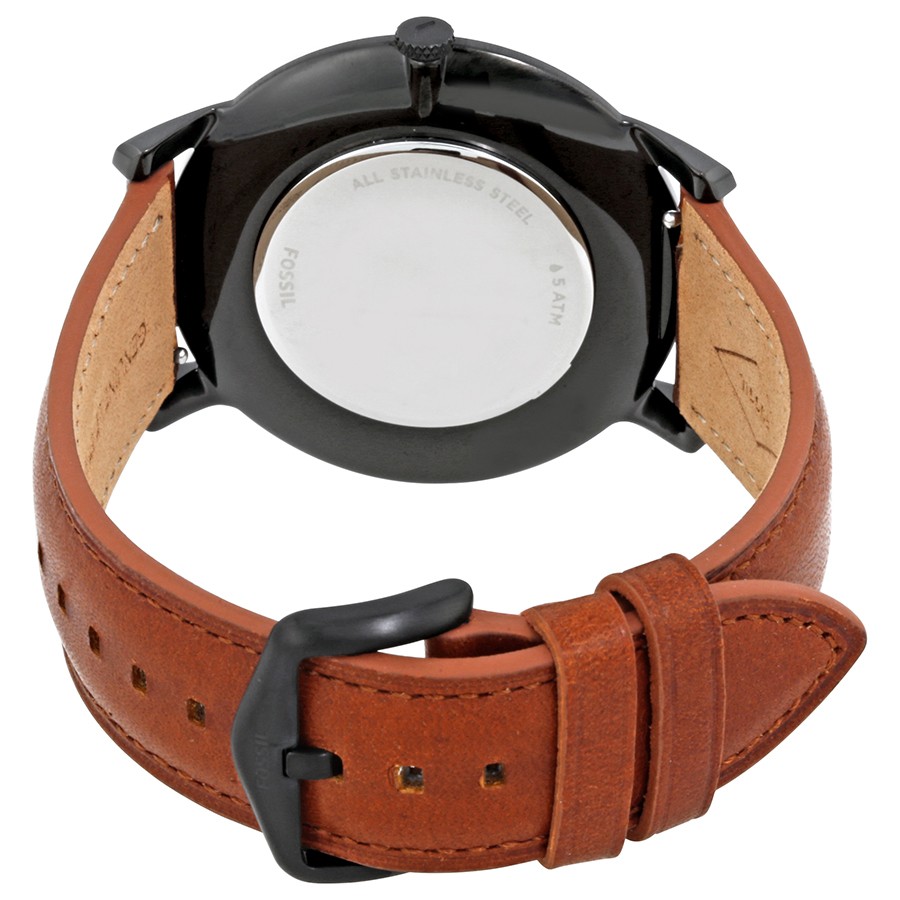 I find that this strap fits in very nicely with the design of the watch and wouldn't be tempted to shop around unless it wears out prematurely or if you prefer not to wear animal products. The buckle and tang are composed of the same black stainless-steel material as the case, although I think a silver finish matching the inner circle of the caseback would have looked great as well.
FS5305 Quartz Movement
Analog quartz movement provides the following complications: hours, minutes, and seconds. Any additional functions would betray the name of the watch, I suppose. There's really not a lot to discuss when it comes to this movement; Fossil plays coy on their website, preferring not to discuss the intimate details of the origin. This leads one to conclude that they have installed a rather cheap quartz product, most likely of Asian origin. I see no reason so surmise, however, that this will be an especially inaccurate or unreliable movement, just that it is most likely not highly refined.
Final Thoughts
Having owned a quartz Fossil watch coming in at a similar $115 MSRP, I feel fairly qualified to lend my opinion on the value of the FS5305. I have found my Fossil to be an attractive and reliable timepiece over the past approximately 5 years, needing only battery replacements to keep it ticking away. Most shoppers probably don't intend for their Fossil watches to be multi-generational family heirlooms, so judging from my personal experience as well as a much wider sampling of reviews online, I would surmise that this is a good value proposition. Fossil backs up its product with a 2-year limited warranty. There are no fancy crystals or movements involved, but the watch doesn't pretend to be anything more than a fashionable dress watch for the modern gentleman.
> > > Click here to see ratings, reviews, specifications and prices on Amazon < < <