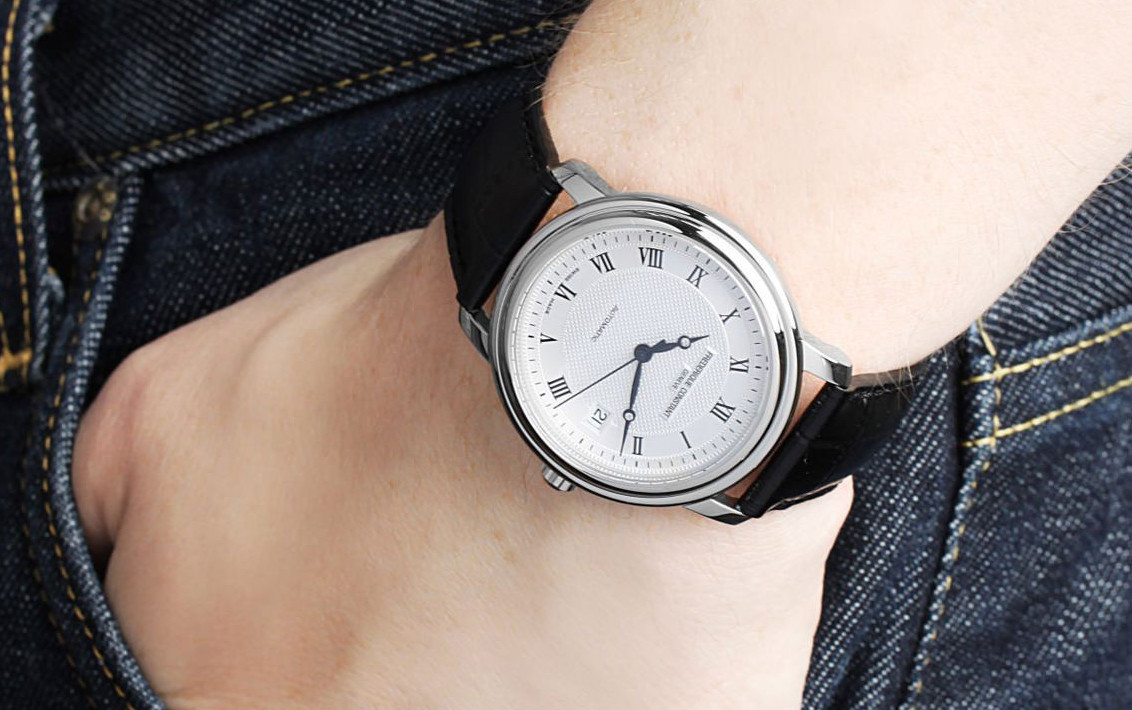 Genévese watchmakers have been known for their extraordinary attention to detail but few come close to Frederique. From initial design to final assembly, this relatively new Swiss brand is involved in every step of their watch production.
Carefully hand-assembled, checked, and controlled over a long period of time, the timepieces from this house are famous for their timeless elegance, clean designs, and reliable quality – at a sensible price. The FC245M4S6 from the Slimline collection doesn't digress from these values. Let's examine its good and bad sides.
> > > Click here to see ratings, reviews, specifications and prices on Amazon < < <
The Dial Design
This is probably its strongest attribute. Frederique Constant watches have been continually praised for their extraordinary looks. The watch dial appears simple at first but at the second gaze a staggering amount of details becomes apparent. The first ornament that will take you aback is the diamond guilloché which occupies most of the watch's face.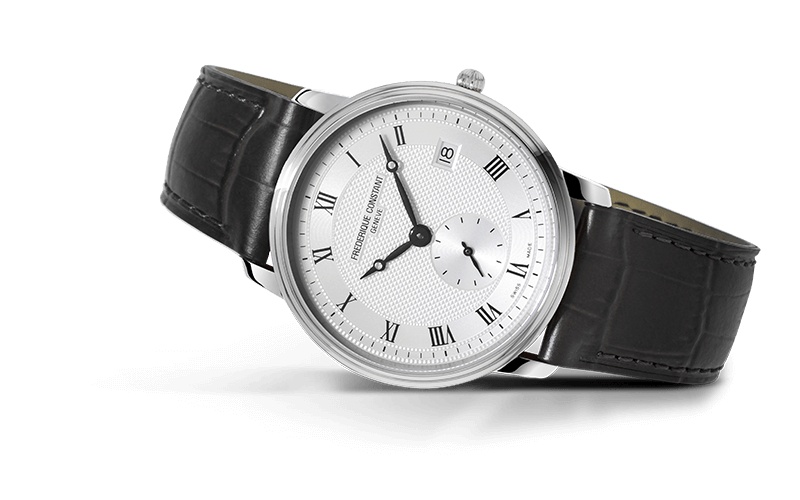 This pattern is produced by a complex engraving procedure which requires precision tooling. Such machinery has a tolerance as low as 1/1000 of a millimeter. All that effort for a second of beauty as the light reflects off the pattern and shines in its full glitter.
Hands, Numerals, and Subdial
Other elements on the face are extremely detailed, too, giving the watch a beautiful, expensive look. The black Roman numerals with plenty of white space in between them give off a slightly more vintage look and the brushed subdial creates a pleasing contrast. The pomme hands lack a seconds hand but the seconds subdial is there for that. Every aspect of the dial has clearly been taken into account in order to achieve the highest level of aesthetics.
Other elements include the nameplate above the hands and a date complication in the standard three o'clock position. Even these minor elements feature different styling and immaculate thoroughness.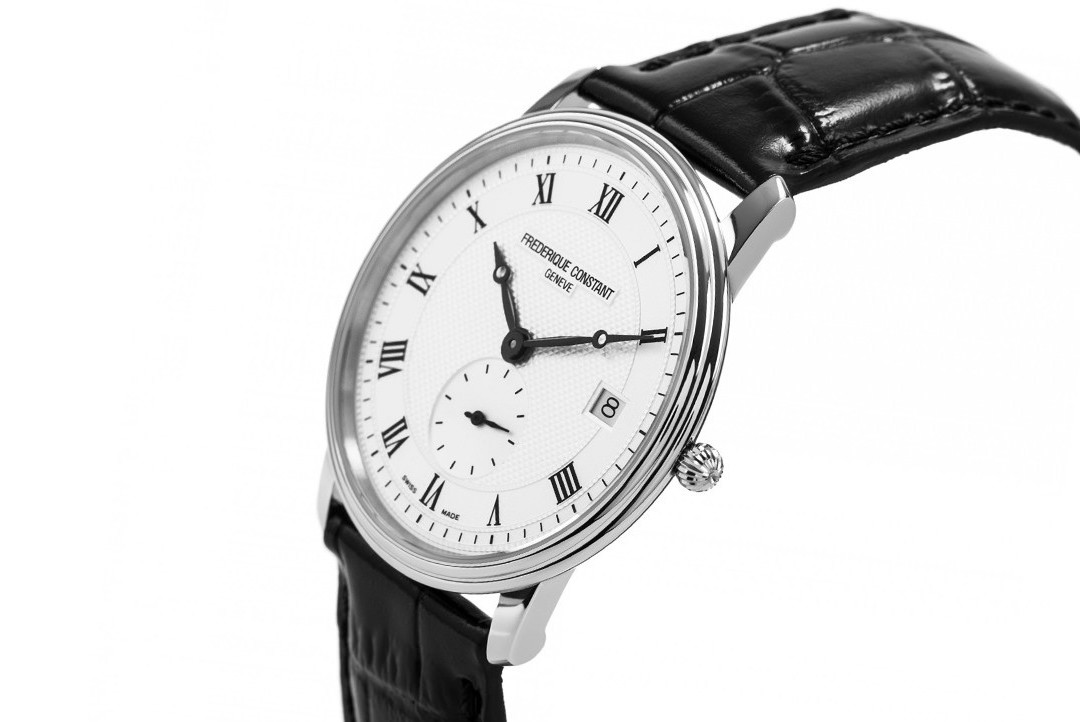 > > > Click here to see ratings, reviews, specifications and prices on Amazon < < <
The ultralight construction of this watch means you will wear it with seamless comfort during your formal events or occasions. The FC245M4S6 weighs in at a mere 51 grams, which is astoundingly light. The Quartz movement and careful craftsmanship being the main reasons behind this.
FC245M4S6 Stainless-Steel Case
What's even more impressive is the fact that even though it is a featherweight watch, its case is still well-built and all stainless-steel. The perfectly round shell sports a diameter of 37mm which won't look overpowering on a smaller wrist and has a more retro look as opposed to the 40mm and above cases. Perhaps the most beautiful detail on the case is the crown. Inspired by an actual king's crown, it stands out brilliantly without being too prominent.
The case is protected by the sapphire crystal which is another excellent feature. It's not only a privilege but a great investment as it means your Frederique will remain scratch-free and presented in all its beauty for years to come.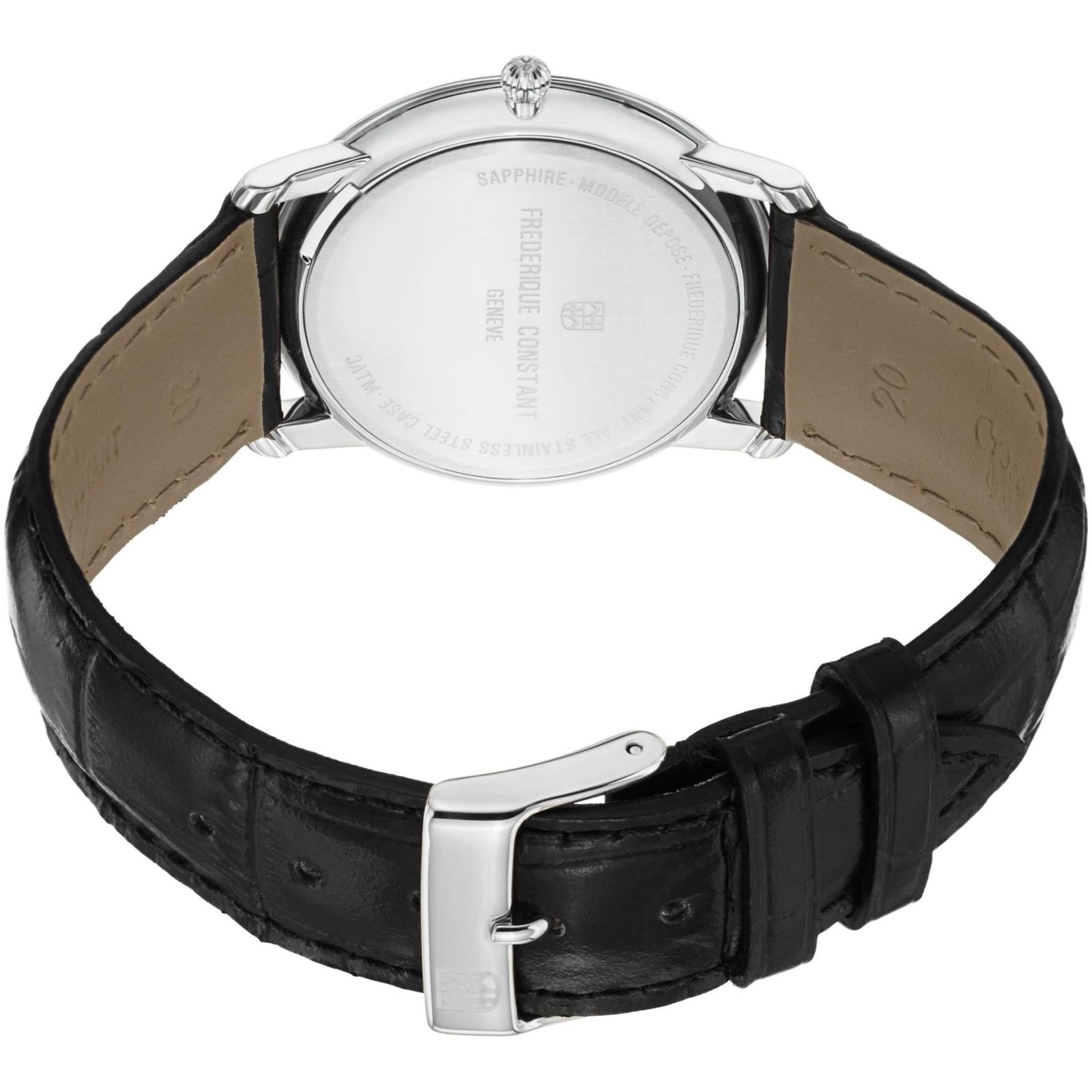 Finally, the watch is water resistant up to 30 meters. Now, before you dive down to 30 meters, remember that this just means it's splash resistant. Take this watch for a swim and you might actually end up destroying it. Don't roll the dice.
Leather Band
The band is calfskin-made and alligator-embossed. It's not the most creative in terms of design but it certainly does the job matching the case. There is tonal topstitching for added detail and standard buckle closure for improved comfort. Keep in mind it might take some time for it to break in fully and stop feeling too tight.
Quartz Movement
As for the movement inside, the FC245M4S6 is propelled by (understandably) Swiss Quartz. The FC-245 Frederique planted beneath the dial allows for the watch's ultra-flat design. It is a 10-jewel movement with a decent 25 months battery life.
It's an in-house movement, which makes it even more attractive. The Frederique Constant Calibre FC-245 is a reliable engine which uses quartz crystal vibrations to produce a superbly precise movement. On top of the incredible precision and reliability, remember you won't need to hassle with winding the watch every so often.
Final Thoughts
All in all, the FC245M4S6 is a terrific example of Frederique's immaculate attention to detail and masterful craftsmanship. For a watch in this price range, there is very little not to love. In fact, if I had to guess its price tag without knowing it beforehand, my estimate would most likely include three figures.
It's certainly a watch worth your money. It's Swiss-made, features an extremely detailed dial which makes it look beyond beautiful. The in-house Quartz movement inside will keep it ticking for years to come and allow for its impressive thin construction. There are excellent dress watches in this price range from the likes of Tissot, Raymond Weil, etc, but there is something about the FC245M4S6 which immediately pleases the eye. I believe it's the number of details that encapsulate principles of Swiss watchmaking and ultimately grace this watch with class and elegance everyone is raving about.
> > > Click here to see ratings, reviews, specifications and prices on Amazon < < <