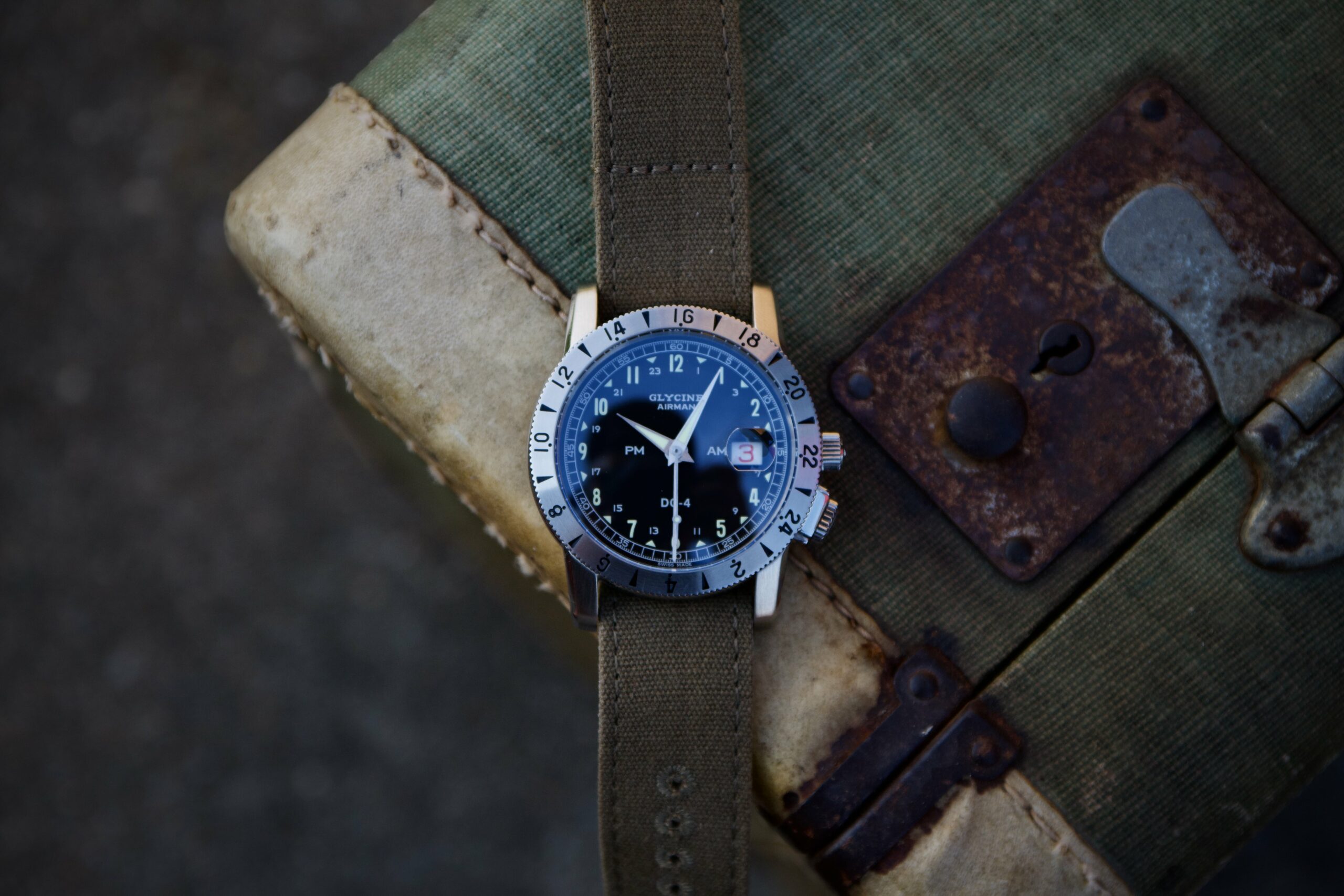 The Mysterious Case of the Missing Airman. Well that sounds like the the title of a great "who done it" from the 50's. Which just so happens to be the decade the Glyicine Airman was born.
For those of you that are scratching your heads wondering about a child pilot and trying to locate Glycine on Google Maps, you are likely not alone in your confusion. Let me explain.
Truth be told the whole first paragraph was nothing more than a clever hook; a bet that if you made it to the second paragraph you might keep reading. Jokes aside, the "pilot's watch" hereby referenced by its given name "Airman" and particularly the DC-4 is my sole reason for setting pen to paper as it were.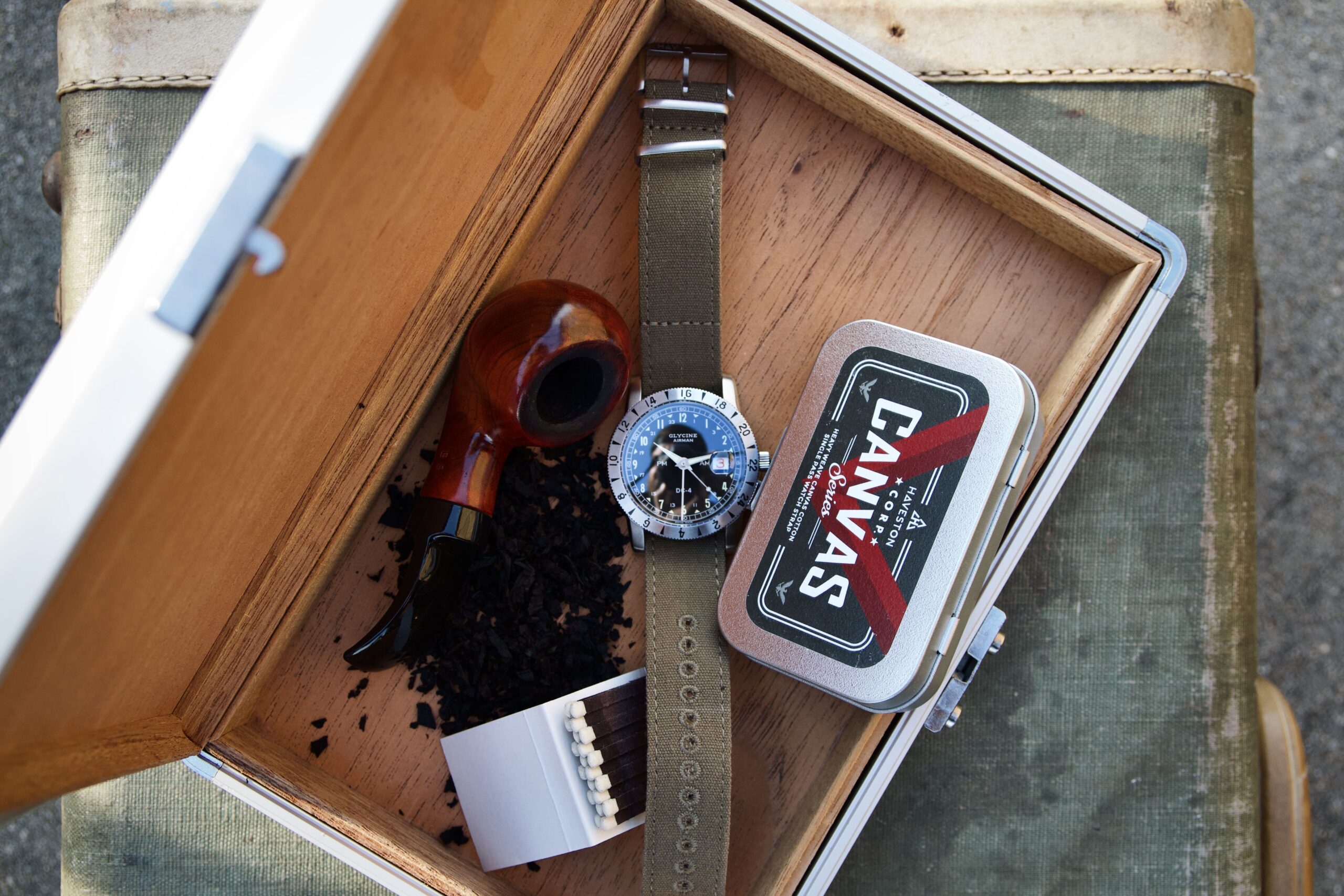 Glycine an oft' overlooked watch company has been quietly making ripples in the vast pond of horology for over one hundred years. And, while we won't dive deeply into the reasons for its under appreciation this Airman most certainly could. While I'd wager most pilots prefer to keep their wings in the sky, there is certainly some comfort knowing that this Airman is ready for a dive in the worst of scenarios.
Airman DC-4 Preview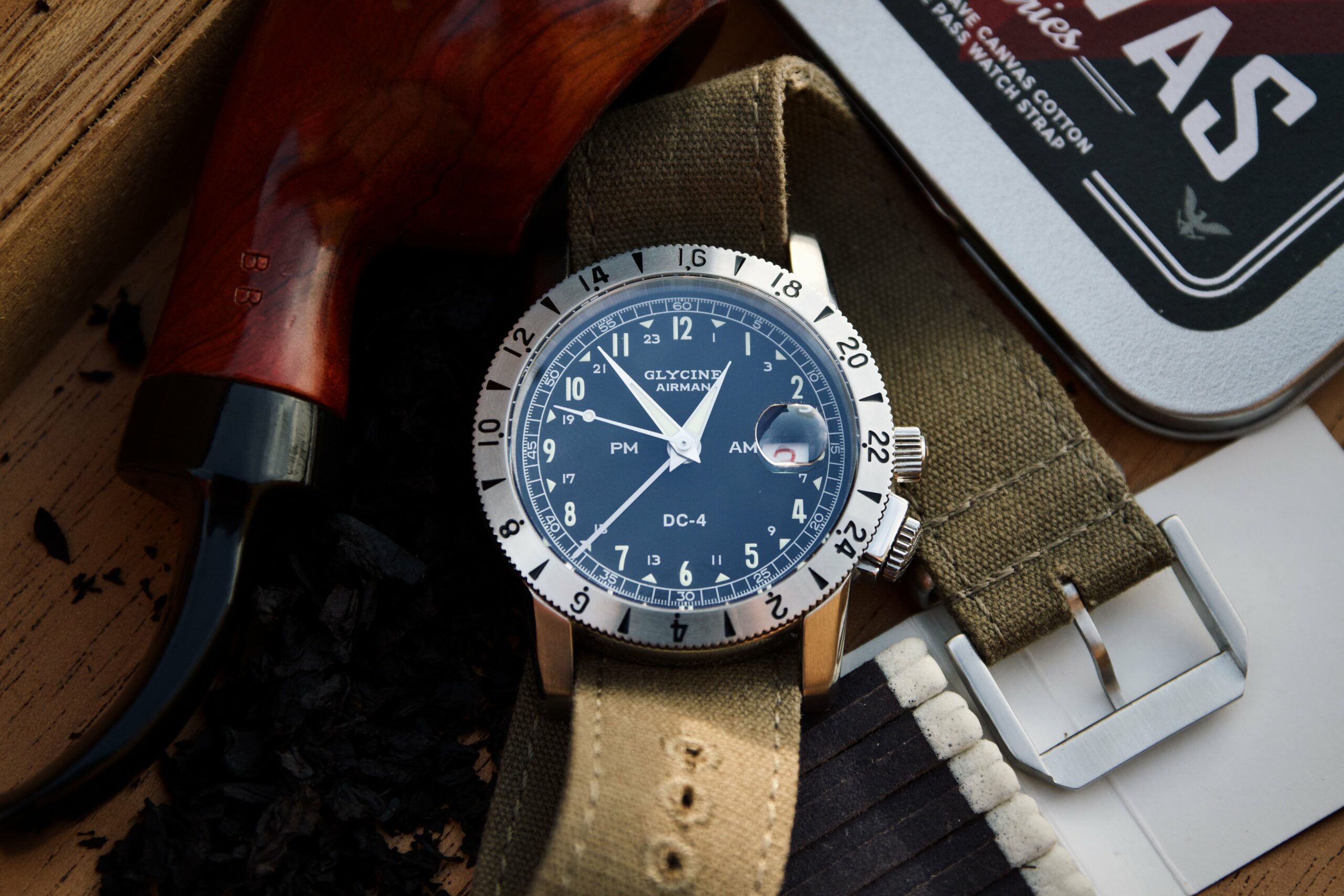 If you'd rather fly under the radar than over, drool at that mid century look but wince at truly vintage specs, then this DC-4 might just be what the doctor ordered. Sized for the "modern man" at 42mm it sits with tasteful presence on a 7inch wrist. This Airman while modern in specs from size to water resistance clearly takes its style cues from the original Airmen of the 1950s. Aesthetically it's not a one for one, but rather an imaginative amalgamation of those early pieces.
Dial and Handset
While a sucker for the looks of Glycine's limited edition "No.1" (specifically the GL293) This DC-4 (GL0071) makes the cut in my book as the top choice from Glycine's (current) "Vintage" line of Airmen. The GL0071 is in my opinion most legible (and capable) among its siblings, its outer minute track has a certain understated charm that is ready and waiting yet does not clutter an arguably busy dial. The GL0071 opts for a standardized 12 hour numeral track aside from the date window at 3, earning it legibility points in its sibling rivalry. And, while the "purist" versions of the Airman are limited to tracking only 2 time zones this DC-4 easily tracks 3. Its only weakness may be found in its long stick like GMT hand. It performs adequately if not admirably, though somehow feels less refined than the rest of the dial and handset. A small gripe at most.
Crowns & Bezel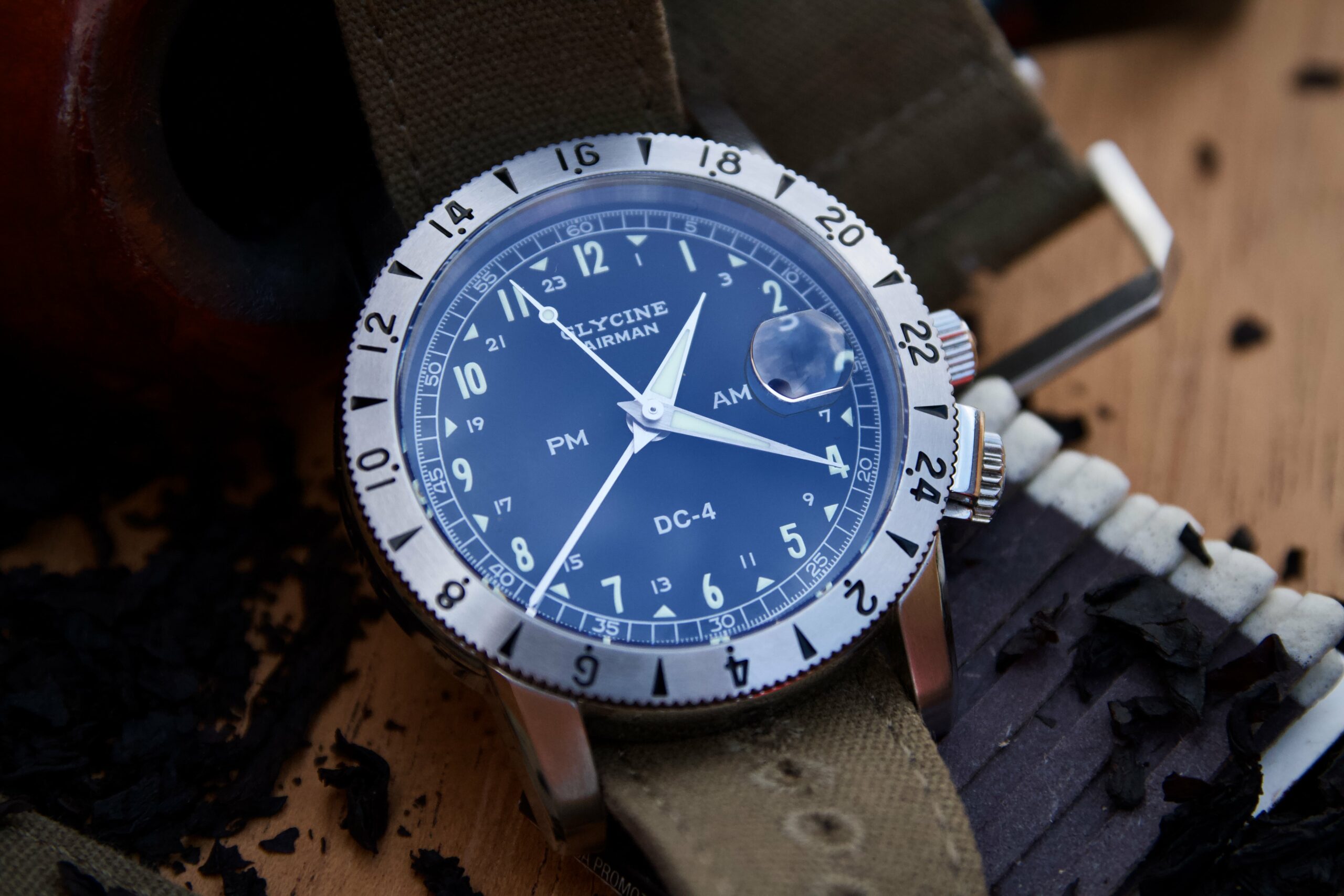 The DC-4 joins ranks with a standard 3 O'clock screw down crown, while younger brother the black sheep of the family is a spectacle of sorts seated catawampus at the 4 O'clock. In time however the antics of the second crown fade away from notice as it sits quietly and diligently doing its duties keeping the bezel locked tightly till needed. The coin edged bezel when released moves back and forth freely, tracking a third time zone at the wearers bidding. As for legibility, this slightly brushed bezel does not stray from the design cues prominent on the dial. The blackened marks on the bezel are punchy yet discrete, (fitting for a handsome tool watch.) While the aforementioned GMT hand may be lacking aesthetically, surely there is no lack in its performance of function as its slow sweep nearly brushes the outer bezel. It's hard to imagine a more legible interface.
Closing Thoughts
Nostalgia is a funny thing. It comes in all shapes and sizes and looks differently for each of us. It usually tastes best as a drink remembered, and rarely tastes as good the second time made. But every once in a while the stars align and the magic of the memory is born again. This is one of those times, this is one of those watches. Whether you were alive in that great era of exploration or have only dreamed about it, this Airman capsulizes the best of that era and our own. The opposite of a hype piece, this understated but handsome tool watch belongs on your wrist. It's calling your name; it's ready for adventure.
Facts:
Case Material – Stainless Steel (Satin, Brushed and Polished Finishing)
Case Size – 42mm
Case Back – Open/See Through
Lug to Lug – 50mm
Lug Width – 22mm
Movement – Glycine's GL293
Crystal – Sapphire (slightly domed)
Date Aperture – white date wheel, red numerals, with magnification window at 3 O'clock.
Crowns – Screw down at 3 and 4
Water Resistance – 20 bars / 200 Meters
Lume – Hands and Numerals (nothing on GMT hand)
MSRP – 1,925 Swiss Francs / 2,075 USD
Gray Market *Highly Fluctuating $750 – 1,250 USD