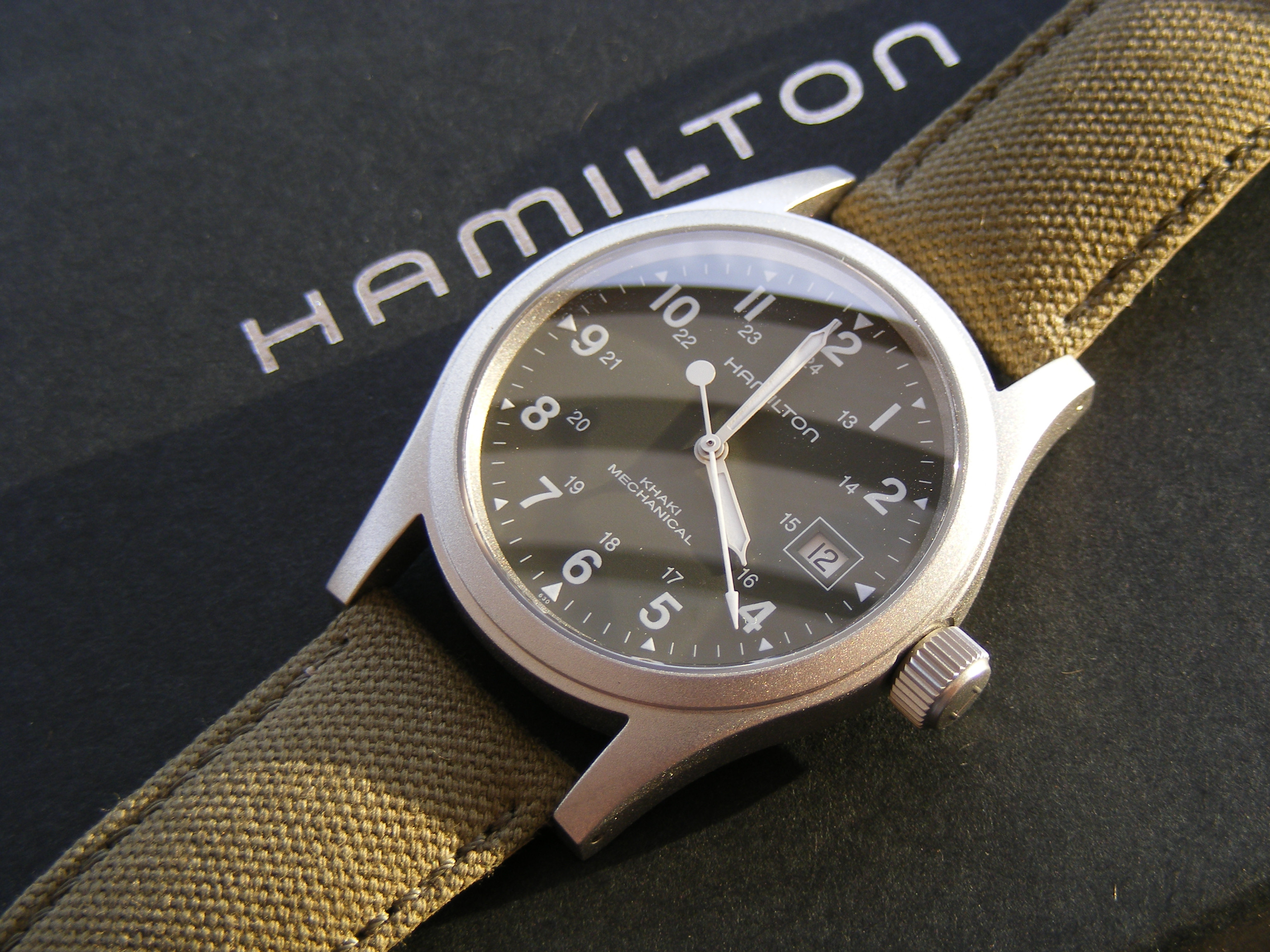 The HML-H69419363 reviewed today uses Hamilton's rugged field watch aesthetic that is backed up by high-quality, durable components. With a simple, easy to read dial and casual canvas band, it makes for a great weekend or beater watch.
> > > Click here to see ratings, reviews, specifications and prices on Amazon < < <
This timepiece harkens back to the early 1900s, not just with its styling, but with its manual winding movement. Just as you don't use an automatic watch because it is the most accurate way to tell time, you don't buy a hand winding watch for its ease of use. No, in order to truly appreciate a watch like this, you have to enjoy the vintage charm of being involved in the mechanical process of the watch.
Bead Blasted Case
The bead-blasted case uses a fairly minimalist design, focused on exuding a rugged quality. Measuring in at 38 millimeters across, it trends towards the smaller end of the spectrum. With 50 meters of water resistance, you can take the H69419363 along for brief swims if you dare, but it is not recommended for snorkeling or diving. The lone crown does not screw down.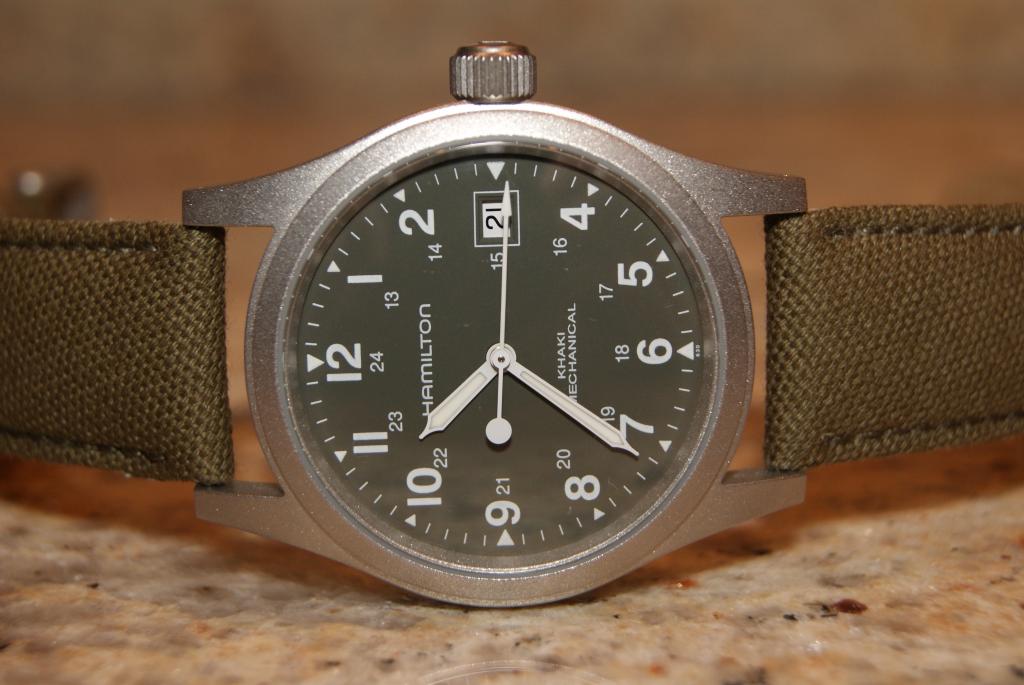 The large lugs stretch quite far beyond the case, measuring 48 millimeters from end to end, which makes the watch look a little bit larger than most other watches this size. The lugs come to an abrupt, squared off end where they meet the strap. At approximately 10 millimeters thick, this is a fairly thin watch, much thinner than most automatics, so it should fit nicely under the cuff.
Dial
A grayish-green dial allows this watch to stand out from the crowd of black, white, and blue dials. In fact, Hamilton offers a nearly identical watch with a black dial, if you prefer the more mainstream style. The simple, balanced layout uses clean white lettering and hands to maintain legibility. The 24-hour Arabic numerals have an old-fashioned quality, looking entirely like they belong on a World War I military watch.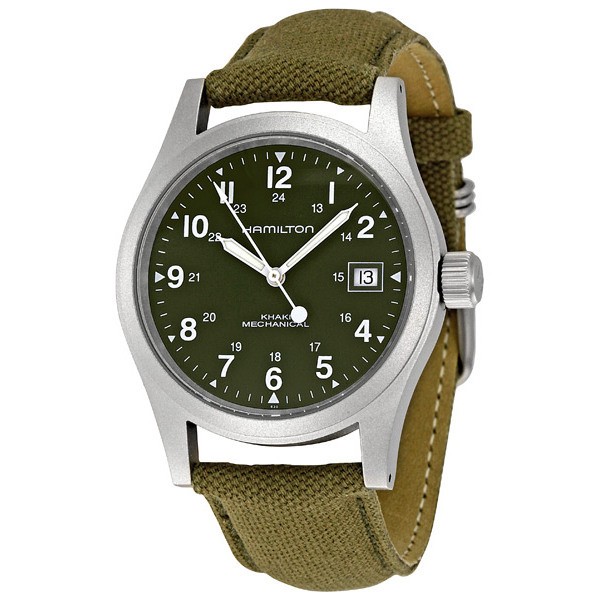 > > > Click here to see ratings, reviews, specifications and prices on Amazon < < <
Because the sapphire crystal has a slight dome to it, but no anti-reflective coating, glare from various light sources tends to obscure the dial fairly often. Stepping up to some of Hamilton's more expensive offerings that use an anti-reflective finish would solve this problem. The lume on hands (even the second hand) and hour markers above the numerals is disappointingly weak, so it can be difficult to make out the time in the dark.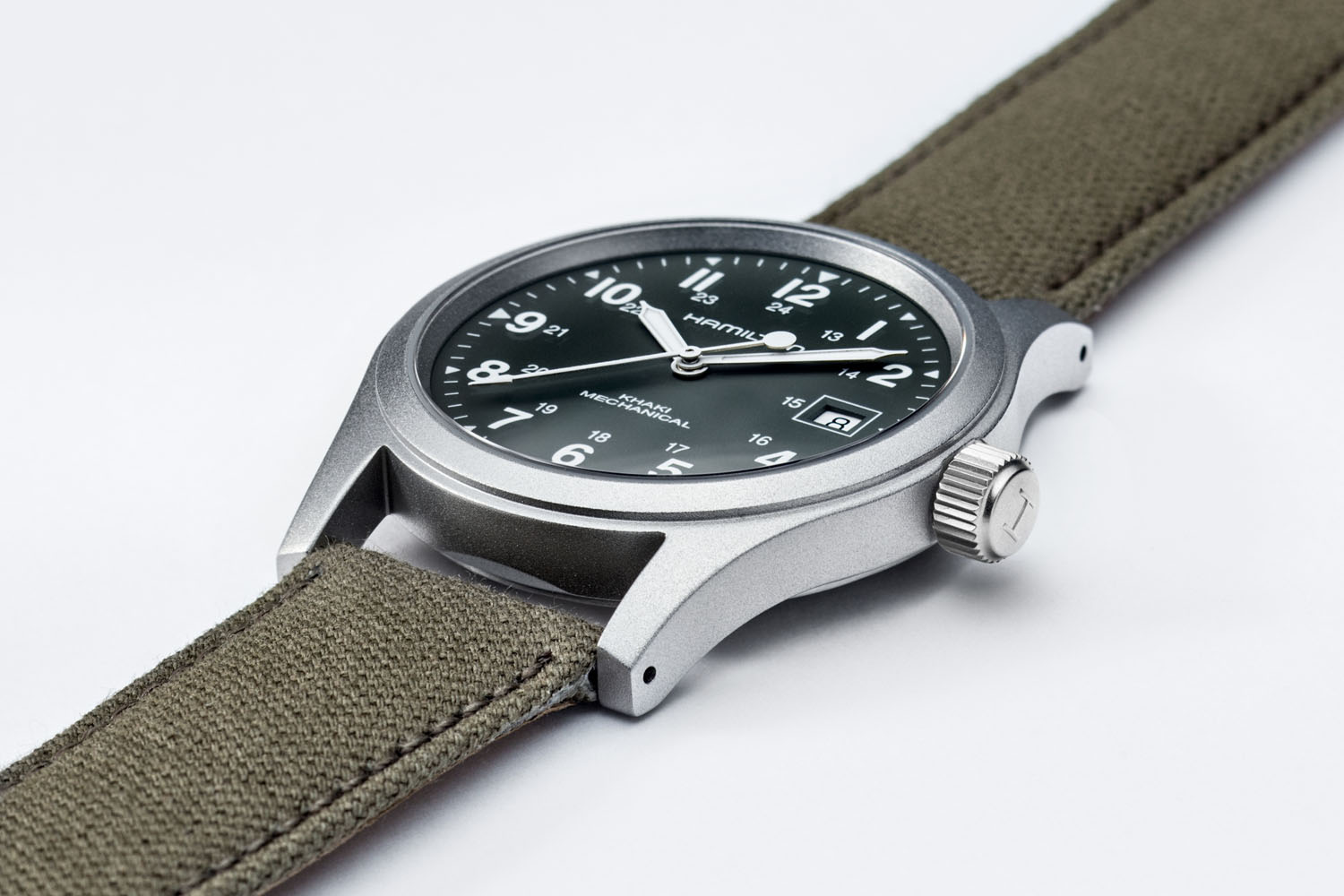 The Hamilton logo spans the space between the 10 and 2 o'clock positions, while "Khaki Mechanical" is printed on the lower half of the dial. A black-on-white date field sits at 3 o'clock, with a white outlined traced around it. Even though the date window is quite small, it is still easy to read thanks to the crisp numbers and the contrast with the dark dial.
HML-H69419363 Movement
As opposed to an automatic movement that relies on your arm movement to keep the watch wound, the ETA 2804-2 movement used here requires manual winding every day in order to keep ticking. Because the crown does not screw down, it is an easy and enjoyable watch to wind, the main difficulty is in remembering to do it regularly.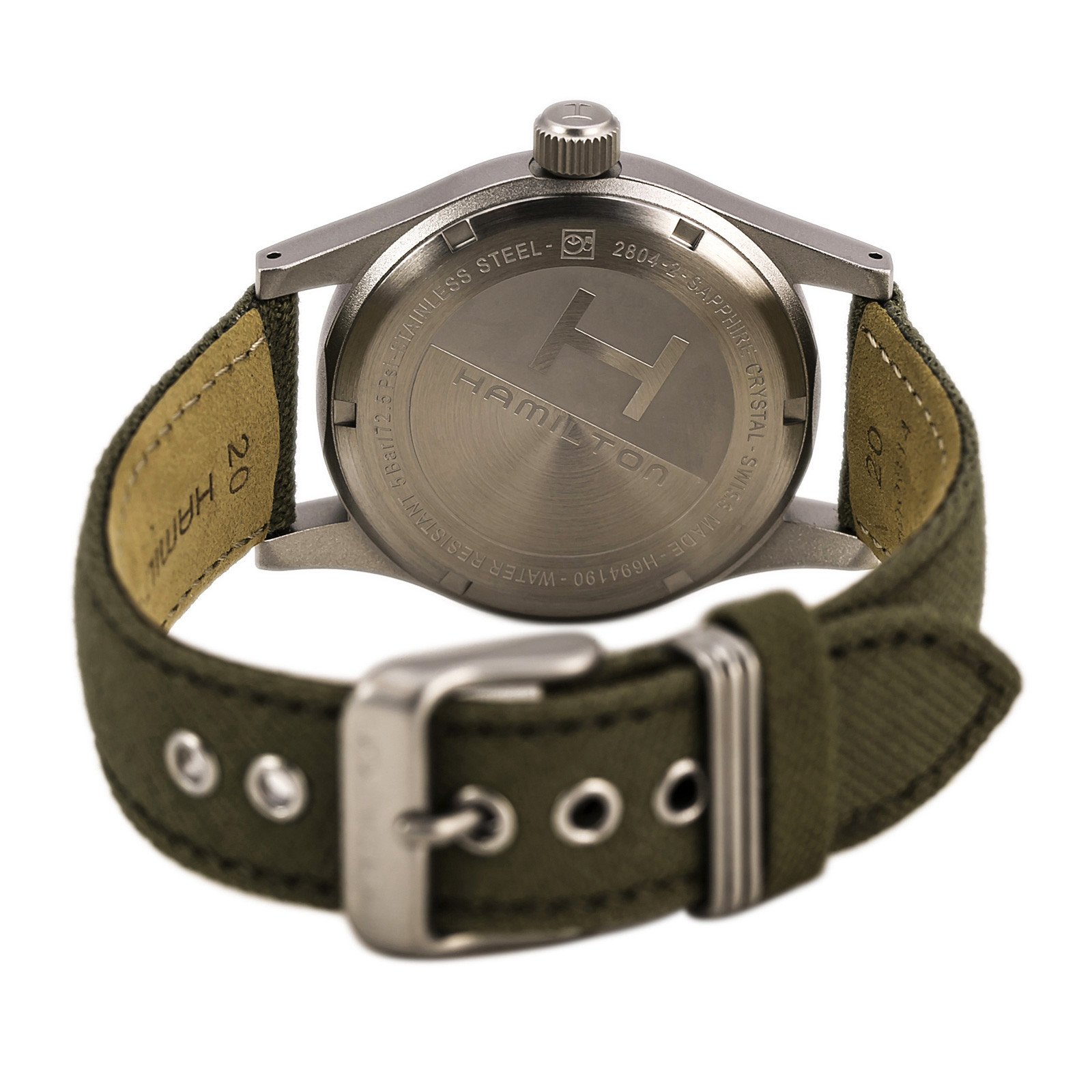 Besides the appeal of the intimacy involved with a hand-winding watch, it also includes the benefit of reduced complexity compared to automatic watches, while still maintaining the smooth second hand motion mechanical watches are known and loved for. Without the complexity of an automatic's rotor assembly, this uncomplicated design should prove to be tremendously reliable.
This ETA movement also utilizes an Incablock shock protection system, so it should be able to withstand rugged field use and keep ticking. It also features a hacking second hand and beats at 28,800 bph for a beautifully smooth sweeping second hand motion.
Band
I think that the army green leather-lined canvas strap looks awesome juxtaposed with the greenish hues on the dial. This canvas band really amplifies the military aesthetic of the watch. With a 20-millimeter lug width, however, this band could easily be replaced by a NATO or similar type of strap.
Final Thoughts
Let's face it, there's a reason hand winding watches are so rare: not very many of us want to have an extra chore in our life just to keep their watches working properly. Much like driving a manual transmission, only the enthusiasts choose the more-difficult, more mechanically-involved option. If you happen to be someone who desires that sort of connection with their watch, the H69419363 is an excellent choice to get into the world of hand-winding watches.
Hamilton's great attention to detail and high-end materials will be sure to add to your appreciation of this watch. While there are a few complaints here and there, such as the poor lume and glare-prone crystal, the H69419363 still makes for an excellent value buy.
> > > Click here to see ratings, reviews, specifications and prices on Amazon < < <