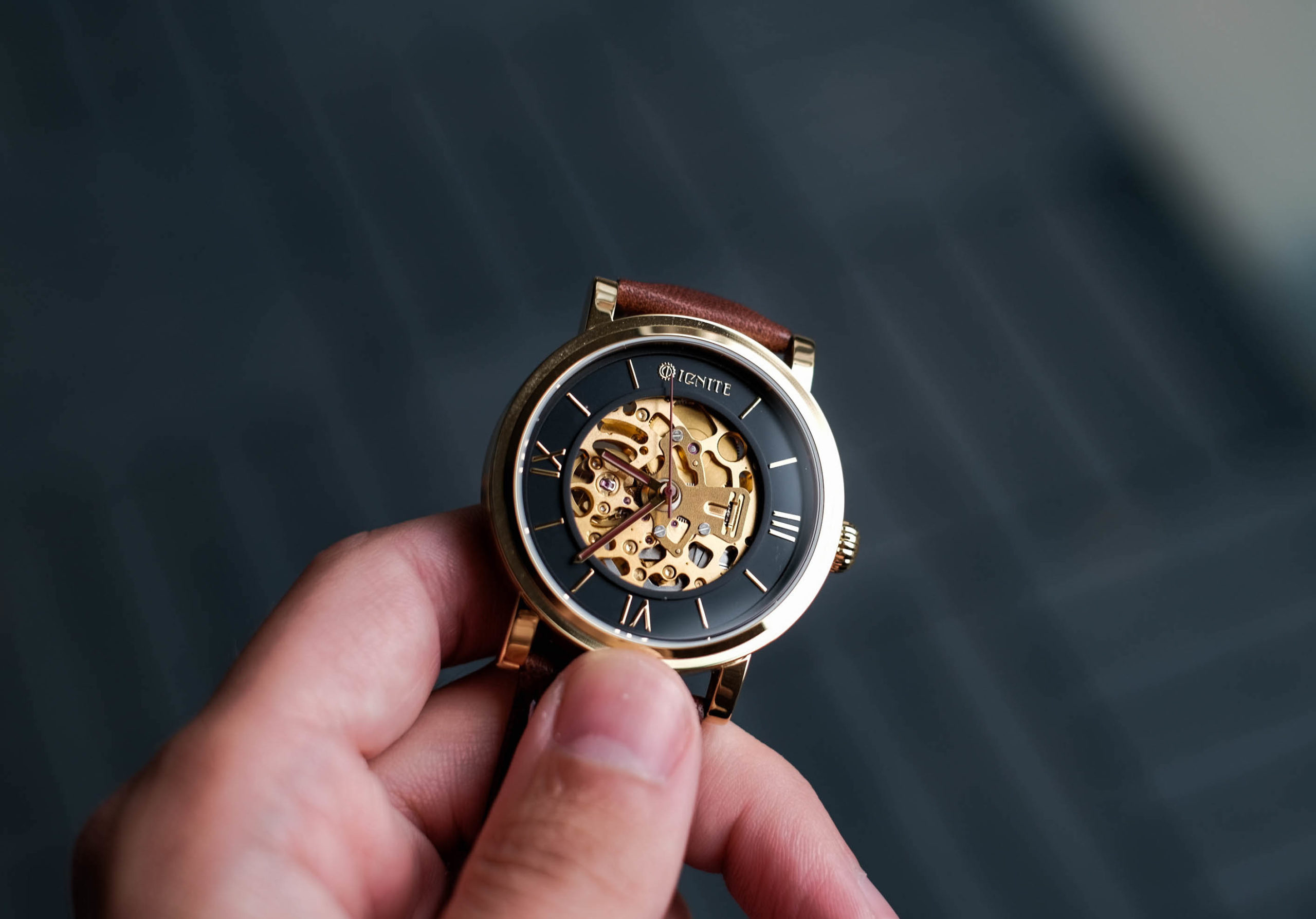 If you know me, you know I'm open to watches of all types. Whether it's haute horology or whether it comes from a brand new microbrand, a good watch is a good watch. So when Ignite Watches came to my attention, I wasn't put off by the fact that the company is basically one guy. If anything, I was intrigued.
Ignite Watches is the brainchild of Nathan Verduyn, a young Belgian entrepreneur – and watch enthusiast – who used to run some ecommerce stores. Taking the lessons learned from those failed ventures, he proceeded to develop a watch. It's a very nice watch indeed, albeit with a little too much "generic" in its design DNA for my personal taste.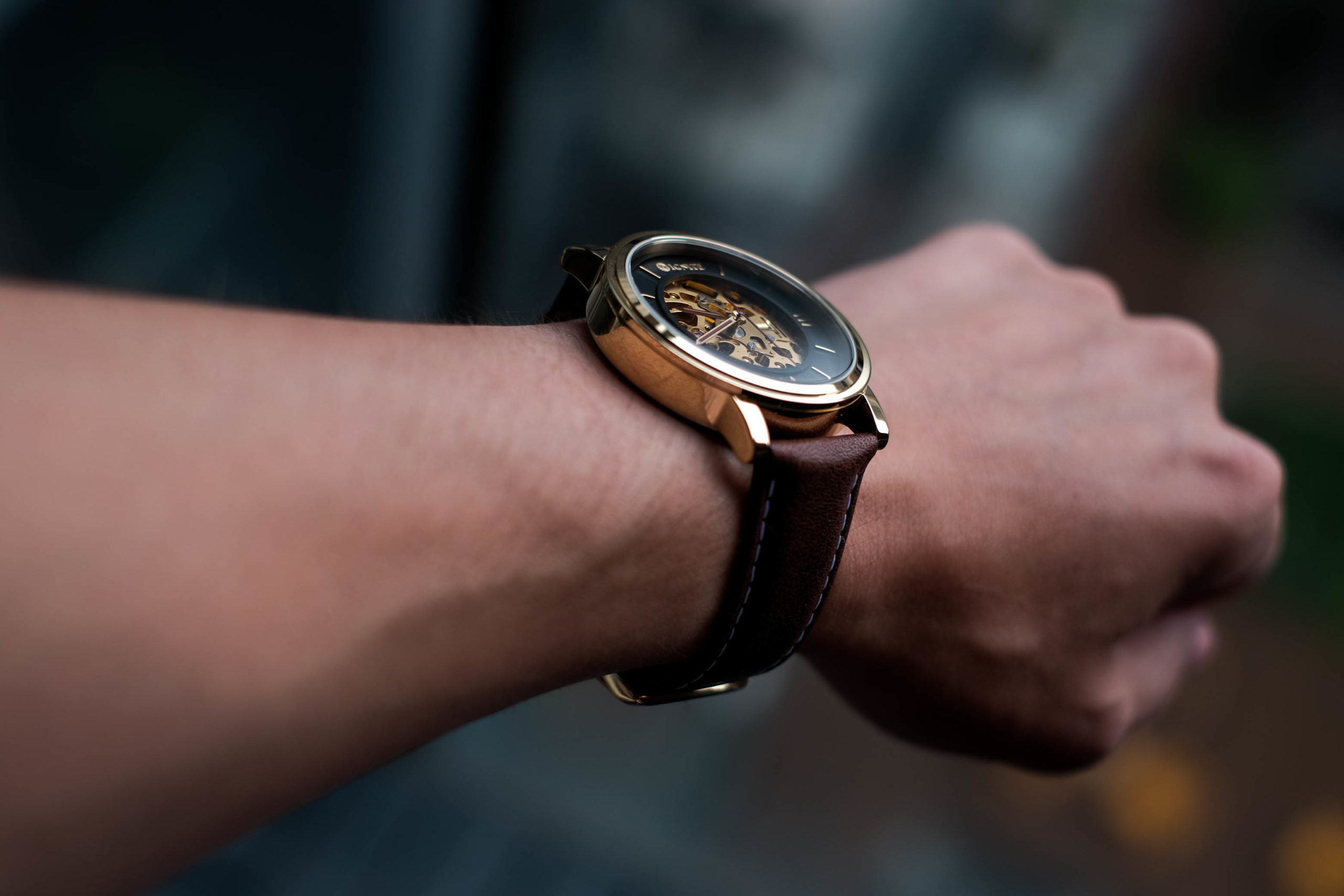 Verduyn writes a lot about how he had his watches designed in a 3D CAD program. This is a great way to build a prototype, but it's not an ideal way to come up with a finished product. Simply put, even the best models can miss real-world flaws. But this is his first design, and first designs are often not perfect.
What Verduyn came up with – the Ignite watch – is a neat concept but in many ways could have been more unique.
A Skeletonized Design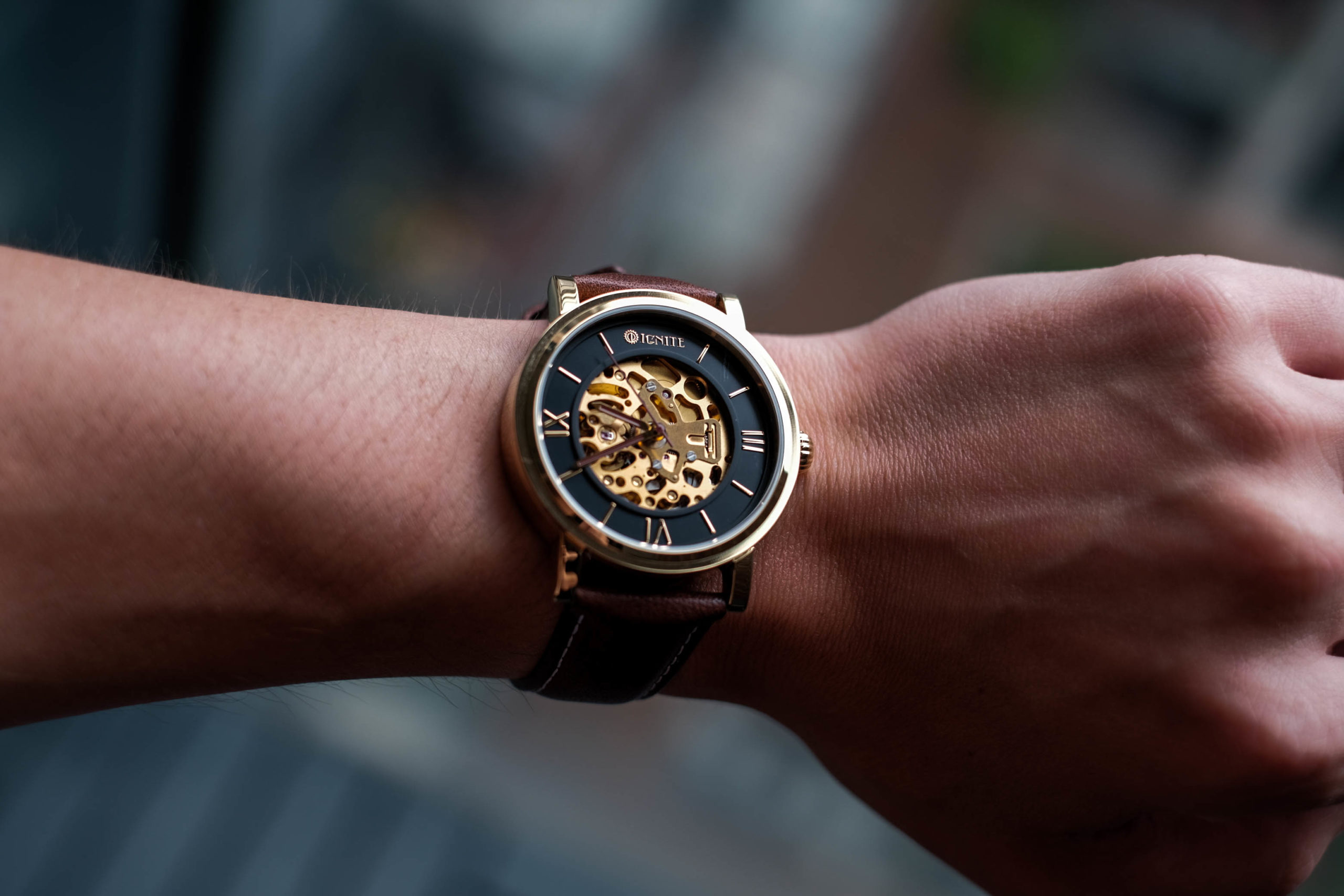 Ignite's marketing material makes a great deal of the watch's skeletonized design, touting it as "unique." But a skeletonized watch is hardly a new concept. To be sure, it's uncommon enough to be eye-catching. But watchmakers have been producing skeletonized watches since the 1760s. Far from being unique, this design precedes the wristwatch by a hundred years. This isn't a major complaint, but it goes to a broader point: all too often, Ignite relies on marketing hype rather than quality. It sometimes feels as if they're trying to sell an automatic watch to people who've never owned one before, which could very much be the reality and in a way isn't necessarily a bad thing.
The open design does an excellent job of showing off the Seiko NH71 movement. I'll write more in a second about that particular movement's performance. But first, let's acknowledge that it's an excellent aesthetic choice. Almost all the parts are gold colored, and it looks really sharp when it's fully exposed like this. The display case back further adds to the effect, so you can see all aspects of the movement.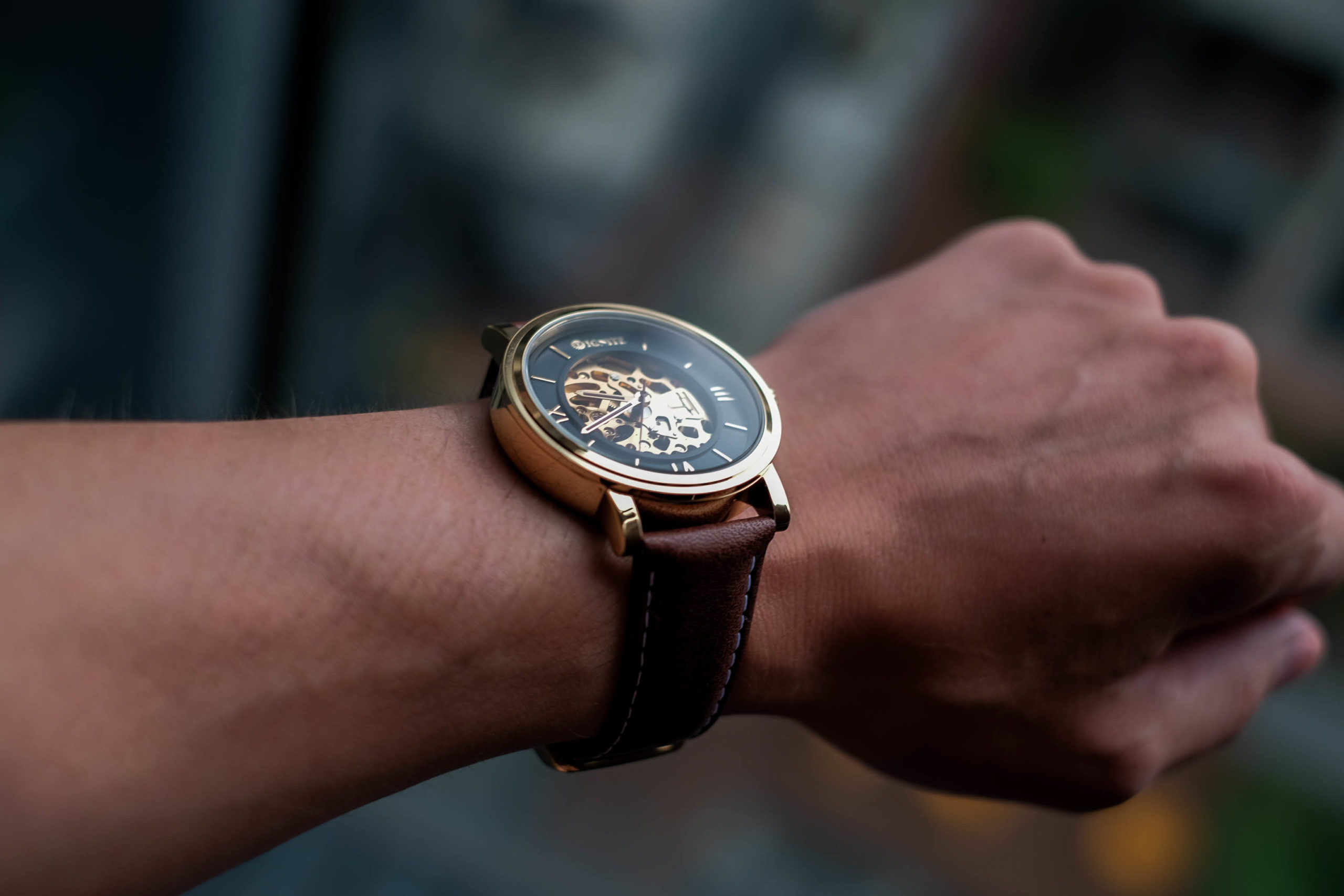 That said, Ignite chose to use gold hands, which can be hard to make out in front of the dial. Silver hands or any other contrasting color would have been a better choice, and would match well with the exposed movement's highlights.
The outer third or so of the dial is occupied by a proper matte black finish, with gold Roman numerals at the 3, 6, and 9 o'clock positions. The other hour marks are indicated by gold hashes. There's also an Ignite logo at 12 o'clock.
A Mid-Sized, Two-Tone Case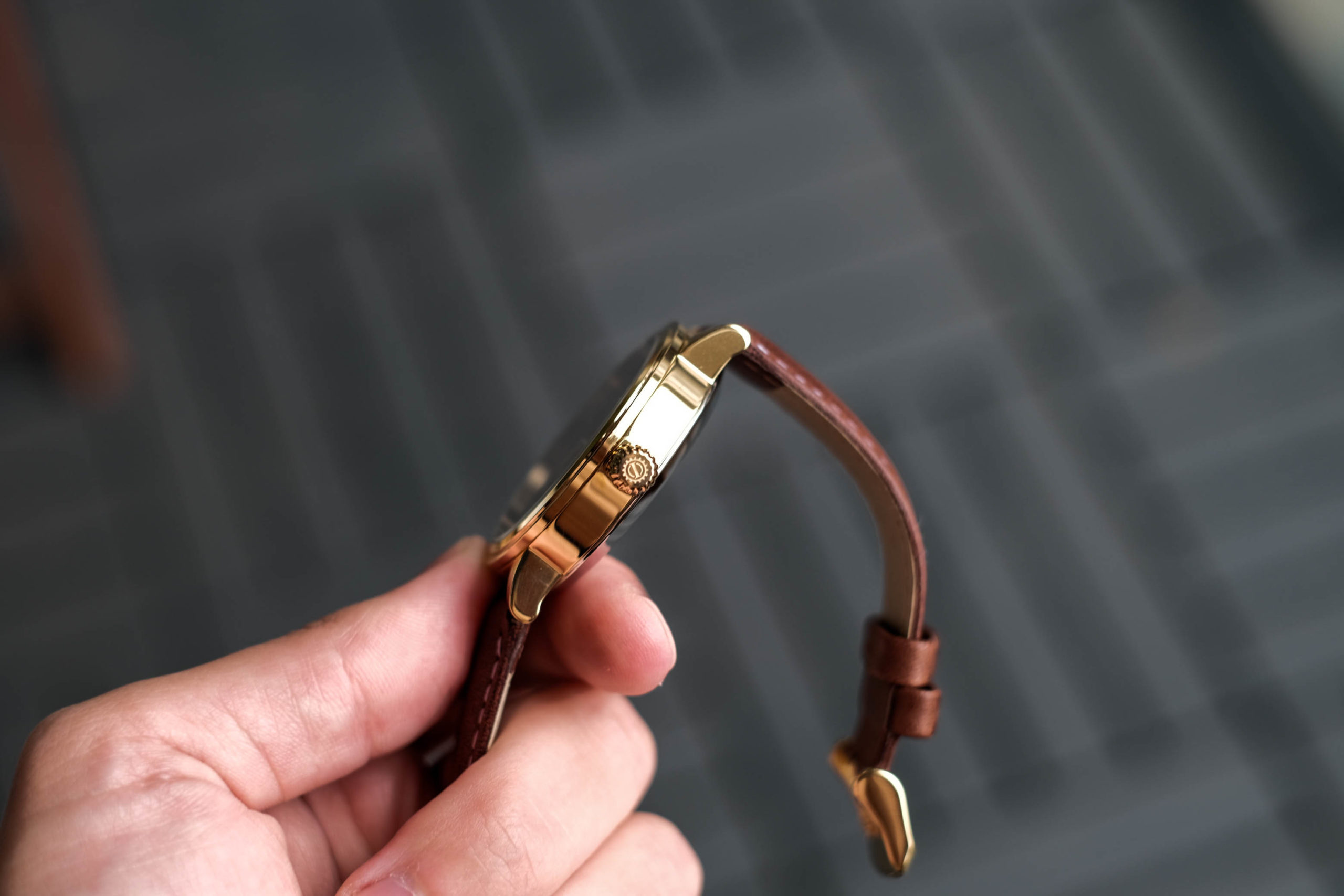 The thing I liked most about the Ignite watch wasn't the dial, but the case itself. It's stainless steel, but it has a gold-colored bezel and sides. This compliments the dial, by putting a bit of gold outside the black area as well as inside. Meanwhile, the plain stainless back surrounds a display crystal, and forms a sharp contrast to the mostly gold movement.
The case diameter is 42mm, which lends it a decidedly medium wrist presence. It's reasonably slim, with a thin, angular bezel that allows for a fairly broad dial. The crown has a low profile, but is hashed on the sides for a secure grip. The water resistance is 50 meters, which is sufficient for showering or casual swimming. Divers and serious swimmers should keep this watch out of the water.
The crystals, both the front on the back, are a scratch-resistant sapphire with an anti-glare coating. The lugs are squared off, which makes them look longer than they are. The narrow, 22mm lug spacing also helps to accentuate their length.
The Seiko NH71 Movement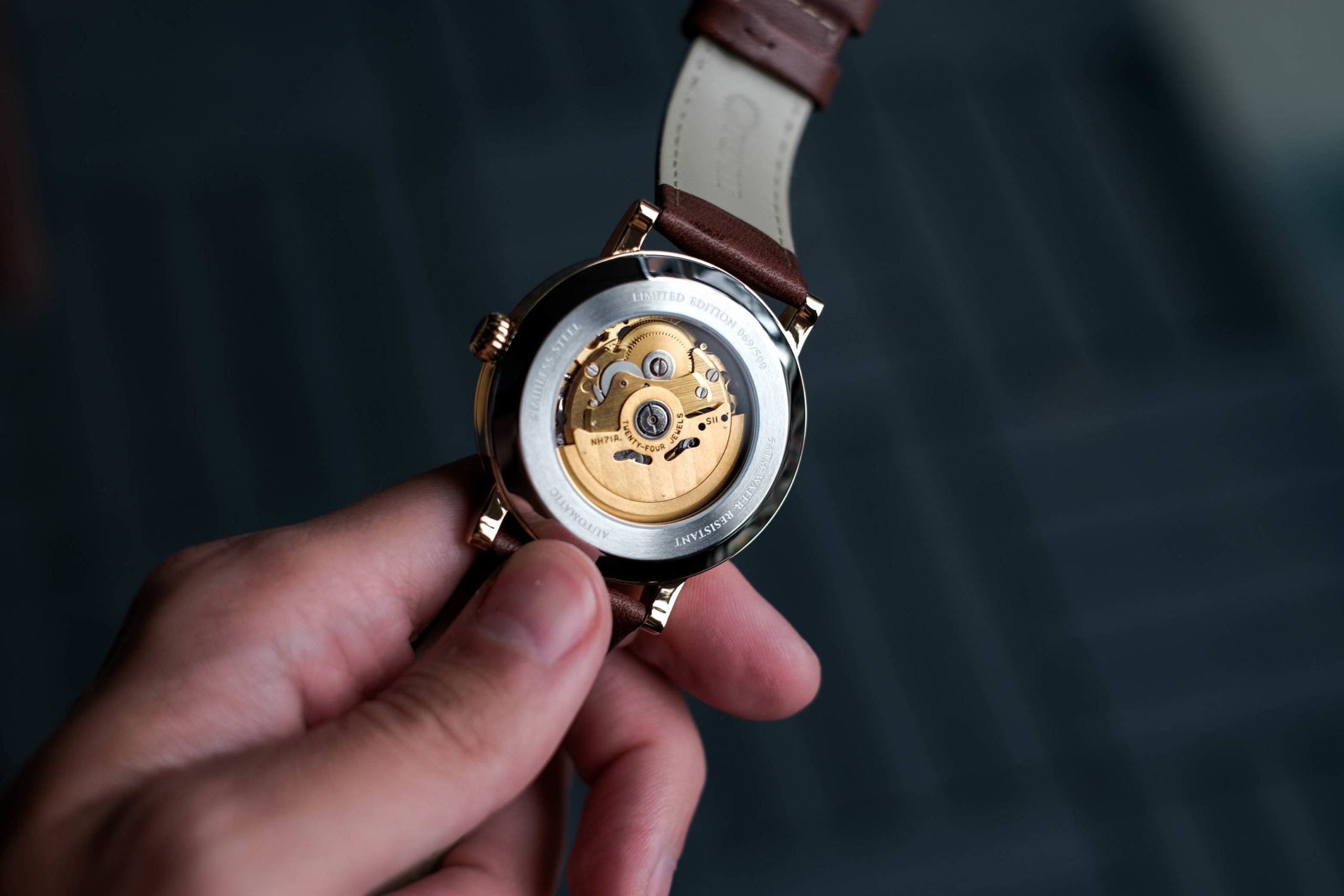 I've already talked about how good the Seiko NH71 movement looks. But let's be honest, Ignite puts a ton of hype into a movement that's mediocre at best. The advertising material all emphasizes the automatic movement, which is a basic feature on any modern mechanical watch.
With a 41-hour power reserve, this movement will last through a weekend of disuse without issue. However, it's only accurate to -20/+40 seconds per day. Nobody wears an automatic watch because they need down-to-the-second accuracy, but this watch will be noticeably off in less than a week.
The Upshot
The Ignite watch is an attractive watch from a brand new manufacturer. Verduyn deserves credit for a slick aesthetic and a well-engineered case. That said, the movement is mediocre, and the coloring makes the dial difficult to read. Buy it for aesthetics if you like the look. At €249, it's hardly going to break the bank. But recognize that you're paying more for the hype than you are for the watch.