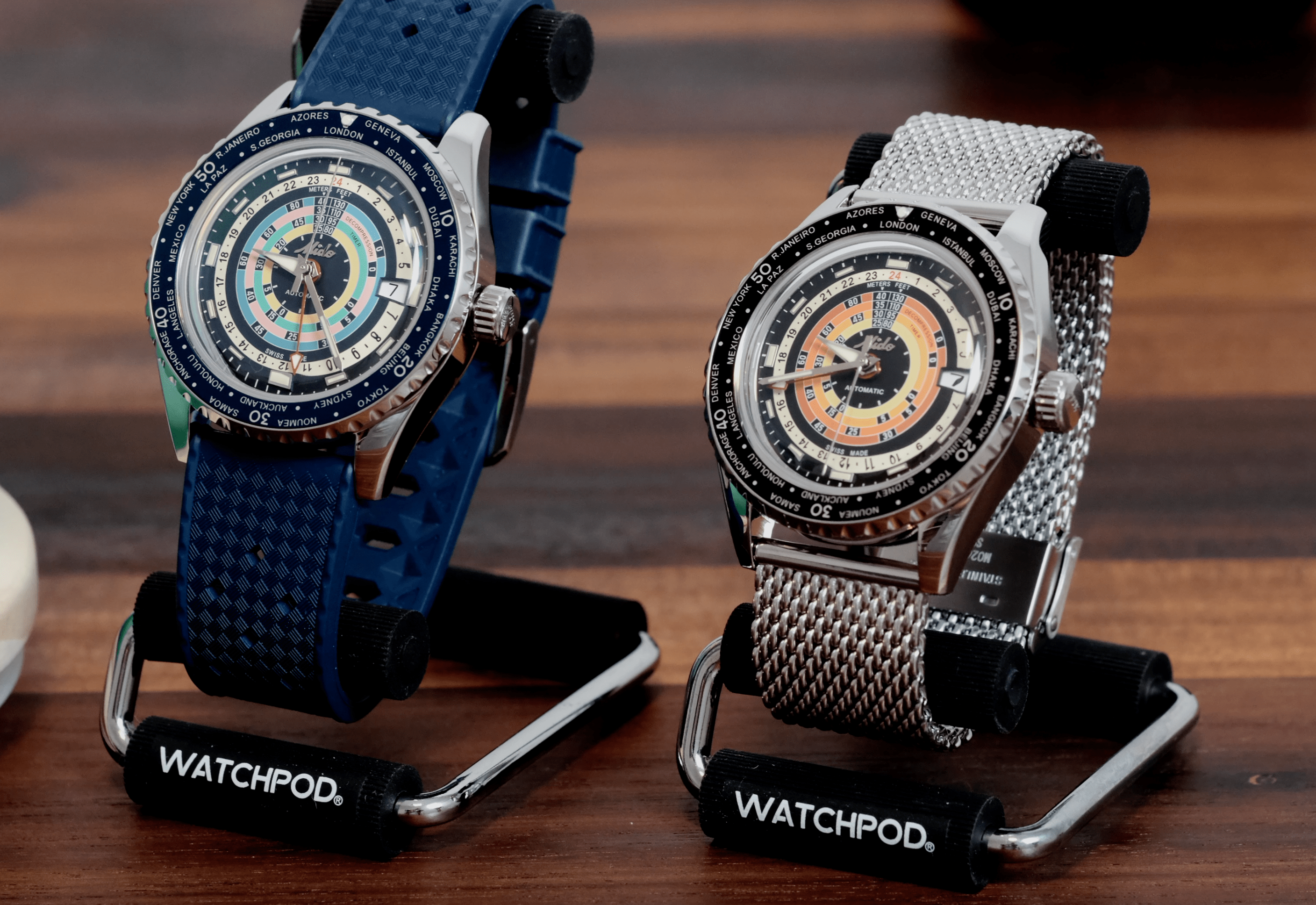 Well here we are, entering the spring of 2023, and I'm getting flashbacks of beautiful beachside summers, yacht parties, and just general high-times.
That's because we have here two of the hottest summer watches available for this year, the new Mido Decompression Worltimer in blue and black. They've been sitting in our office for three weeks out of respect for Mido's release dates. But today's the day I can reveal them and let you dream about your upcoming epic summer, and how much sweeter it would be with one of these on wrist.
I reviewed Mido's 1961 Decompression Timer back in the infamous summer of 2020 – and it received great praise.
These two new releases are basically updates to that watch, so I guess you can say they're re-issues of a re-issue – with a twist. If you liked the 1961 Diver you'll probably like these even more, especially if you like the Worldtime function which these watches feature.
Design Aesthetics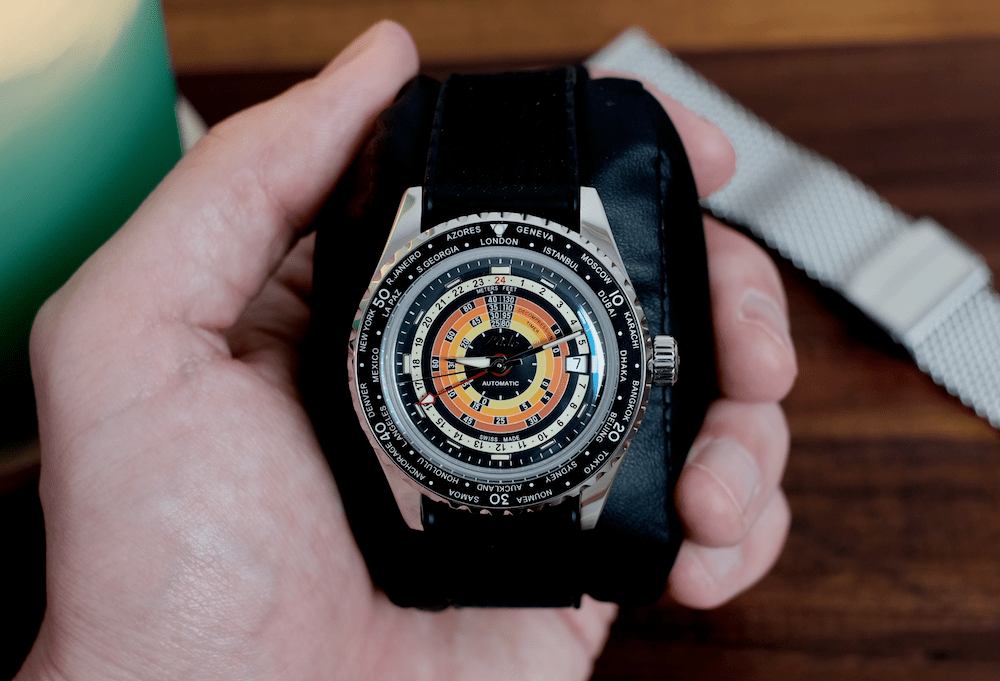 The bezel in my opinion is a little more refined than the previous 1961, or perhaps it just looks more sophisticated with the world-time cities printed around it. The bezel insert feels a touch thinner but it's packed with a bunch of city names from London to Auckland, displayed in a very sharp silver font. While the font is small the contrast is excellent providing easy legibility, the silver text appears to be inscribed and catches the light beautifully.
The black version of this watch is a little more serious than the dark blue, but I'd say both are equally as retro with their color coded decompression dials.
This is not what I would consider an "iconic watch" but it's certainly recognisable due to the very distinct dial design, I think our video footage and photos will say more than I can express with words.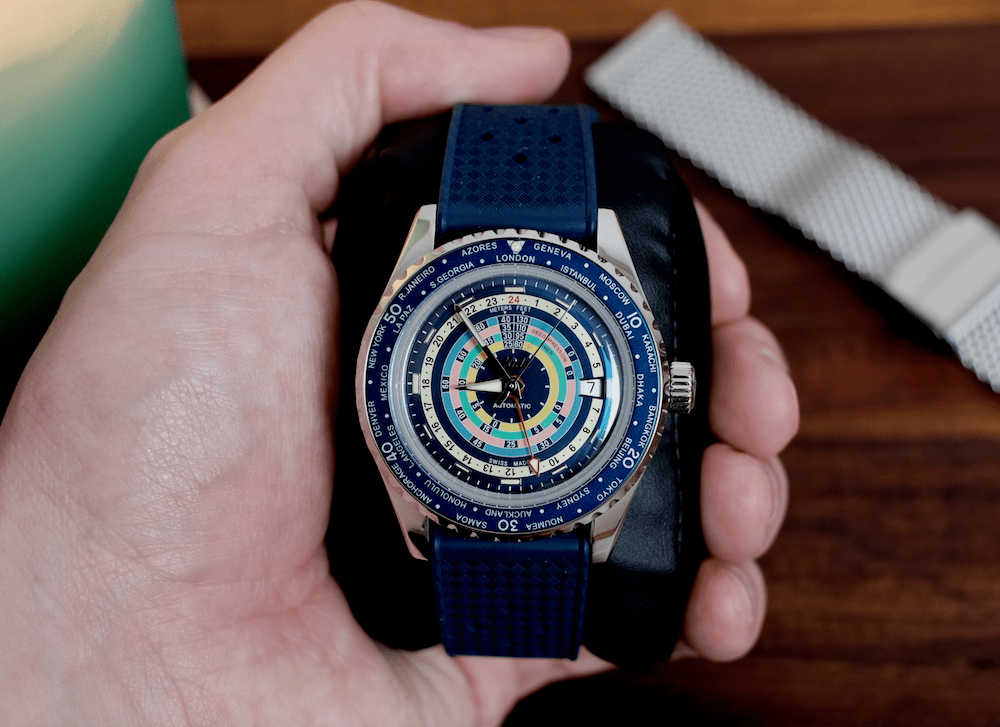 The world-time hand is red on both of them, it's very slender and requires a good stare to get a solid read. But hey it's there, and when you're out there diving off the coast of Fiji you can glance down to check the time zone in Moscow.
The absence of crown guards on this model also lends to a more elegantly styled watch, a slight departure away from the diving aesthetic.
Wearability and Movement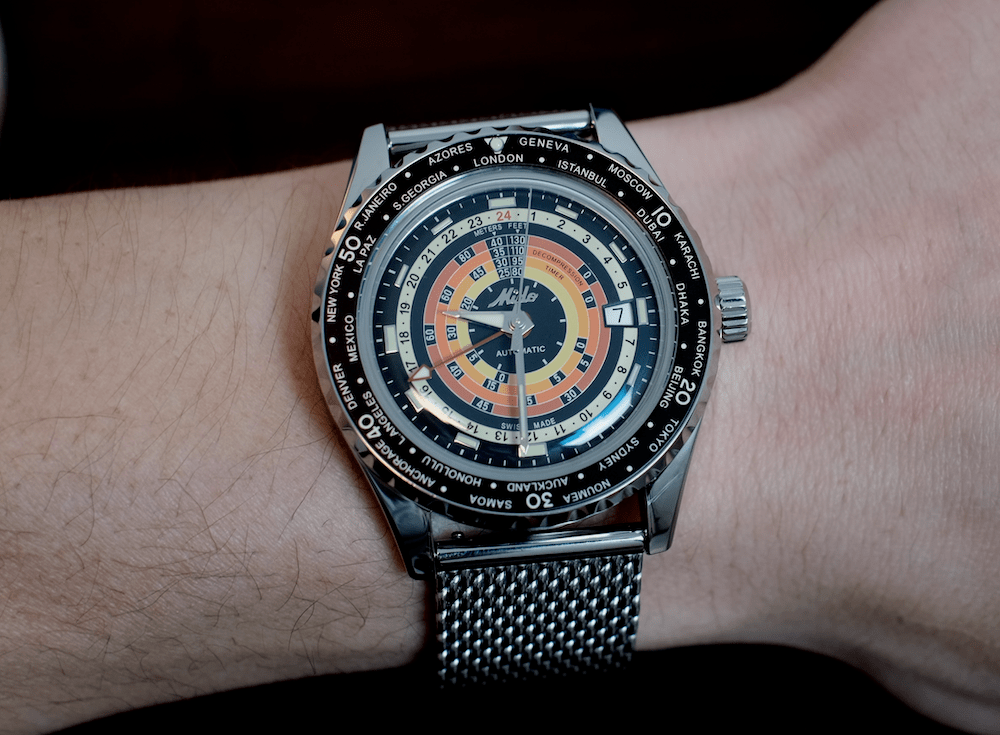 This new release wears really well on wrist, I always loved how Mido do their lug design – never being too long and always with a nice graceful downwards slope to fit the wrist. The watch does remain quite thick though, I think due to the Mido Automatic Calibre 80 it's housing.
Despite the movement being a chunky ETA, it sports great stats, like the 80 hour power reserve, which is more than welcomed on a travel watch like a world timer. It beats at 21,600 VBH, kind of irrelevant to know these days, but it does equate to a smooth gliding of the second hand.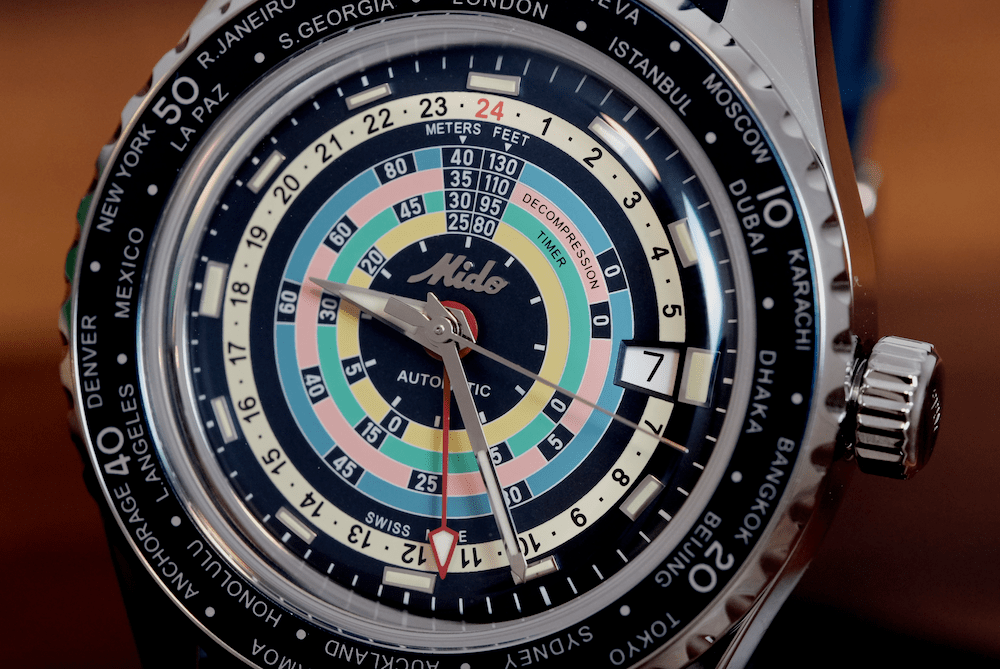 This watch is less about the specs and more about the general vintage aesthetic, this is the reason why watch enthusiasts like you and me are attracted to a fun and quirky watch like this. It's the remarkable attention to detail that Mido takes on to reproduce a reissue like this that makes it so interesting and a worthy contender as a new addition to the collection.
For more information on this new watch release visit the official Mido watches website here.