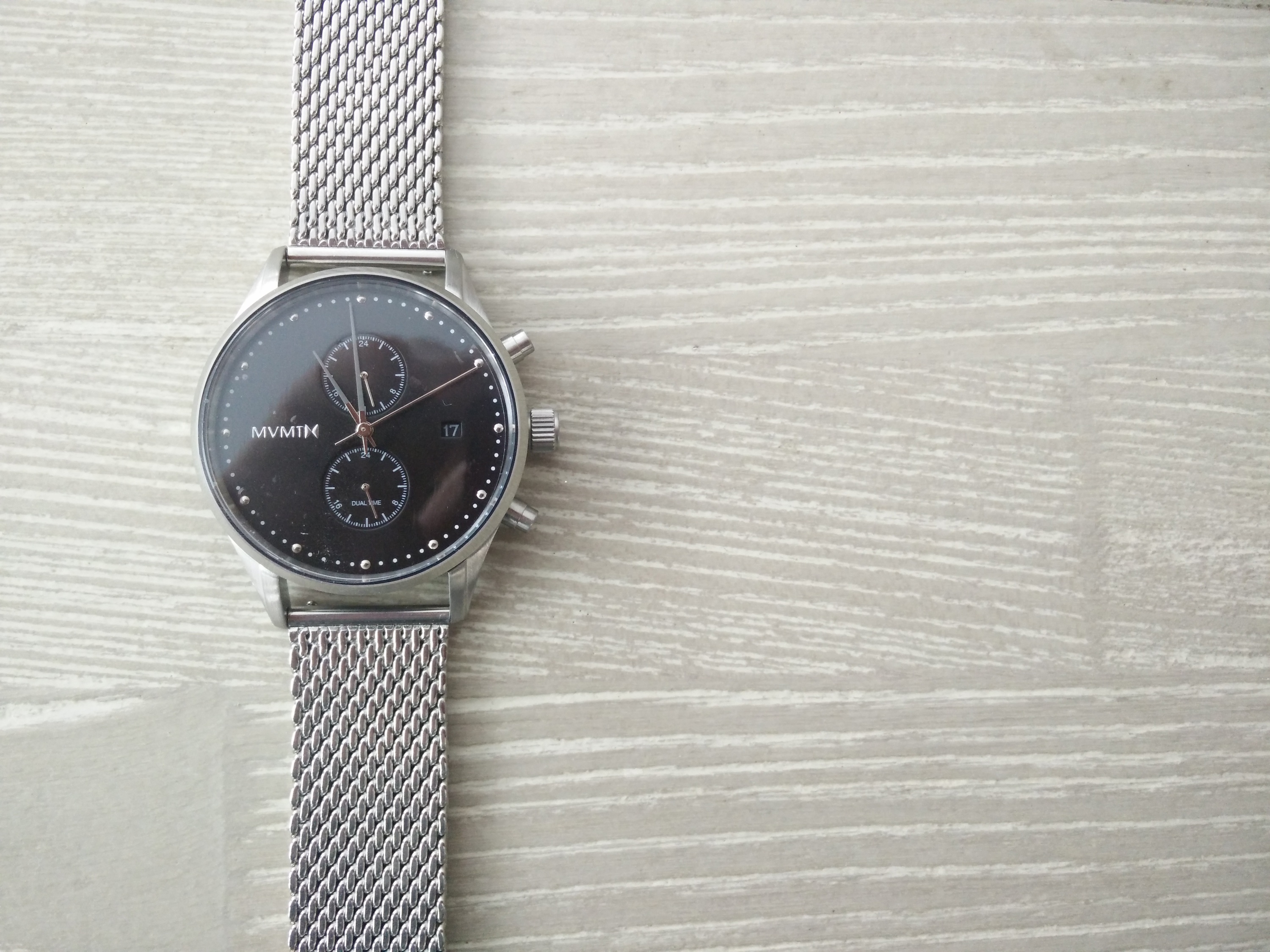 Here at watch review blog we tend to review all kinds of watches, without really niching ourselves into a very specific category. We have reviewed low cost digital sports watches, affordable quartz watches, and high-end mechanical luxury watches.
With that said, today were bringing you an in-depth review on the MVMT Sterling watch, from the voyager collection. MVMT is a fairly new company that has literally taken over the affordable watch game, they exploded with popularity ever since they launched their first timepiece, and they're still trending with no stop in sight. They were also featured in our best analog watches under $200 list.
Unboxing The Sterling
Initial Impression
MVMT does most, if not all of their sales online. Thats how their business model works and allows them to produce higher quality watches then their competitors at a more attractive price point.
After ordering the Sterling online it arrived at my door exactly 2 days later.
The watch comes very neatly packed inside a protective heavy duty box, with no room for any movement ensuring the watch is not damaged at all during transportation. The box contained a couple accessories; a mini tool, and some instructional diagrams for changing the strap.
The watch itself has a very nice heft to it, although not so heavy that it would weigh you down in an uncomfortable way. The Sterling feels very well constructed with nice attention to detail on the outer case and dial.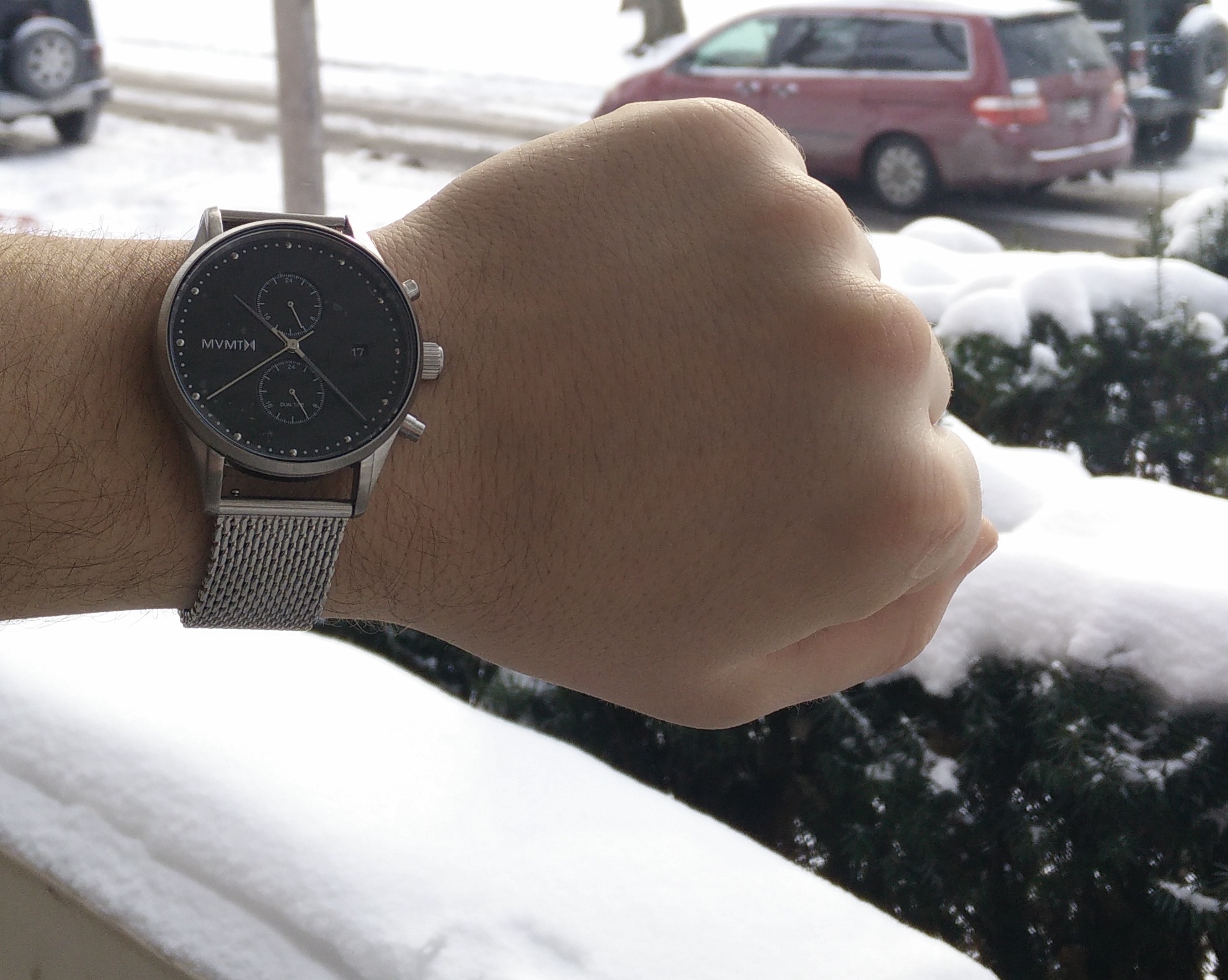 Build Quality & Style
The build quality on the Sterling is quite exceptional considering the affordable price tag. The case is thick and robust but not overly so, allowing it to still keep a somewhat thin profile when viewed on and off the wrist. The finish on the case appears to be semi-polished on the front and brushed on the back, with the MVMT logo inscribed on the back.
One personal gripe I have with this model is it's three protruding crowns which seem to stick out excessively, and definitely create a bit of a flashy "attention grabbing" appeal towards this watch. The other aspect I'm not 100% convinced about is the hardened mineral crystal which feels a tad flimsy, compared to other watch brands in a similar price range such as Seiko, which feature their own type of crystal called "Hardlex".
Trending Fashion Style
Style-wise MVMT hit the nail on the head, and they seem to be doing this consistently with all of their watch models. They know their target audience very well, and know exactly what they're looking for in a watch.
The Sterling has a 42mm case which is an excellent size, considering the "larger watch" trend that we are currently in, and have been going through for the past couple of years. The Sterling also blends the perfect amount of minimalism with accentuated flair to be wearable with a wide variety of wardrobe styles. It's all-silver and chrome look is very masculine and can work with casual to smart-casual attire, although I would avoid full formal wear with the Sterling.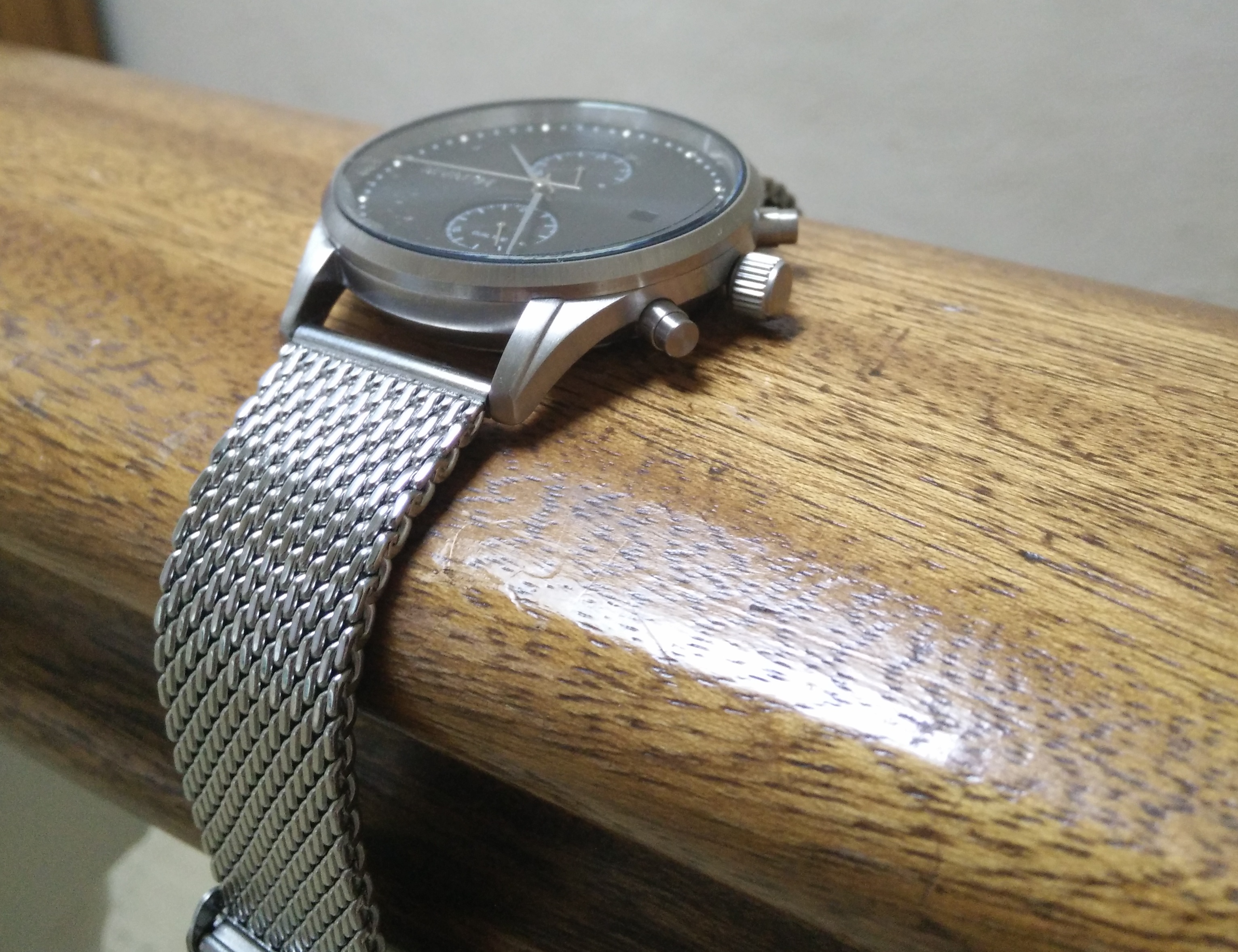 Wearability & Comfort
Wearing the Sterling is a pleasure. It's a well built hefty watch, but its not overly heavy at all, it actually feels quite perfect on the wrist. After about 4 days of wearing the Sterling I forgot I even had it on my wrist at times, as it sits well positioned and the large crowns do not interfere with any wrist movements. The 11mm width of the case is also very nice, it's not an overly thin case but it's suitable enough to have your watch disappear under your sleeve comfortably.
The bracelet which I haven't mentioned much about it is also very comfortable. It's stainless steel weaved design makes it very soft to touch and gives the watch a buttery soft feeling when strapped onto the wrist. The clasp that fastens the bracelet onto your wrist can be a little tricky at first, but once you get the hang of it you should be fine.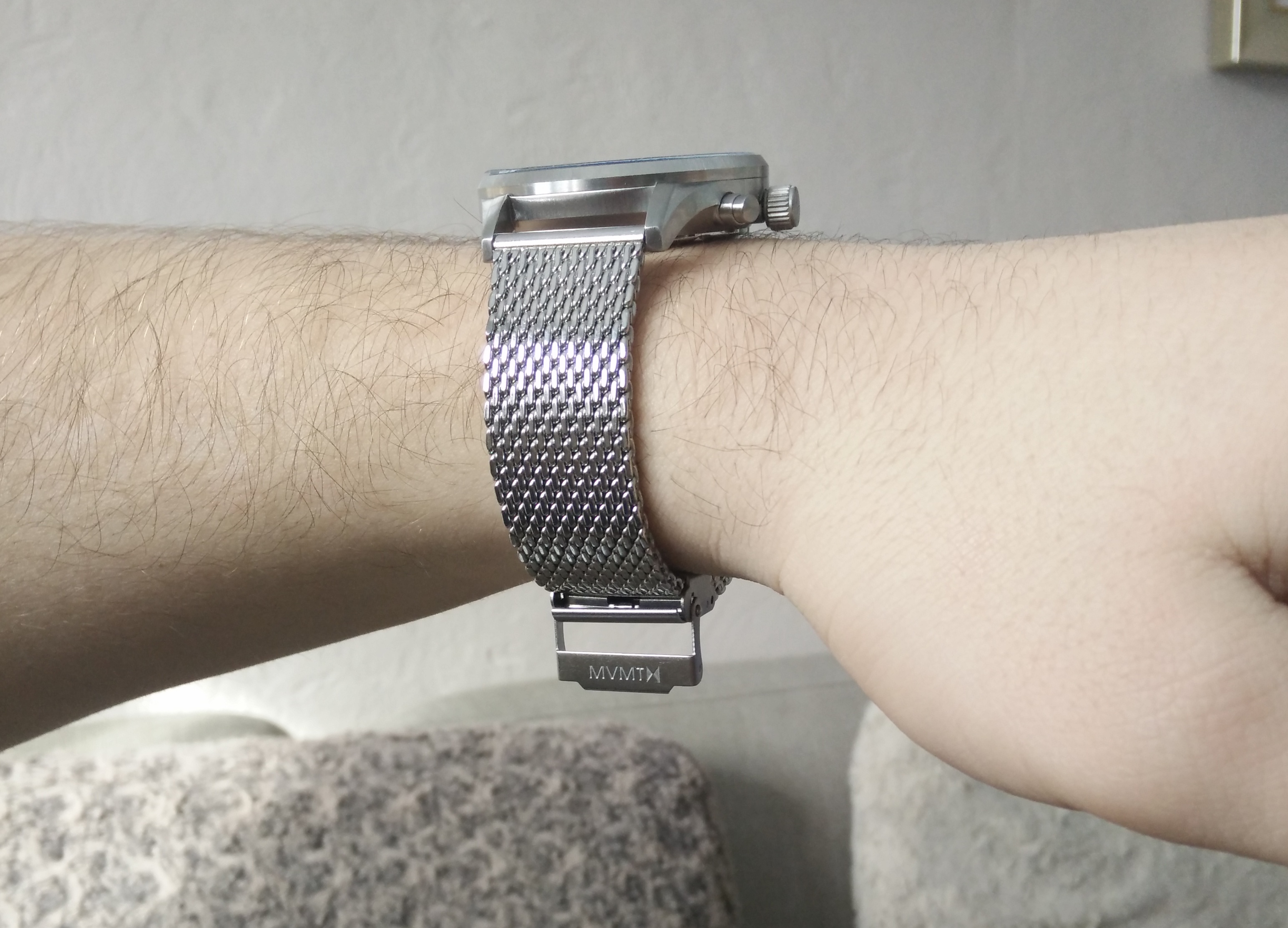 Features
This watch has a little trick up it's lugs, which I've been wanting to talk about all throughout this review. The highlight feature of the Sterling has to be it's ability to quickly change straps with it's little quick release mechanism located under the bar next to the lugs.
This mechanism is essentially a little quick release bar that you can pull to inter change straps and freshen up your style. Just pull the bar, pop out the strap and then insert a new MVMT strap of your choice!
The Sterling, which is part of the "Voyager" collection also happens to be water resistant to 10 ATM (100 meters). It also keeps excellent time with it's battery powered Miyota movement, powering 5 hands (2 sub-dials, and 3 hands on the full dial).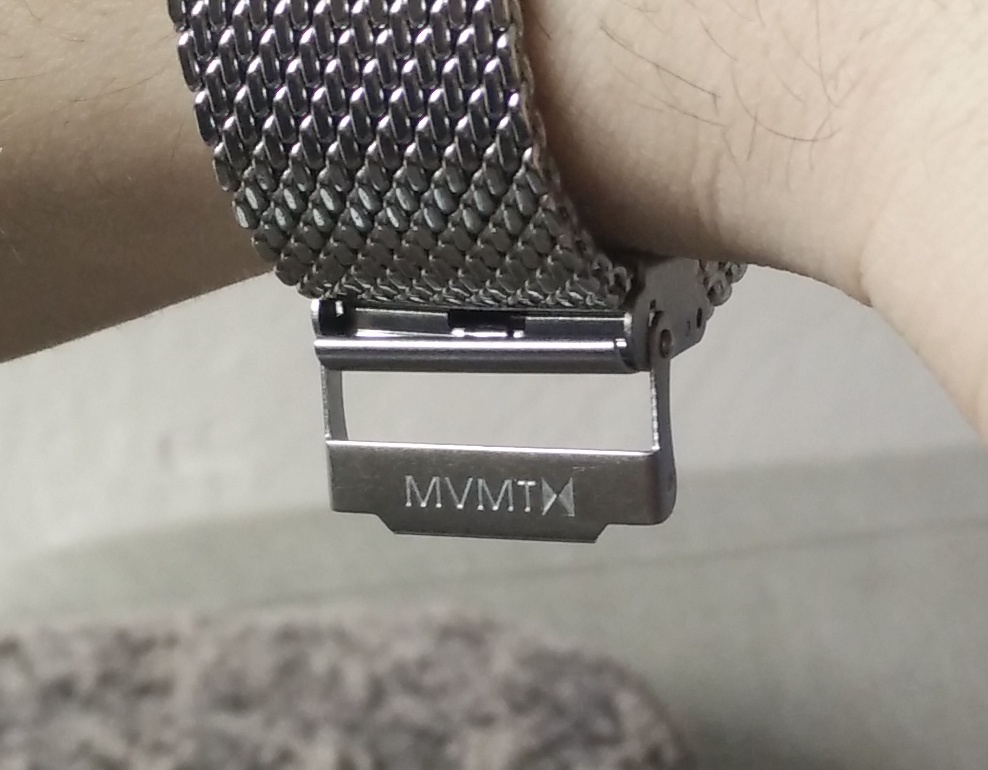 Final Thoughts
The MVMT Sterling is a fantastic buy if it checks off all the boxes that your looking for. If you have an average size wrist, and your looking for a stylish watch that can also handle a good amount of physical activity, whether your traveling the world, or biking to work, or perhaps swimming, then this will be an excellent fit for you.
I personally would love to see MVMT produce a watch just like the Sterling but with a mechanical movement while also keeping the price reasonable just like the rest of their collection.
To view more about the Sterling and the rest of the MVMT collection, you can visit their official website by clicking here.