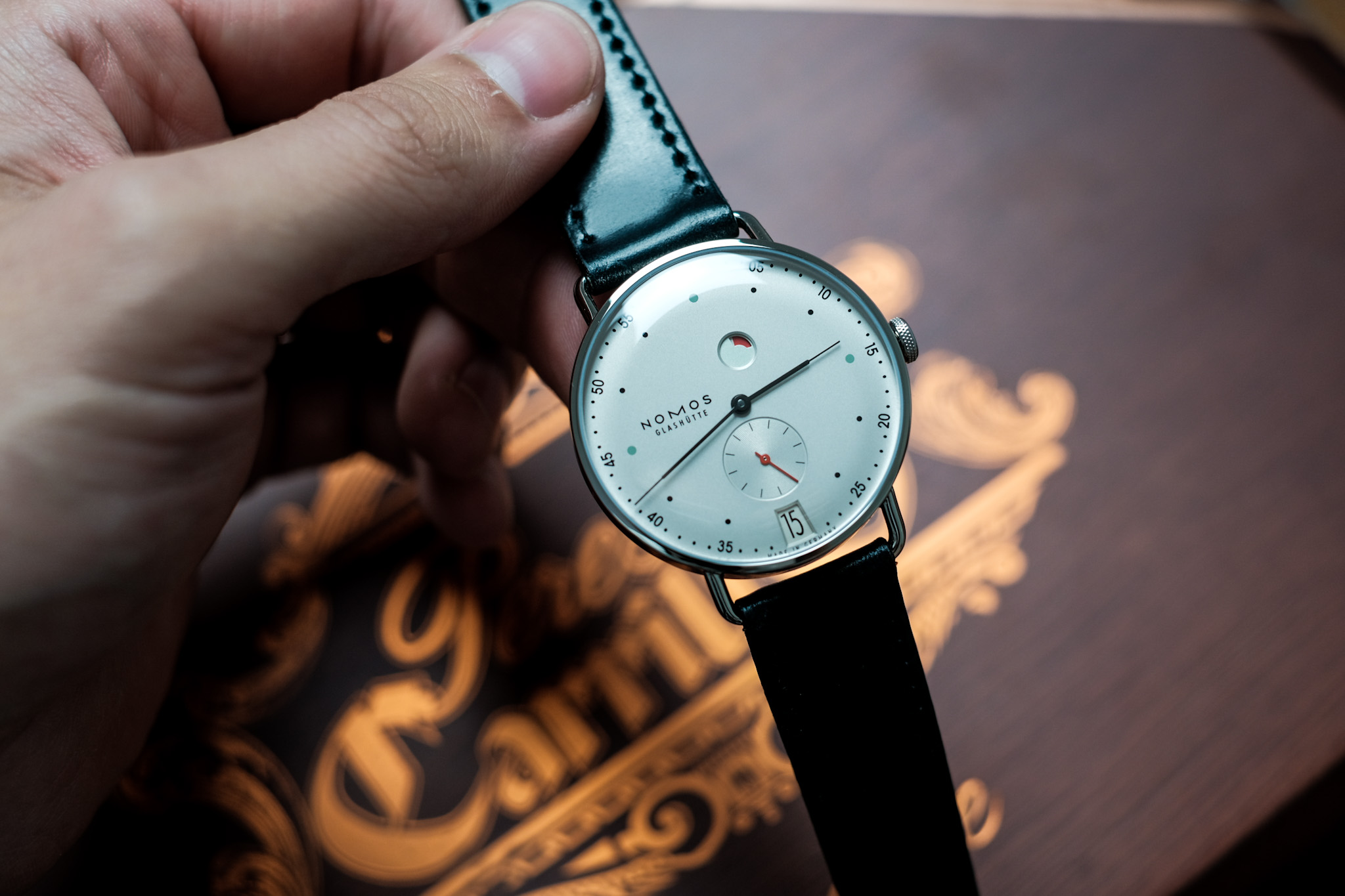 It feels nice to finally sit down and pump out some new watch reviews, this summer was hectic with the office move, but I'm back at it and the watch season is finally heating up which is pretty customary for the fall and incoming holiday season.
I had a rather interesting new watch incoming right in the middle of the summer and only managed to publish a few Instagram images of this eclectic but subdued piece. The watch I'm talking about and reviewing in this article is the Nomos Metro Date Power Reserve Ref. 1101 designed by Mark Braun. It's widely regarded as one of the coolest Nomos watches produced to date, and having added it to my permanent collection I'd have to agree.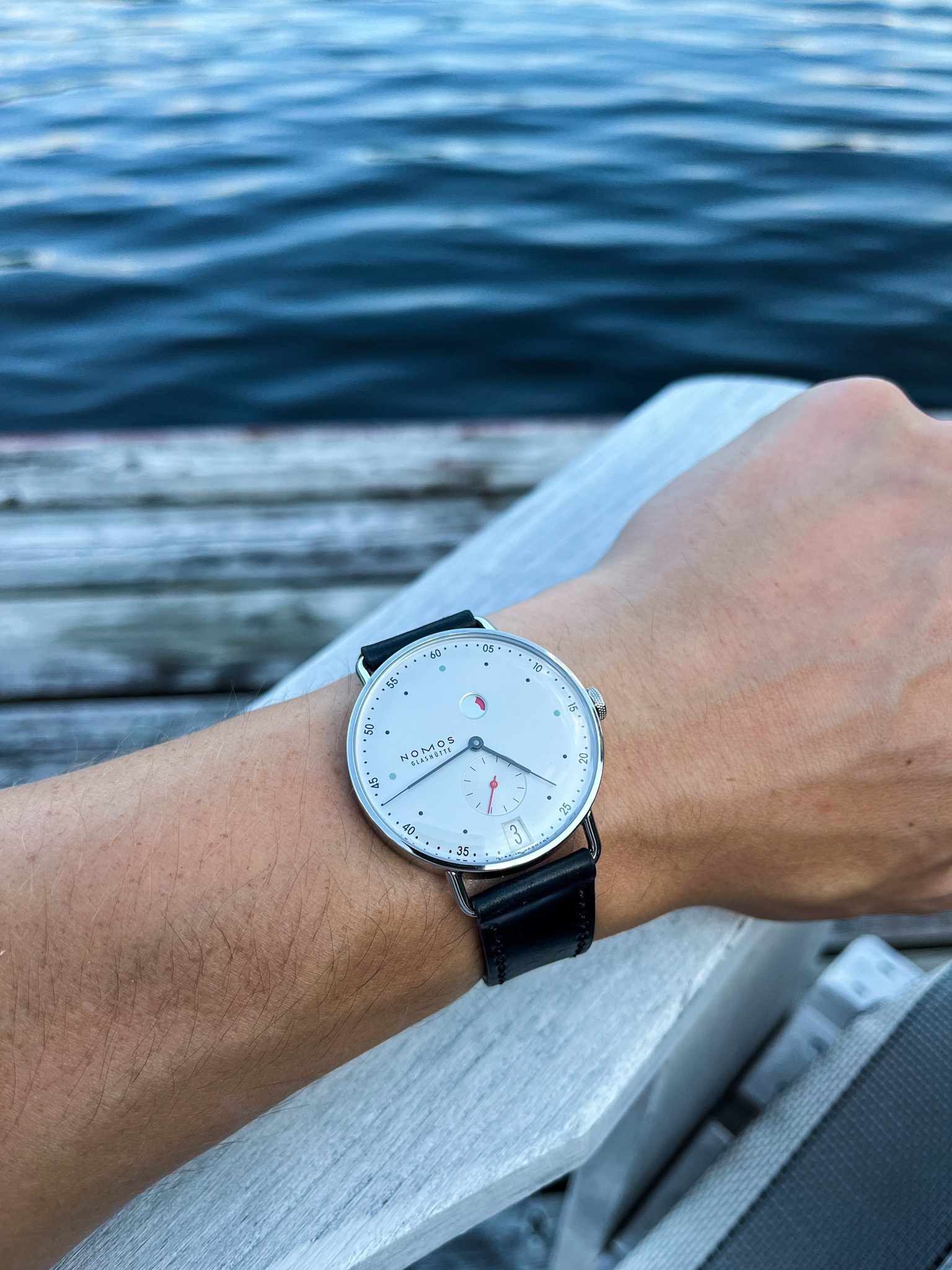 It takes something quite special to bump my newly acquired Daytona 116500 out of rotation, and the Nomos 1101 has done that already on a few occasions. Actually it's quite good at replacing the Daytona as the watches could not be more different, almost to the point where I'd consider them opposites. While iconic, the Daytona is reserved in its styling like all Rolex watches are, the Metro Date Power Reserve on the other hand takes some very bold risks in the stylistic department and makes for a fresh change away from any Rolex.
Retro but Modern Design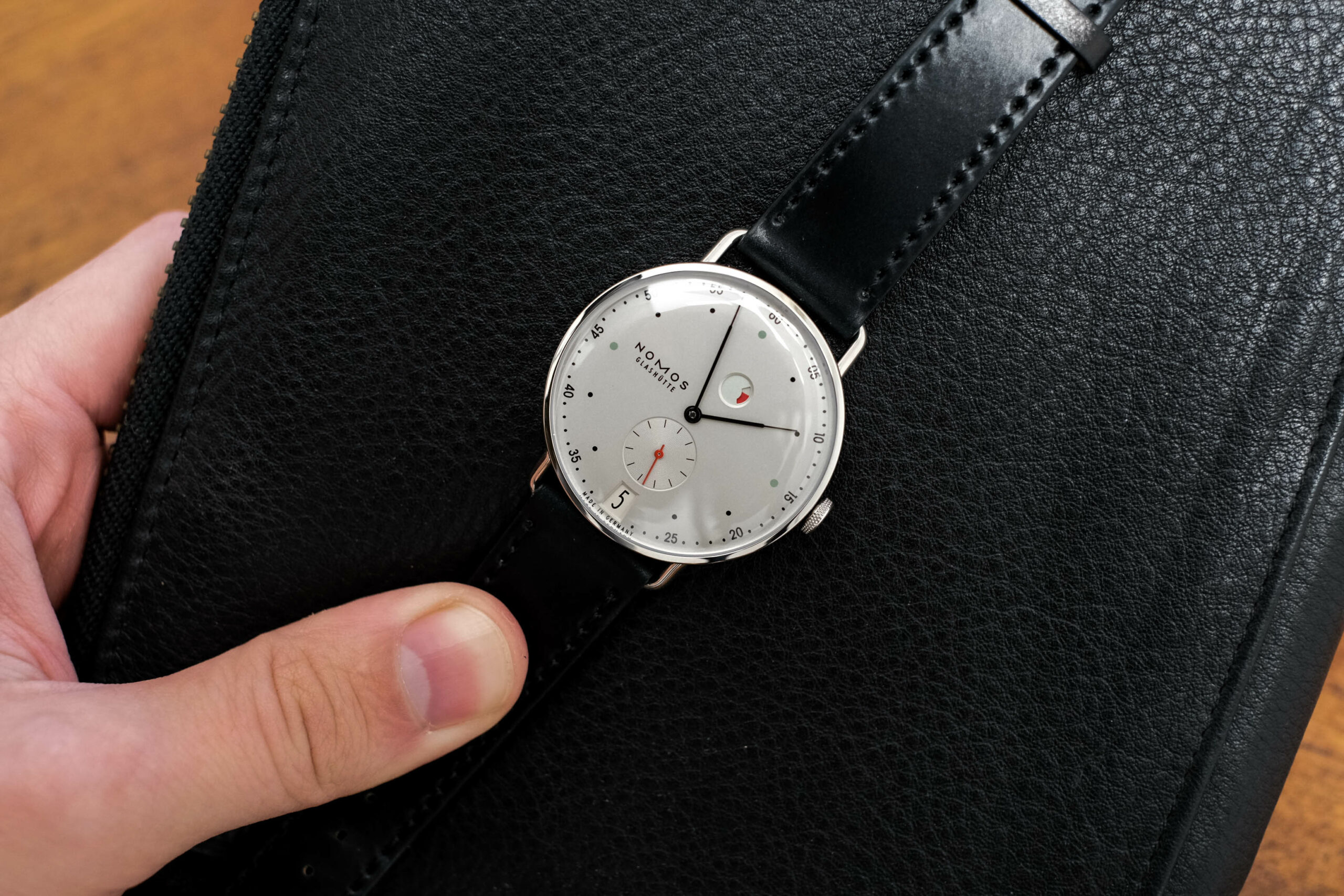 The Nomos Ref. 1101 shines in a few different departments but is quite obviously set apart with its playful and intriguing design, most notably the patented power reserve indicator placed in an unorthodox location slightly to the right on the dial. The power reserve is displayed in a circular window with a gauge that is empty white when full, but as it gets used and less power is available the orange meter begins to show itself.
You'll also observe the logo off center to the left of the dial and the date window perfectly placed at 6 o'clock. The hour and minute hands also play a role in its unique character with a needle like appearance that doesn't taper but rather steps down from thick to thin. The choice of colours also play an important role here with the choice of a light mint / sea moss green on the dial indicators as well as the power reserve indicator, the small seconds hand adds a dash of popping colour in bright orange matching that of the power reserve gauge.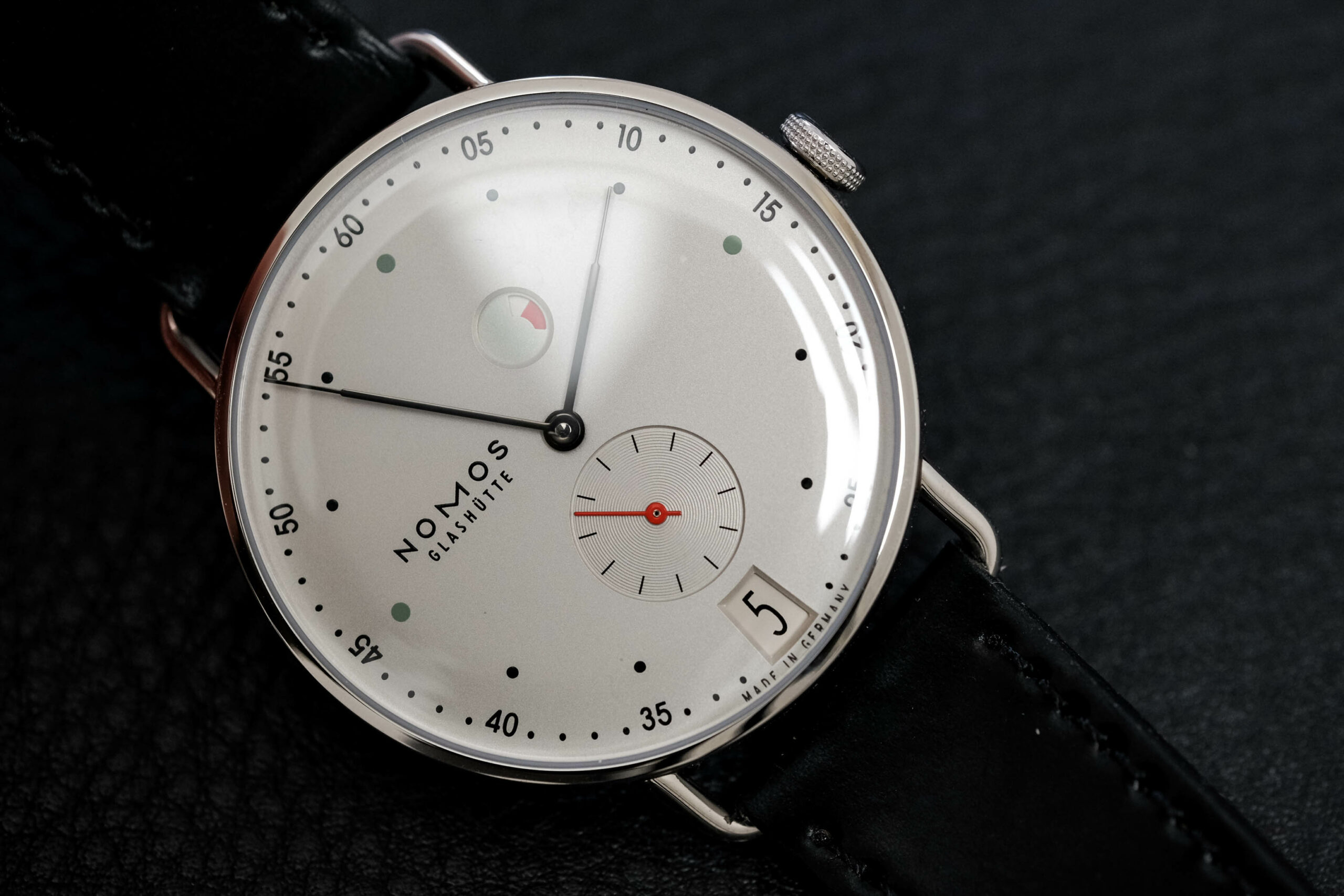 As one observes the dial and places the watch on wrist all the details are a lot to take in at once but they play effortlessly together and create for a very memorable watch. When I first spotted this watch I couldn't get it out of my thoughts, it was just so different from the norm but worked so well – I needed to add this to my collection for some fun variety.
Sizing and Movement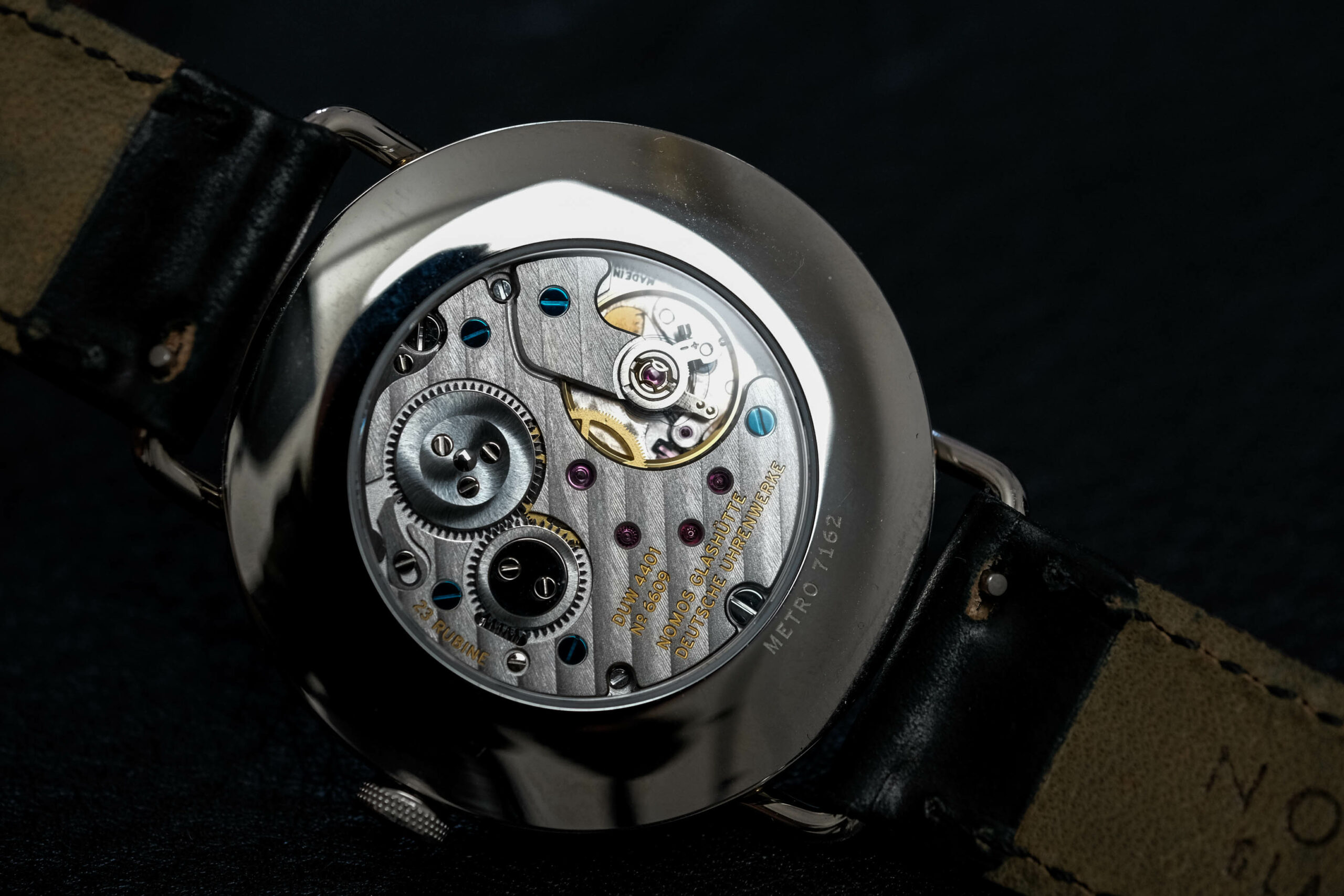 The Nomos Metro Power Reserve aced the style department and went on to ace the sizing and movement department as well. It's a 37mm watch, almost as though the size was made specifically for my 6.5 inch wrist, it fits perfectly. Not only was the comfort perfect but it also has the exact amount of wrist presence I would want in this type of non-sporty watch, the ultra-thin bezel helps in this regard allowing for the dial to take up all the room 37mm allows. It fits like a retro German watch but has all the style cues and specs you would want in a modern dressy / smart casual watch. I view it as more a special occasion watch that you can complete an outfit with but it can easily be used as an everyday watch, that is if you don't mind the manual wound movement and the low water resistance.
The wire lugs are also another unique feature of the metro line, but things get even more interesting when we flip the watch over to expose the display window on the back and its German in-house movement, the calibre DUW4401. For a watch in this price range (around $5150 cad) it's just incredible to have such a unique overall design paired with an in-house movement with a patented power reserve indicator function, this is really the type of package you'd find on a watch that's $10,000 and up making this an irresistible offering to watch enthusiasts and passionate collectors alike.
I just can't get enough of this watch and I look forward to wearing it as much as possible. For more information on the Metro Date Power Reserve Ref. 11.01 visit the official Nomos website here.