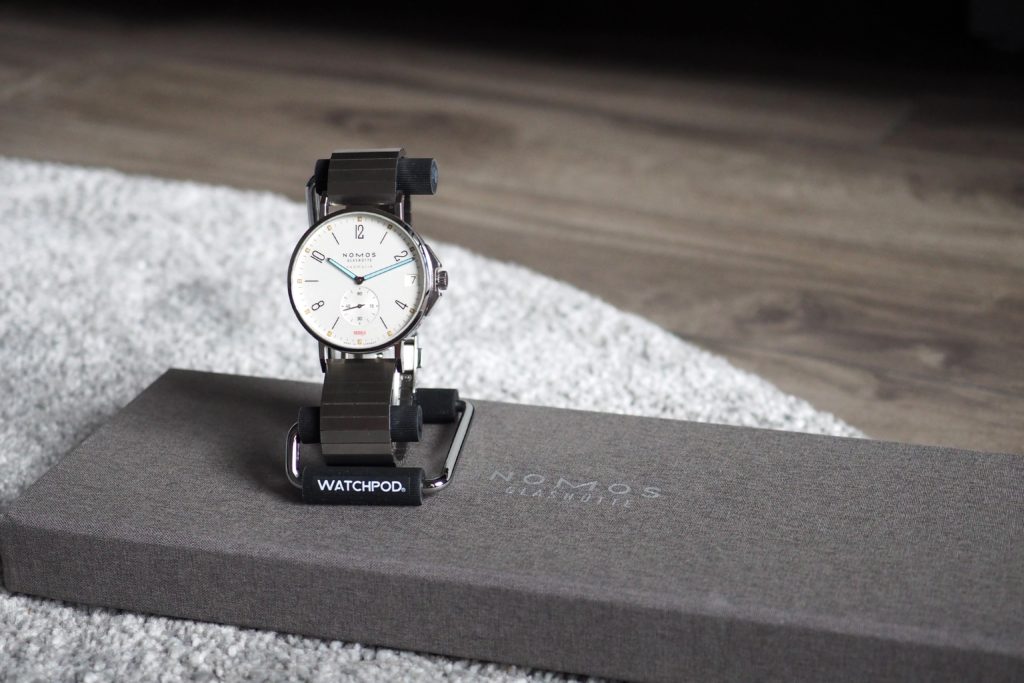 I've written a lot about Nomos watches in the past, such as the Autobahn Neomatik, so I won't bore you with the history of the brand. What I will say is that they released a new pair of quality watches this summer: the Club Sport Neomatic, and the Tangente Sport Neomatic. Both of these watches are water resistant to almost 1,000 feet, and have a 42mm diameter that's on the large side compared to Nomos' ordinary offerings.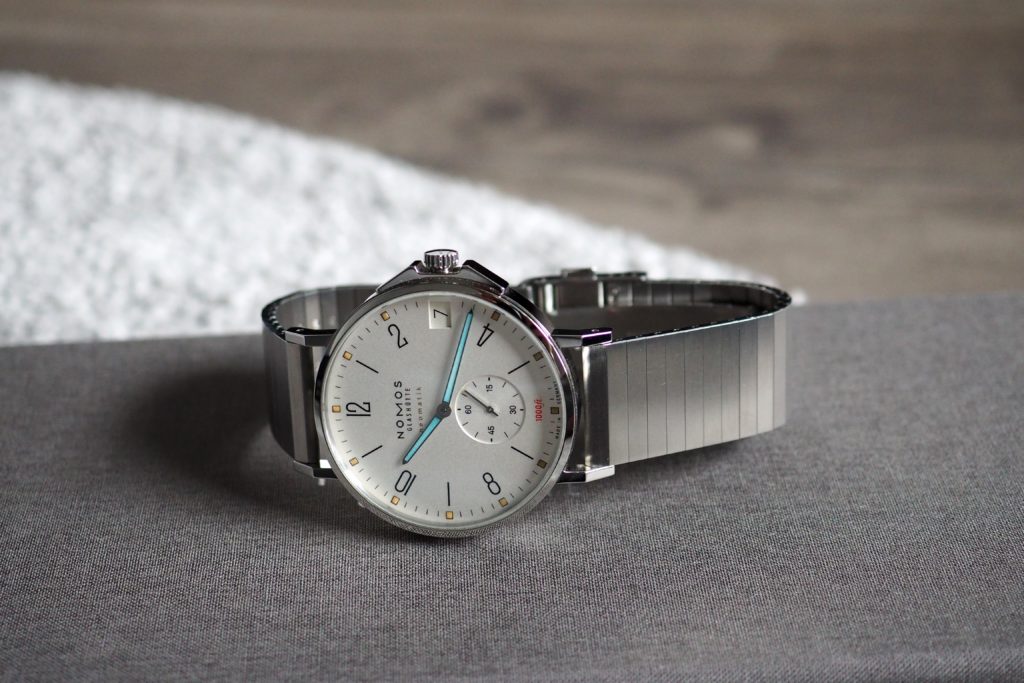 Today, I'll be reviewing the Tangente Sport Neomatic Reference 580, which combines a clean, white dial with a case that's much more rugged than it appears. Here's what I found.
DUW6101 Movement
The first thing that appealed to me about the Tangente wasn't even the case or the dial. It was the precise, accurate DUW6101 movement that drives it.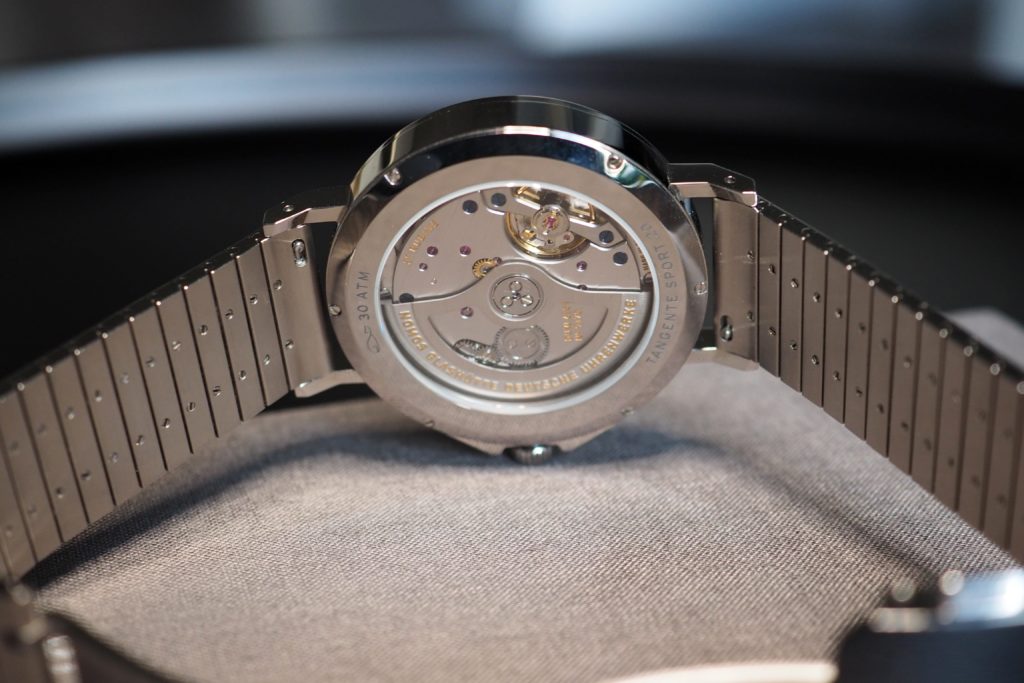 This 6101 is a newer version of the original 3001, which has been the basis for many of Nomos' most iconic watches. However, the 6101 has been upgraded with a date complication in addition to the small 60 minute subdial.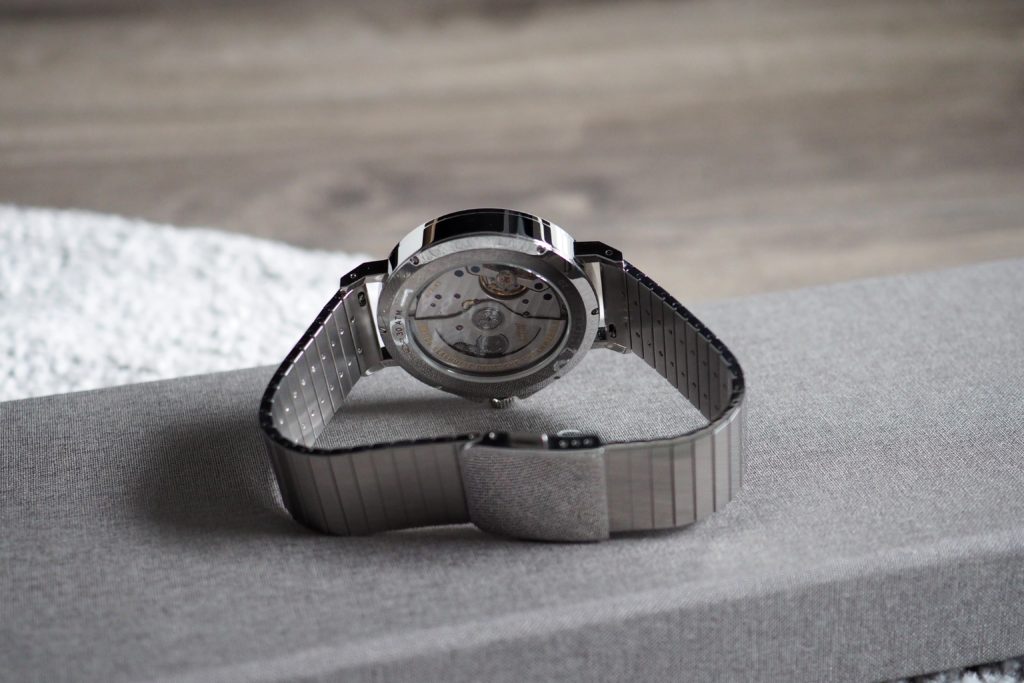 This movement is still exceptionally accurate, and performs at about +/- 2-6 seconds a day of accuracy. It operates at a brisk 21,100 beats per hour, which isn't the fastest on the market, but beats per hour is a much less important measurement than accuracy, and this is where the 6101 exceeds. Any sub 10-second movement is worth considering, and the 6101 more than lives up to this standard.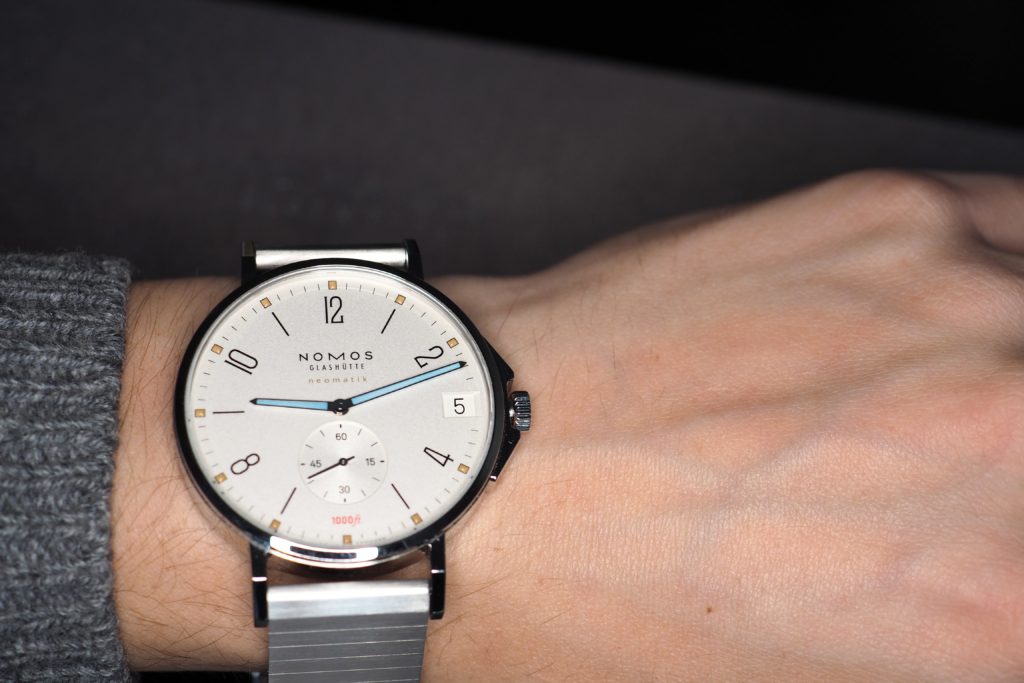 In addition to being exceptionally accurate, the DUW6101 also offers a significant power reserve. It will hold 42 hours worth of energy when fully charged, which is almost enough to last for an entire weekend. This is especially impressive considering the diameter of the dial, with a 35.2mm width as well as the date complication and 60 second wheel.
The Dial
The Tangente's dial is wide and elegant, with a clean white background that provides plenty of contrast for the tall, contemporary numerals. Small tan rectangles mark the 5-minute spots at the outer edge, while small hashes mark off individual minutes.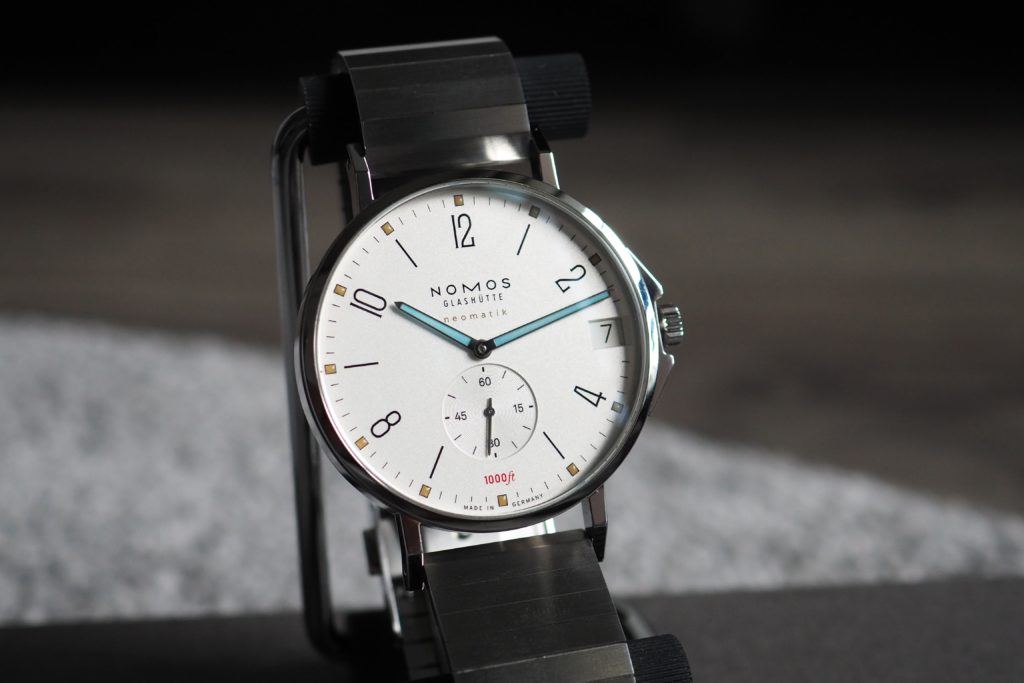 The hour and minute hands are easy to find, painted with a bright finish that's baby blue by day and luminescent blue by night, so it's easy to read the time even when it's dark and the numerals are invisible. There's no second hand to complicate the picture, although this might be a drawback if you're looking for an automatic watch that can also be used as a timer.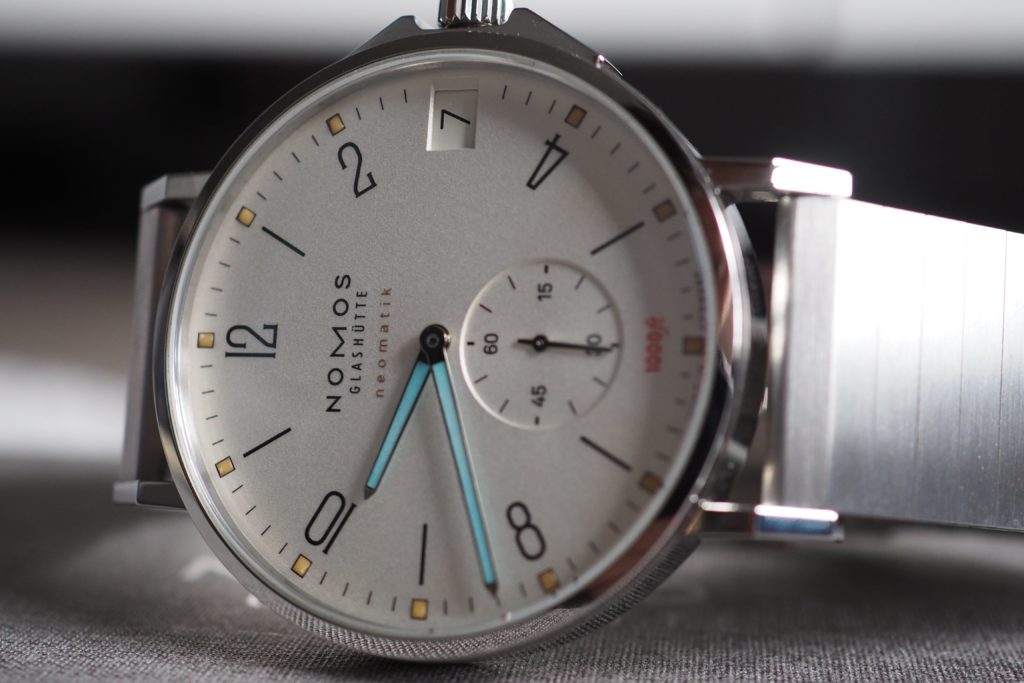 At the 3 o'clock position, you'll find a date window. One advantage of the 6101 movement is that the date can be adjusted in reverse, which will save you from scrolling all the way through the month just because you overshot by a single digit (comes in handy when taking pics). At 6 o'clock, a subdial displays the 60 minute time. This is more of a decorative feature than anything, but it's an attractive addition to an already elegant dial.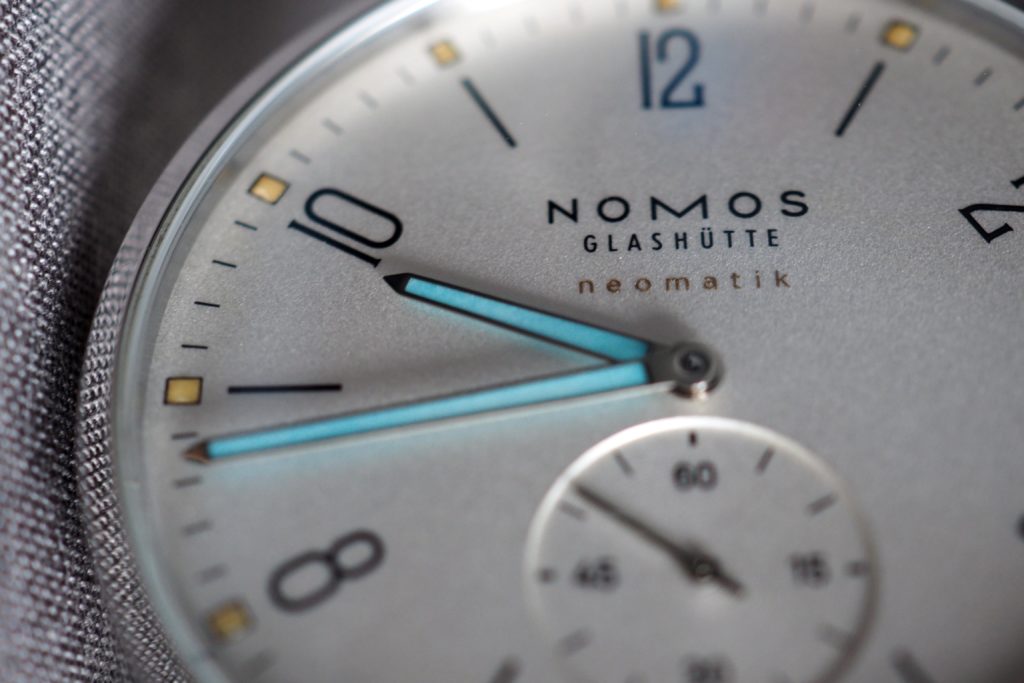 One more thing. I reviewed the standard, white version of the Tangente, but there's also a black version. The black version has gold hands instead of blue, and high visibility blue lume scala and numerals.
Tangente Crystal and Case
The Tangente Sport's wide, 42mm case is slim for its size, at only 10.9mm in thickness. The bezel is very narrow, which means the dial takes up almost all of the diameter, and also adds to the case's overall formal appeal. It's not loaded up with a bunch of extra steel, so there's nothing to distract the eye from the dial.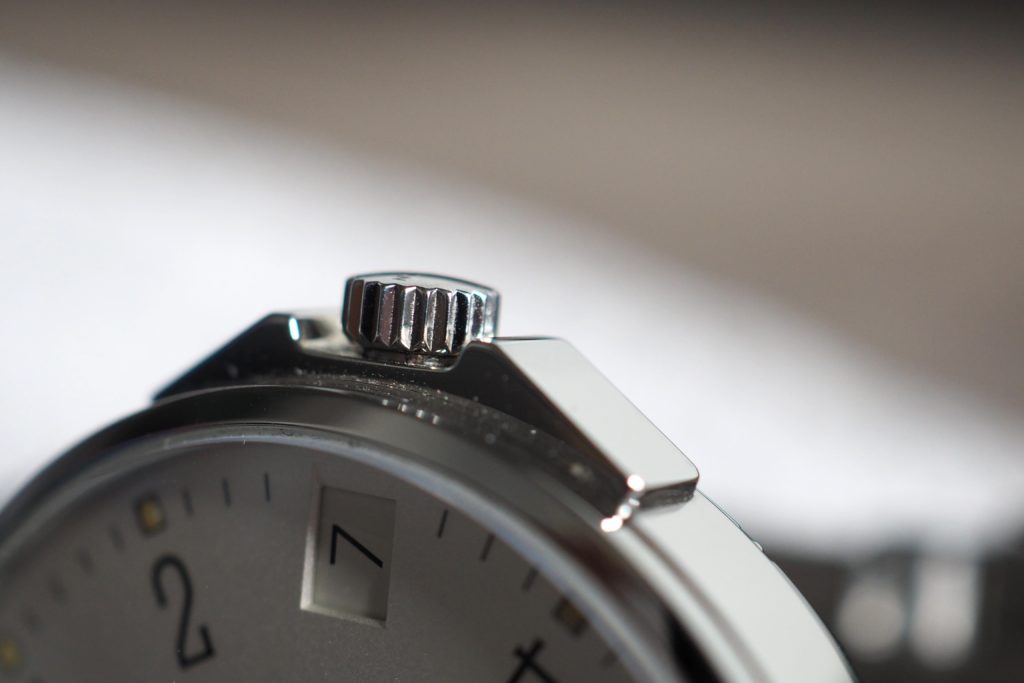 All functions are operated from the single crown, without any extra pushers or added bulk. The crown is a screw-down design, which adds to the appeal of the Tangente for athletes and fans of aquatic sports. Speaking of which, while the Tangente falls short of several dive watch requirements – notably, there are no bezel markings, much less a rotating bezel – it's great for wet conditions. With water resistance to 300 meters (990 feet), you can reliably take it anywhere.
The Extras
If you've read my previous Nomos reviews, you're probably familiar with Nomos' ordinary bands, which tend towards a traditional, leather design, with single stitching down the sides. These bands have a classic appeal, and they're totally appropriate to Nomos' compact, traditional watches.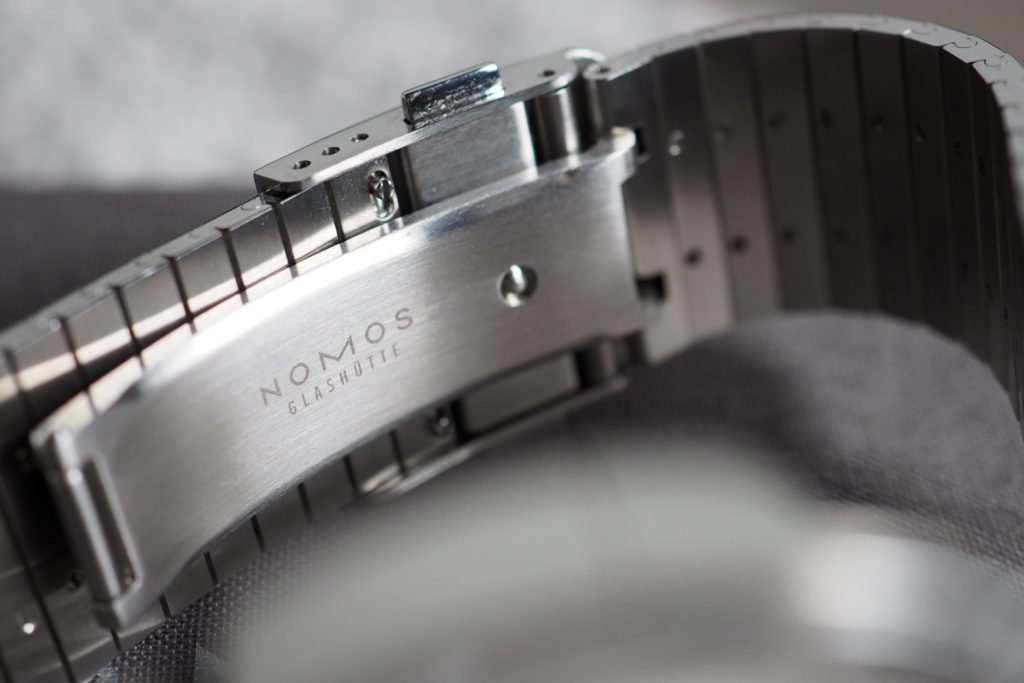 These new bands are currently exclusive to the Sport Neomatik line of watches, although I'm left wondering if they're going to use them on future watches. The links are flat and wide, with a smooth profile that's reminiscent of classic 60's watch bands. The clasp is also elegant, with a smooth design that won't snag on your cuffs or pinch your skin.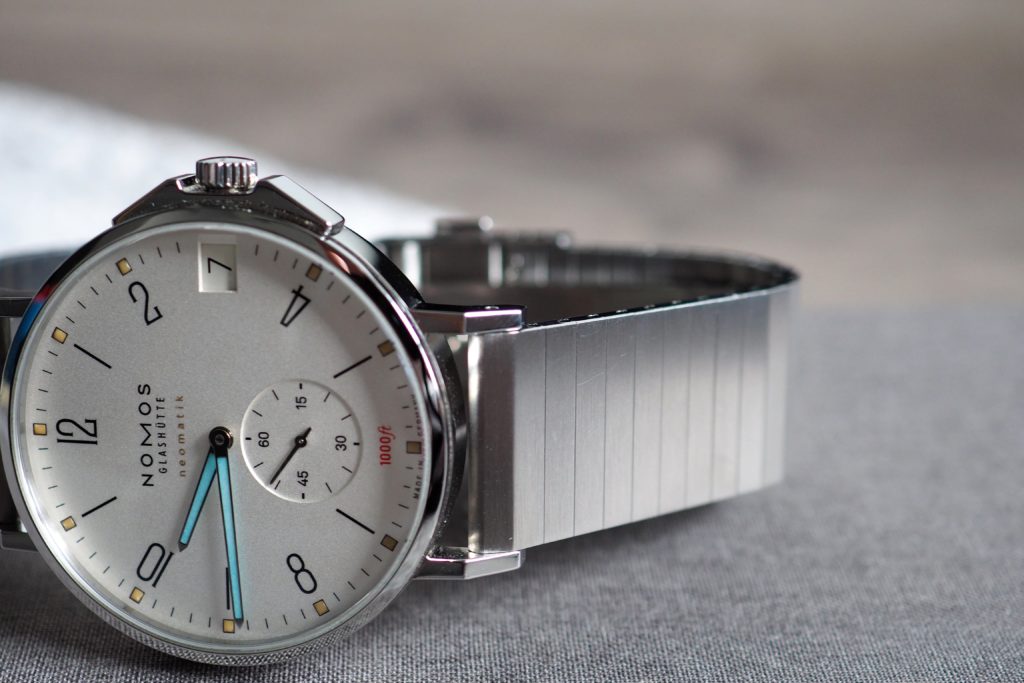 But what I liked most was how well the band suited the watch itself. The smooth, yet modern aesthetic was a blend of old and new, and I look forward to seeing how Nomos incorporates this watch band into future designs.
To view all of Nomos' offerings you can visit their official website here.