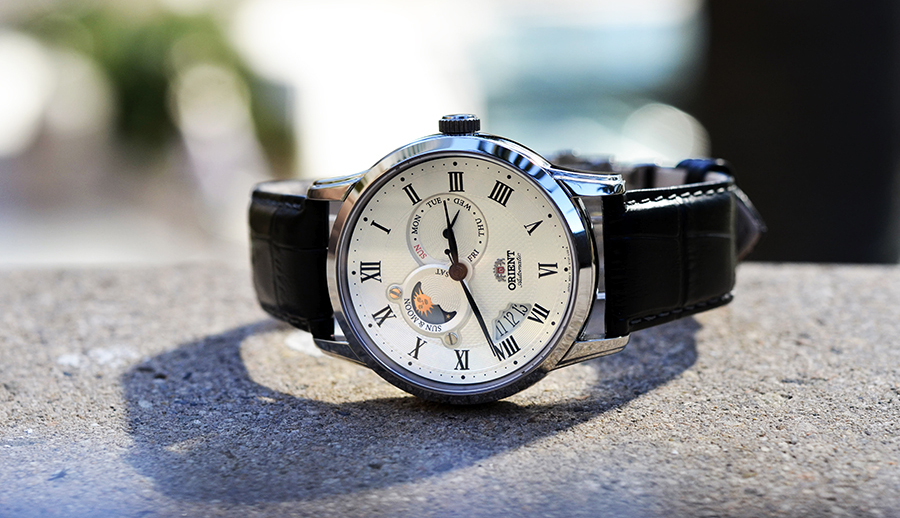 Does anyone really need their watch to report on the status of the sun and the moon? Eh, probably not. But the Orient Sun and Moon collection of watches are famous for this complication and I have to say, it really is fun to watch the sun and moon circle around the small display in the upper left quadrant on the dial. The particular style reviewed today, model FETOTOO2SO, is the version 2 of Orient's Moonphase collection. Designated an executive watch by Orient, the Sun and Moon is meant to be a highly adaptable design, equally comfortable at the office as in casual settings. In fact, pretty much the only setting this watch would be out of place in would be in sporty applications, but it does have a fairly respectable 50 meter water resistance rating, so it can hold up to more than just small splashes. Quite a chameleon, indeed. Let's dig in and see what makes this Orient special.
> > > Click here to see ratings, reviews, specifications and prices on Amazon < < <
Polished Case
The round stainless-steel case measures 42.5 millimeters wide by 14 millimeters thick – fairly bulky for a nice executive watch like this. This brushed silver case is a rather simple affair, with plain, thin bezel and an ordinary-looking crown at 3 o'clock.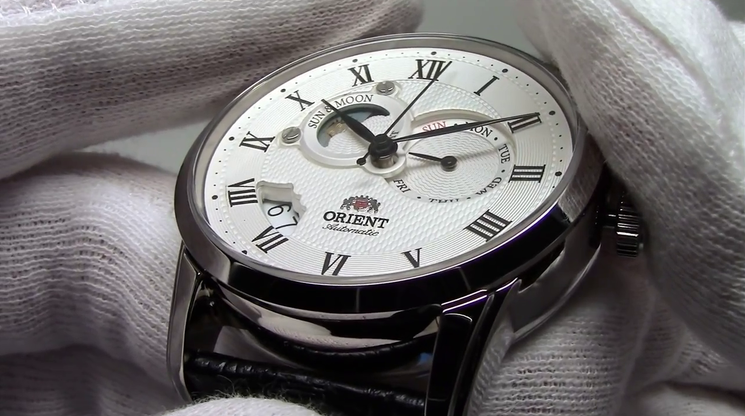 A domed sapphire crystal covers the large white dial; always a nice touch to find sapphire crystals on watches in this price rance. A screw-down caseback features an exhibition window displaying the rather plain looking automatic movement.
21 Jewel Mechanical Movement
Speaking of the Sun and Moon's movement, what we have here is a 46B40 caliber automatic movement. The design incorporates a respectable 21 jewels to dampen vibrations. By all accounts, this is a solid, workhorse-type movement that has reliability and durability in spades, but is lacking in panache and beauty compared to most higher-end automatics.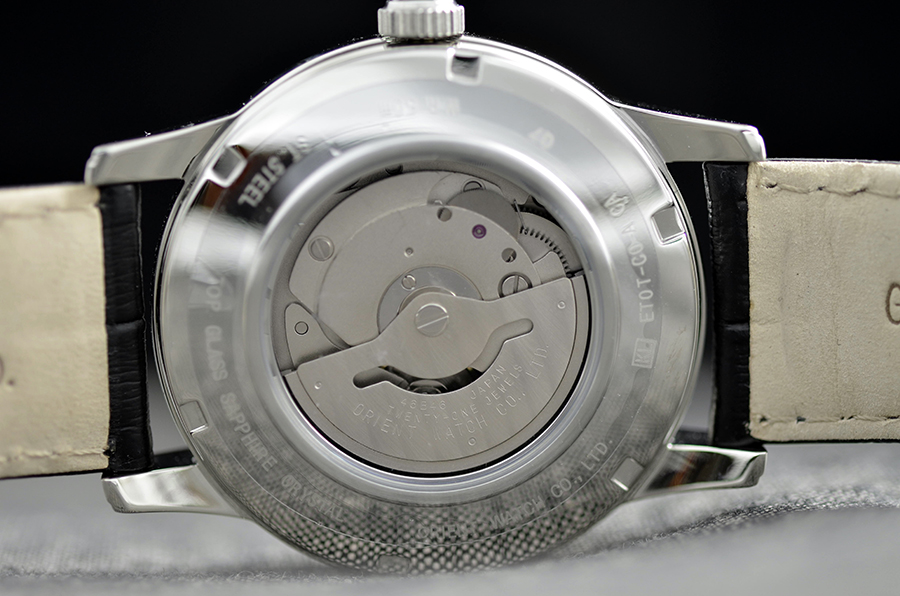 > > > Click here to see ratings, reviews, specifications and prices on Amazon < < <
Unfortunately, this movement does not offer hacking or hand-winding, but at this price point and with the level of attention paid to the exceptional dial, it's no surprise Orient wasn't able to splurge on the movement. Still, there is nothing wrong with this movement. It should work for a long time without any significant issues; it just won't look super fancy doing it and that's fine by me.
FET0T002S0 Moonphase Dial
The Sun and Moon's white dial contains so many different finishes and textures on the dial that you will likely never get bored of looking at it. The level of intricacy is quite stunning for an executive watch under $500. Add in the sun and moon function and the day dial and you have a fun, unique watch that offers much more than expected. Starting with a guilloche-style pattern on the inside of the dial, you will find two large subdials with their distinct patterns, slightly offset on the top half of the watch. Of course, there's the sun and moon indicator that displays… Two exposed screws hold this dial in place. One of the few disappointments with this watch dial is that these screws are often unaligned on the various examples I have seen. The counterpart to the sun and moon display is the day dial, which sits slightly behind and under the celestial dial and therefore the "SAT" is actually printed on the other subdial. A date display is located between the 6 and 7 hour markers.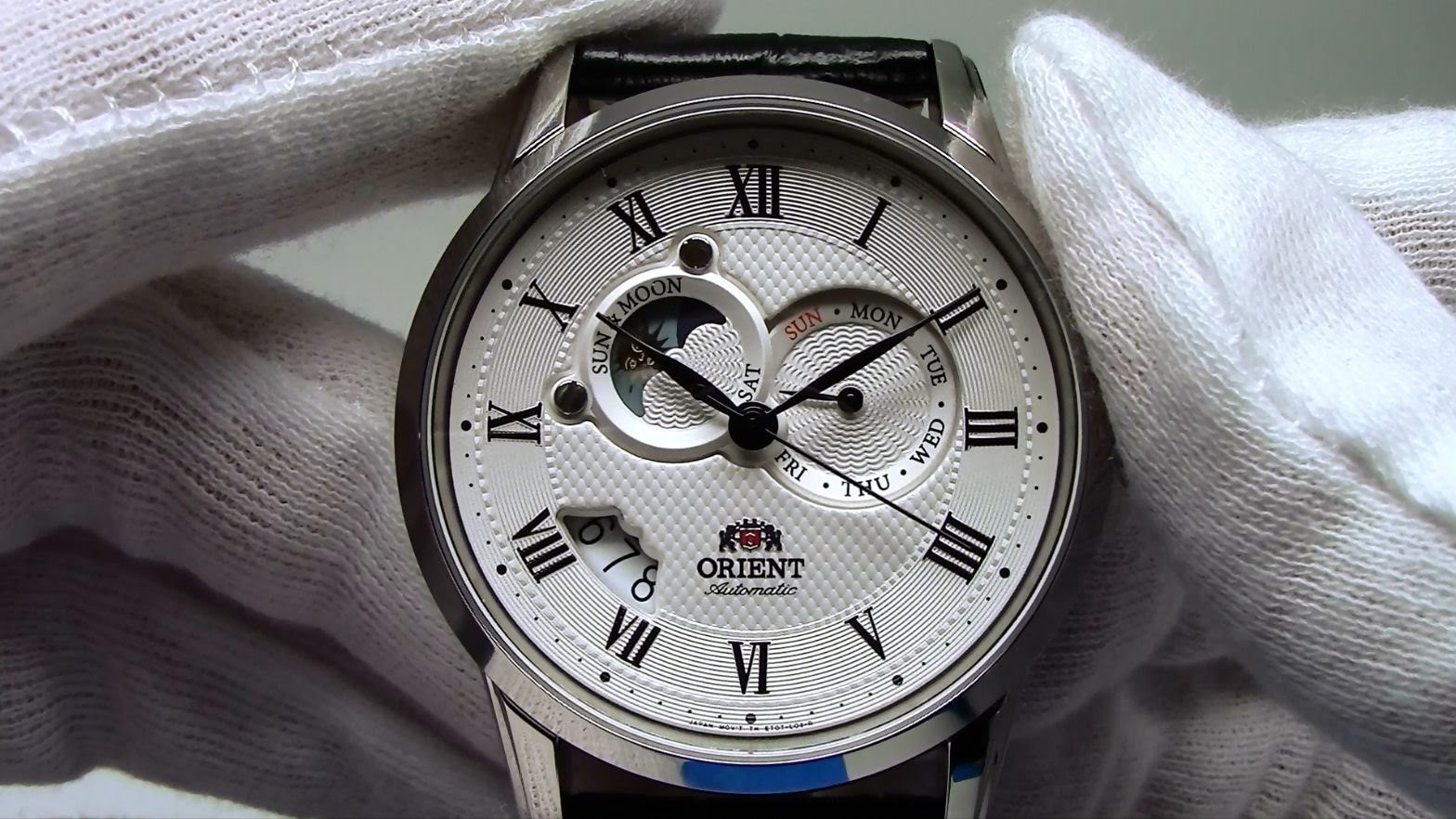 The large black Roman numeral hour markers were a great choice for the Orient FET0T002S0, and are exceptionally easy to read against the white dial of this particular model. The hours, minutes, and seconds hands are black as well. As you would expect on a watch like this, there is no lume anywhere on the dial. A splash of red comes from the Orient logo above the 5 o'clock marker as well as on the "SUN" on the day display.
Strap
The Sun and Moon's black leather band has an alligator-style grain pattern and contrast stitching. This 20 millimeter-wide band also features a deployant clasp and tan underside for a bit of contrast. It's nothing that will knock your socks off, but it goes great with the watch. It seems as though the band, like the case, was primarily intended to look elegant yet modest enough to not distract from that spectacular dial.
Final Thoughts
There is little to dislike about this FET0T002S0 Orient Sun and Moon watch. In fact, I personally find that this version 2, which comes in a variety of finishes, is more attractive than the substantially more expensive version 3. It's one of those watches that has so much detail and depth to the design, you could study it for hours and never get tired of looking at it. What more could you ask for in a versatile watch like this. With a $395 suggested retail price and only a couple minor grievances, I find this to be a highly desirable offering from the Japanese watchmaker.
> > > Click here to see ratings, reviews, specifications and prices on Amazon < < <