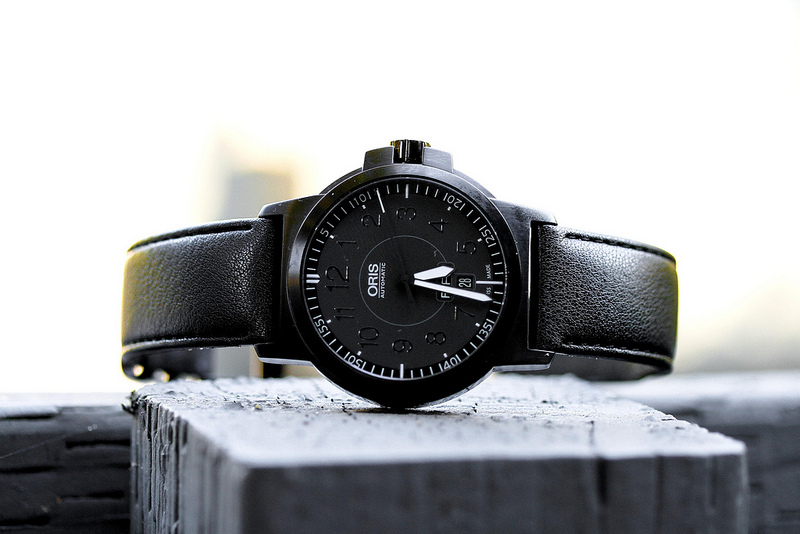 The aviation industry has for over a decade been linked to the watch manufacturing. Yet another gem from the Oris aviation collection is the 735 7641 4764LS BC3, this particular model is in gunmetal grey and supplied with a calfskin or rubber strap. With an affordable luxury price tag, this is a pick that won't fall short of qualities for those looking for a more subtle companion during their casual and business casual occasions. With 16 configurations and variations in strap type, plating, dial color, and case finish, this watch offers plenty of opportunities for even the pickiest collectors out there.
> > > Click here to see ratings, reviews, specifications and prices on Amazon < < <
A Striking Design
The case gives off quite a heavy-duty vibe, and the plating somehow makes it appear larger than 42mm across. The polishing on the bezel and lugs comes in a lighter shade – more of a gunmetal hue and works quite well with all elements on the watch's face and plays well against the color of the dial.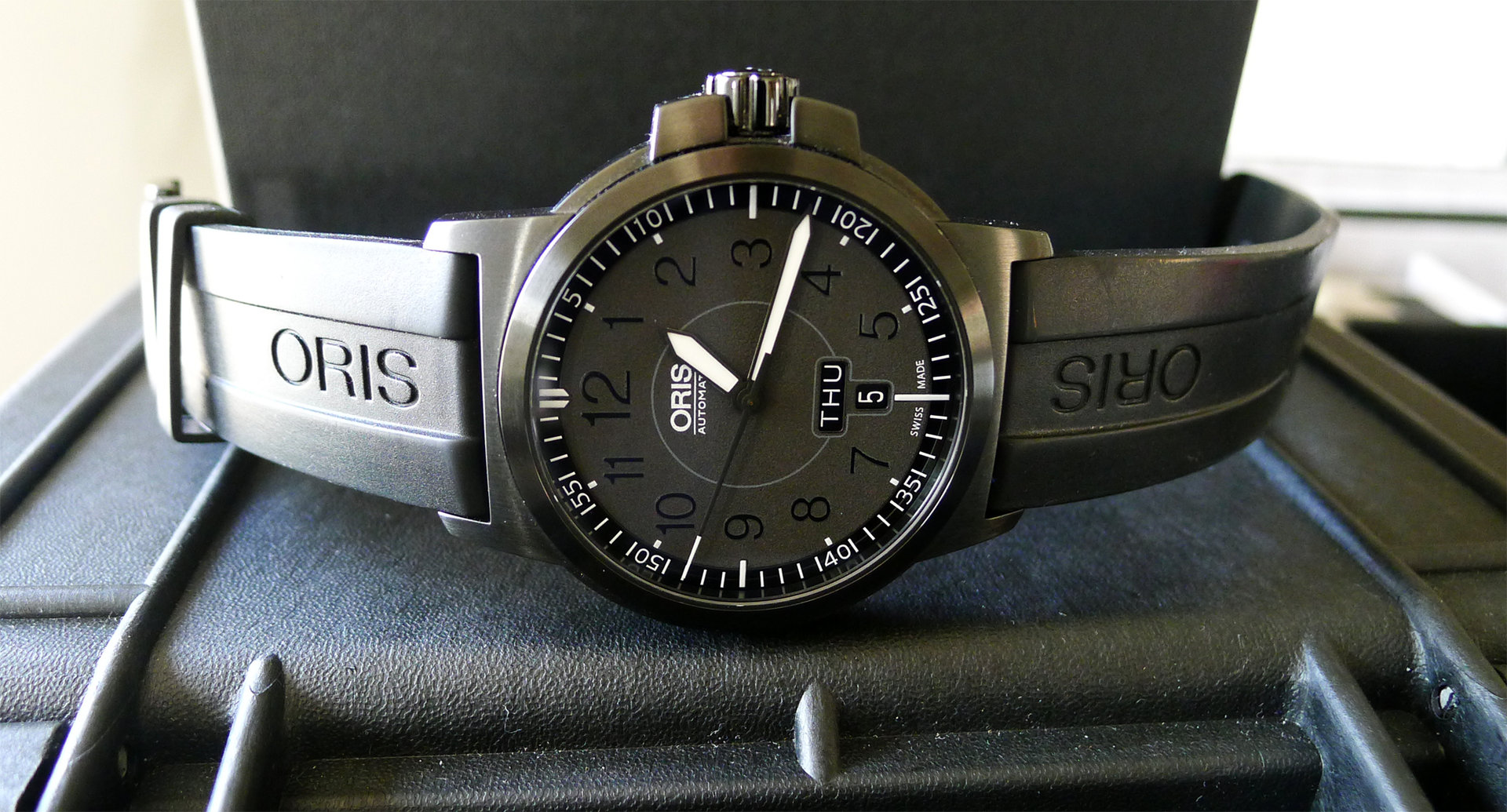 Oris did a great job in bringing the best out of all surfaces found on the case, with light brushing obvious on most of them. If you're in the market for a robust watch that still allows you to go about your daily business and sport's activities, this one won't disappoint. Let's shine the spotlight on this trooper.
The BC3 Dial
There is plenty of discussion about whether the Arabic numeral hour markers should be in black. In efforts to enhance legibility, the markers are embossed instead of being printed which does make them slightly more discernible on their dark background. Still, this model lacks that great legibility other models in line bring along. Perhaps this is to make the watch appear as masculine as possible. The hands are fortunately large and in white, with a thin black outline. They are additionally glazed with Superluminova pigments which makes them glow in dark brightly for hours after the lights are out. The second hand is a black line with a white tip, as found on other models from the collection.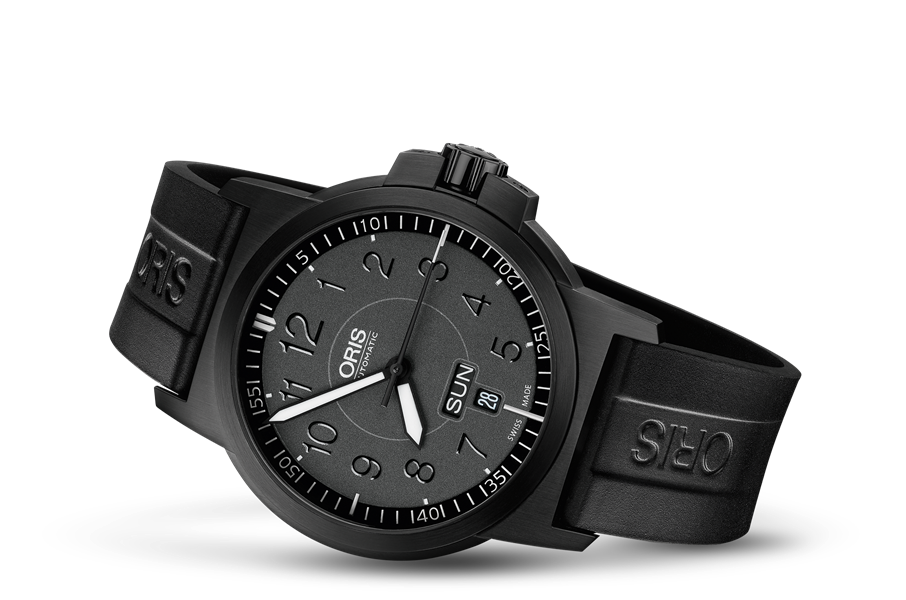 > > > Click here to see ratings, reviews, specifications and prices on Amazon < < <
Along the very outer edge of the BC3 is a secondary index that allows you to track seconds or minutes, with four longer indices on every 15-minute interval. A set of two parallel white indices are above the 12 o'clock mark. Apart from the usual 'automatic', 'swiss-made', and 'Oris' inscriptions, there is nothing writer on the dial. The watch preserves a minimalistic look and has that simple, functional design that Oris has been promoting.
The Day and Date Complication
There is a day and date complication in place of the 6 o'clock mark but this is hardly going to call much attention to this daily wearer. Plus, the complication itself is executed fantastically, anyway. The discs in full black match the outer index and the font color meets the whites found in numerous places. One of the loveliest date complications you can find on a sport's watch.
Transparent Back
What makes the Oris 735 7641 4764LS BC3 watch so great is its versatility. The cool, aggressive look makes it ideal for casual or sporty wear but you wouldn't go wrong in deciding to combine it with a more formal attire. The stitched, puffy black calfskin strap doesn't showcase any particular pattern but still looks great on the wrist. As with most sport's watches, it features a standard buckle closure.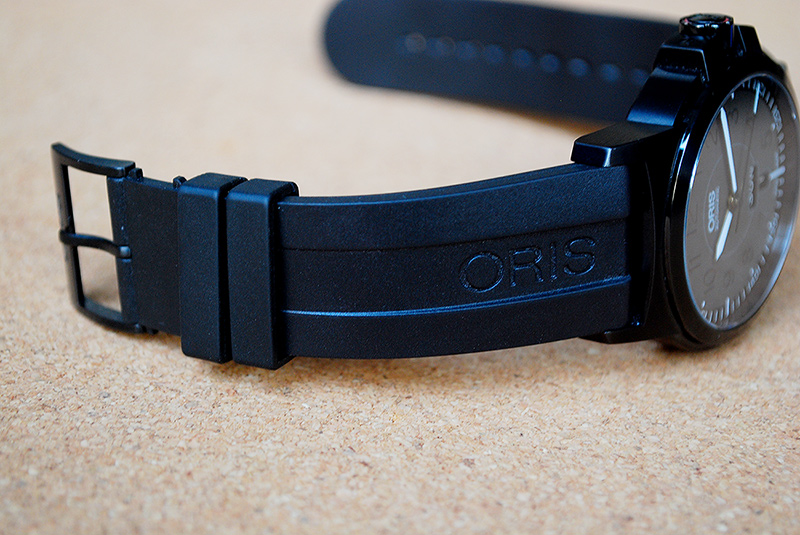 The BC3 has an open back which could be the only drawback to the whole stainless-steel case. The red rotor is a bit of a sting to the eye, honestly. Sports watches don't often show their skeletons and this hallmark should be left to dress watches, in my opinion. Perhaps you don't find it detrimental to the attractiveness of this watch and I know what your reason is – the automatic movement.
The Movement
True, there is plenty of amazing things about the Oris Caliber 735 movement. The 26-jewel movement is Swiss-made and is considered a great alternative to the standard ETA engine. It's basically a Sellita-sourced automatic base which Oris customized with an in-house rotor.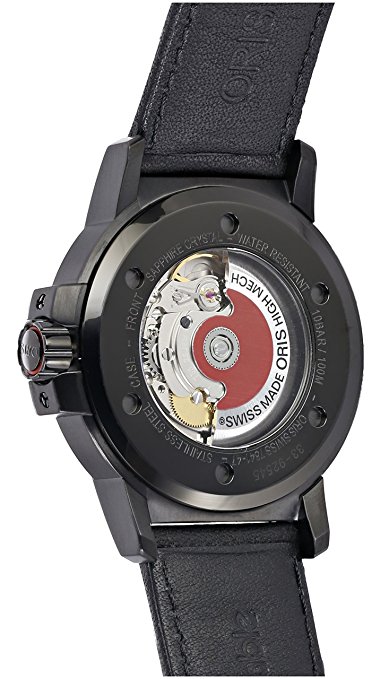 The movement beats to a reliable 4Hz vibration and has an accuracy that's been proven great many a time. With over 10 years in the production, such a mechanism should keep your watch ticking for a long time to come.
Final Thoughts
Now that we've examined the Oris 735 7641 4764LS BC3 in detail you should be able to make an informed decision of purchase or pass. If you're in the market for a sport's watch that isn't a show-off piece but still has a major presence on a wrist, this might be the one for you. It's well-balanced and not too heavy with plentiful finish options to choose from. It has an aggressive, robust look that is relatively easy to pair it with most of your closet's apparel and has an automatic movement that is found on pieces that greatly surpass its price. If you can turn a blind eye to the transparent case back on a sport's watch, there's nothing more major enough there to disappoint you.
> > > Click here to see ratings, reviews, specifications and prices on Amazon < < <