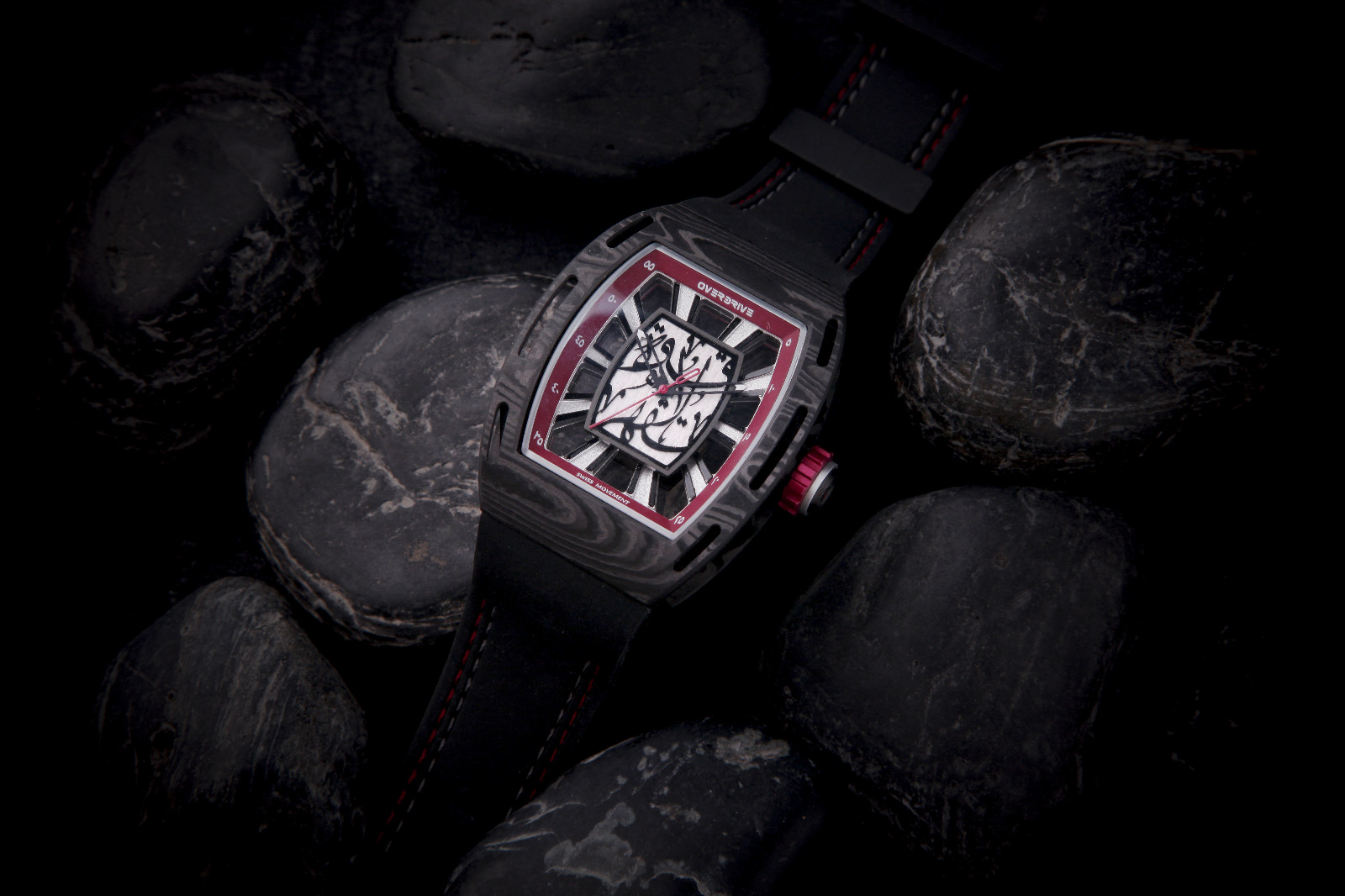 Ever heard of Overdrive watches? Overdrive watches designed by H-matouq studios, Munich, Germany, are luxurious watches inspired by the Damascus Steel Sword and Sport cars designed with a contemporary Arab touch. H-matouq studios, a multi-disciplinary designer brand that specialize in design of products, watch accessories and modification of luxury cars have been able to strike a balance between contemporary art and ancient culture art whilst at the same time producing quality timepieces.
This watch is not about the monetary value but about the story, culture and moment it brings with it. Let's find out what makes this watch stand out among other luxurious watches.
Unique Shape
The origin of Damascus steel can be traced to India around 300BC, made from ingots of wootz steel imported from Persia and Sri Lanka. Swords made from the Damascus steel were characterized by their toughness, resistance to shattering and distinctive patterns.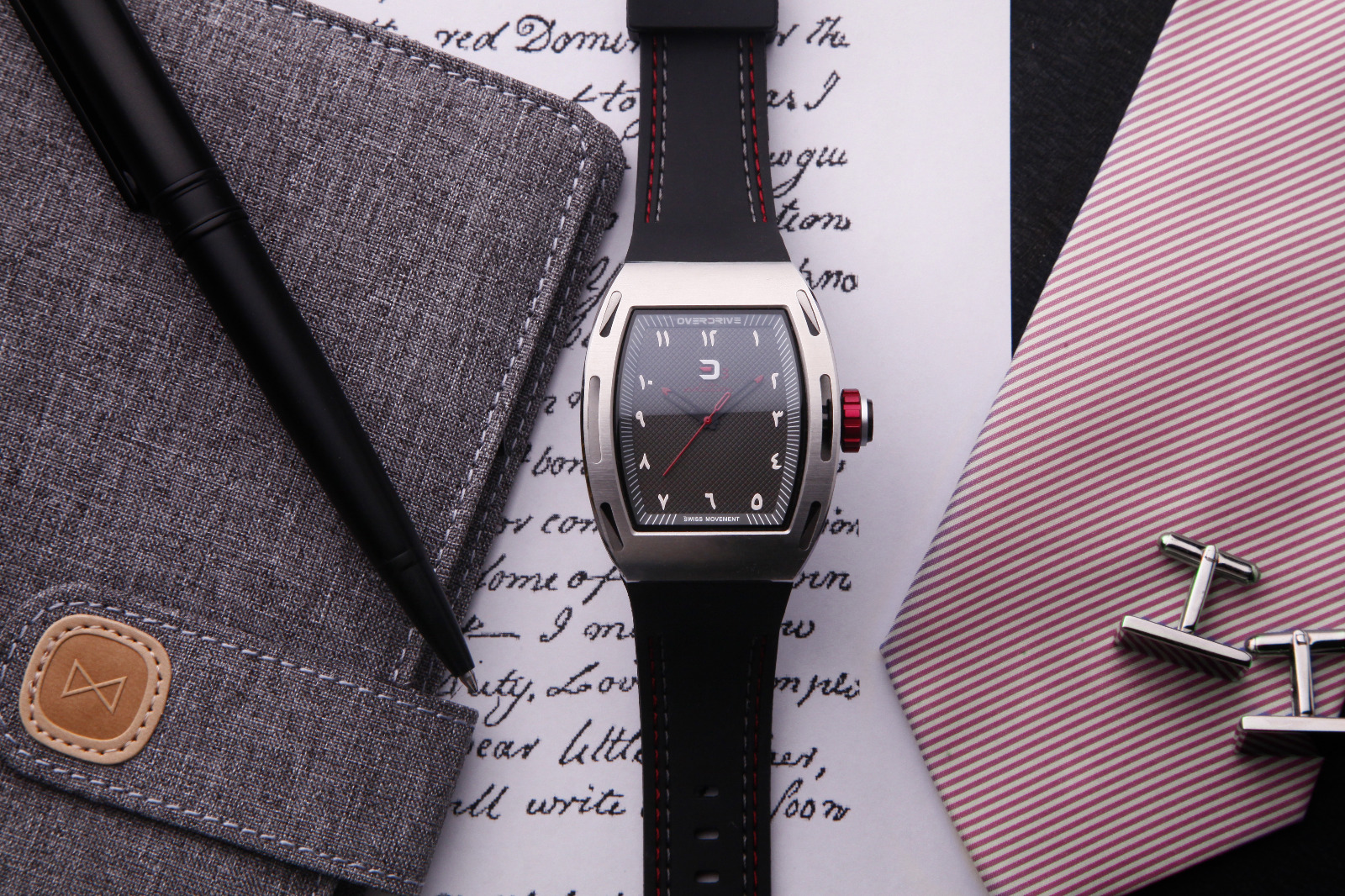 The shape of the watch was inspired by a bent Damascus sword to form a classic tonneau-shaped watch. The tonneau-shaped case allows the ends of the strap and the lugs to visually blend together into a single firm structure with a light weight that enhances wearability.
Material
The 40mm by 50mm with 14mm thickness case water resistant up to 50m, is made out of carbon fiber with a distinctive pattern strongly related to the Damascus carbon fiber which I believe contributes to the light weight of their watches.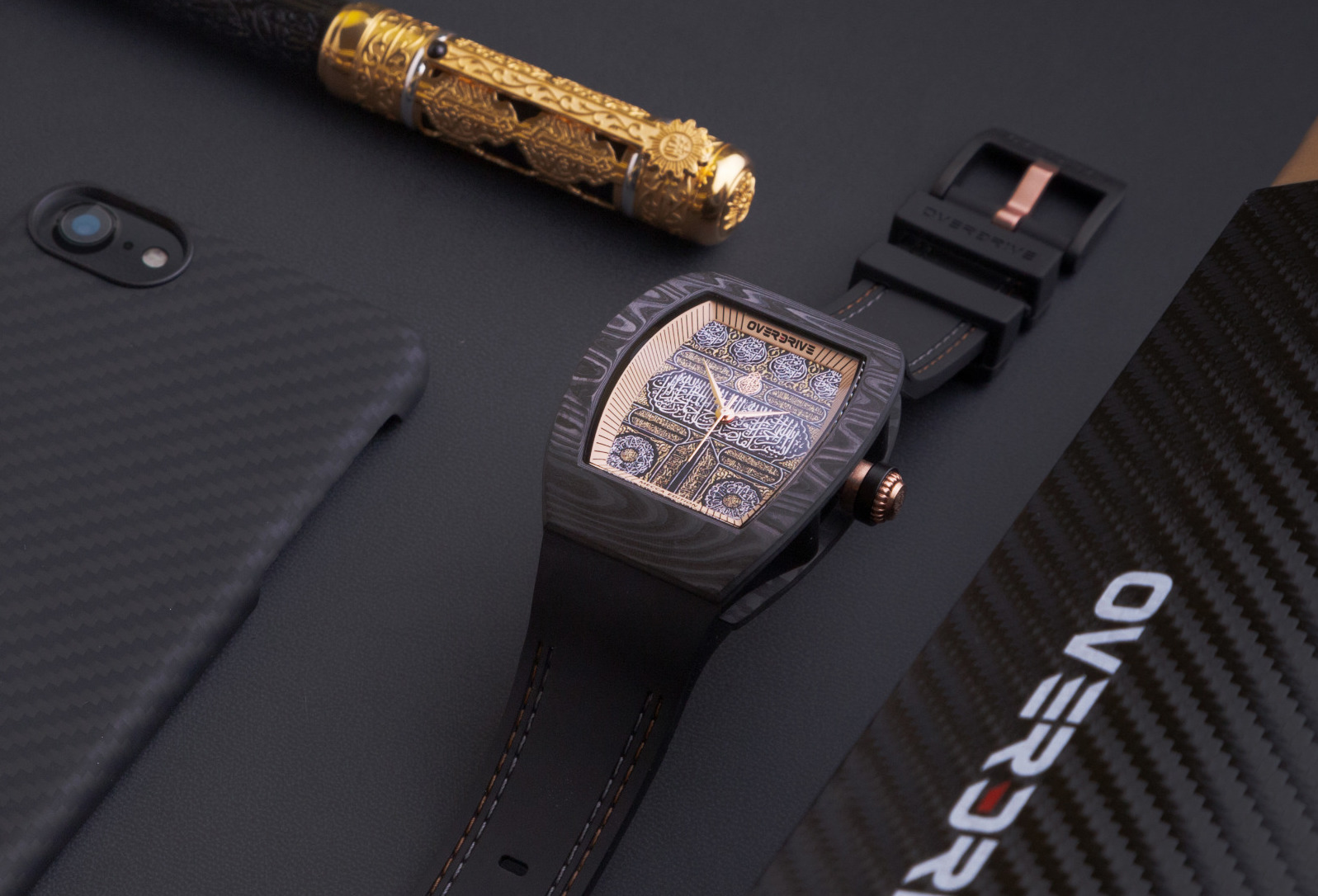 Overdrive watches use K1 Mineral crystal which is a step up from plastic crystals used in old watches, they resist some scratch but not as sapphire crystals. For a luxury watch, I would have preferred sapphire crystals due to its strong and scratch resistance abilities.
Overdrive watches also feature rubber straps, which is an excellent choice because they offer great comfort and durability. Extra straps are available in various colours and designs.
Dial Style
The dial is perhaps the most interesting part of the watch. All the editions have unique dial style with inspiration drawn from the Arabic culture. A bit of visual interest is popped up when one looks at the Arabic-Indic numeral markers with the overdrive logo engraved at 12 o'clock and the 'Swiss movement' caption down at 6 o'clock. The dial is characterized by Arabic engravings which got its origin from the Al Hamra Palace in Spain.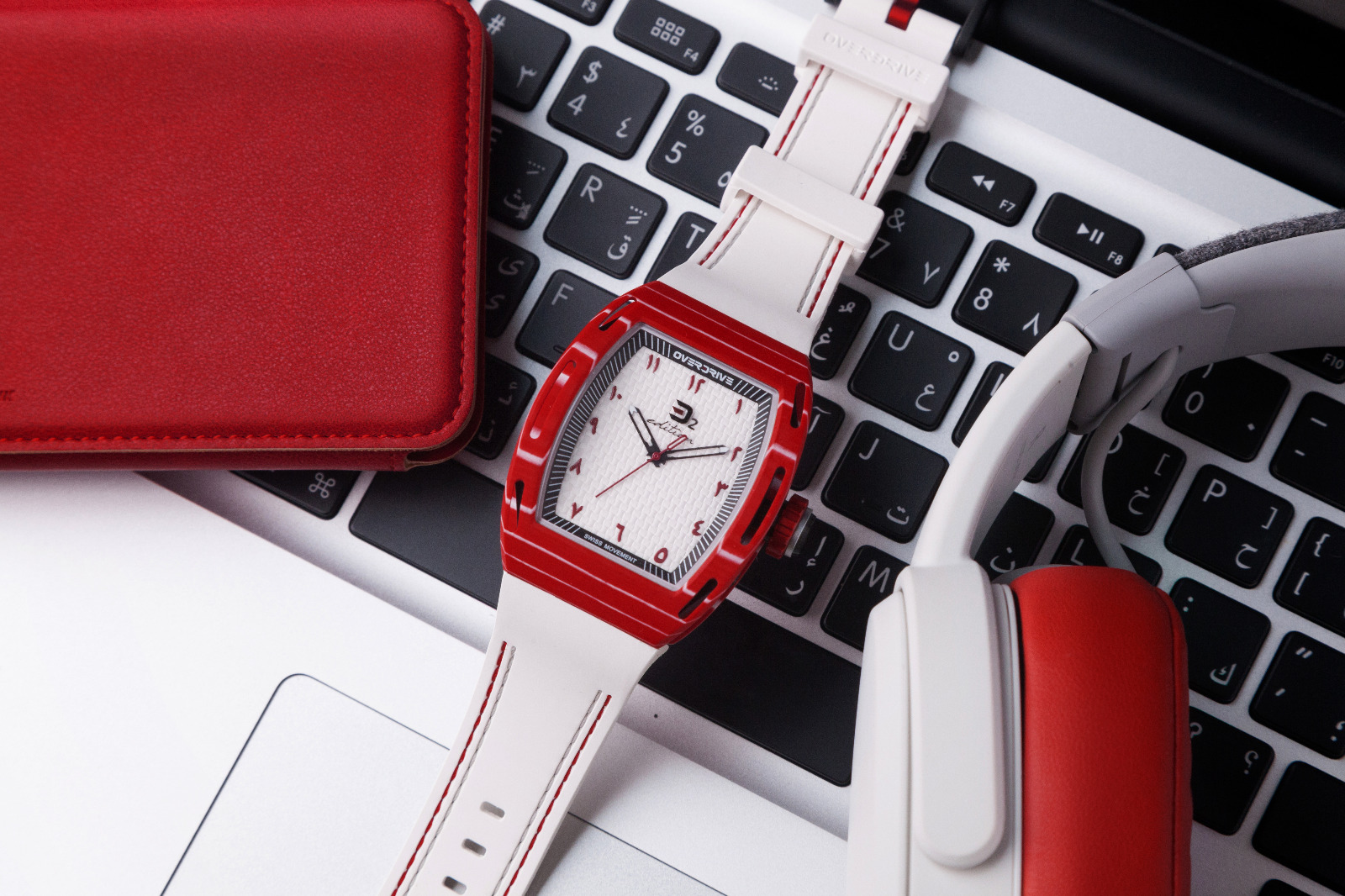 The dial and index design were inspired by The Arabic sundial used by Muslims in ancient mosques around 3500BC to determine prayer times. The sun dial hour lines radiating outwards from the center were also represented by engravings on the case bestowing the dial an oriental and contemporary Arab look.
Swiss Ronda Movement
Aside from D1 edition watches which feature Swiss Ronda movement 1042H1, all other editions so far have featured Swiss Ronda movement 762H3. The is a quartz type movement that has the hours, minutes and seconds hands function and acclaimed to have an accuracy rate of -10 to +20 seconds per month. It has a power saving features which enables you to save up to 70% of the battery when the crown is pulled to the setting position.
Editions
The D1 edition watches has a see through body also found in the Kaaba limited edition, with up to 6 case and strap combinations from red, black and white. The D2 edition watches have an entirely different dial design from the D1 watches, they do not have a see through body and they use the Swiss Ronda 763H3 movement different from Swiss Ronda movement 1042H1 used in D1 edition probably because of the movement's size and shape.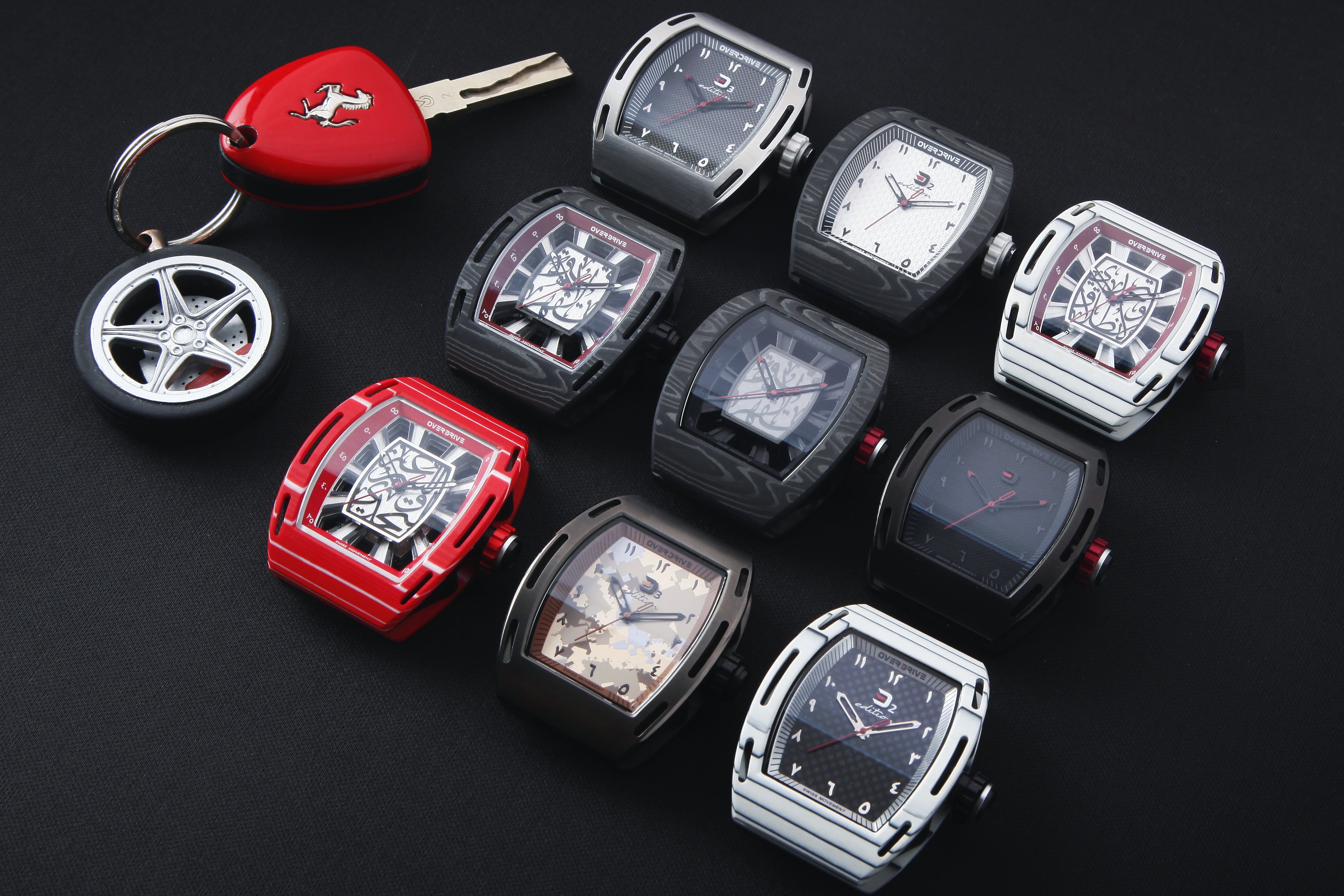 The D3 edition comes in 5 different case and strap combinations including the D3-SS-BCF which has camo strap. The simple dial design in D3 edition watches make them stand out among other editions. Overdrive watches also have limited edition watches which include the Mecca Edition (already sold out) having a 3d printed dial with gold and grey stitching and the Kaaba Edition which took its name from a building at the center of Islam's most important mosque located in Mecca.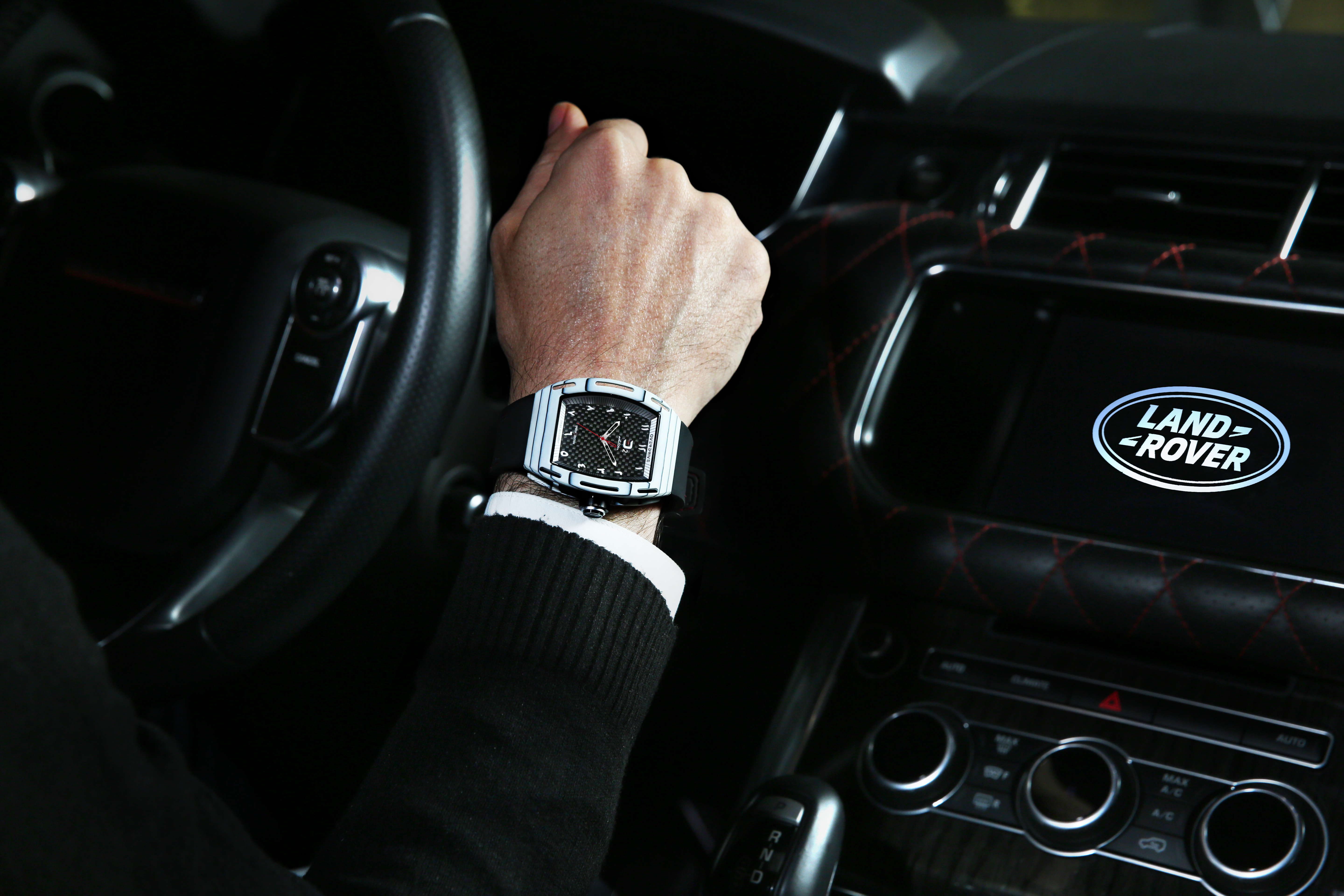 It has a miniaturized version of the Kaaba at the center of the dial surrounded by see through holes with distinctive hour and minute hand to produce an elegant time piece, it comes with a price tag of $1650 and it's available now for sale online.
Future Editions
Overdrive started developing new Editions under the name GT which consists of 10 deference colors as well as extra colored bezels.
They will soon be releasing a uniquely designed ladies watch, as well as a a mens watch with an automatic movement.
Link With Richard Mille
With a glance, some people will notice that the Overdrive watches are evocative of Richard Mille watches due to their similar shape and material used. They are entirely different brands with Richard Mille watches widely known for making outrageously luxurious watches and sponsoring well known sport professionals while Overdrive is a new brand whose watches are inspired by the Arab culture.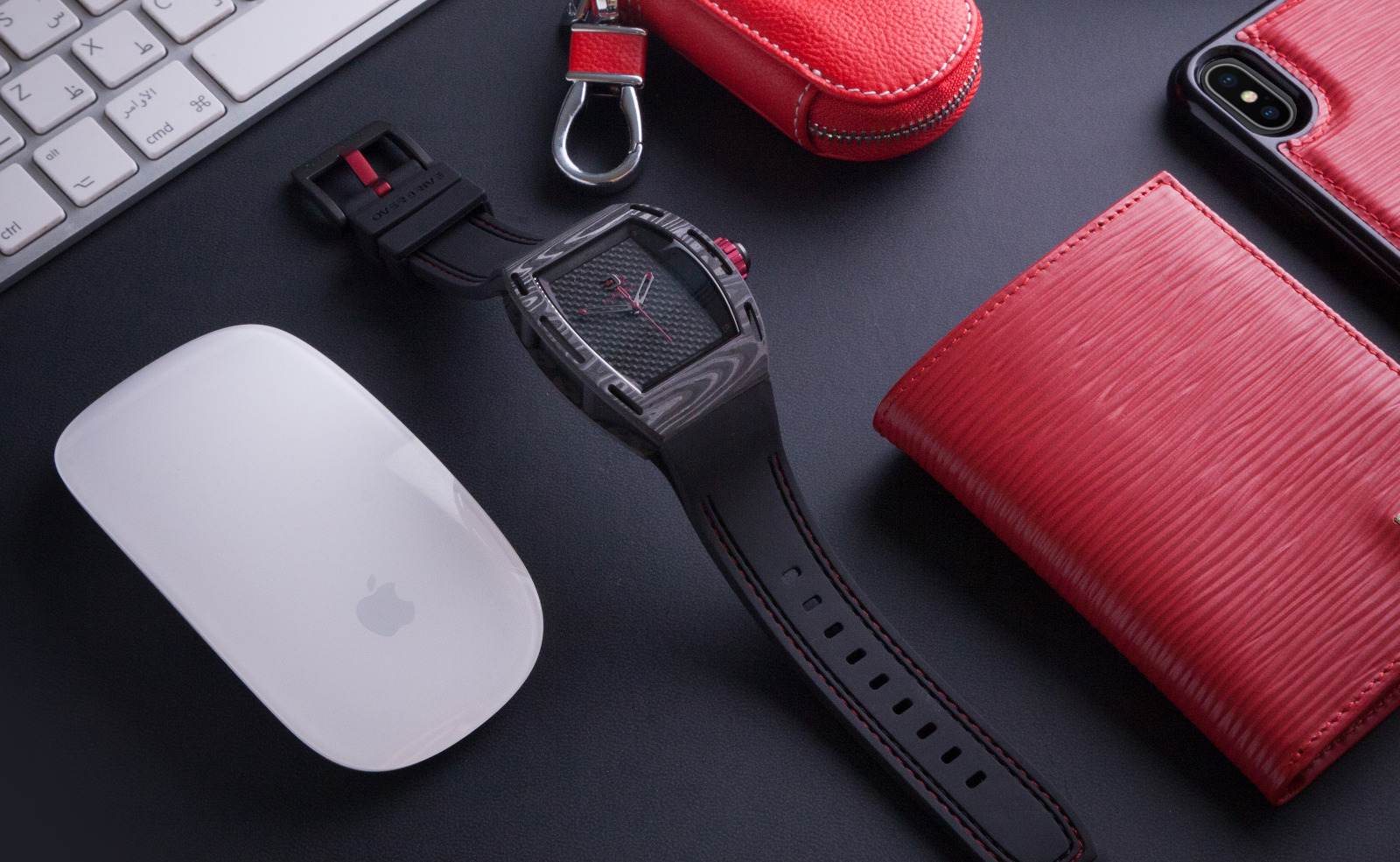 Though overdrive watches use Damascus carbon fibre for their case to create a distinctive and strong case, Richard Mille also introduced a branded method of layering carbon fiber known as TPT Thin Ply Technology which made their watches very strong and light.
Final Thoughts
Though overdrive watches are luxury watches, it's a versatile watch that fits into almost any environment. In addition to their attractive and elegant watch cases, Overdrive has done a good job in integrating the Arabic culture into a luxurious, exclusive and reliable watch. Overdrive watches are well crafted timepieces that make you stand out in the crowd, when paired with good outfit choices.