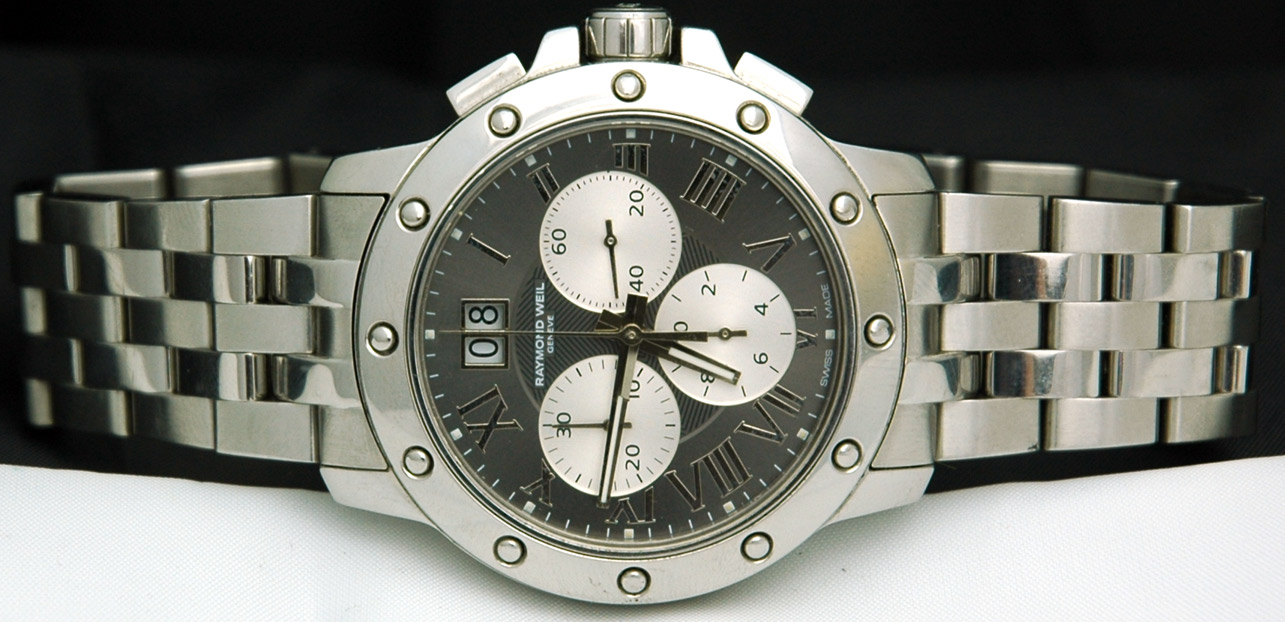 A sum of $500 will rarely (if ever) bag you a chronograph from a family-run Swiss watchmaker. Raymond Weil's 4899-ST-00668 Tango, however, is one of those extraordinary exceptions. If you're after an entry-level Swiss trooper, a watch that blends elements of luxury and precision the country has built its watch heritage on, this is the one for you.
The Geneva-based brand came a long way in its 42 years of running. We have witnessed many excellent models come out of its production line and the trend doesn't seem to stop. The company is going strong under the leadership of the founder's grandson Elie Bernheim, whose main goal is to produce accessible luxury watches. And indeed, the Tango fits right into the description. Let's have a closer look.
> > > Click here to see ratings, reviews, specifications and prices on Amazon < < <
An Organized Chaos
The design of the 4899 is a cocktail of different components. There are Roman numerals, there are Arabic numerals, three subdials, a sizeable date window, heck – even a guilloche pattern. All this on a relatively small face. Though crammed, the design doesn't really feel out of place.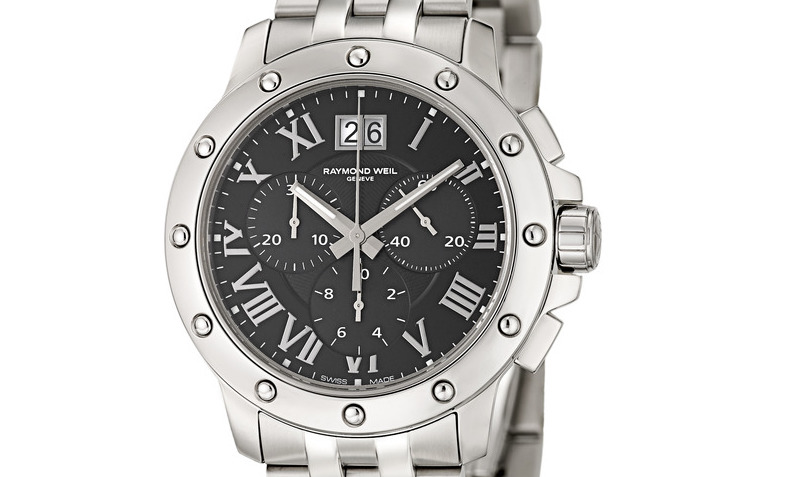 The layout of elements is well-spread and almost create an organized chaos. However, I'm a little concerned about the legibility. I don't mind a crammed dial, what I do mind is the poor color selection. Perhaps RW should've finished the numerals in white instead of a slightly lighter shade of gray than the one of the dial. I understand subtler tones were used so that elements don't stick out on an already complicated dial, but numerals and hands should stick out. That's how we tell the time!
I don't have a problem with the design of hands and numerals, on the contrary, I think they fit well into the whole story. Baton hands are what you want on a heavy-duty watch like this, just not in this color. Weirdly, the subdials are much more legible. They feature three functions – seconds, one-tenth of a second, and a 20-minute counter.
Heavy-duty Case
The case itself is quite presentable. It's made of stainless-steel and measures 40mm in diameter. The band is made of stainless steel, too. Of course, this brings up the question of weight. Do not be mistaken – the 4899 is a hefty piece. Let's suppose your average watch weighs 250 grams. Well, the Tango 4899 doubles this figure.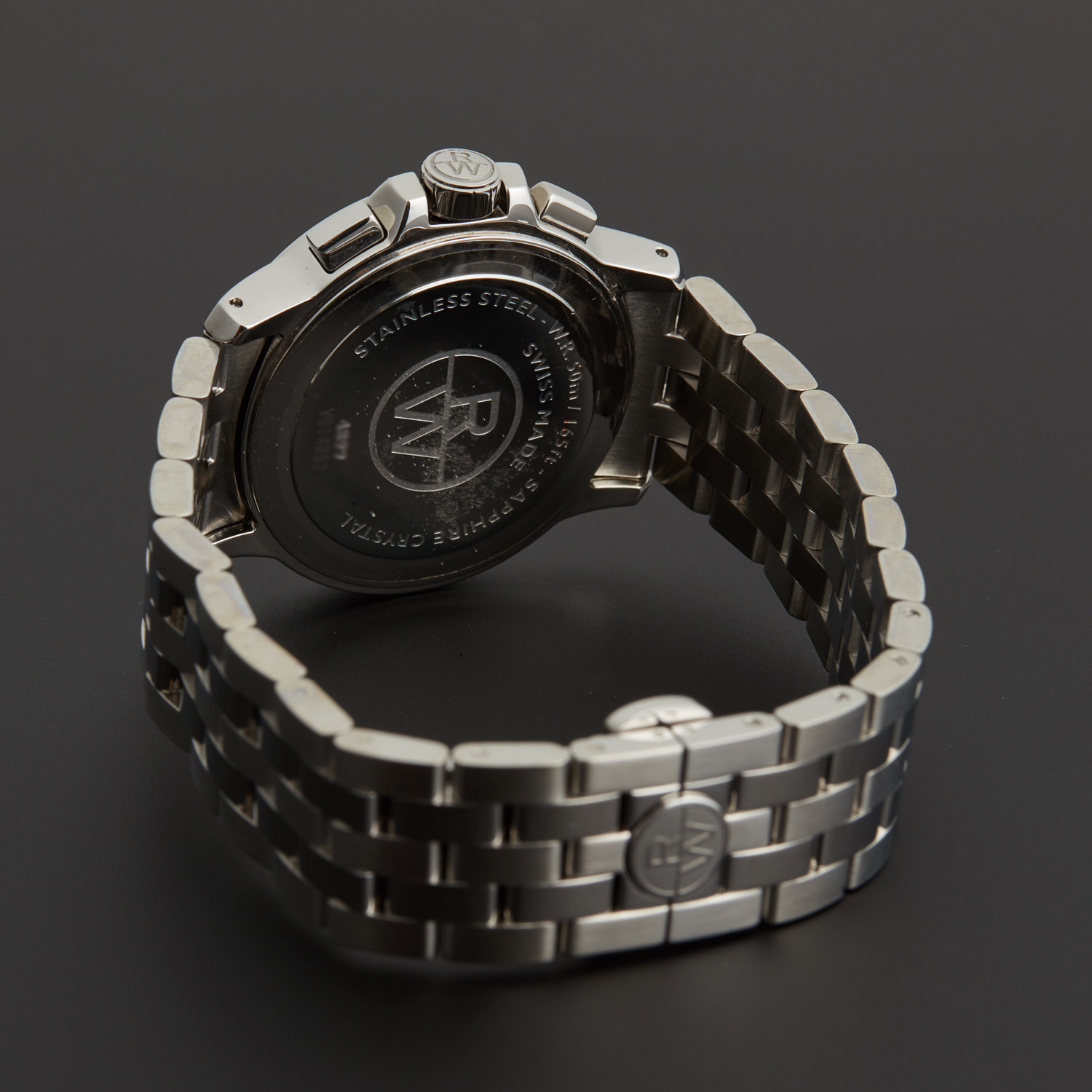 > > > Click here to see ratings, reviews, specifications and prices on Amazon < < <
In case you are in the market for a heavy watch and consider this a trait of luxury or quality, you won't mind it at all. I urge you to remember this is a daily wearer after all, and that's where the weight comes into play.
On the fixed bezel you will find 12 rivets, one for each hour of the day. Honestly, while I like the idea, these appear overpowering to me. Just by looking at the watch and imagining how it would look like without this kitsch improves its overall design drastically.
Other elements include a rather large crown and its adjacent guards. There have been reports of its good functionality and a nice rigid, tactile feel. I don't doubt the built quality of RW but it seems to me the crown could've been a tad smaller in this instance.
Practical Butterfly Clasp
On a more positive note, the watch features a lovely band with a butterfly clasp (again, at the expense of weight). The finishing quality is something to bear in mind when it comes to these clasps, as it could mean a world of difference in terms of comfort. Sharp edges could soon become a pain in a literal sense of the word, especially considering the weight of the watch. It is worth noting, though, that owners haven't brought this up in their reviews across the internet.
Sapphire Crystal Protection
Also a big plus is the AR coated sapphire crystal which guards the dial. For those who don't know, anti-reflective sapphire is incredibly sturdy and is considered a fancy protective feature. Its scratch and impact resistance is exceeded only by the diamond.
Quartz Movement
Swiss Quartz is powering the Tango. Raymond Weil is known for using the ETA movements in their watches and these have proven reliable and easy-to-maintain options. While they lack in charm and complexity their automatic counterparts boast with, Quartz movements still provide an excellent alternative and are used throughout the industry.
To sum up, the 4899-ST-00668 is a decent pick for anyone who wants a piece of Swiss watchmaking at an affordable price. With this watch, you know you're getting a precise, well-built and reliable timepiece that will adorn your wrist for years to come. In my opinion, there are more attractive models from the same collection. This particular piece springs up a few flaws, its weight, legibility, and looks being my main areas of concern.
However, if the design makes sense for you and you find it appealing, you should probably go for it. You will hardly find a better value-for-money watch. It's going to be no-buy for me, though. I believe it stands out from the crowd, but for all the wrong reasons.
> > > Click here to see ratings, reviews, specifications and prices on Amazon < < <