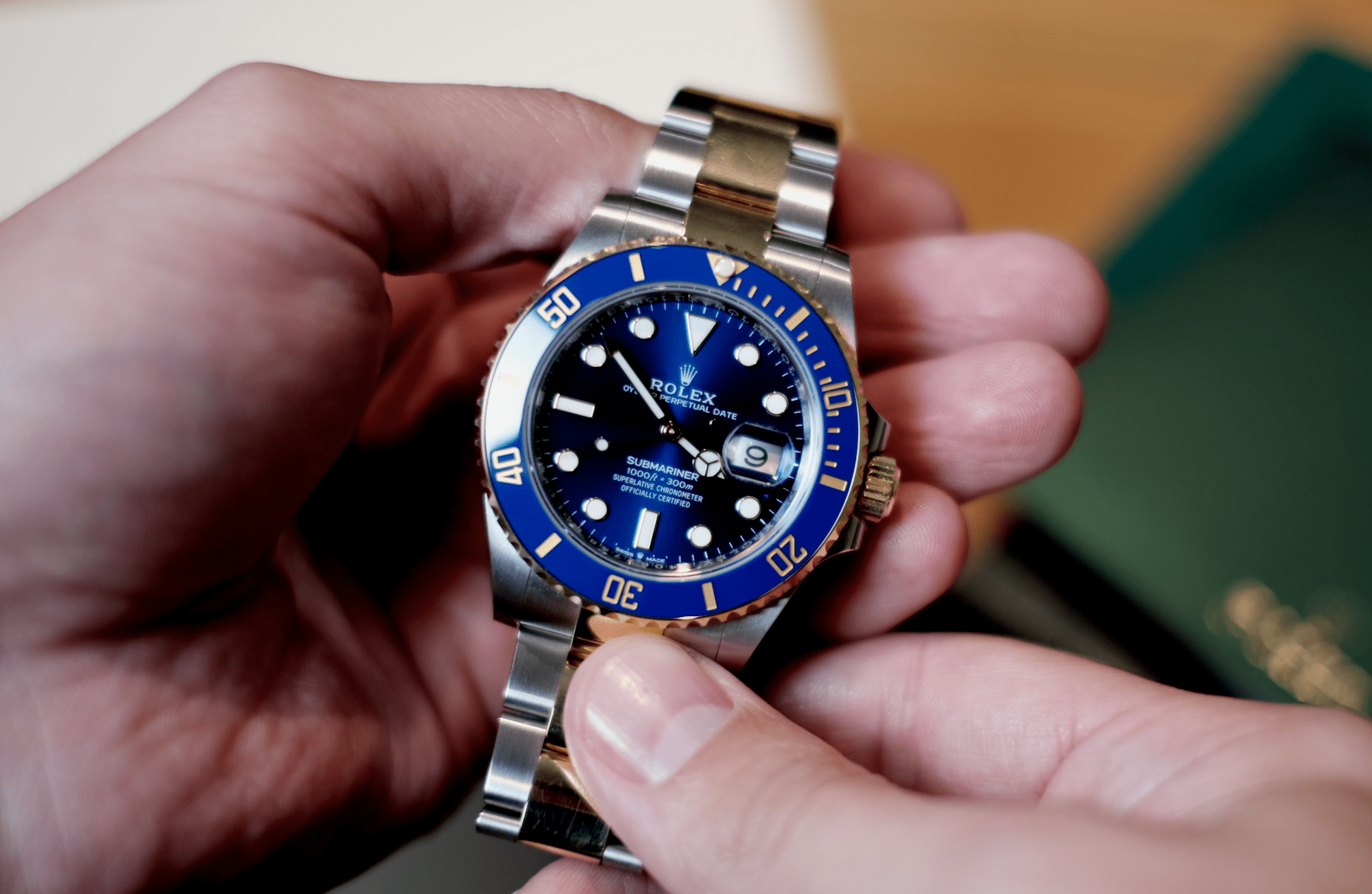 The Rolex Submariner Date is arguably the most recognizable watch on the planet. And if you're a watch guy, it's likely at the top of your wish list. It's timeless, versatile, durable, and, come on, a Rolex!
The Submariner also comes in a pretty diverse range of colors, and in this review, we'll focus on one of the more polarising option – the 'Bluesy' (reference number 126613LB). If you like the classic black dial Submariner check out our hands-on review here. I'd also like to give a big thanks to Royal De Versaile in Toronto for coming through once again on the allocation of this beautiful watch that my cousin purchased. If you're in the area don't forget to stop by the store and check out their fantastic selection of watch brands.
Bluesy Design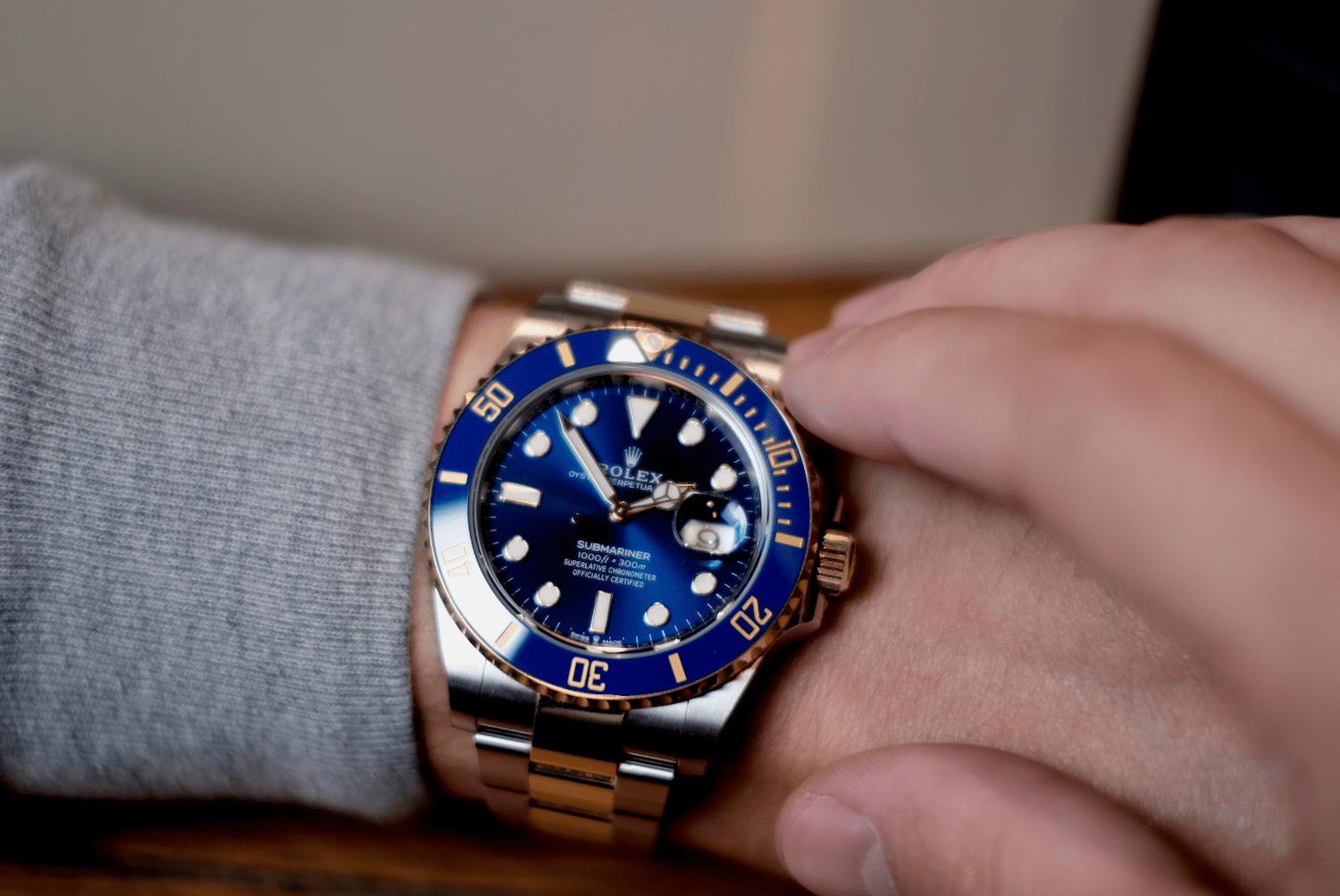 The Bluesy is probably the most daring timepiece within the Submariner lineup. Of course, you're still receiving that iconic sub-design, with an oyster bracelet, a unidirectional bezel, a screw-down crown, and geometric indicides.
However, what really sets the Bluesy apart is that unapologetically loud and flashy color blue/gold scheme. You'll see gold running down the center links of the bracelet, around the bezel and on the indices, and on the screw-down crown. The blue color on the dial is also a little darker than on the bezel, which gives the Bluesy an added layer of depth.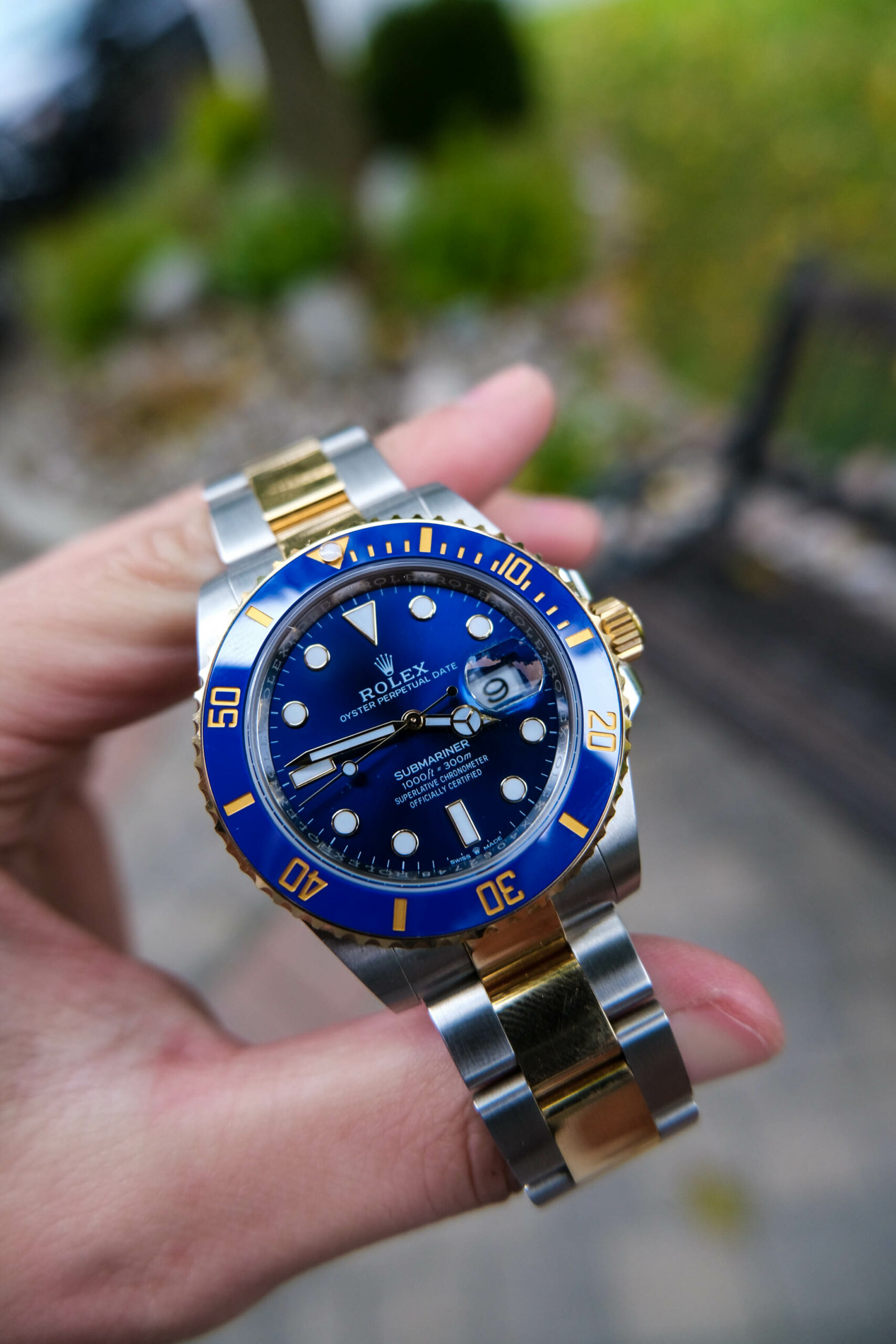 This design isn't going to be for everyone, because it is very flashy. Furthermore, if you're trying to build a one-watch collection, the standard black submariner is a more versatile piece. But, if you do want a stand-out piece that will draw attention in any room, this design is perfect.
The size of the Bluesy is also spot on. With a 41mm diameter and 12.7mm thickness, the Blusey fits perfect on a wide range of wrist sizes. The lug-to-lug measurement is also virtually perfect for most wrists at 48.1mm.
And, as with virtually every Rolex model, the build quality is second to none. Everything is made from Rolex's Oystersteel blend, which is virtually indestructible. It's resistant to scratches, as well as heavier damage like impact from a distance and corrosion. So as long as you look after it and clean it regularly, this piece will look brand new for decades.
Functionality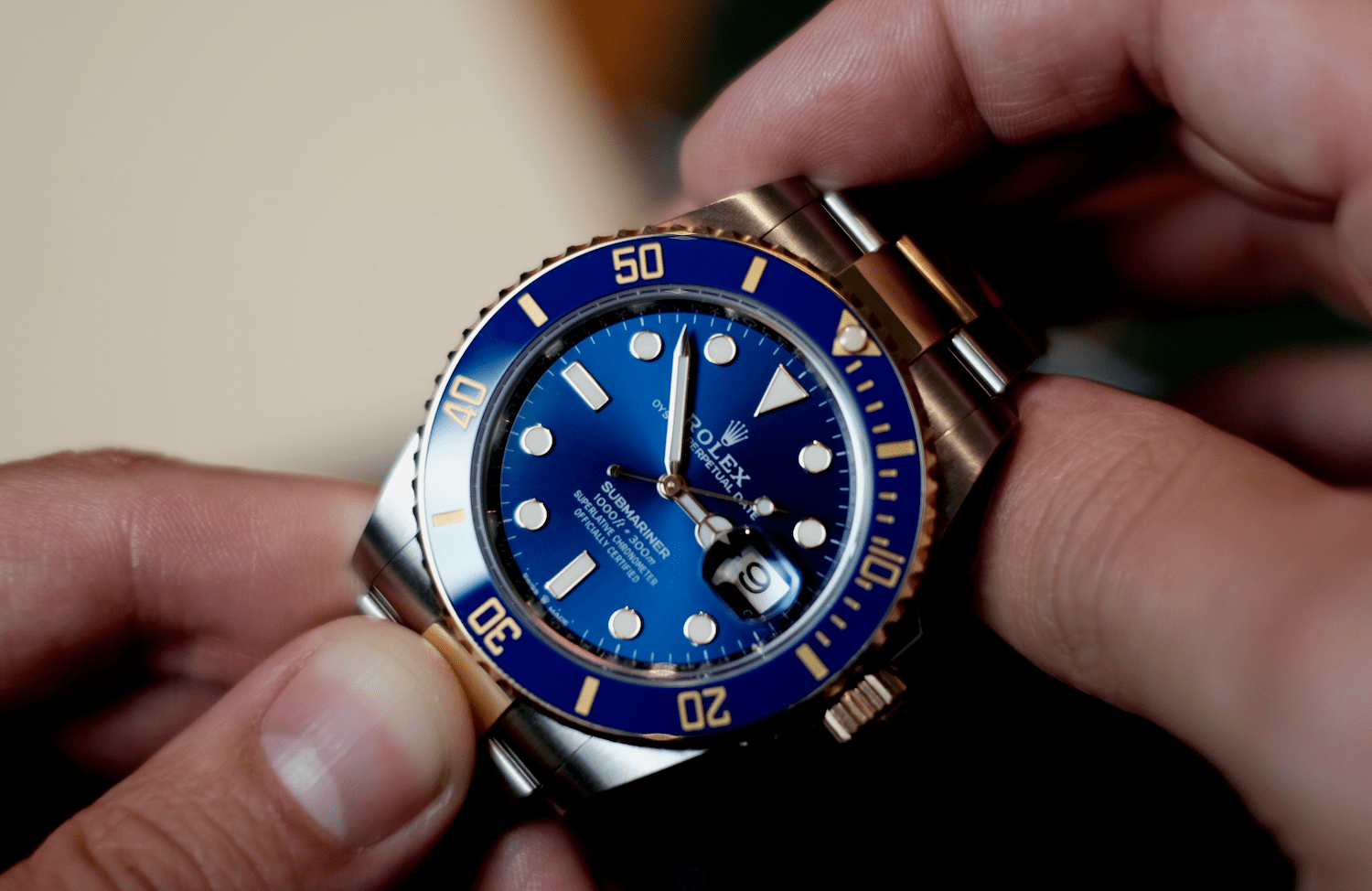 The Bluesy isn't just a pretty face – it has a whole host of features too.
For instance, the bezel is unidirectional and has 120 clicks with zero backplay. On top of this, there's a luminous marker on the 12 O'clock indicator of the bezel for added visibility. Finally, the Bluesy has a very impressive water resistance of 300 meters.
This makes the Bluesy an incredible tool for any serious diver, because your timings will be pinpoint accurate, and the watch will be able to dive deeper than you can! Although most people these days rarely dive with their Subs, it can still be used for its original purpose.
12 Series Movement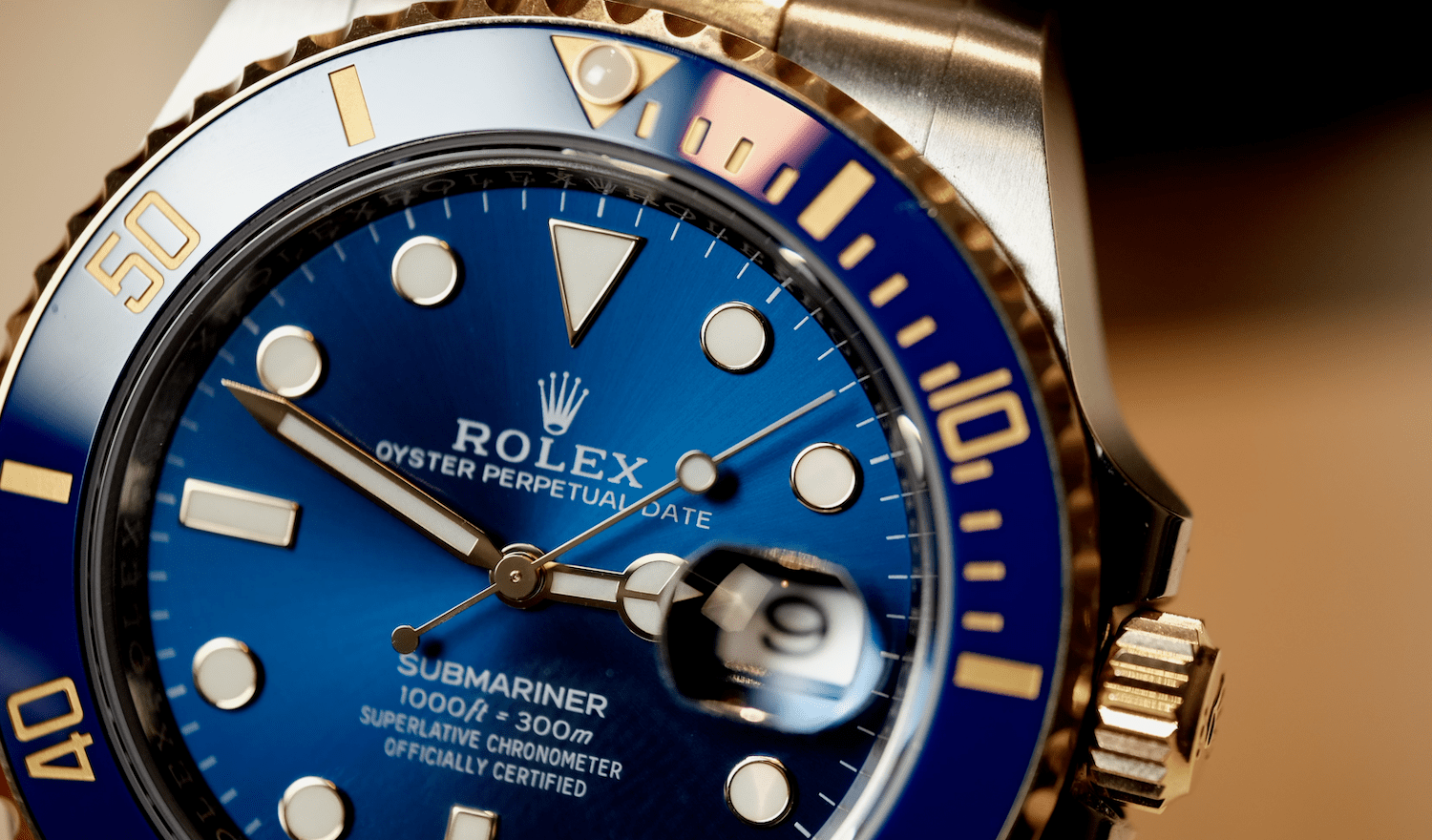 The 126613LB is powered by Rolex's in-house Calibre 3235 movement. This is one of Rolex's most accurate movements, with a rating of +/- 2 seconds per day. It's also COSC-Certified and has received a Superlative Chronometer Rating.
Beyond its world-class build quality and accuracy, the 3235 movement boasts an impressive power reserve of 70 hours when fully wound. This is a huge step up from the old Bluesy (reference number 116613LB), which had a power reserve of just 40 hours. It also houses a date complication, which is as useful as it is good-looking.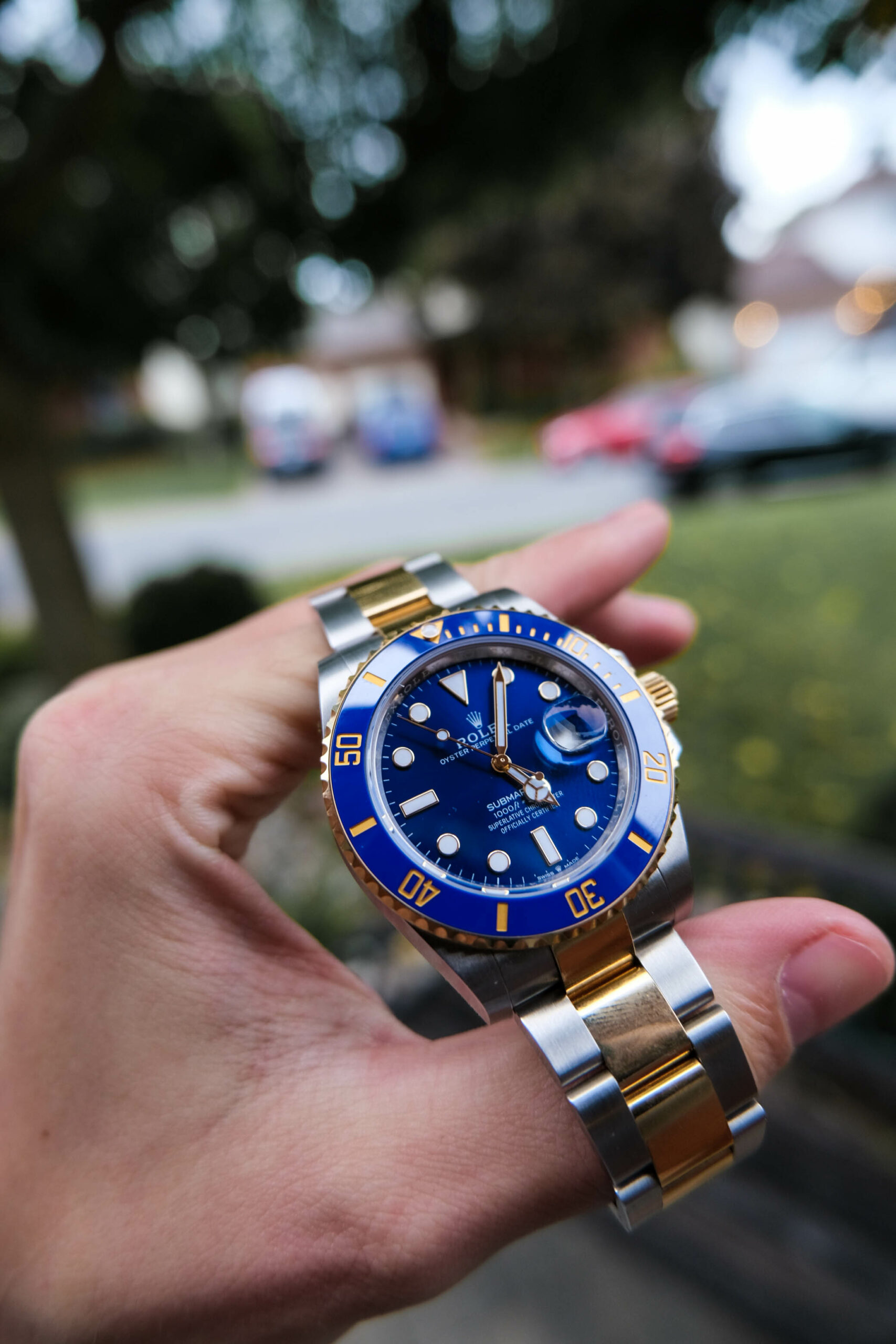 Unfortunately, the caseback is screwed down, so you won't be able to see the movement at work. However, this is pretty common with dive watches, so you can't really complain here.
Price and Availability
At the time of writing, the retail price for a Blusey is £13,150/$22,000 CA. However, if you go into an Authorised Dealer to try and buy a Blusey straight away, you're likely going to be laughed out of the door. Simply put, Rolex doesn't treat its customer base very favorably, and to even be considered 'worthy' of purchasing one of their models, you'll first need to spend more of your hard-earned money on other things like jewelry. Plus, the waiting list for a model as popular as the Blusey could be several months or even years.
If you don't feel like waiting this long, you can pick up a Blusey on the grey market. Whether you do this all comes down to your views on the grey market, but it's likely going to be the cheaper option if you don't want to play any AD games.
This is undoubtedly a lot of money for a watch. However, because Rolexes are so prestigious and sought after, you're likely not going to lose money on this watch. And if you ever need to sell it, you'll have multiple buyers lined up within a couple of minutes.
Final Thoughts
Ultimately, there's a reason why the Submariner is one of the most sought-after watches on the market right now – it's gorgeous, versatile, and dependable. The Bluesy adds a little bit of luxury and noise to the model, and if you want to stand out in a crowd, it's nothing short of a perfect watch.
For more information and specs visit the official Rolex website here.