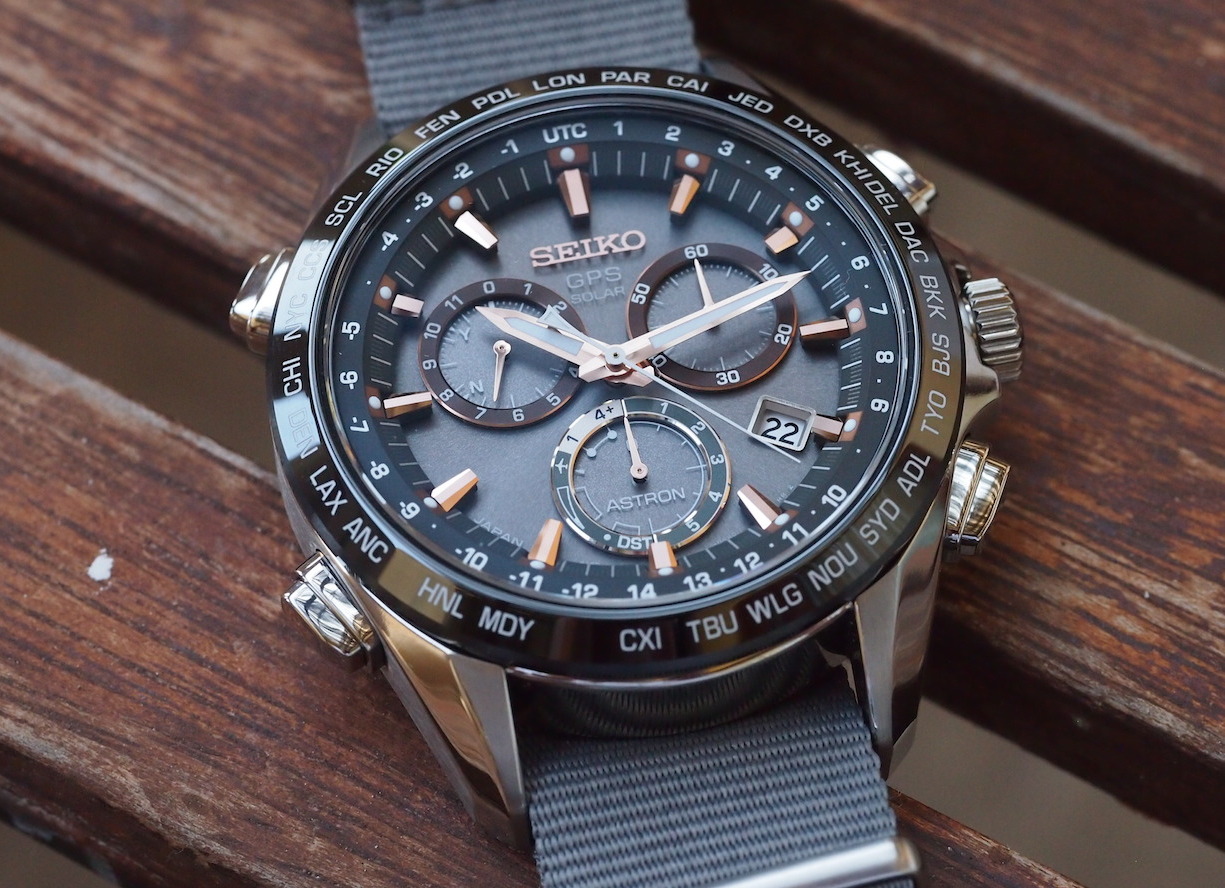 Solar, GPS, automatic time adjustment, and accuracy. These are 4 words that should come to mind when you see Seiko's Astron line. The Astron is a new take on a traveler's watch.
> > > Click here to see ratings, reviews, specifications and prices on Amazon < < <
Design
The Astron has a very distinct and sleek style. Its various contours and angles come together to form the perfect sport casual watch. The watch is 45mm wide and 13mm thick. The watch is meant for large wrists. Although I feel that the piece does look bigger than its actual size. The watch does feel light, and the weight is evenly distributed. The case is stainless steel with a hard coating and different finishes are available. For this review, I chose the Rose Gold, we've managed to source some silver photos as well.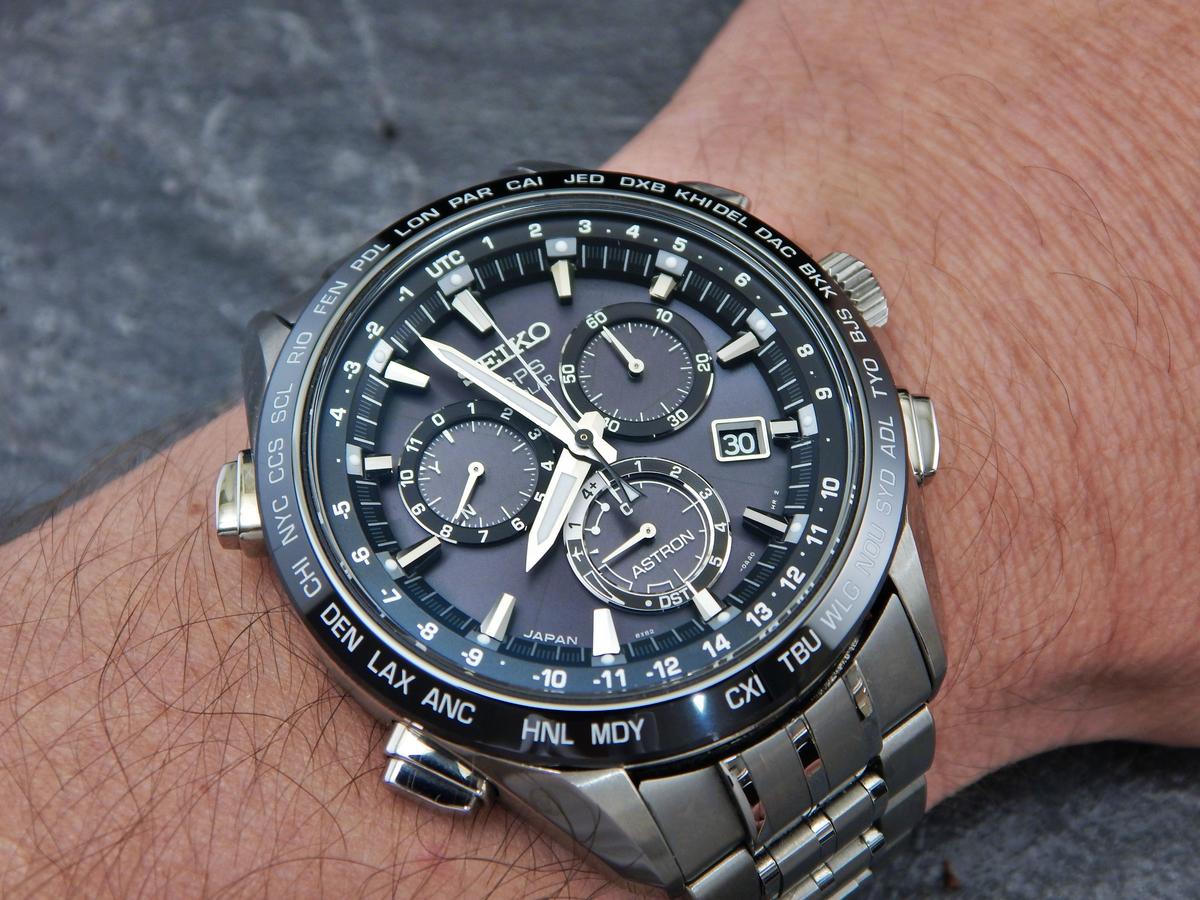 Although this watch is not a chronograph you will still find two pushers. These control basic operations such as receiving GPS signals and setting time manually. The crown, which is also rose gold, is found at 3-oclock. The case back contains an etched Seiko logo and indicates the basics like serial number, water resistance, etc.
The watch has a ceramic black bezel, which contrasts the rose gold case beautifully. On this bezel, you will find 28 different cities. These 28 cities are painted in white. The cities range from New York City, to London, to Sydney, and many other places.
Astron Dial
Seiko believes that the Astron should be distinct and different which they have achieved by the design of the dial. The dial is a polished Black with upper and lower faces. The upper dial contains the difference in hours from UTC and is located on the edge of the lower dial. You will also find rose gold hashes at every hour for 12 hours. These rose gold hashes have small lume dots that glow. The hashes at every hour are raised above the lower dial to bring a sense of depth to the watch.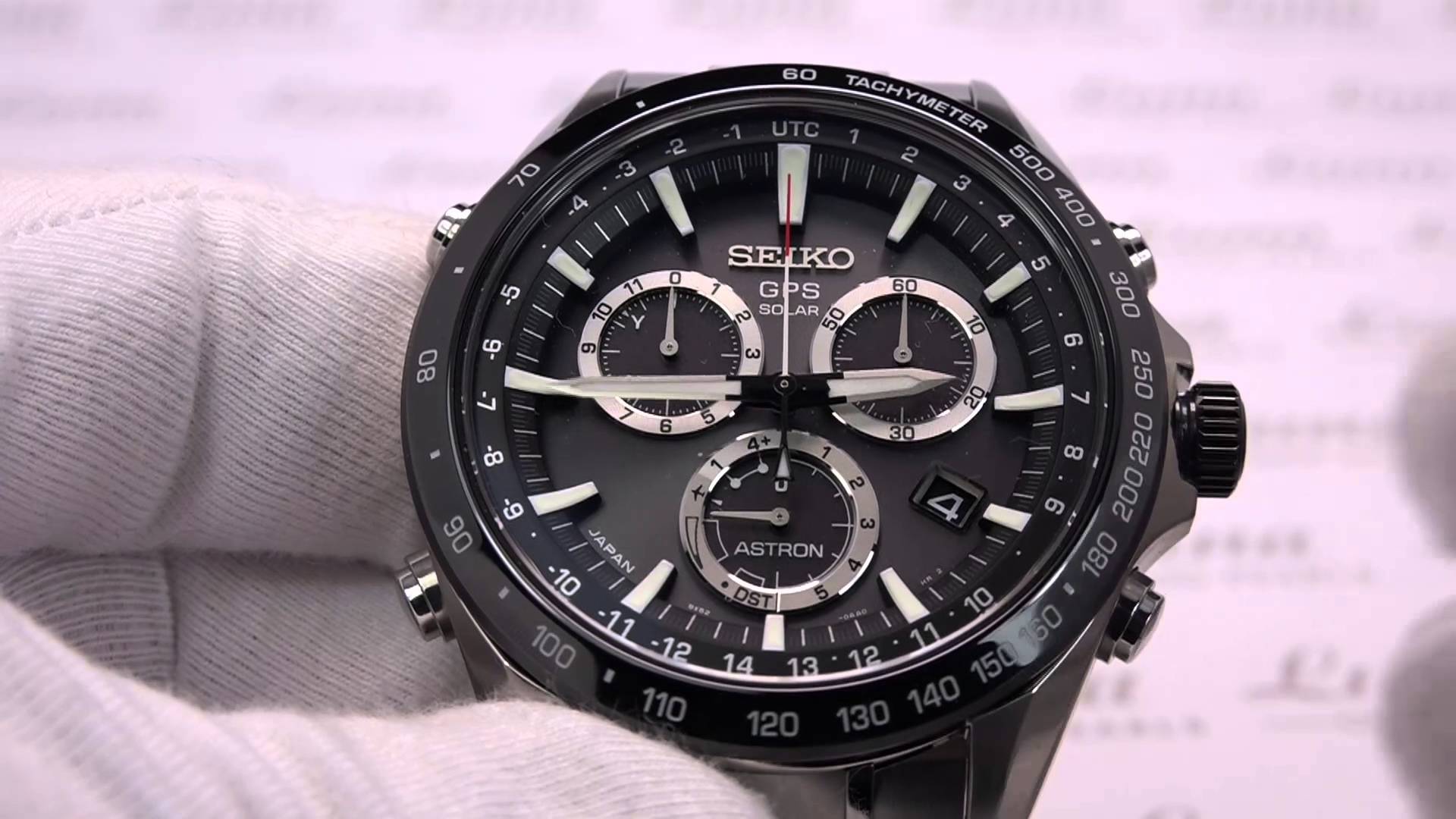 > > > Click here to see ratings, reviews, specifications and prices on Amazon < < <
The lower dial has 4 subdials on it. There is an AM/PM sub dial, a Dual Time Indicator, Power reserve, Daylight savings, Day, and signal reception result. 2 of these 4 subdials are cut in half. This means that you will not find a full circular dial but instead a half a circle. These 2 "half" subdials are for days, power reserve, DST, and airplane mode. They are located between 7 o'clock and 11 o'clock and 1 o'clock to 4o'clock.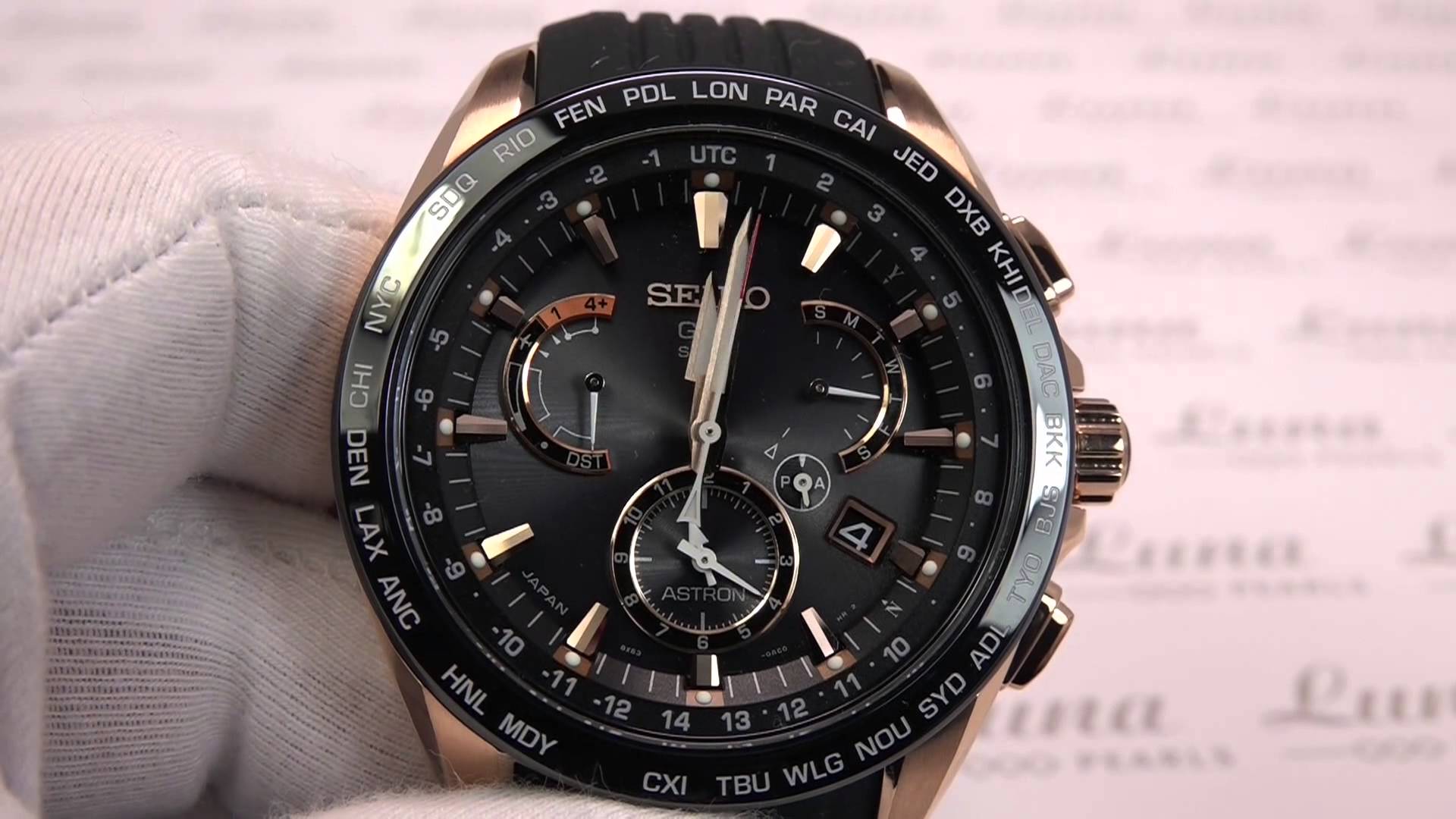 The other two subdials are for AM/PM and dual time indicator. The AM/PM sub dial is located at 4 o'clock while the dual time indicator is located from 5 o'clock to 7 o'clock. Also featured is a date indicator. This is placed at 4 o'clock. This is different than the date at 3 o'clock on many other watches.
The hour and minute hands are rose gold with lume in the center. The second hand is a very light silver with a red painted tip. At the other side of the second hand you will find a small lume arrow.
Features
The Astron is Seiko's own form of a smartwatch. It is a GPS connected watch. This watch is a slimmed down version of what a smartwatch should be. Seiko created and modified this piece to be accurate to 1 second every 100,000 years. In order for Seiko to achieve this they made the watch feature Gps dual time, and time zone adjustment controlled by GPS.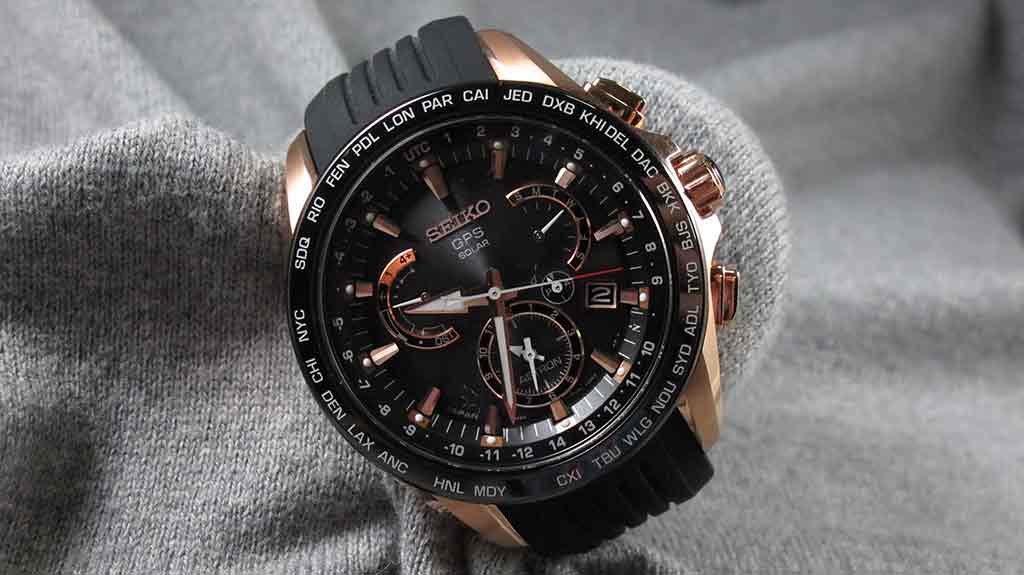 To set the date and time the watch must be in the time zone adjustment mode or automatic/manual time adjustment mode. For Seiko to get the day and date as accurate as they can they added a perpetual day and date calendar that will be correct to 2100. Some other features that Seiko included with this piece are Airplane mode. This is activated by holding down the bottom pusher. It can be shut off by holding down or pushing the bottom pusher again. Another feature is Daylight savings. This can be activated and shut off by just clicking the bottom pusher.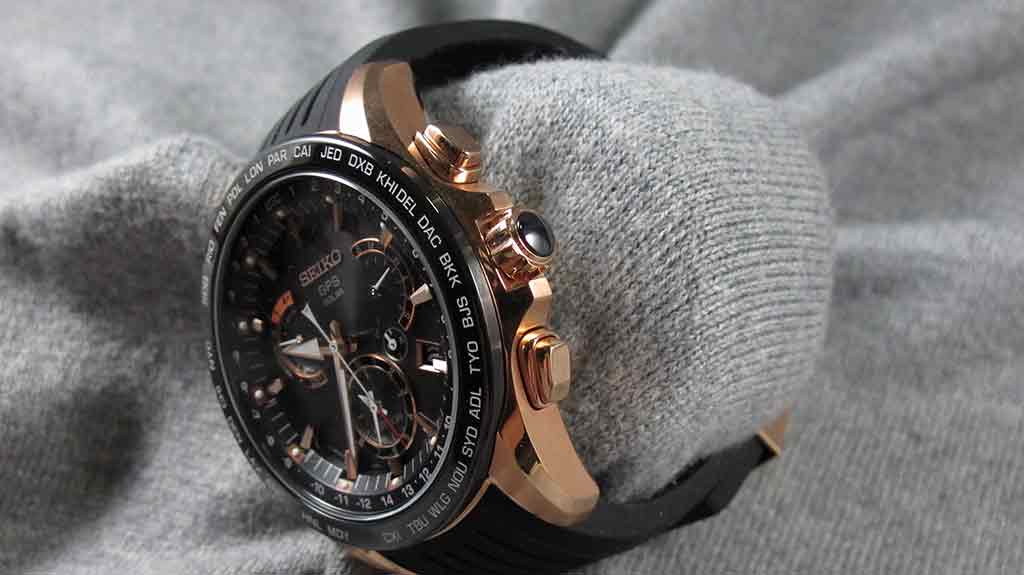 Other various functions and features include a magnetic resistance to 4,800A/m, Hands and markers that have Lumibrite. And the watch is water resistant to 330ft.
Bands/straps
The Astron is available with 3 bands. These are silicone, leather, and stainless steel. For this review, I chose silicone. The strap a Dark Black, has 4 lines of tread running down the middle. This strap is extra strength making it more durable. This piece does feature a trifold push button release clasp, instead of the ordinary tang buckle. This clasp is also rose gold and is adjustable to 14 different sizes. My only complaint about this band is that it has a powdery feeling to it.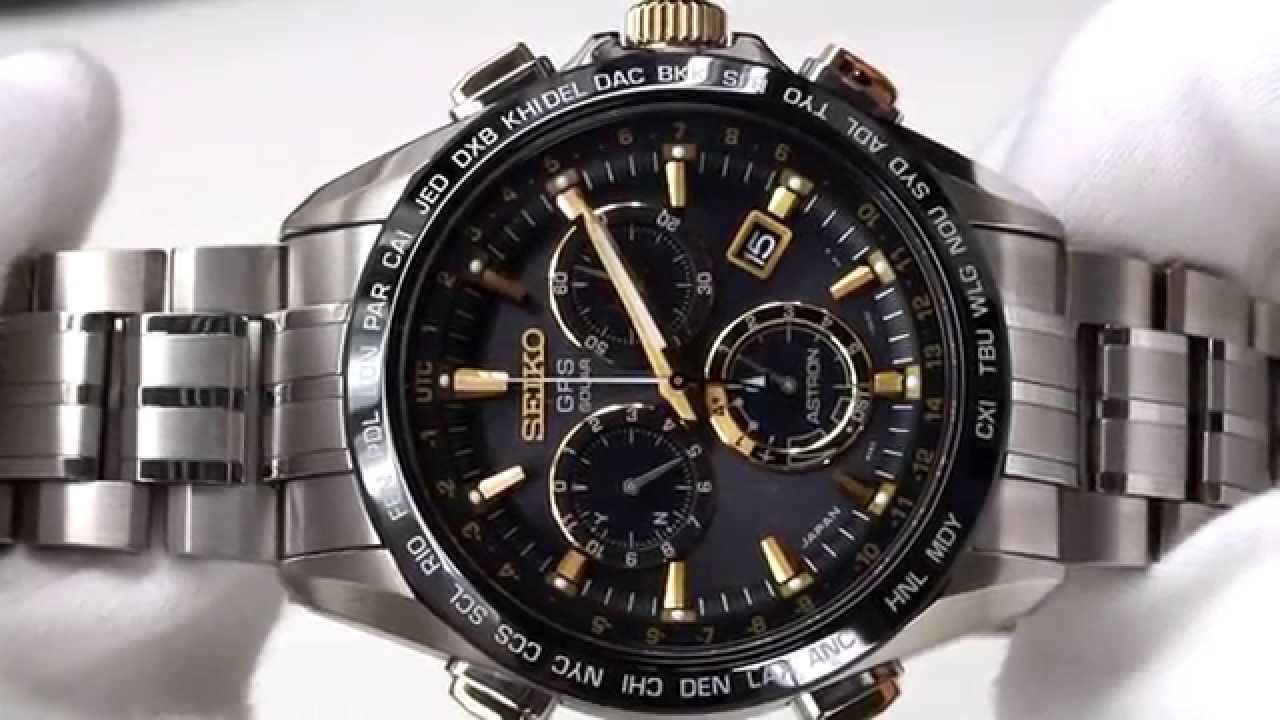 SSE055 Movement
This piece features a Seiko Caliber 8X53 movement. This movement has GPS signal reception features, solar charging, and automatic time zone adjustment. For the watch to move for a single day it must be charged for 10 minutes to 3.5 hours. For a one second interval, the watch must be charged from 1.5 to 12 hours. For a full charge the watch must be charged for 50 to 420 hours. Once fully charged the watch can run up to six months
Opinion
I am very impressed with this watch because of its uniqueness as it is GPS connectivity. Seiko's use of the 2-layer dial really adds depth and definition to the watch. One of my only complaints is the price. Although this watch is ingenuitive with its GPS and solar charging features, this watch is priced at $1600 MSRP, which enters the range of other fine watches. If you have the money to spend, I would recommend this. I would also recommend this for a frequent traveler.
> > > Click here to see ratings, reviews, specifications and prices on Amazon < < <