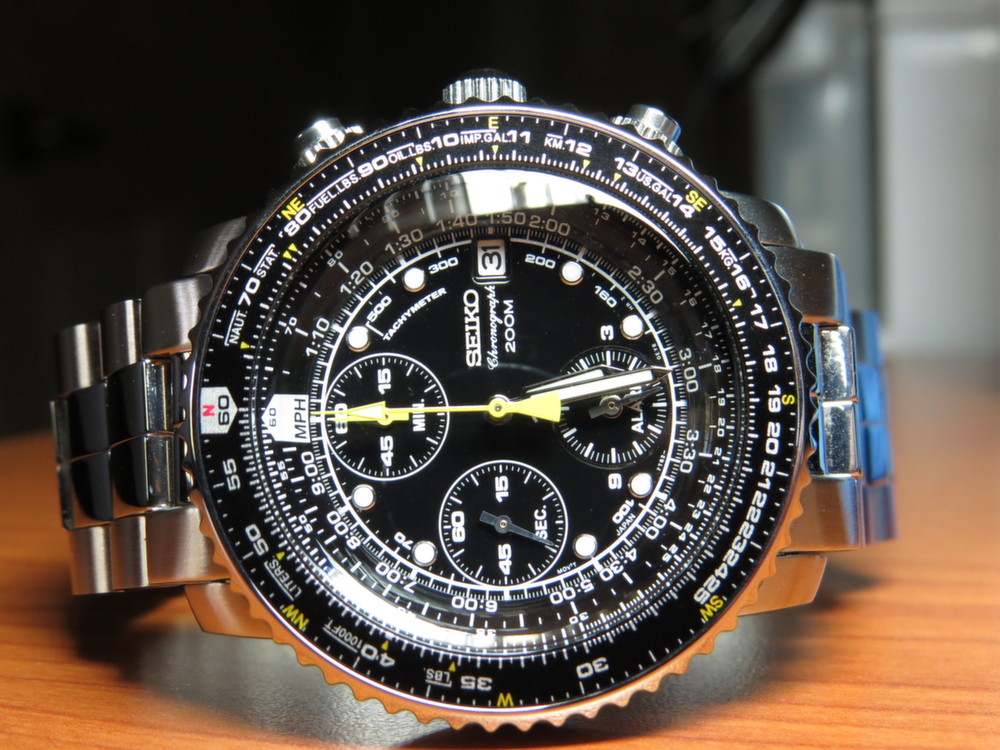 The Pilot watch goes back centuries and used to be a critical tool for many soldiers. With the ability to calculate various equations including basic multiplication and division skills as well as flight climb and estimated times of arrival, the pilot watch is an integral part of aviation history. Although pilots rarely use the slide rules on pilot watches today, the intricate detailing and historical whimsy of these watches hold a place in many watch enthusiasts collections with pride.
Seiko has developed a gambit of pilot inspired watches for today's timepiece connoisseur. From simple easy to read designs, to gear-edged bezel designs of the like of the Seiko SNA411 FlightMaster Alarm Chronograph. If you love gadgets and extra features on your watches, this piece is a perfect choice to add to your growing assemblage of watches.
> > > Click here to see ratings, reviews, specifications and prices on Amazon < < <
Solid Performance
The Seiko SNA411 FlightMaster is built with durability in mind. With Japanese quartz movement, the accuracy is quite strong with little noise when it comes to the hand progression. The SNA411 comes standard with the Hardlex crystal window developed by Seiko. This dial window is stronger than the basic mineral crystal, but not as scratch resistant as a sapphire crystal watch would be. Hardlex is more impact resistant than sapphire crystal windows, so if you are prone to dropping your watch, this may be a perfect selection for you.
This Chronograph piece is made from stainless-steel. The casing measures at 42mm in diameter with a 13mm thick profile. Although the size of the casing is smaller than some watches on the market, this particular watch still packs a punch. The stainless steel linked bracelet has a combination of both polished and brushed finishes and is approximately 20mm wide. There is a fold-over push button clasp with a safety closure for added security.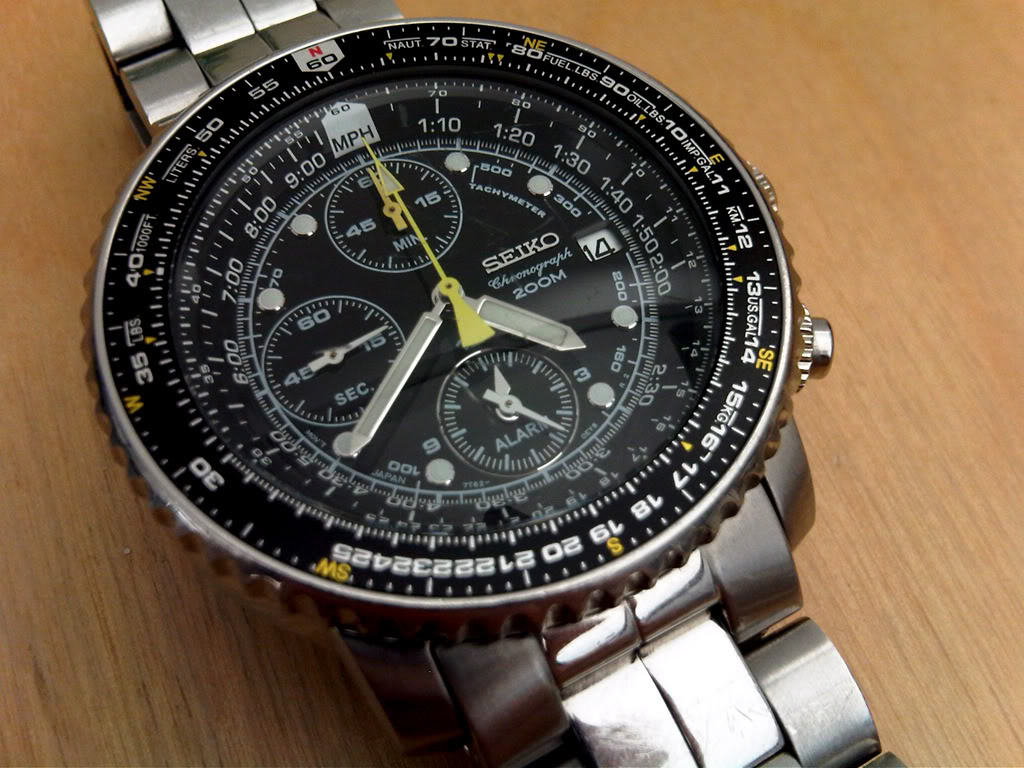 SNA411 Calculations Galore
Slide Rules are a great addition to any watch, and the stainless steel gear-edged bezel on the FlightMaster is no exception. With a little bit of reading, you can find the answer to many different mathematical and navigational calculations. The slide rule can figure out basic multiplication/division/square root calculations as well as fuel consumption, speed, and flight climb computations. There is also a three sub dial chronograph section on the SNA411 that gives you additional applications. The first dial is an alarm that has a soft beep tone for alerting you. It can easily be set as a different time zone if required. The second dial measures 60 minutes in 1/5 increments up to 12 hours. The final subdial is your second's hand that you can use for precise timekeeping.
> > > Click here to see ratings, reviews, specifications and prices on Amazon < < <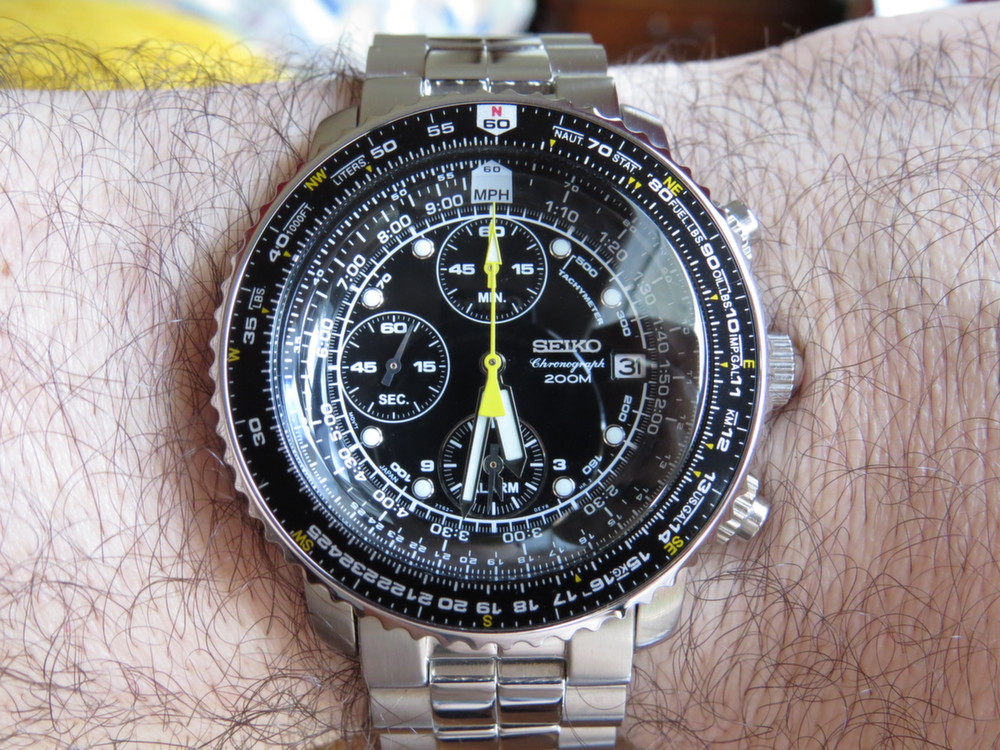 Sporty and Unique
The black dial face is the perfect contrast against all of the white markings on the bezel and dial. Luminous hands and eight markers make this watch easy to read at any time of day with the intense glow they give off. The bright yellow chrono hand and yellow markings for direction add to the sporty overall look of this flight watch. There is a small date window located at 3 o'clock so you can keep track of the date with ease. Although it is smaller in size, the placement of the date window is easy to find and ever more straightforward to set.
If you embark in serious water sports, the Seiko SNA411 is an ideal candidate for your growing watch collection. With a water resistant rating of 200m/660ft, this watch can be worn for all water activities except scuba diving. The fluted screw down crown and casaba with screw locking buttons gives extra water resistance. Although this is a battery operated watch, the lifespan of the battery should last about 2-3 years.
Overall, this aviation timepiece is packed full of functions and design. The rugged appearance is an excellent choice for individuals that want a timepiece that exudes masculine features and functionality. The numbers are easy to read for those that do fly, and the gear-edged bezel has an attractive and well-designed layout.
Pilot or Navigation watches have been around forever and having a piece of that history wrapped up in today's technology is the perfect blend of tradition and innovation. The Seiko Men's SNA411 FlightMaster Watch will be one of your new go to timepieces, and when you put it on, people will notice it. Not for its size or spectre, but the classic and comfortable look that it brings. This watch is moderately priced and will not empty your bank account although people will think you have paid a lot more for it. This watch is a great purchase for any aviation buff, sport minded individual or watch collector.
> > > Click here to see ratings, reviews, specifications and prices on Amazon < < <