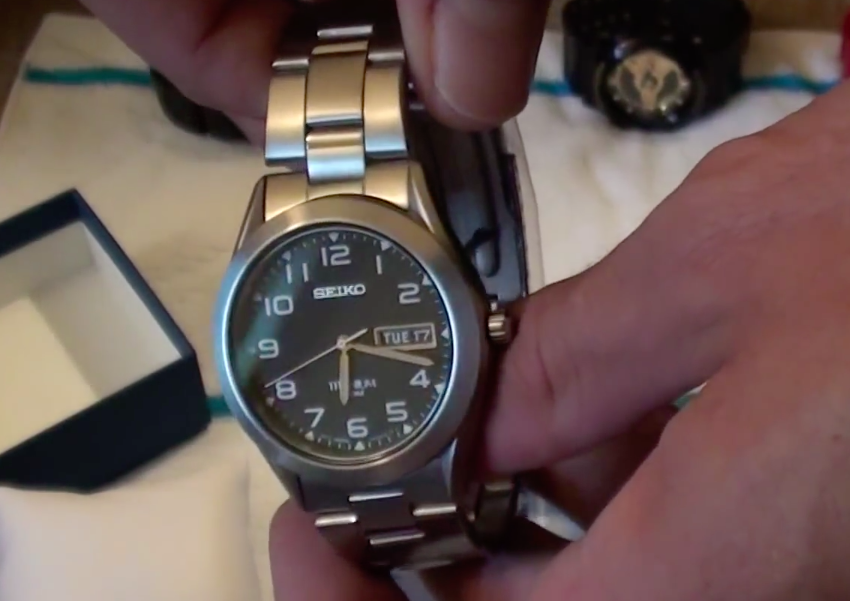 Seiko's SGG711 is a thin, sleek, modern watch that is constructed with a modern metal. Using titanium instead of plain old stainless-steel is a bold choice. Titanium has some interesting properties, discussed further down, that really set this piece apart from the more common watch models out there. This is very much a watch for someone who prefers to be on the cutting edge; no old-school mechanical movements or throw-back styling here. That being said, the design doesn't scream "modern" so much as it whispers it, with some contemporary touches here and there. Most observers will just see a small, refined watch that goes as well with a suit as it does with casual attire.
> > > Click here to see ratings, reviews, specifications and prices on Amazon < < <
Dial
The SG711's simple, straightforward dial is attractive and easy to read. Modern Arabic hour numerals give a contemporary, swanky vibe to this watch. Of course, "Titanium" is printed boldly on the dial, right above the 6 o'clock numeral, almost as large as Seiko is written. The Hardlex dial window should resist scratches and scrapes better than the titanium case, but not as well as sapphire. The main benefit of Seiko's proprietary Hardlex crystals is their superior shatter resistance to sapphire.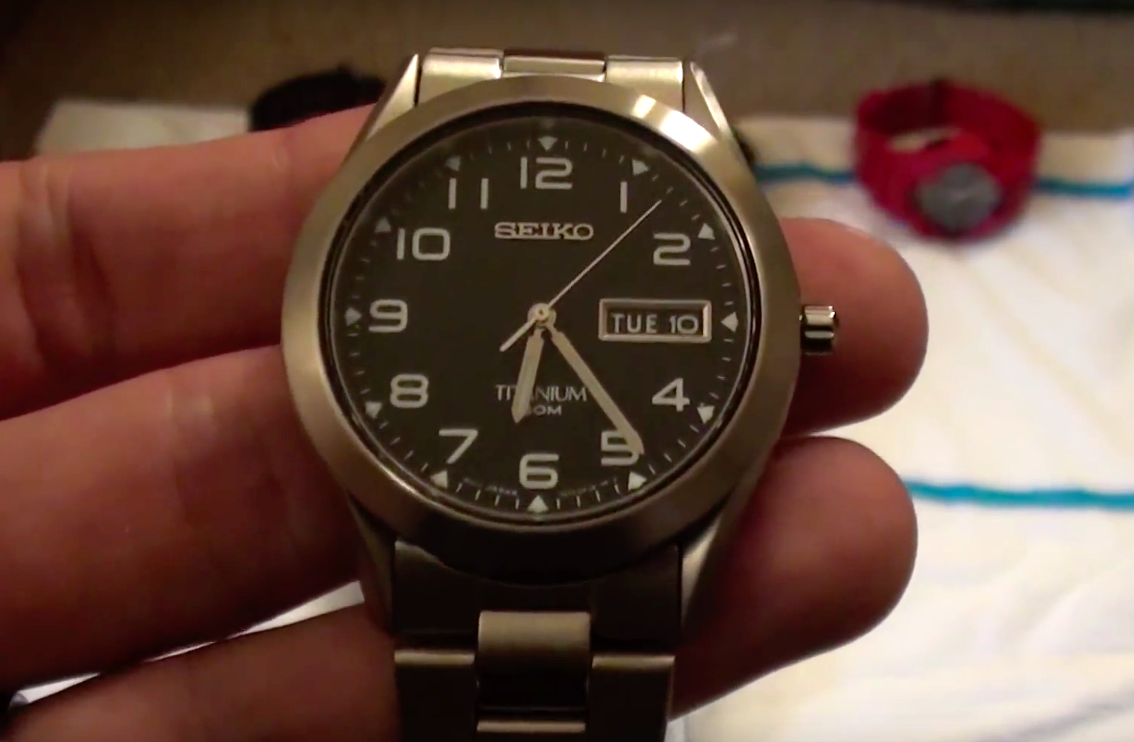 Lumibrite has been applied to the hands and the triangular hour markers sitting above each numeral. One gripe I have with the dial is the way the dots of lume were stamped into the triangular hour markers – the dot exceeds the boundaries of the triangles, which looks a little sloppy in my opinion. That's not to say that this is due to poor manufacturing, as it appears to be an intentional design. I just feel that keeping the lume circles within the border of the hour markers would make for a cleaner look that would match the styling on the rest of the dial. This is a minor niggle, one you won't notice unless you are really studying the watch.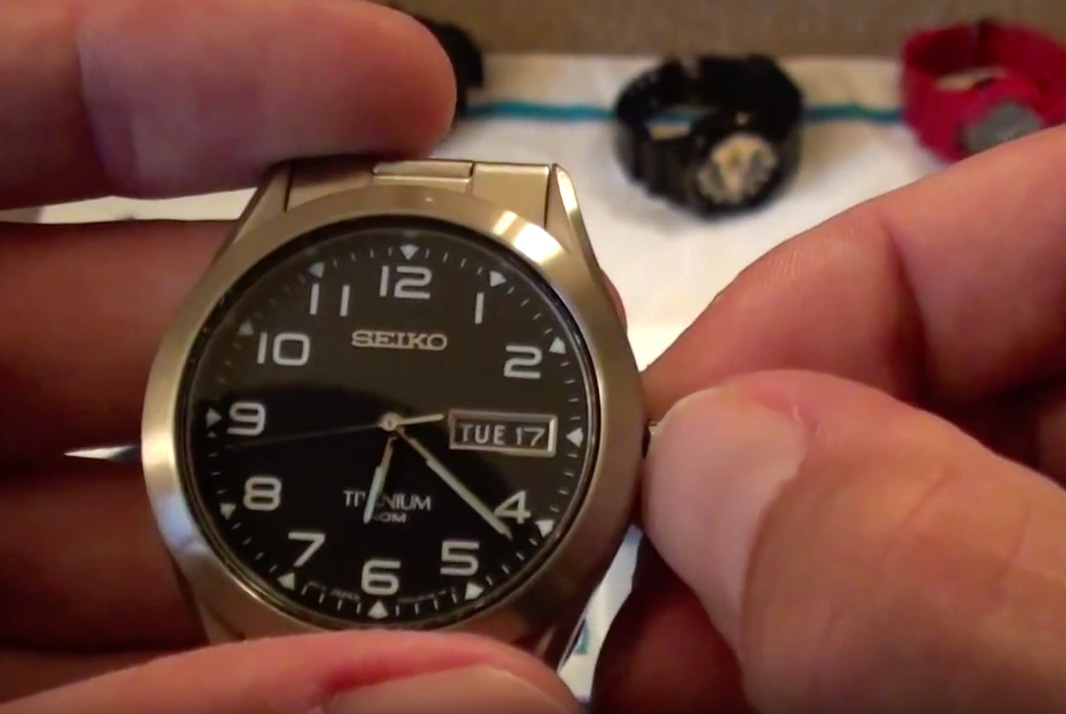 > > > Click here to see ratings, reviews, specifications and prices on Amazon < < <
The day and date display, located at 3 o'clock, is quite small and can be tough to see if you don't have 20/20 vision. On this black, white, and silver display, the only splash of color comes on the day window, but only on two days of the week; Saturday is blue and Sunday is red. I think the dial would benefit from a little more color being incorporated into the design, like perhaps an accent color on the second hand, but I have to admit the design is very tasteful nonetheless.
Lightweight Case
By far the most interesting feature of this watch is the use of titanium for the case, bezel, and bracelet. Amazingly lightweight, yet three to four times stronger than stainless steel, titanium can be a great material for watches. Titanium is also a good choice for people with sensitive skin that other metal types tend to bother. There is a downside, though: titanium scratches and scuffs very easily, so if you wear this watch regularly, frequent polishing will be required in order to keep it looking new.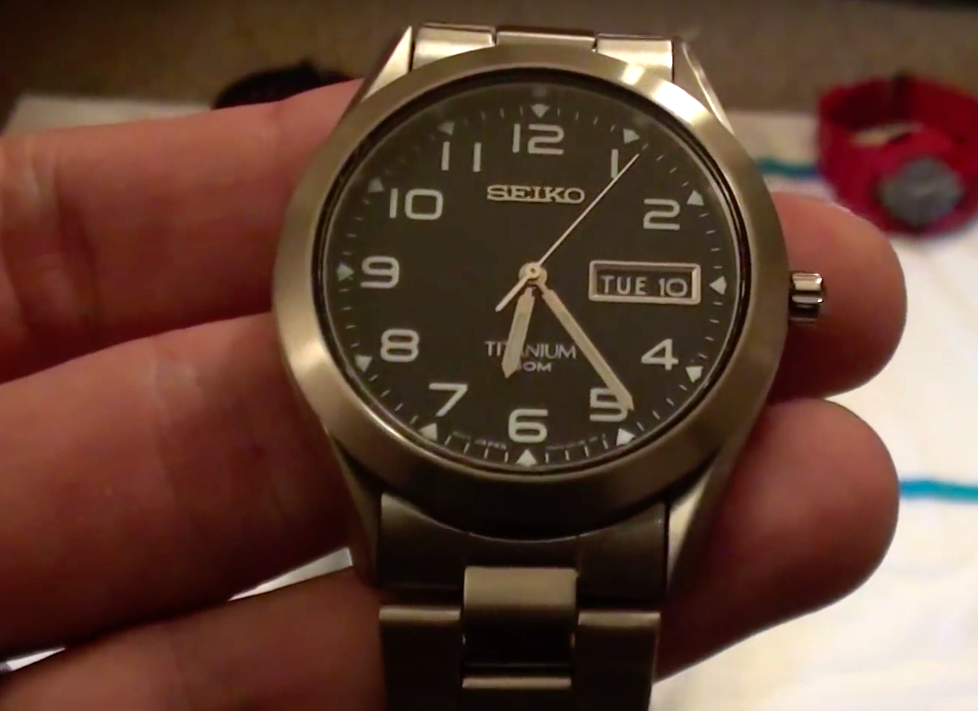 At 37 millimeters wide, this is a small watch by today's standards, but the wide lug design does provide a tad more wrist presence than other watches this size. The SG711 also has a very slender profile, at only 8 millimeters thick. Rated as water resistant to 50 meters, this Seiko should hold up to some short-duration submersions, but no diving or snorkeling.
Bracelet
The three-link titanium bracelet looks modern and matches the design of the watch perfectly.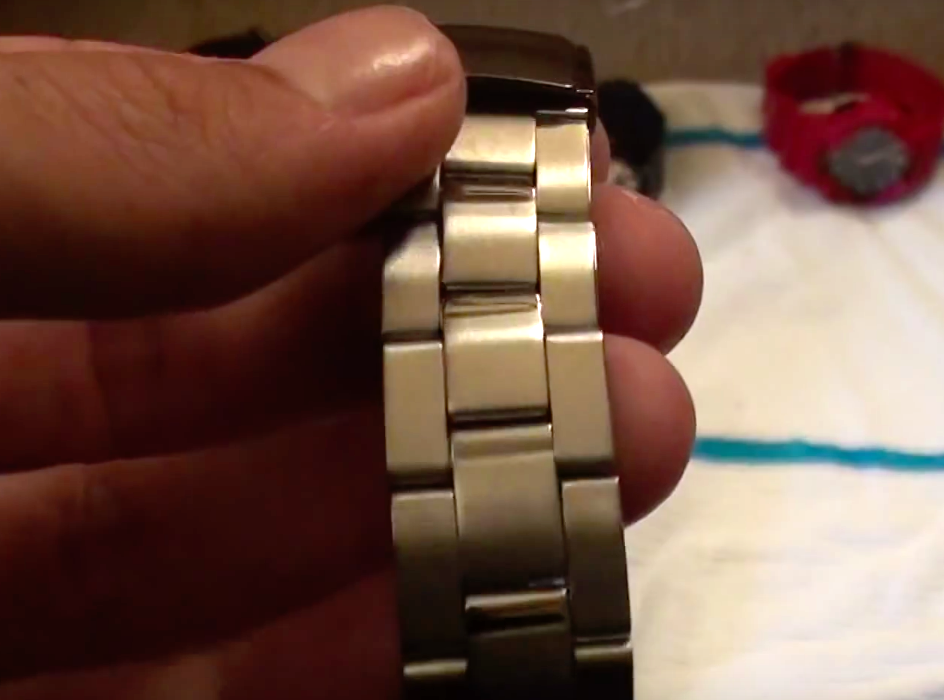 The lightweight band almost feels cheap at first, until you remember it is light because it's titanium and not because it's made with cheap materials. Measuring 20-millimeters wide, this band uses a fold-over clasp.
SGG711 Movement
The SG711 uses Seiko's 7N43 quartz movement, which should prove to be about as reliable as they come. While not as exciting for most watch collectors as mechanical movements, quartz has the advantage of being dead-on accurate and reliable.
Final Thoughts
Airy, lightweight titanium makes the watch comfortable to wear. The Japanese quartz movement should make the reliability top-notch. Some might prefer their watches have a little more heft, which can, but doesn't necessarily, indicate solid, quality construction. Because the metal on the case and band is almost certain to be scuffed, you will have to either learn to live with a banged-up looking watch, or polish it frequently. Many people looking for a quartz watch at this price range probably don't want to have this kind of hassle, so just make sure you know what you are in for before you purchase a titanium watch. The SG711 can easily be found for around half of Seiko's MSRP of $225, so it is certainly a strong value for a modern, sophisticated watch. It also comes with the peace of mind provided by Seiko's three-year manufacturer warranty.
> > > Click here to see ratings, reviews, specifications and prices on Amazon < < <