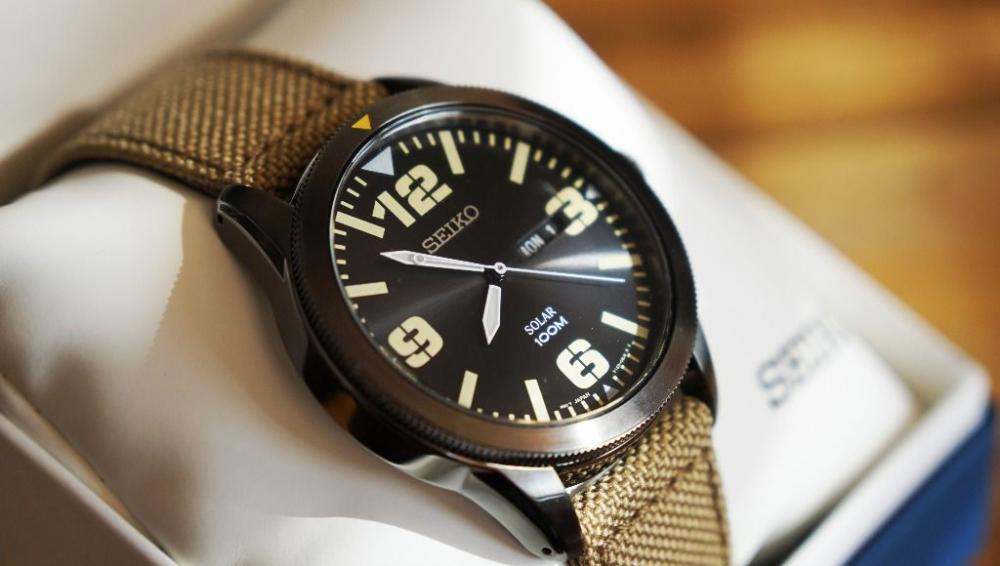 The SNE331 has a diameter of 43mm, a thickness of 10.7mm and a lug width of 22mm. This is meant for medium to large wrists. The watch is a basic field style watch with a round case. The case is stainless steel with a shiny black ion finish. This gives the watch a bit of a cheap look to it. The case has a fixed bezel which is also coated in an ion black finish. On the top of the bezel at 12-O'clock you will find an orange arrow pointing towards 12-O'clock. I am not a big fan of the color on the case, although I am very fond of how resistant the case is to scratching. This is good as it does allow the watch to maintain its shape and looks.
> > > Click here to see ratings, reviews, specifications and prices on Amazon < < <
This watch has a very nice and simplistic dial. The dial is Black with Khaki colored numbers and markers. It has large Arabic numerals at 12, 3, 6, and 9. You will find small hashes for the minutes and larger hash marks at five minute intervals. The hands of the watch are all white. Both the hour and minute hands have lume although the second hand does not. This watch features a day/date Calendar, which I liked. The day and date are both a milky white color. I am fond of this dial. It is simplistic and easy to read, just like a field or military watch should be. It also has an amazing color combination that really pulls the design together.
Strap:
A simple band should be used on a simple watch. The nylon band that comes on the watch is outstanding. It is a khaki colored band, it has full body stitching which is also khaki colored. You will find 10+ holes for adjustability which makes this band great for many wrists. The buckle is an ion black. You will also find 2 loops which are khaki too. The band Is extremely comfortable. It doesn't get hot or make you sweat. Another benefit of nylon is it dries quickly which allows this band to be submerged in water.
SNE331 Movement:
Powered by light, this watch is a perfect break from the normal movements. The SNE331 features a Japanese quartz movement powered by light energy.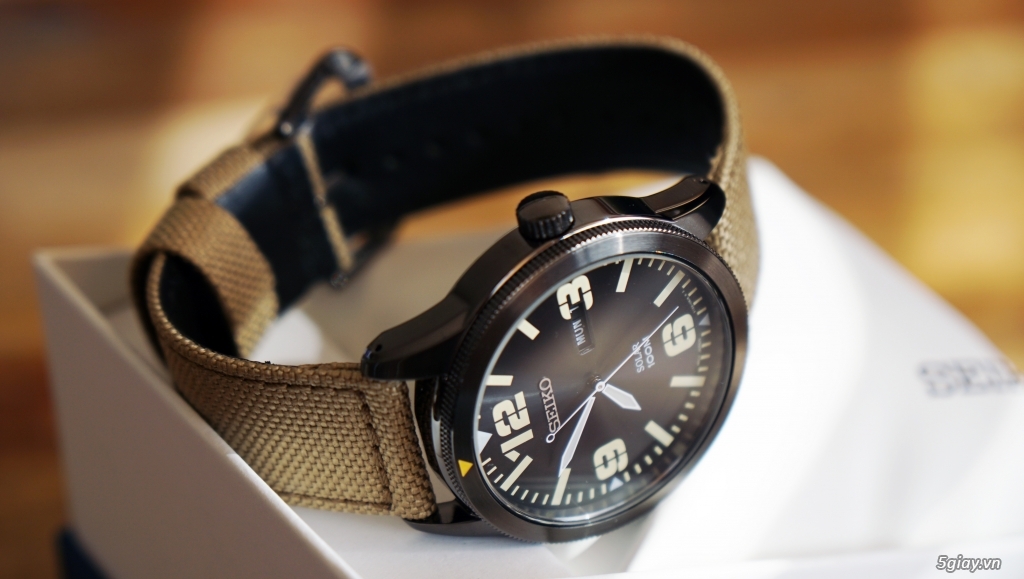 > > > Click here to see ratings, reviews, specifications and prices on Amazon < < <
Anything from a flashlight to the sun can charge and power this watch. The The amount of time to charge this watch depends on the source of light charging it. The watch can take 2 to 110 minutes to charge for a single day, .4 to 25 hours to charge for steady operation, and 9 to 10 hours to fully charge. Once fully charged this watch can last up to 10 months without needing to be charged again. Due to the fact that this watch is quartz, it has a ticking second hand motion. One feature that the movement has that is very innovative is preserving power and indicating the battery life when it is low. Once the battery reaches a certain level, it will start ticking every two seconds to preserve battery and also indicate that the battery is low.
Features, others:
For extra protection Seiko also made this watch water resistant to 10 bars. This means you can have the watch submerged under water up to a distance of 330ft or 100meters. When a company creates a military or field watch they know that it should be able to work and be able to handle various different conditions. Seiko has achieved this. I found that this watch is extremely strong. I have used this in the gym, for swimming, for doing housework, and just wearing it casually. It has held up perfectly. It is extremely resistant to scratching and holds up just like you would expect. One more feature that Seiko includes on this watch is Lumibrite which is a special luminous paint. It absorbs light energy and readmits it in a short period of time. This luminous paint is supposed to last much longer than what you may find on other luminous watches and it is also supposed to shine bright for a much greater period of time. For about 10 minutes of charging, the line can emit for 5-8 hours. Best of all the paint is non-toxic and harmless to the environment.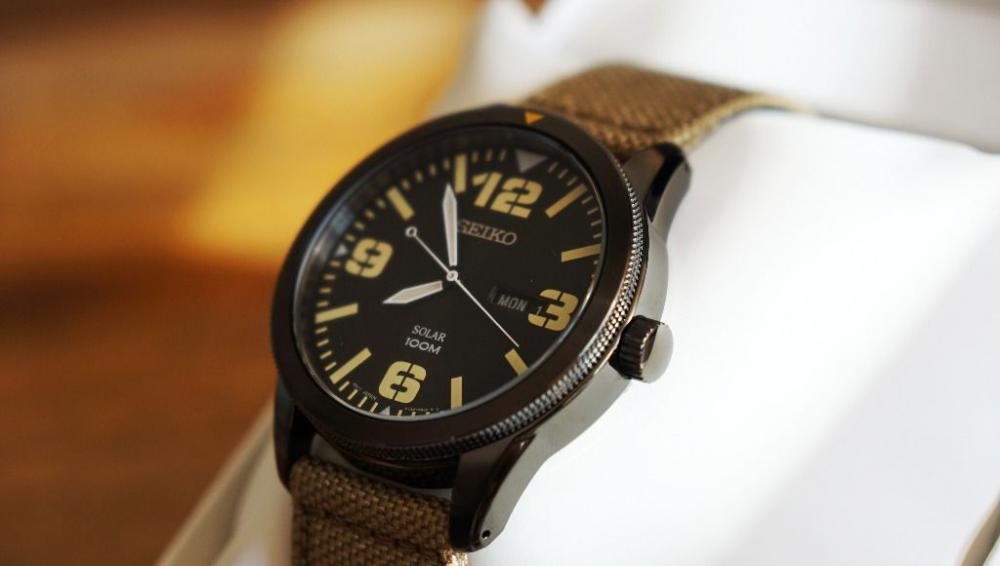 Who is this for:
This watch is for a person on a budget who does a lot of outdoor activities. It is also good for someone who loves the style of military watches.
Opinion:
Great looks, colors, lume, durability and price are what you are getting with this watch. For $205 you are definitely getting a bargain.
> > > Click here to see ratings, reviews, specifications and prices on Amazon < < <