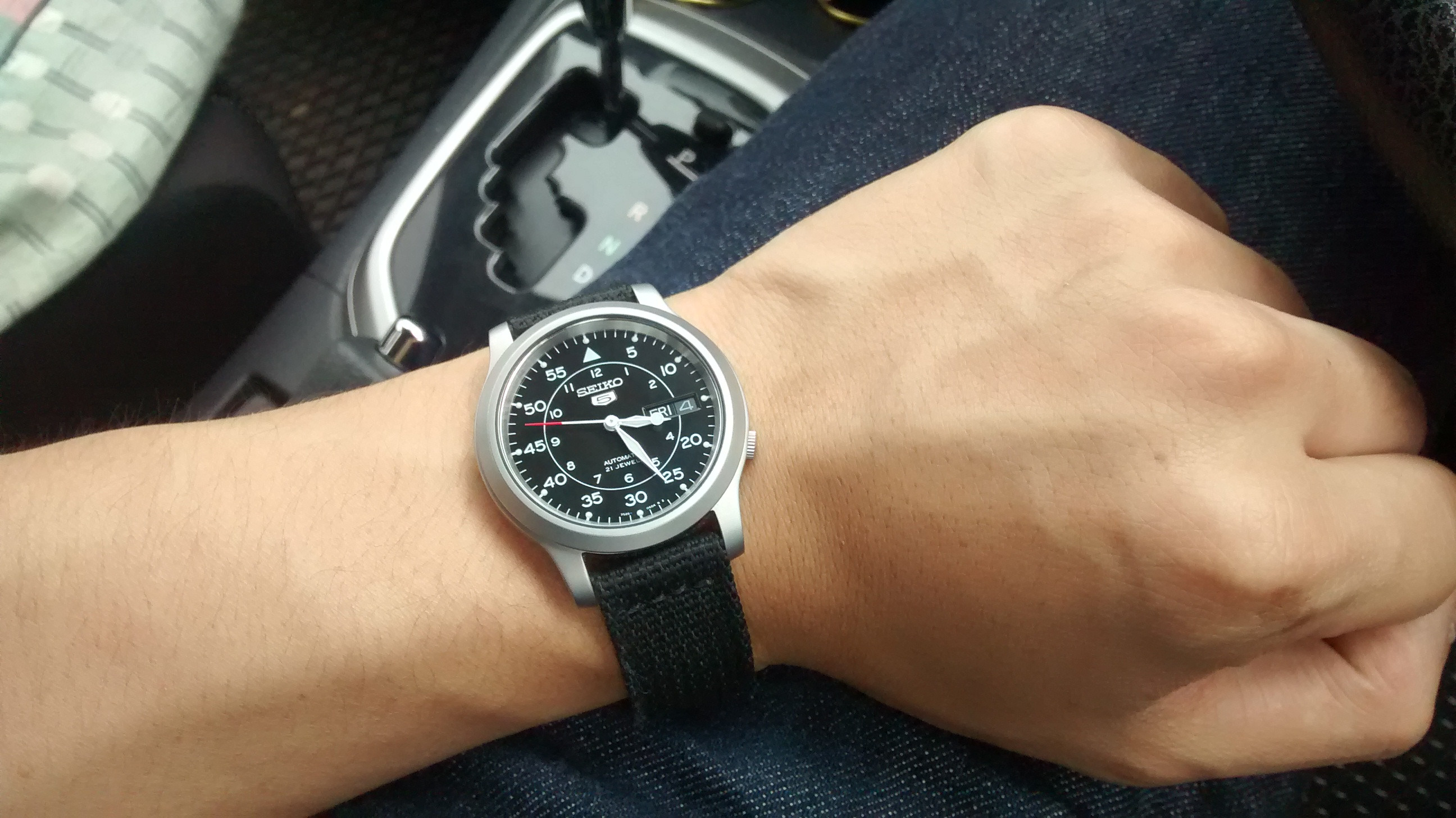 Watch enthusiasts that enjoy taking in the appearance of monochrome watch displays will immediately fall in love with the Seiko 5 Men's SNK809 Automatic, as it features one of the most beautiful, and yet simple, monochrome displays. At a glance this watch does not appear to be the most attractive of watches, but a lot of consumers find that it is perfect for day-to-day activities, opposed to being the type of watch that you would go out to an event wearing. The rather flat finish of this watch also means that it sits nicely, rather than appearing bulky on the wrist.
Don't make the mistake of viewing this watch as minimal, but rather view it to be simple. It is classical, opposed to minimalistic. The use of an uncomplicated design structure means that the watch has been expertly crafted, and that it does not have a million and two distracting features. But, it rather gives you the ability to perform the basic task that every watch should be able to perform – timekeeping.
> > > Click here to see ratings, reviews, specifications and prices on Amazon < < <
SNK809 Case and Dial
A simple look at the SNK809 shows us that it features an incredibly monochrome colour scheme. The timeless appearance of a black dial and white features stands out, and is perfectly suited for the simple design of the watch. The hour markers situated on the dial are small, white bumps. Each of the individual markers is packed with lume, making it incredibly easy to see the five minute increments and read the watch in dimly lit spaces.
The actual hands of the timepiece are sword-shaped, and along with the Seiko 5 logo they are the only features on the watch that actually have any depth. Most of the watch has a flat appearance, adding to the simplistic design.
The case itself measures in at 36mm, making this the ideal watch for people that do not like larger options that are readily available on the market, or for people who have smaller wrists. It features a Hardlex crystal. As a product Hardlex is incredibly similar to Sapphire crystal, it is just slightly less resistant to scratches. A benefit of the use of Hardlex in watches is that it does not shatter the way that Sapphire crystal would if it was hit hard enough.
One of our favourite features of this particular Seiko timepiece case would have to be the exhibition case back. This exposed glass case allows you to see the mechanisms constantly moving within the watch, and gives you the opportunity to patiently sit and watch the gears turning around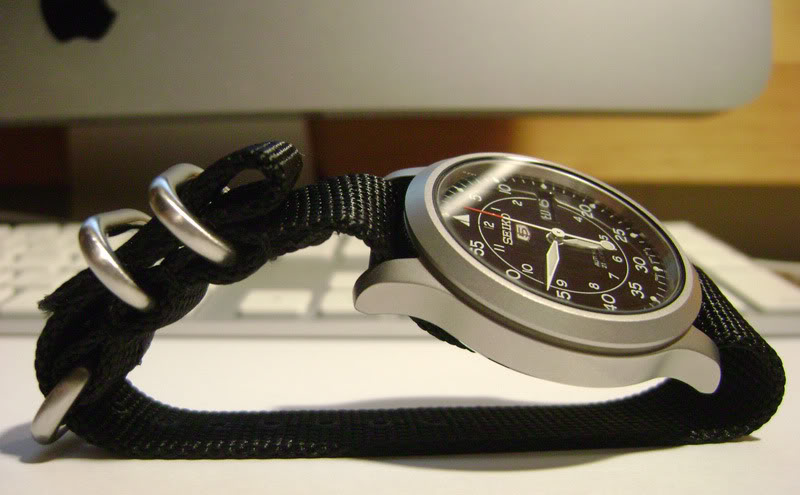 > > > Click here to see ratings, reviews, specifications and prices on Amazon < < <
Features & Movement
The Seiko Men's SNK809 comes with a featured black canvas strap to compliment the colour scheme of the watch, and all of the buckle-style clasp holes on the strap have been expertly reinforced with leather to make them last longer. This small additional feature is vital, as the reinforcement adds to the durability and overall lifespan of the watch.
If you do prefer the appearance of different types of straps, then the 18mm lug sizing that this particular watch features makes it incredibly easy to swap and change straps as you please. A lot of watch enthusiasts that own this timepiece use multiple straps throughout the week, easily changing the overall appearance of the watch within just a handful of seconds.
Another really important factor to take into consideration when looking at this watch is the fact that it is extremely affordable, and products of a similar calibre are rarely in the same price range. It features Seiko 7S26 movement, which is a basic 21 jewel style movement known to offer a good amount of reliability.
Unfortunately, this watch only has a water resistance level of 30m. At first 30m may sound like a lot, but in reality it means that the watch can only cope with light splashes or rain. You could not wear this watch in the shower, or the bath, nor could you swim while wearing this watch. If you do want a watch suitable for those activities, then you should look for a watch with a water resistance level of around 100m+.
The SNK809 also features modern Lumibrite paint, a type of paint that allows you to easily read the time whilst in dimly lit areas, or in the dark. The actual hands are incredibly easy to see in a number of low-light scenarios. Lumibrite is a much better product than older forms of luminous paint, as it isn't toxic or harmful to the environment. A single, one-level day and date display can be seen in a single window, and it is easy to format it in either English or Spanish.
An additional attractive feature of this watch is found in the unique crown position, as it is situated just behind the 4 o'clock marker. Alone this feature would not be special, but given the simplistic symmetrical appearance of this timepiece, it adds a little bit of a nice finishing touch.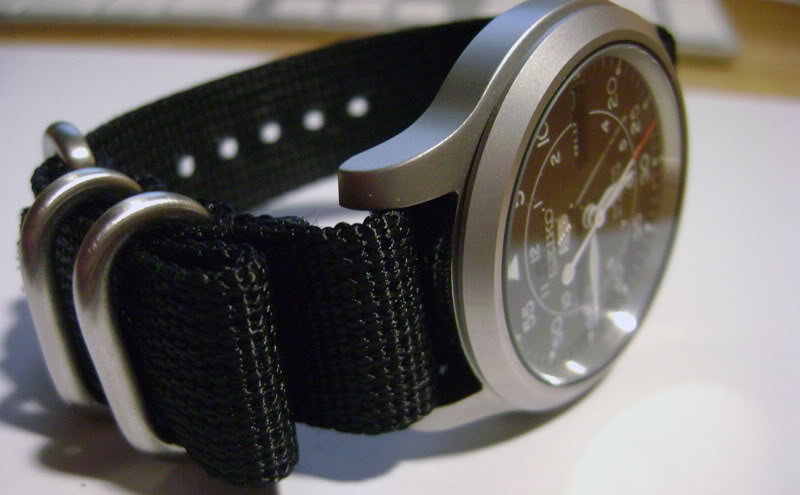 Final Thoughts
Seiko have been manufacturing Seiko 5 timepieces for more than four decades, and they were dreamt up when Seiko decided that they wanted to offer the world mechanical watches that were actually affordable. This dream has continued, and this watch offers the average consumer a mixture of high-quality, durability, aesthetic appeal, and affordability.
The monochrome colour theme of this watch creates a level of timeless harmony, and when added to the analog display the minimalistic feel of this watch works perfectly. It draws just the right amount of attention, and it can easily be either dressed up, or dressed down. It is known among watch enthusiasts to be both small and lightweight, the benefit of not being as big as other watches is that this particular model will easily fit under the sleeve of a suit jacket. Overall, the Seiko 5 Men's SNK809 Automatic Watch would be an incredibly smart purchase for the vast majority of consumers.
> > > Click here to see ratings, reviews, specifications and prices on Amazon < < <