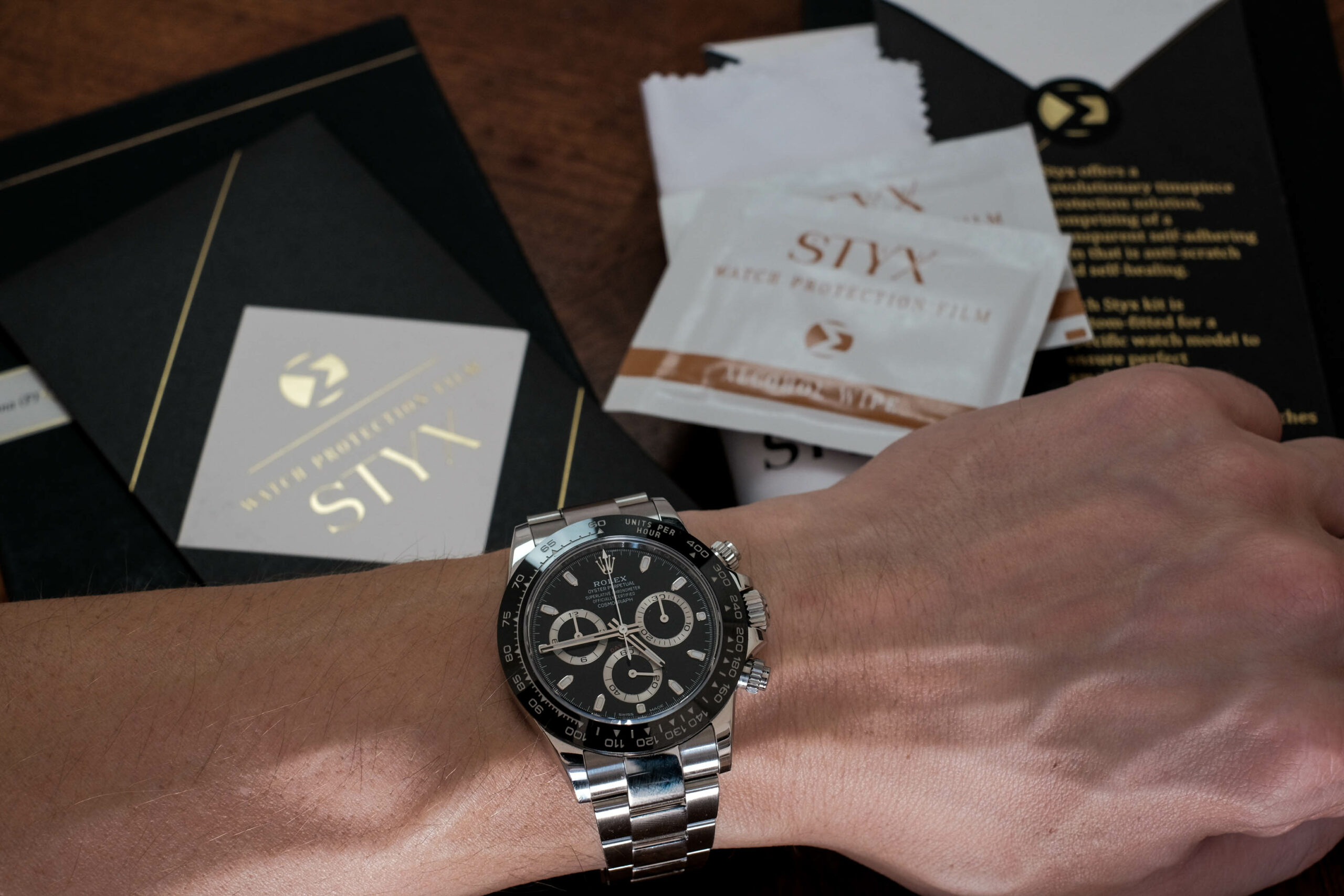 An automatic watch is an investment. On the high end, they may be worth well into the five figures. It goes without saying that you want to protect that kind of investment.
If you spend a lot of time on watch forums, you may be familiar with watch skins. These are transparent protective films that cover your watch's vulnerable areas and provide an added layer of protection.
The Styx Protection Film is one of the most popular options, they sent me two packs for my Rolex Daytona 116500. I applied it to the watch and wore it around for a while to form an opinion. Here are my thoughts.
What is Styx Protection Film?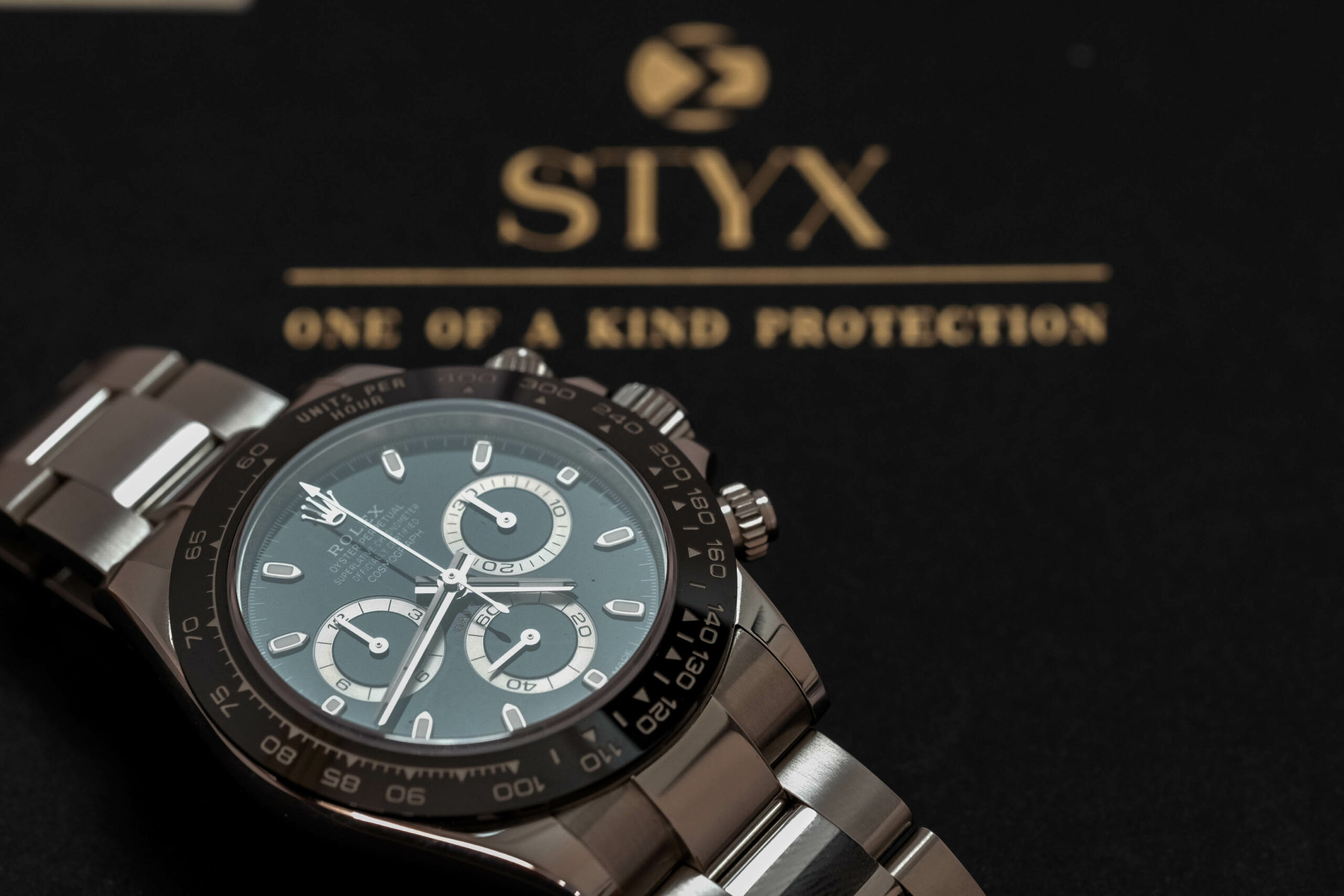 First things first – what is the Styx Protection Film, exactly? The material itself is a polyurethane film with a nano-coated top layer. This layer is designed to stand up to the scratches, dings, and bumps that come with everyday wear. At the same time, it's 100% transparent. When properly applied, the film is entirely invisible. You can wear it around all day and no one will be the wiser. You'd only notice it if you rubbed your thumb across the surface.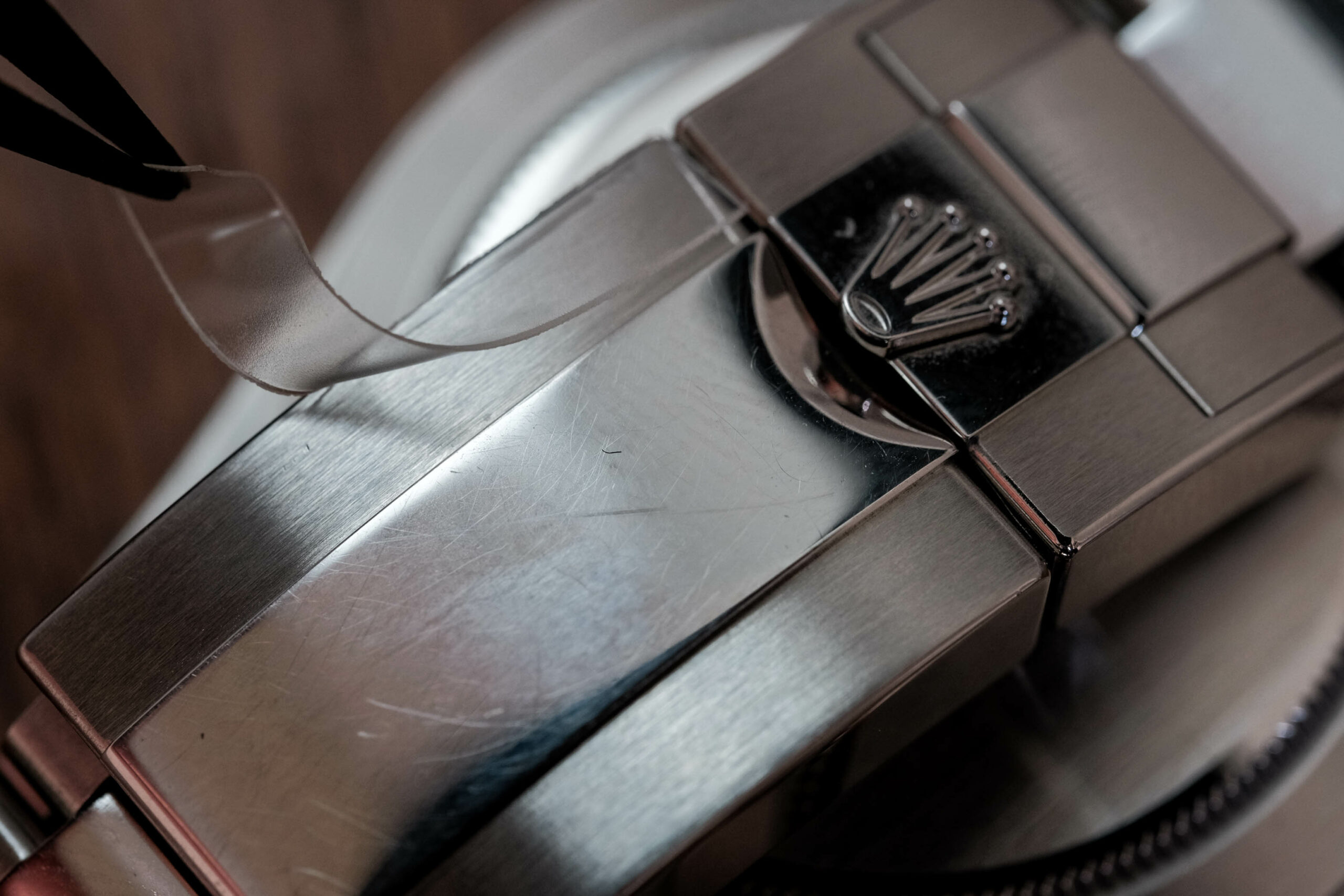 This isn't a one-size-fits-all solution. You can't make a shrink wrap that incorporates that kind of protection. Instead, each kit is designed for a particular model of watch. Styx takes a large sheet of the protective film, then uses a precision laser to cut individual pieces for different parts of the watch. You'll get separate pieces for the dial, bezel, lugs, and sides of the case. If your watch comes with a metal strap, you'll also get a piece of film for each link.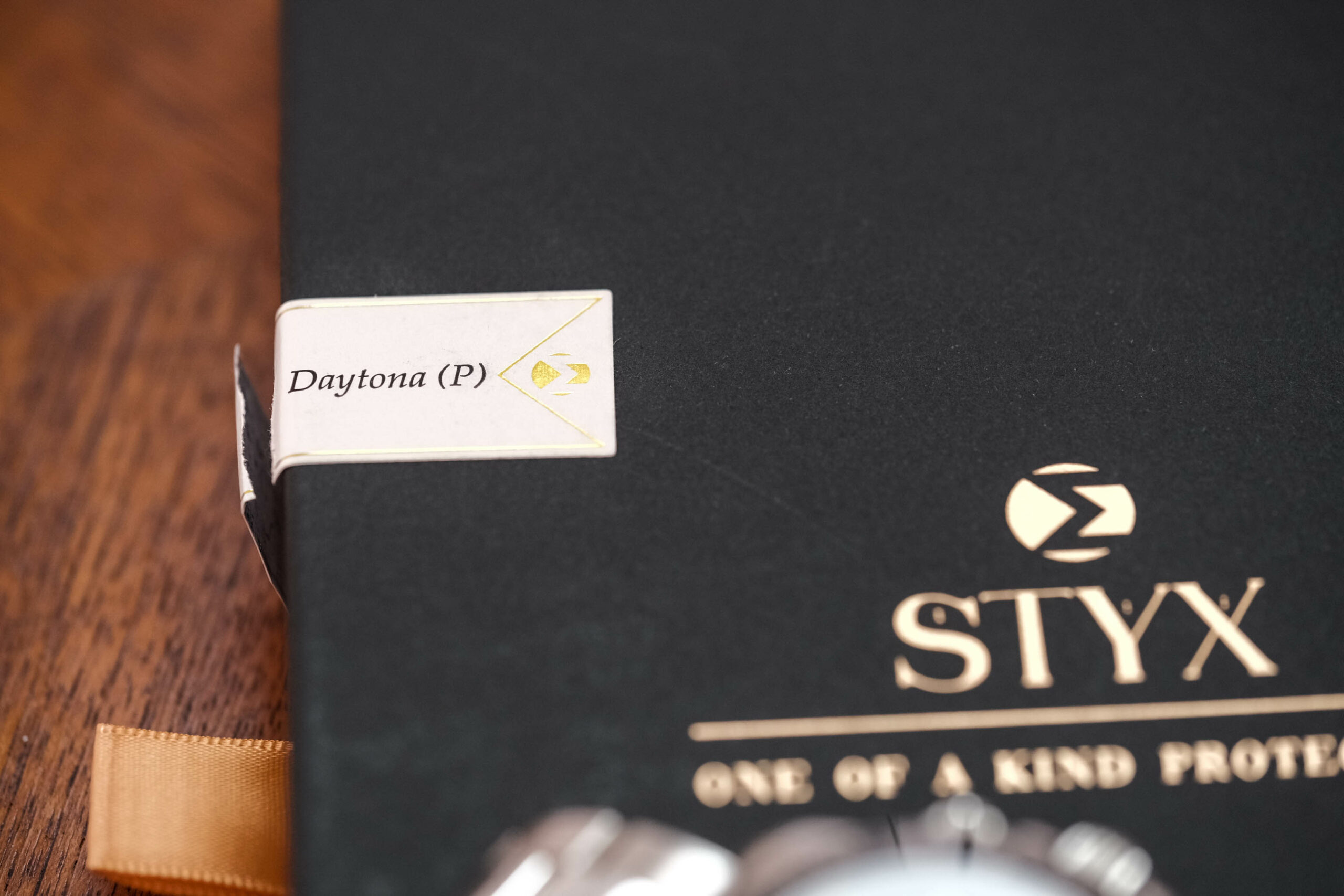 In addition, the Styx kit includes an install tool. It's also (relatively) easy to install. The adhesive has a generous setting time, so you can reposition the film if it's not perfect the first time.
Is it Worth it?
Let's talk about the elephant in the room. Watch protectors are controversial, and many collectors think they're either silly or gauche. So, should you use one or shouldn't you?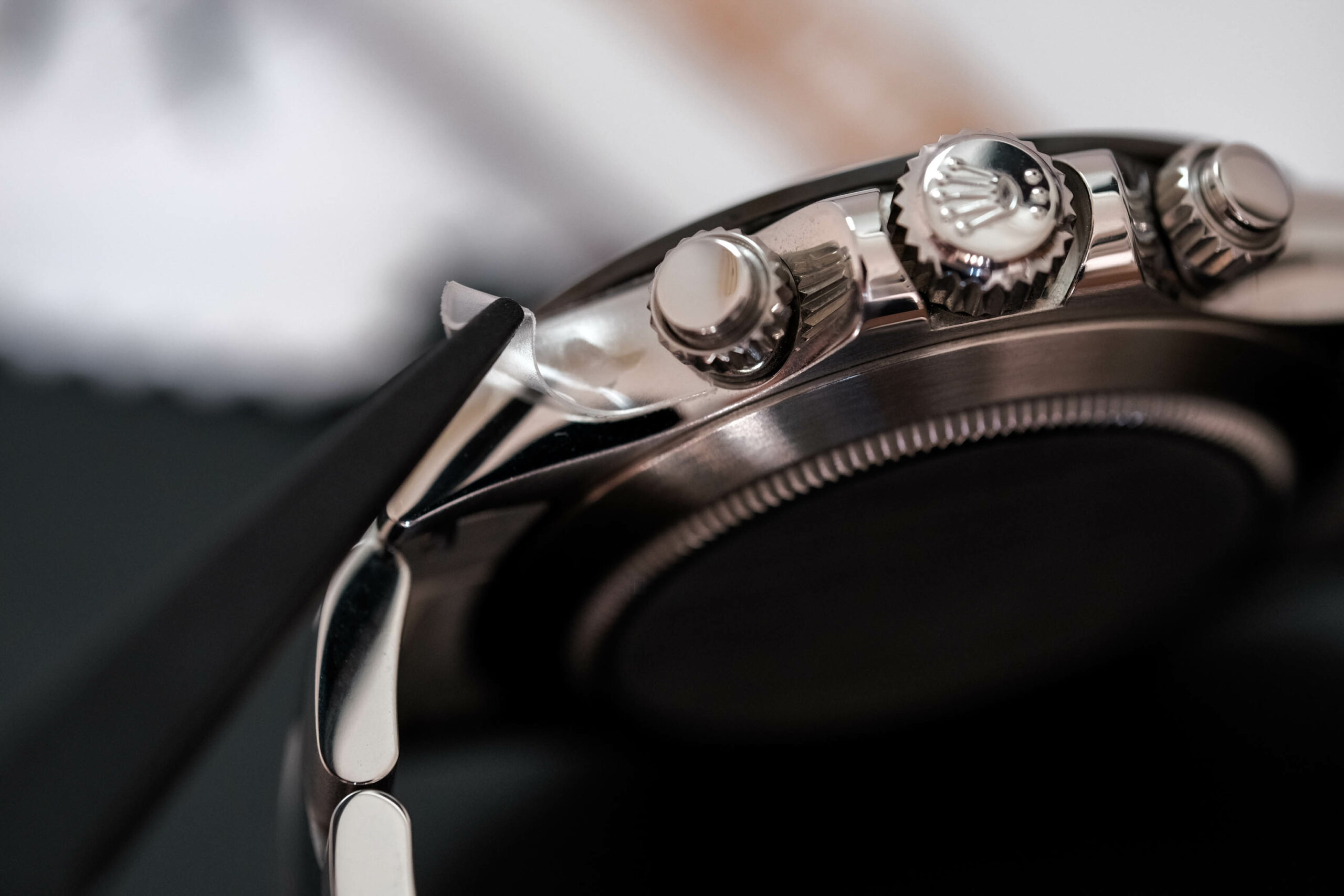 On the plus side, you're getting an added layer of protection. This is particularly handy on gold watches that are easy to scratch. It's also helpful on all but the most resilient crystals. And with today's technology, a film doesn't ruin your watch's appearance. As far as anyone else will know, it's not even there.
On the other hand, there are some definite drawbacks to watch protectors. To begin with, they can be a pain to apply. Styx has done a great job by making their film reposition-able. But part of the problem is baked into the very nature of the product. In order for a protector to work, there has to be several pieces. The strap alone could include dozens of little film shapes. Even if your watch has a rubber strap, you're looking at a dozen or more panels. Furthermore, manufacturers sometimes sell protection film to fix non-existent problems like "safe rot."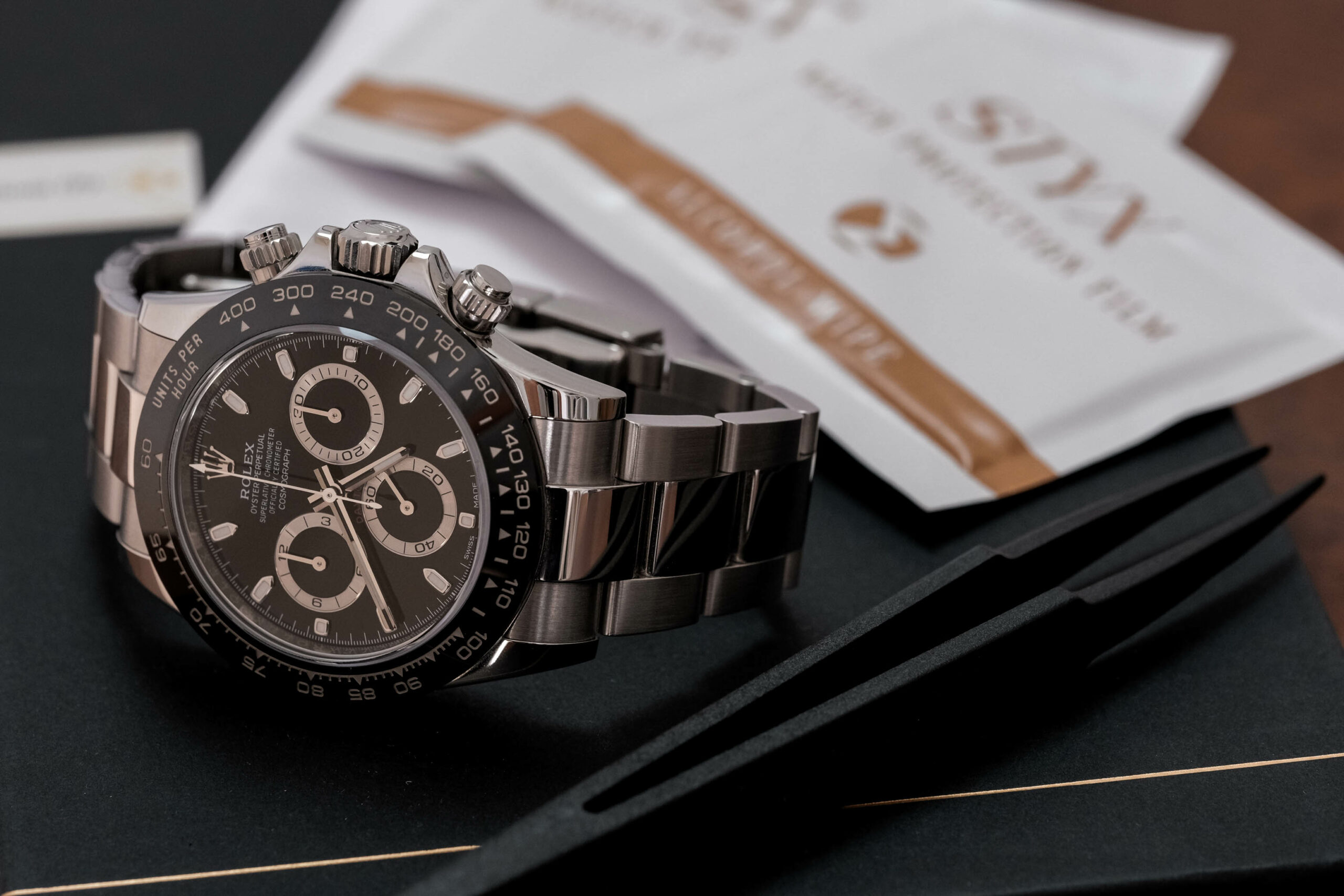 Applying a protective film is a good idea if you're collecting watches as an investment. Otherwise, it's probably more trouble than its worth. Then again, you could always apply some parts of the film and not others. Protecting your crystal and buckle alone can prevent the bulk of scratching with a minimum of effort.
What Watches is it Available For?
If you want the Styx Protection Film to work, you'll have to order it for your specific watch. Otherwise, not all the little panels will be cut to the right size or shape. Styx manufactures protective film for the following models:
Audemars Piguet
Royal Oak 37mm
Royal Oak 39mm
Royal Oak 41mm
Royal Oak 41mm Chronograph
Royal Oak Diver 44
Royal Oak Offshore Diver 42
Royal Oak Self-Winding 42
Royal Oak Self-Winding 44
Patek Philippe
7118
Aquanaut 5167
Aquanaut Travel Time 5164
Nautilus 5711/5712
Nautilus 5726
Nautilus 5990
Rolex
Air King
Datejust 31
Datejust 36
Datejust 41
DayDate 40
Daytona
Deepsea
Explorer 36mm
Explorer 39mm
Explorer II
Explorer II 42mm
GMT Master II
Milgauss
Oyster Flex
Oyster Perpetual 36
Oyster Perpetual 41
Sea Dweller
Sky Dweller
Submariner 16610
Submariner 41mm
Submariner Date/NoDate 116610
Yacht Master II
Yacht Master 40
Yacht Master 42
Other watchmakers
Omega Seamaster 300M
Omega SpeedMaster 005/006
Santons De Cartier
Tudor BlackBay 58
Tudor BlackBay Chrono
Tudor BlackBay GMT
Vacheron Constantin Overseas 4500V
Vacheron Constantin Overseas 5500V
Vacheron Constantin Overseas 7900V
It's worth noting that Styx also makes watch-themed protectors for smartphones, as well as unrelated protectors for handbags. But that's a bit outside my wheelhouse.
Final Thoughts
Whether or not you choose to use a watch protection film is a personal decision. Some people love them; some people hate them. But if you decide to go in that direction, Styx makes an excellent product. I had no complaints.
For more information visit the Styx Watch official website here.