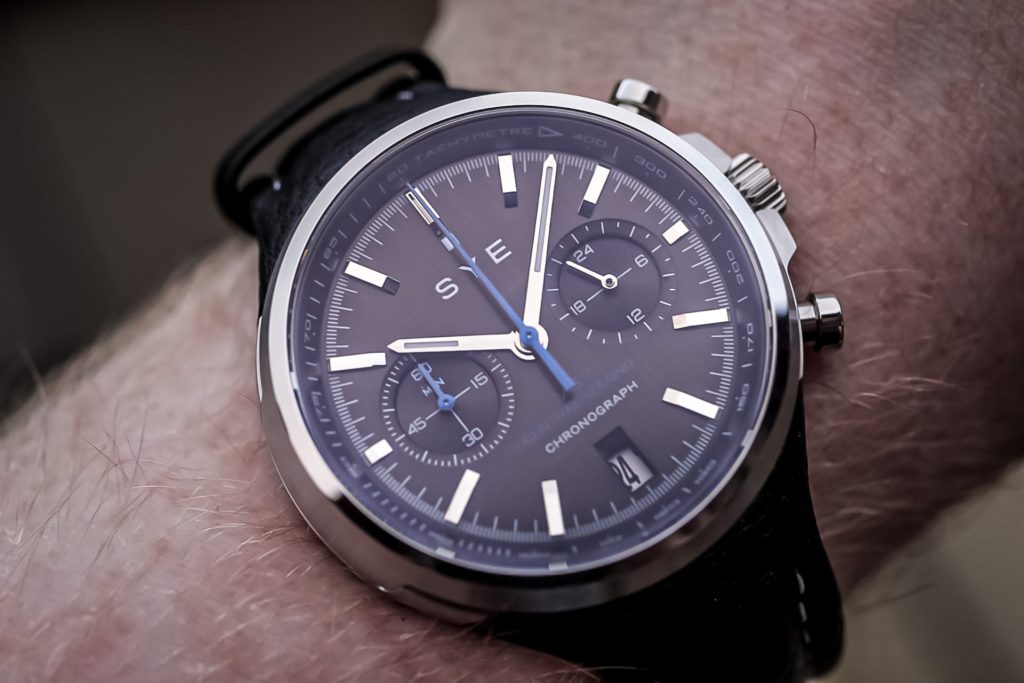 Start your engines ladies and gentlemen and enjoy the ride, introducing SYE Watches from Paris in France.
For me, there is only one place to start with this one and that is the strap, because SYE has a unique Fastback system of changing straps. On the case back you will find a stainless steel case with a central screw and a hub cap style back that lets you swap out your strap with ease. With a few turns using a tool provided the strap comes off and you're ready to swap it out. The method of changing the strap is a little tricky to get the hang of at first and I fumbled about for a few minutes but after that it's easy enough.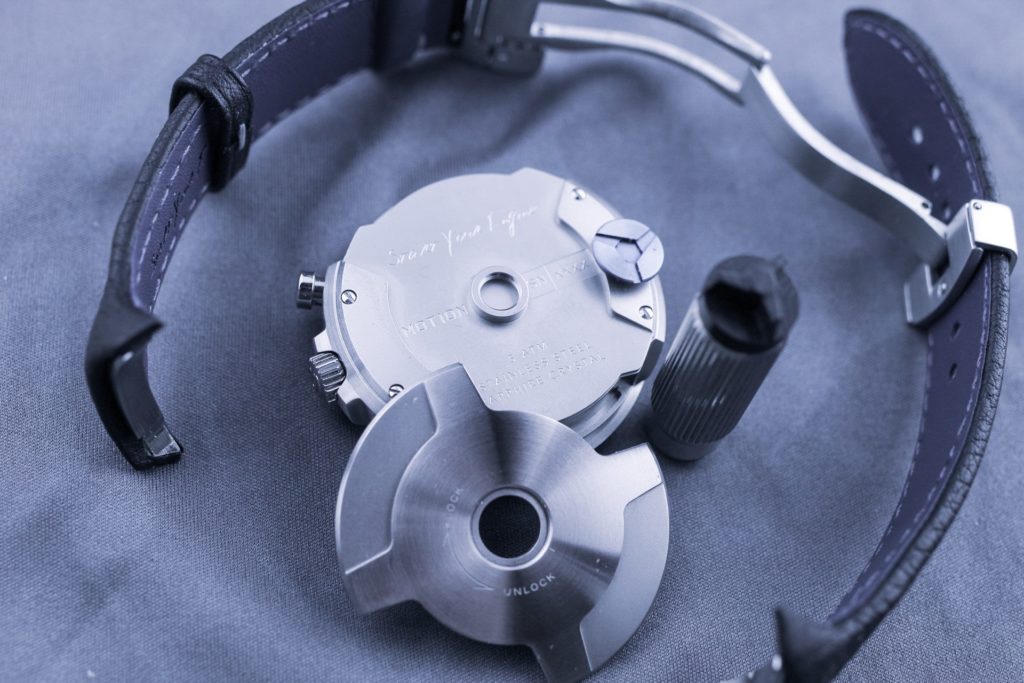 The strap itself features a deployant clasp which was a pleasant surprise and features a double pusher safety system on it. The strap is extremely comfortable, feeling absolutely premium in quality, but because it features a clasp it makes it a bit tricky to use the tool to turn the screw on the case back. The strap is primarily made of French calfskin and features a white stitching to complete the look. Metal inserts have been strategically placed inside the strap to increase longevity, you would think that would make the strap feel rigid but you don't notice it at all, a subtle addition. The deployant clasp works as expected but I found it slightly tricky to change strap holes to size it correctly.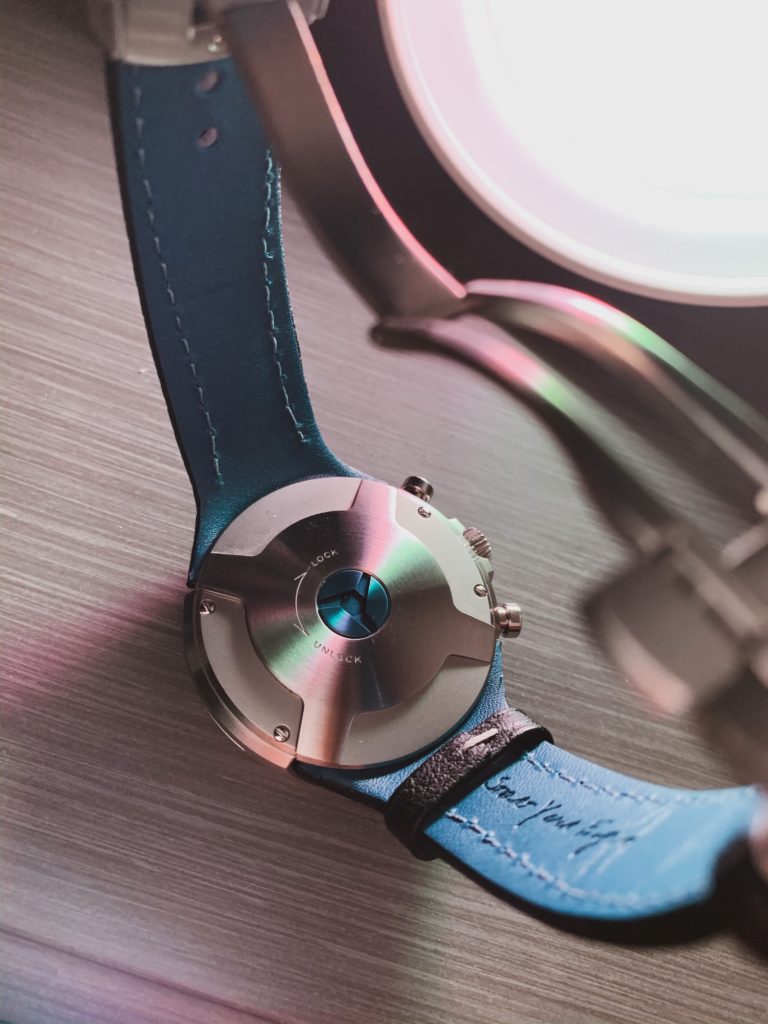 SYE promises a choice of 10 colours and leather finishes to ensure personalisation but due to the Fastback system you are completely limited to SYE straps and this might be a problem for some. The Santos de Cartier features it's own unique strap change system that limits you to Cartier straps but I'm okay with that on a luxury watch brand, not so much on a micro brand for me.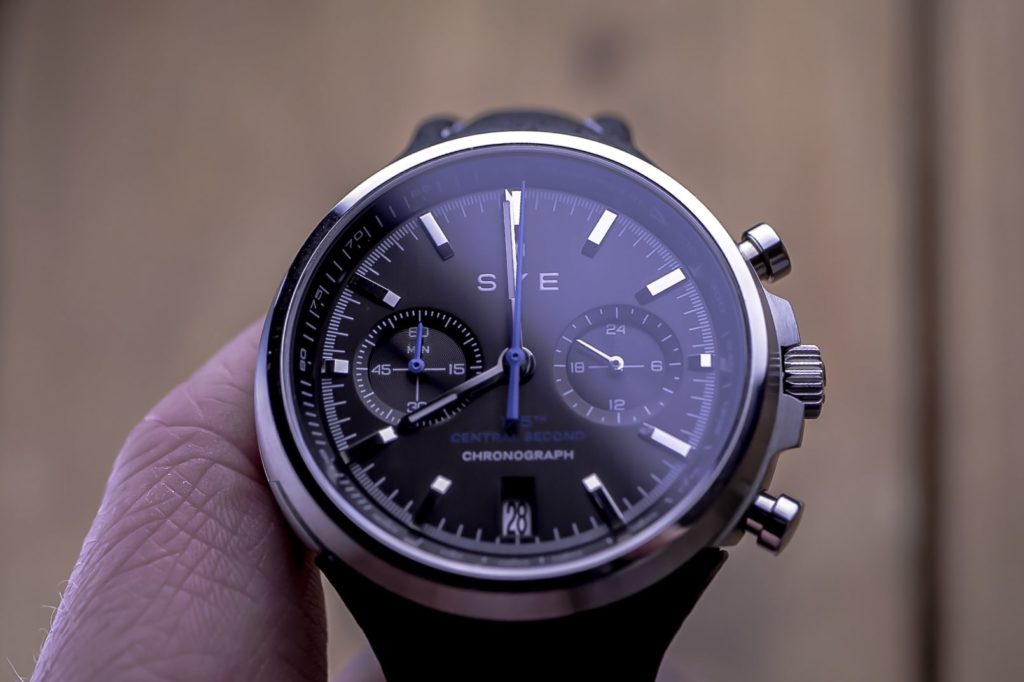 The case is made from 316L stainless steel and is a nice 40.5mm wide and thanks to the strap changing system the main part of the case looks like it sits atop the lower part. In total the case is made up of 5 parts and the transition between top and lower part is seamless and extremely nicely finished with no rough or sharp edges in sight. The opposite side of the case features the standard 2 pushers for a chronograph beautifully polished and a crown signed with a large S. I reviewed a Zero West chronograph and that had some heft to it on the wrist, almost dragging my wrist down at times but this couldn't be any more different. It feels dainty and cute on the wrist, despite weighing a decent 100g in total.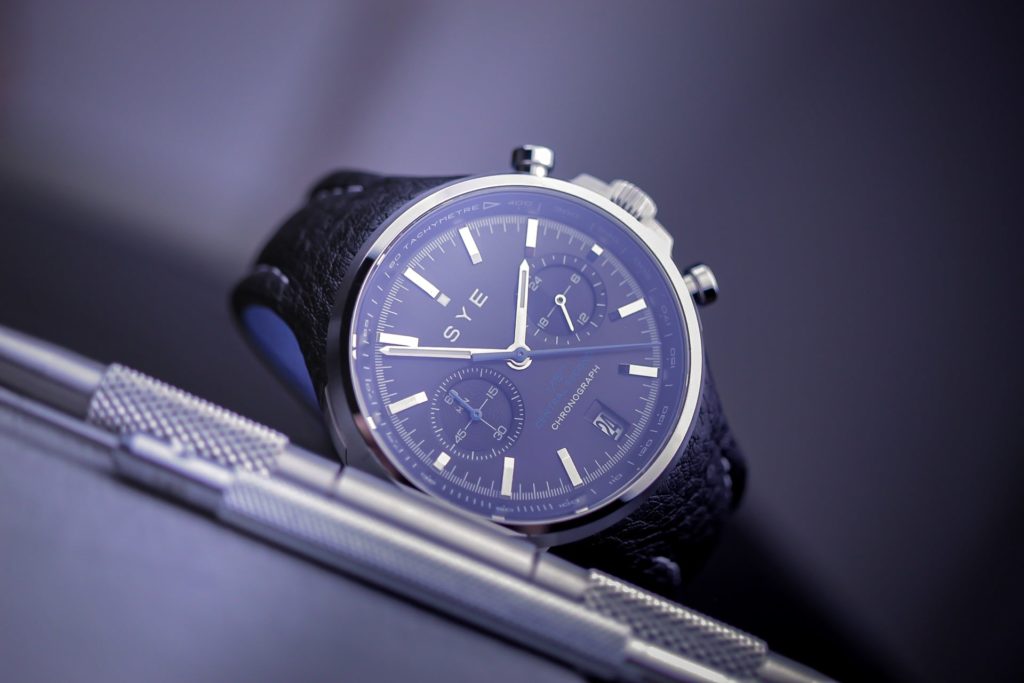 The dial itself is a beautiful smokey grey colour with a brushed finish that means it glistens in sunlight and looks a deep black on certain occasions. The dial is rather small and compact but doesn't at all feel cluttered, featuring clear 'SYE' lettering at the 12 o'clock position and two sub dials. One sub dial at 3 and that's the 24 hour counter, the other is at the 6 o'clock position and is a 60 minute counter for the chronograph function. One firm push on the 2 o'clock pusher and the chronograph clicks into motion, the vibrant blue central 1/5s chronograph hand ticks round the dial. Push again to stop then push the clicker at 4 and everything snaps back to where it started, faultless.
The beautiful, block like applied indices are stainless steel, making them stand out well and the stainless steel hands have a touch of SuperLuminova on them, not spectacular but it doesn't have to be on a watch like this. The dial also features a date window at the 6 o'clock position and it's not colour matched, a personal peeve of mine, also the font used doesn't seem consistent throughout the numbers meaning that this is the only thing that I found let the dial down.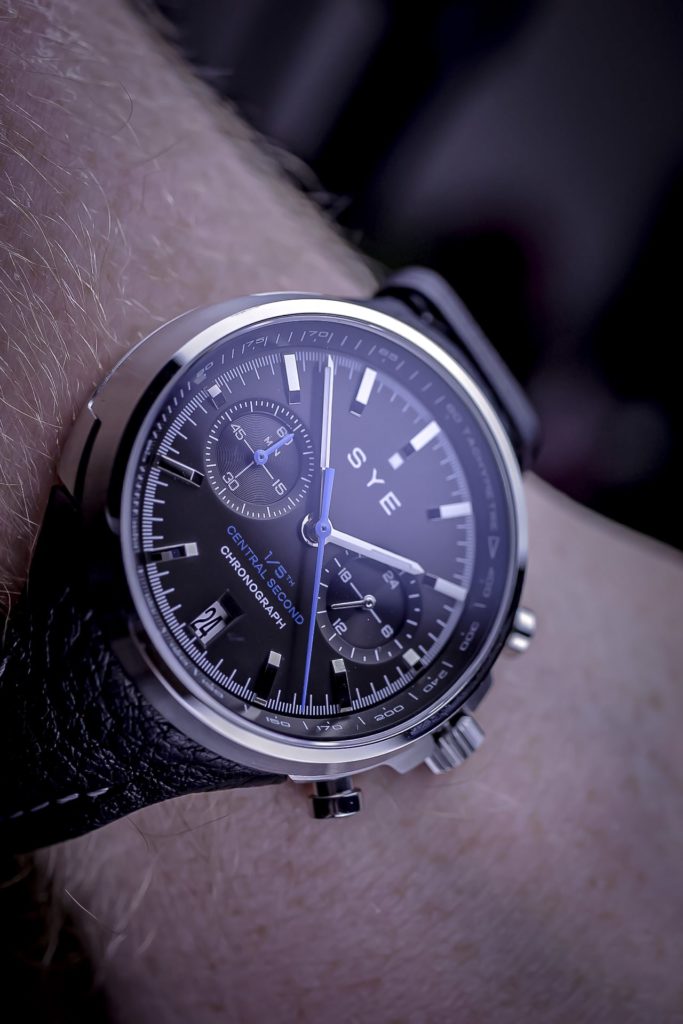 Powering this watch is the Meca-Quartz Seiko VK64, an affordable but highly reliable movement.
But what is a Meca-Quartz?
It's a hybrid movement, the timekeeping functions are controlled by a quartz movement, whilst the stopwatch functions of the chronograph are done by a mechanical module but both functions are powered by the same battery inside. The movement has been around for decades and has been used by established companies such as Jaeger LeCoultre and IWC but now is more commonly seen in micro brands.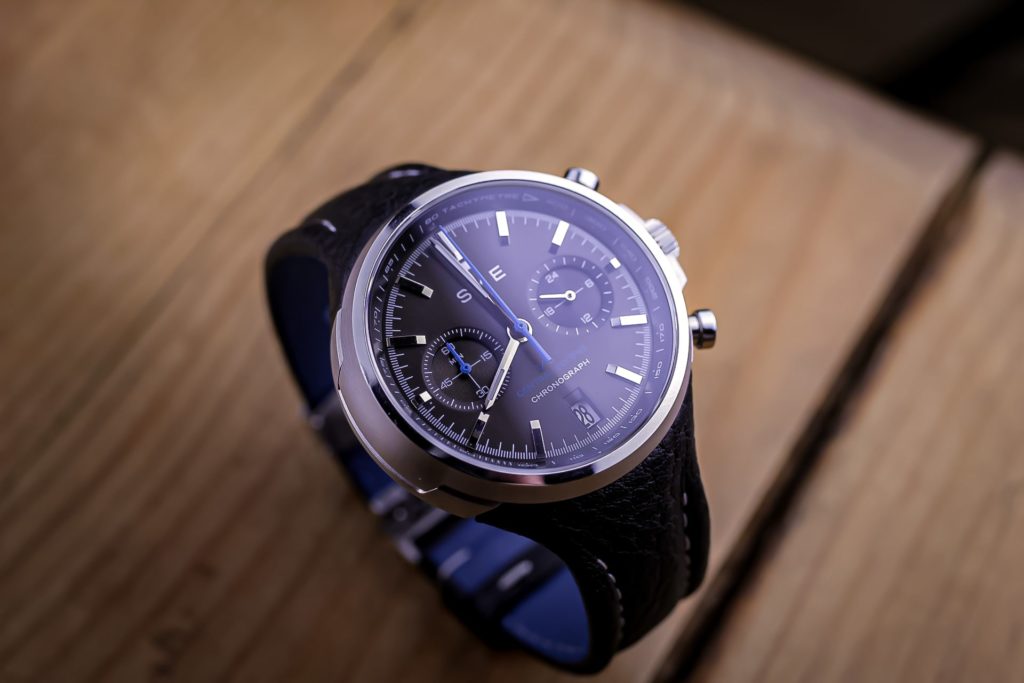 This movement is stated as providing accuracy of around +-20 seconds per month and the battery should last around 3 years which is a pretty decent return. Due to there being no seconds hand it's hard to keep a close eye on the stated promises but I had no issues with time during my time with this watch.

I have not had much experience with chronograph watches and this is my first with a meca-quartz watch, but I found myself looking at my wrist more often when this was on it, it brought a smile to my face looking at it. There is no denying the quality and effort put into this watch, it's a fantastic sporty chrono that feels fantastic on the wrist. The strap is a winner for me, very high quality but if you're like me and have a constant itch to change straps then this might not be for you, unless you're willing to pay more for SYE's own straps.
To see all the Mot1on model variations visit SYE's official website here.