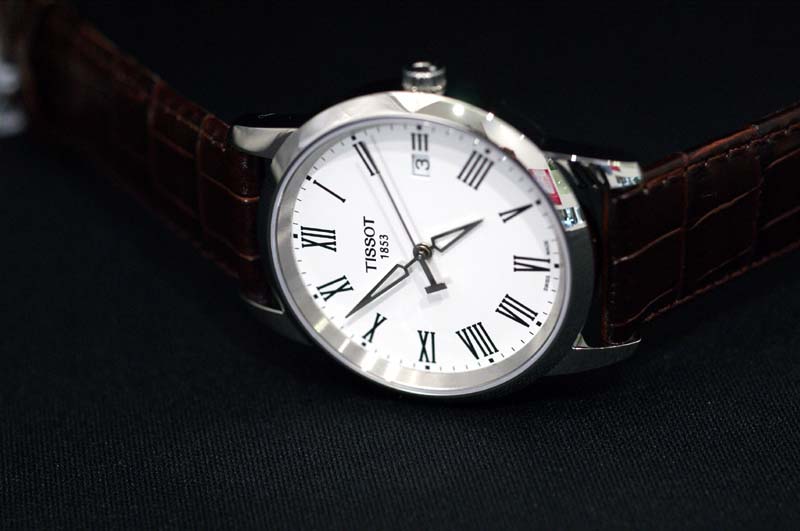 Tissot's T-Classic collection includes a staggering array of watches, including some selling for over $2,000 dollars. The Dream White Reach we are examining today is on the decidedly lower end of Tissot's price spectrum, ringing in around $250, making it one of the cheapest watches sold by the Swiss manufacturer. Tissot sells 8 variations of the T-Classic Dream, with a variety of case and dial finishes. The model reviewed here today is a classic silver-and-white design with a brown leather strap; a classic design that aims to never go out of style. The design is unabashedly simple, aiming to have a broad appeal for those seeking a classy, reliable, everyday dress watch. Okay, so there are plenty of watches out there that fit this description, read on to see if this is the right one for you.
> > > Click here to see ratings, reviews, specifications and prices on Amazon < < <
White Dial
The Classic Dream's stark white dial is a clean, simple affair. The large, easily legible black Roman hour markers are interrupted only by a small date field taking the place of half of the "III" marker. Displayed in black on white, the date window blends right in with the rest of the dial and is plenty easy to read.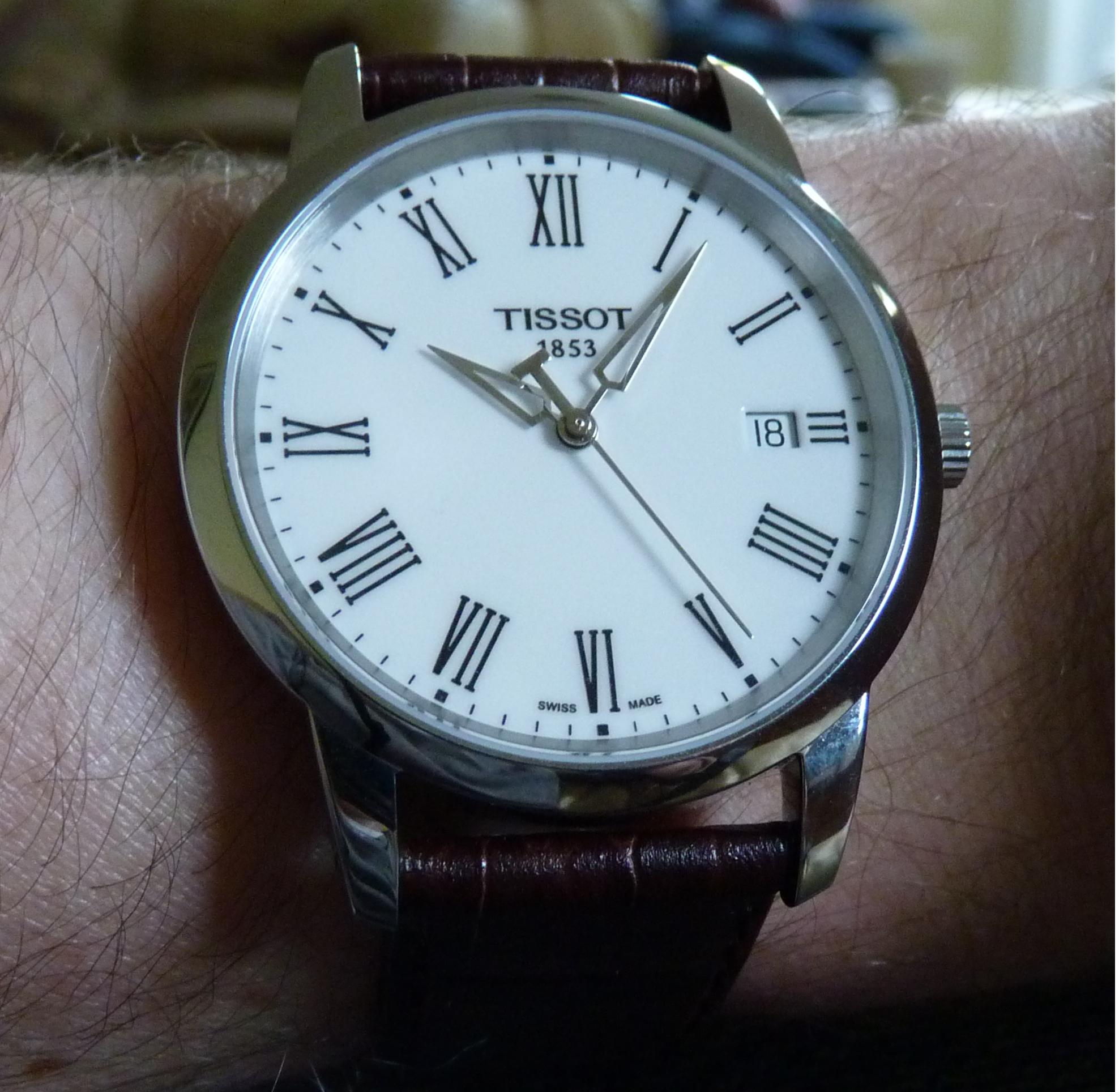 That the Classic Dream uses a sapphire crystal is perhaps the most surprising aspect of the entire piece. Sure, it's a quartz watch, but this is still a rather unusual find at this price point and surely one of its most compelling selling points. The alpha-style hands are finished in silver, matching the finish on the case. The company name and year of founding (1853: an impressive 165 years ago) grace the upper half of the dial, right under the XII numeral.
Dreamy Simple Case
The T-Classic's case is simple yet sturdy in design. Tissot has used 316L grade stainless steel for its construction, which a quick google search informs us is a high-quality form of the ubiquitous metal, particularly good in high-heat applications (not that many watch owners subject their timepieces to extremely high heat). At 38 millimeters wide, the case is on the smaller side for watches these days, but I find it a very reasonable size that should look great on just about any wrist. It's thin as well, at only 7.5 millimeters thick. The Classic Dream's fixed bezel sits at an angle to the sapphire crystal, and its clean and simple design matches the aesthetic of the dial.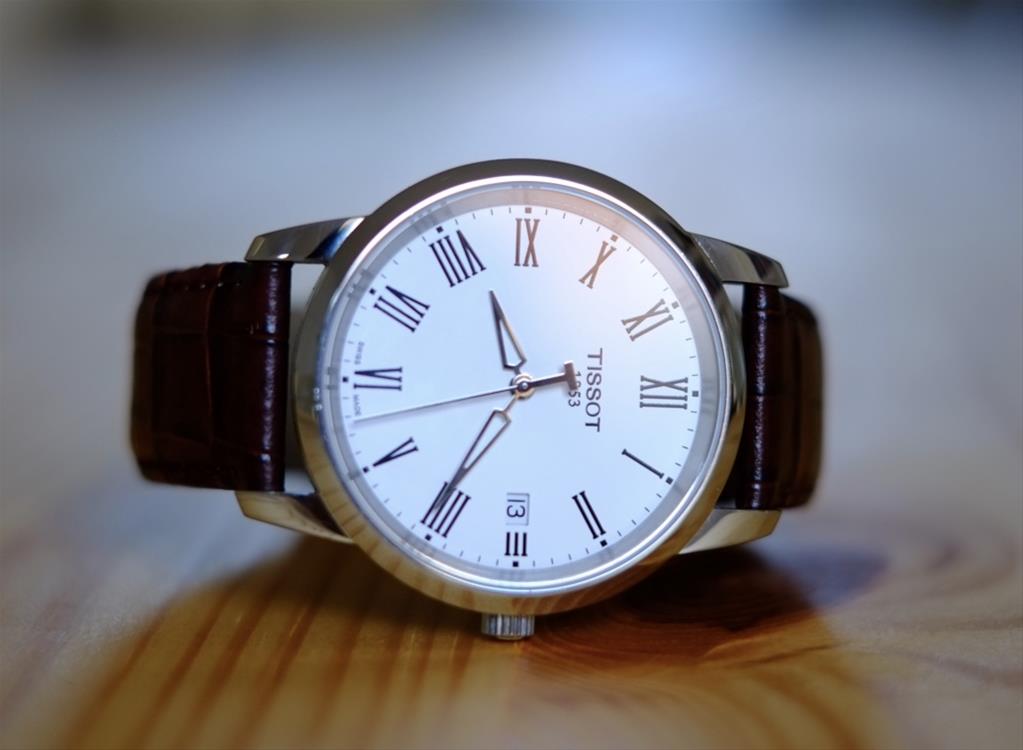 > > > Click here to see ratings, reviews, specifications and prices on Amazon < < <
A rather shallow 30-meter water resistant rating shouldn't be much of a concern for most shoppers, because, while this is a versatile watch, it really isn't the type of watch one brings along for water sports. "Tissot 1853" is stamped in large lettering on the case back, a theme that is repeated on the front of the watch as well. Of course, the back of the case also makes sure to mention the sapphire crystal material as well as a couple other details about the watch.
ETA Movement
An ETA Swiss quartz is at the heart of matters, model 805.112, to be precise. While not a top-of-the-line movement, by all accounts this should be a quality, reliable movement. As most of you probably already know, quartz movements have the benefit of being both cheaper and more accurate than mechanical movements, speaking generally. Of course, the quartz movement also means the watch can stay quite thin, being much less complicated and bulky than a mechanical movement. This is a great advantage when it comes to fitting under long sleeves or keeping you from hitting the watch on various things as you go about your day.
Strap
The dark brown leather band is a handsome yet simple design, fitting in perfectly with the aesthetic of the dial and case. A pointed end threads through a typical tang buckle with "Tissot" stamped into it, a very small touch of flair for this subdued watch. The 19-millimeter-wide band uses an alligator pattern and complements the overall style of the watch very well.
Final Thoughts
A great way to join the Tissot family of watches for a very reasonable price, this T-Classic T0334101601300 banks on its clean, attractive design and couple standout features. The small-ish case and simple design mean this watch eschews most of the fashionable elements of the day. In that regard, I would fully expect this watch to not go out of style, it looks good enough to wear no matter the current trends. As such, I view this as a great buy for anyone looking for a long-term daily wearer, something you can put on every day for years without having to worry about reliability or being out of fashion. Really, the only concern you will mostly likely encounter is a battery change every once in a while. So there it is; an inexpensive yet classic offering from a well-known and admired Swiss manufacturer.
> > > Click here to see ratings, reviews, specifications and prices on Amazon < < <