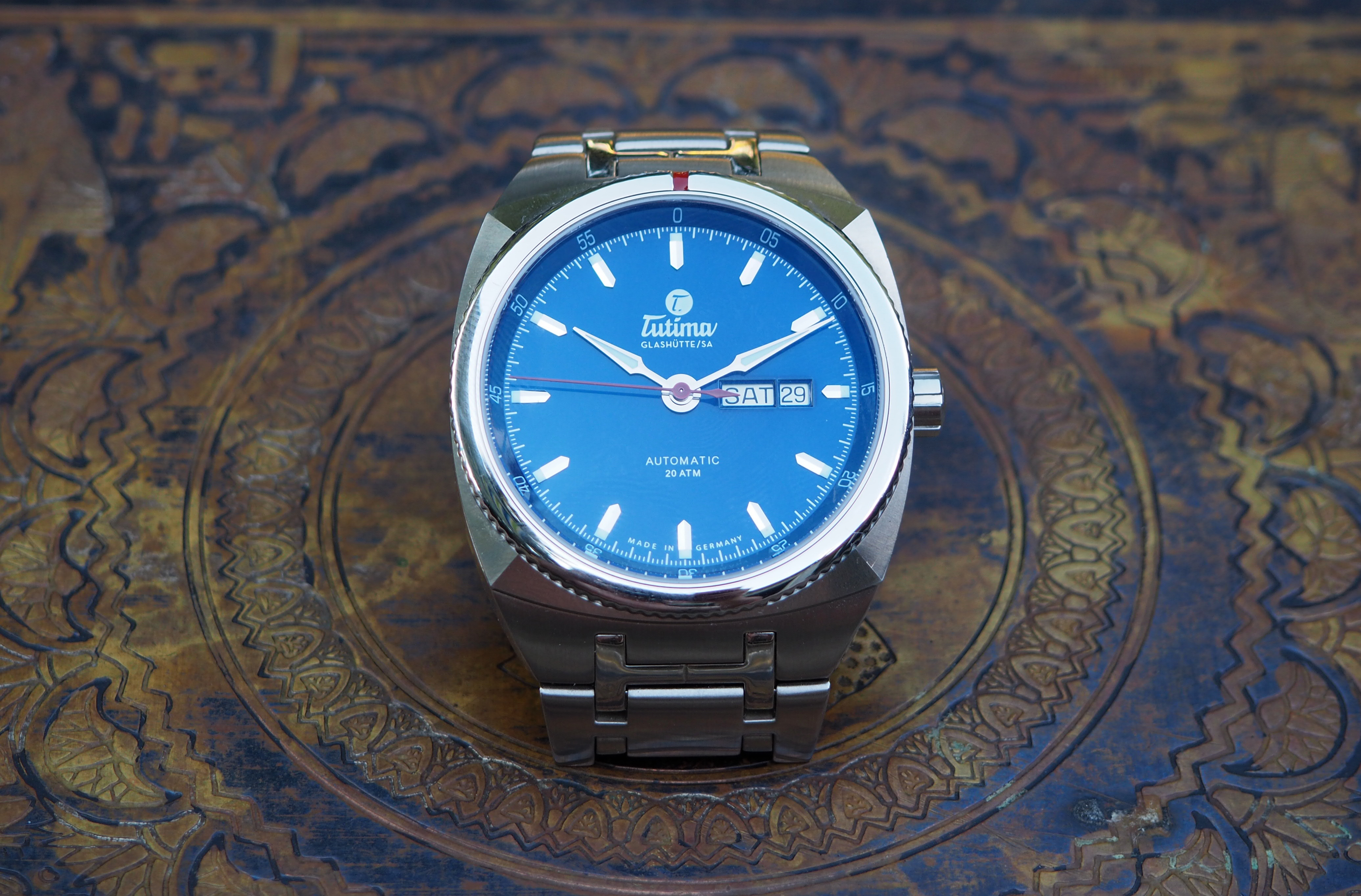 Much like the famous sports sedans from Tutima's home country of Germany, the Saxon One collection is epitomized by a combination of sportiness and sophistication. The Royal Blue model 6120-05 reviewed here definitely skews more towards sophistication than sport, compared to the other watches in the range, so think of this more as a BMW 540i than an M3. I don't know about you, but I wouldn't kick either automobile out of my garage.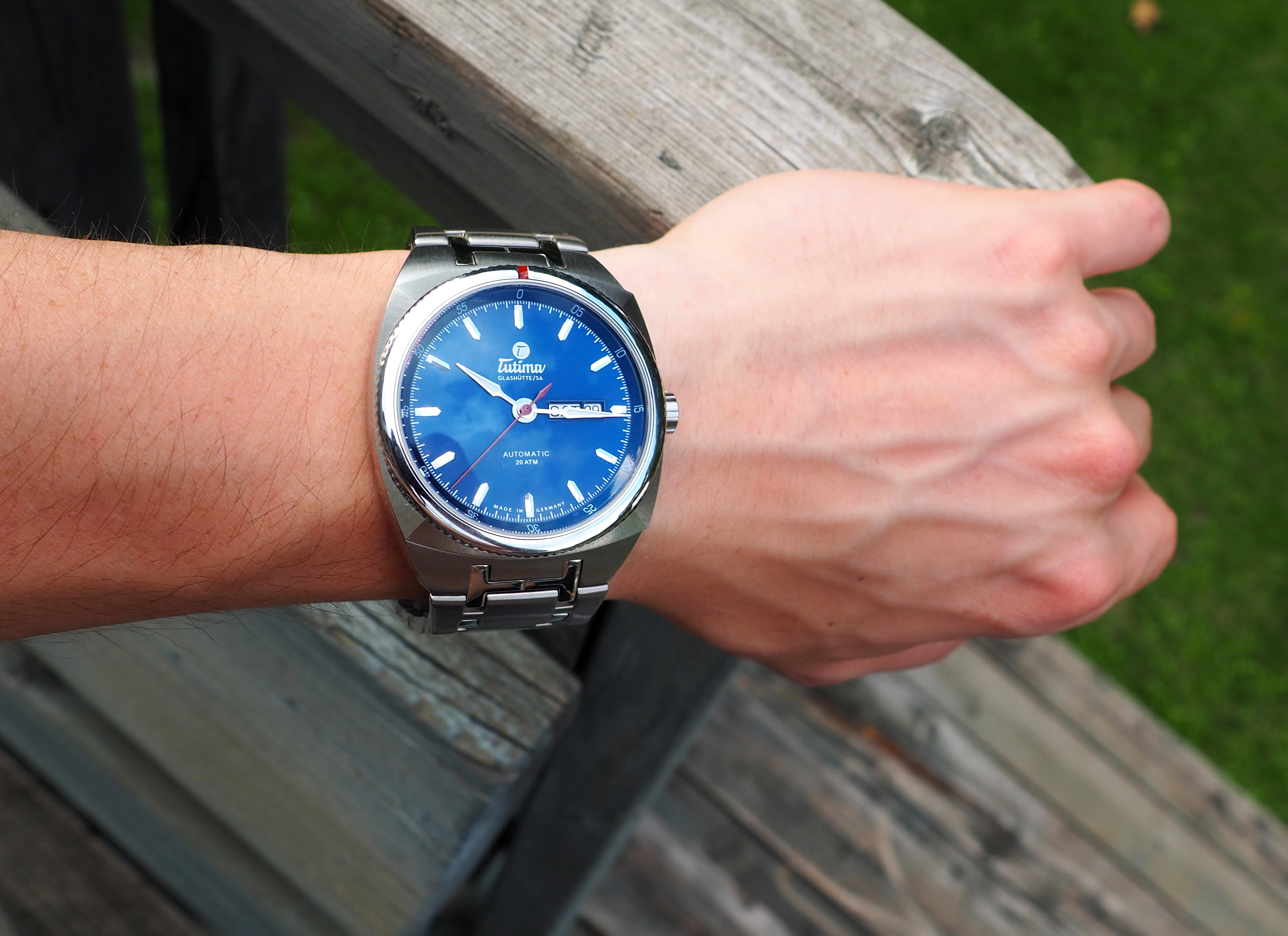 > > > Click here to see ratings, reviews, specifications and prices on Amazon < < <
Featuring a new and innovative design language for Tutima, the Saxon One is an exciting entry in the luxury watch market. So, let's delve into some of the more interesting aspects of this watch.
Dial
The Saxon One's attractive blue dial is striking, both for its balanced layout and brilliant shade of blue. While many manufacturers are jumping on the blue dial bandwagon these days, to varying degrees of success, Tutima has truly found the sweet spot with the iridescent shade of blue used on this watch.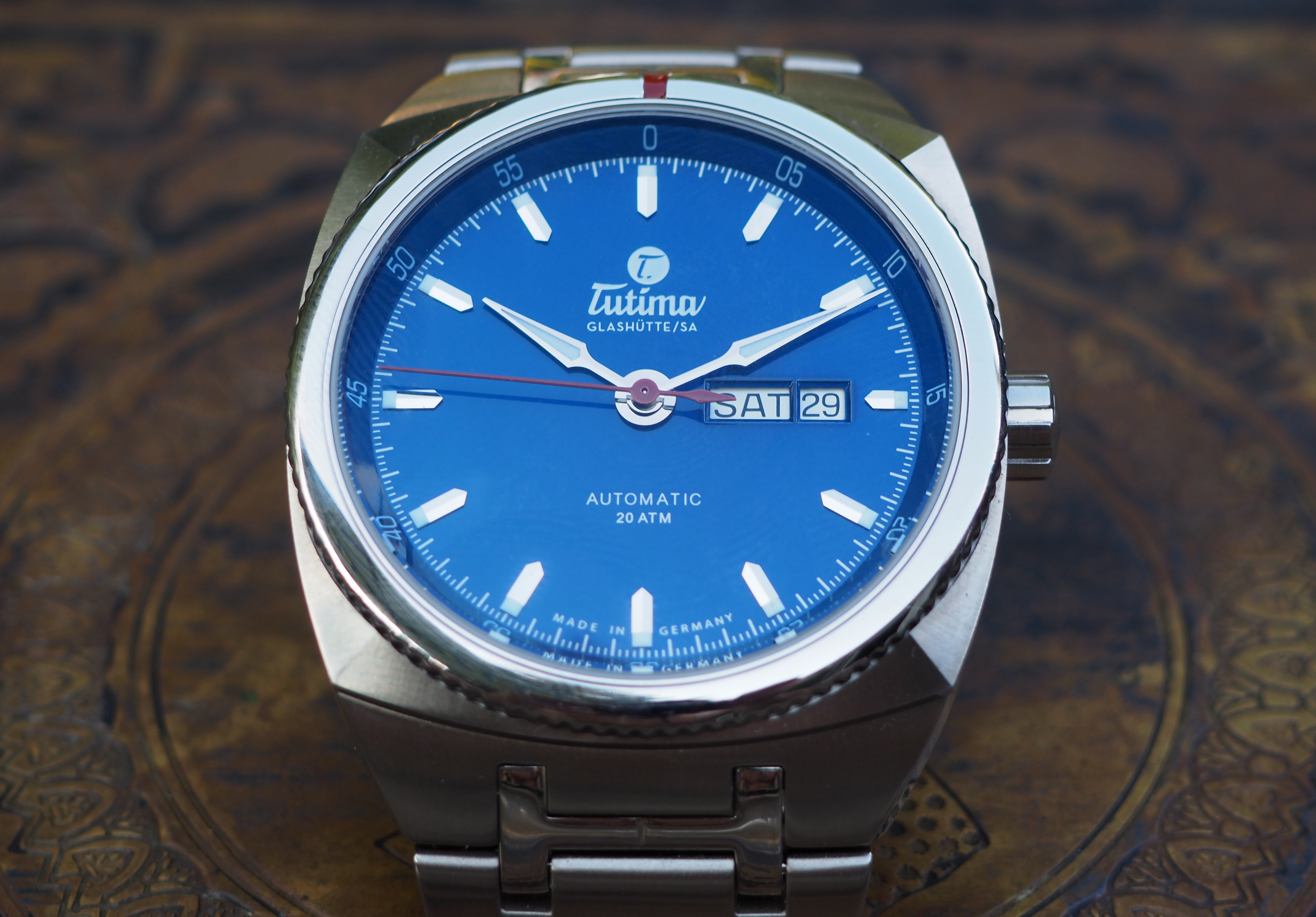 Minuscule tick marks between the baton hour markers measure time in sub-second intervals while the minutes are printed in 5-minute increments in intricate Arabic numerals sitting atop each hour marker. The dial also includes a day and date display at the 3 o'clock position. Luminous numerals and luminous-filled hands ensure the watch is still readable at night.
The arrow-style hour and minute hands come to a sharp point, reminiscent of a dagger. This is a fitting hand design for an avant-garde watch like this, and it complements the overall design very nicely. The red sweeping second hand breaks up the blue-and-silver monotony of the dial.
Case
Measuring 42 millimeters across and 13 millimeters tall, the Saxon One's case is quite large. It is rated as water resistant to a healthy 20 ATM or 200 meters. Like all of the watches in the Saxon One collection, the 6120-05's case uses a unique pyramid design that transitions from the case up to the bezel. Incorporating raised edges with a crease at each of the four corners, these pyramids form a square shape surrounding the round bezel. I wasn't sure how I felt about this design at first, but after getting used to it and seeing it on the wrist, I have come to really appreciate this look.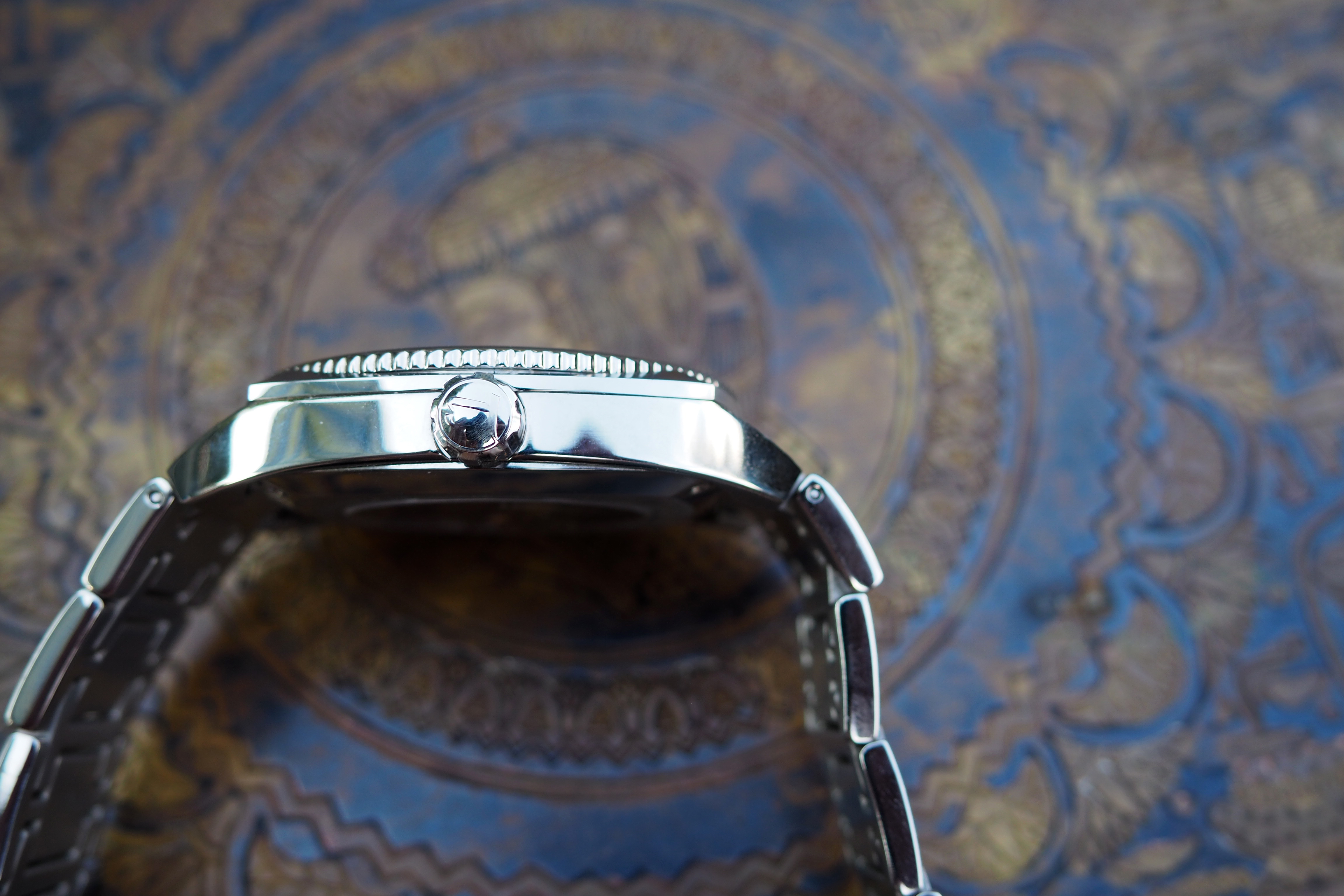 The crystal is composed of a slightly domed anti-reflective sapphire. The back of the case also employs the pyramidal design, this time building up to a second sapphire crystal that showcases the inner workings of the antique-finished automatic movement. As you would expect on a luxury watch rated to 200 meters, this watch comes with a screw down crown; however, while many variants of the Saxon One feature crown guards, the 6120-05 does not.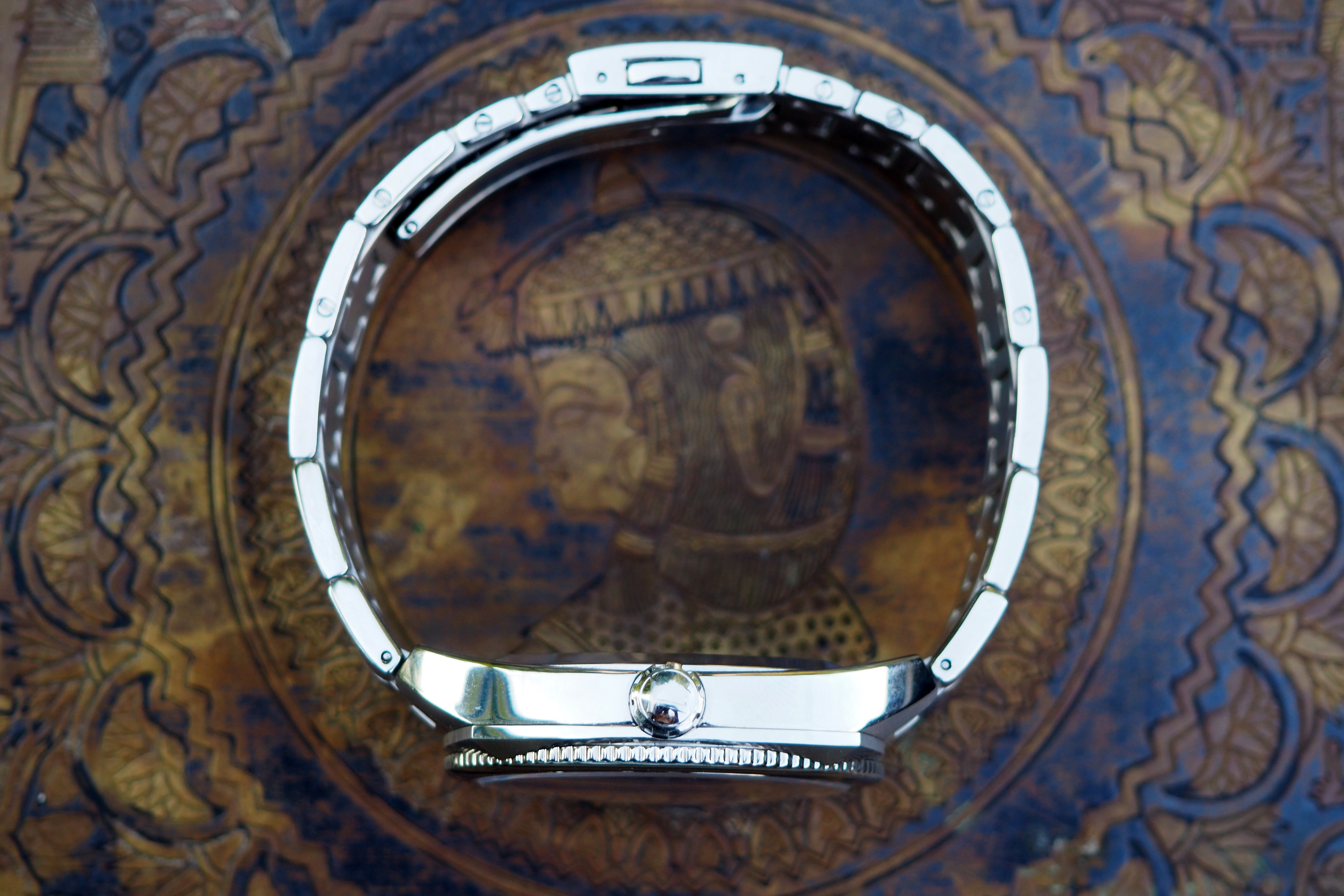 > > > Click here to see ratings, reviews, specifications and prices on Amazon < < <
The bidirectionally-rotating bezel is another interesting feature of this watch, with a polished façade and a coin edge design on the outside. The bezel lends a somewhat antique style to an otherwise modern-looking watch, and I can't help but feel that it is a bit out of sync, stylistically, with the rest of the watch. Other versions of the Saxon One use a more harmonious bezel design, in my opinion. A solitary red reference marker on the bezel pulls the red from the second hand outside of the dial.
Movement & Details
The Saxon One utilizes Tutima's proprietary 330 movement, which is similar to, but not an exact copy of, the famous Valjoux 7750 movement.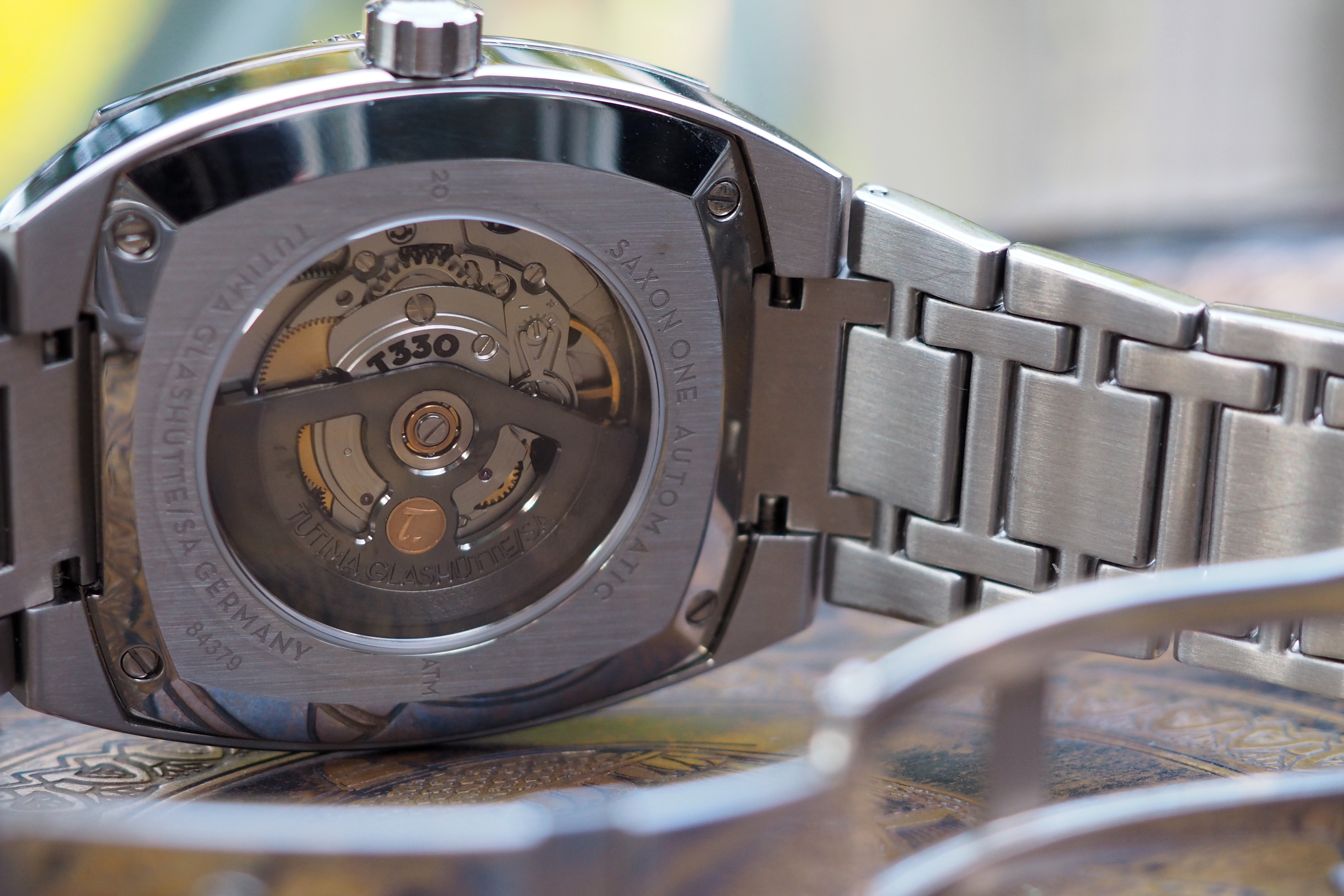 Tutima is proud to point out that the 521 uses a rotor with an 18-karat gold seal. It also features 25 jewels to dampen vibration and has a 38-hour power reserve when fully wound.
Band
This variation of the Saxon One comes with a stainless-steel bracelet and a rather unique style of folding clasp. An H-pattern between each link on the band gives a distinctive look that I'm not quite sold on.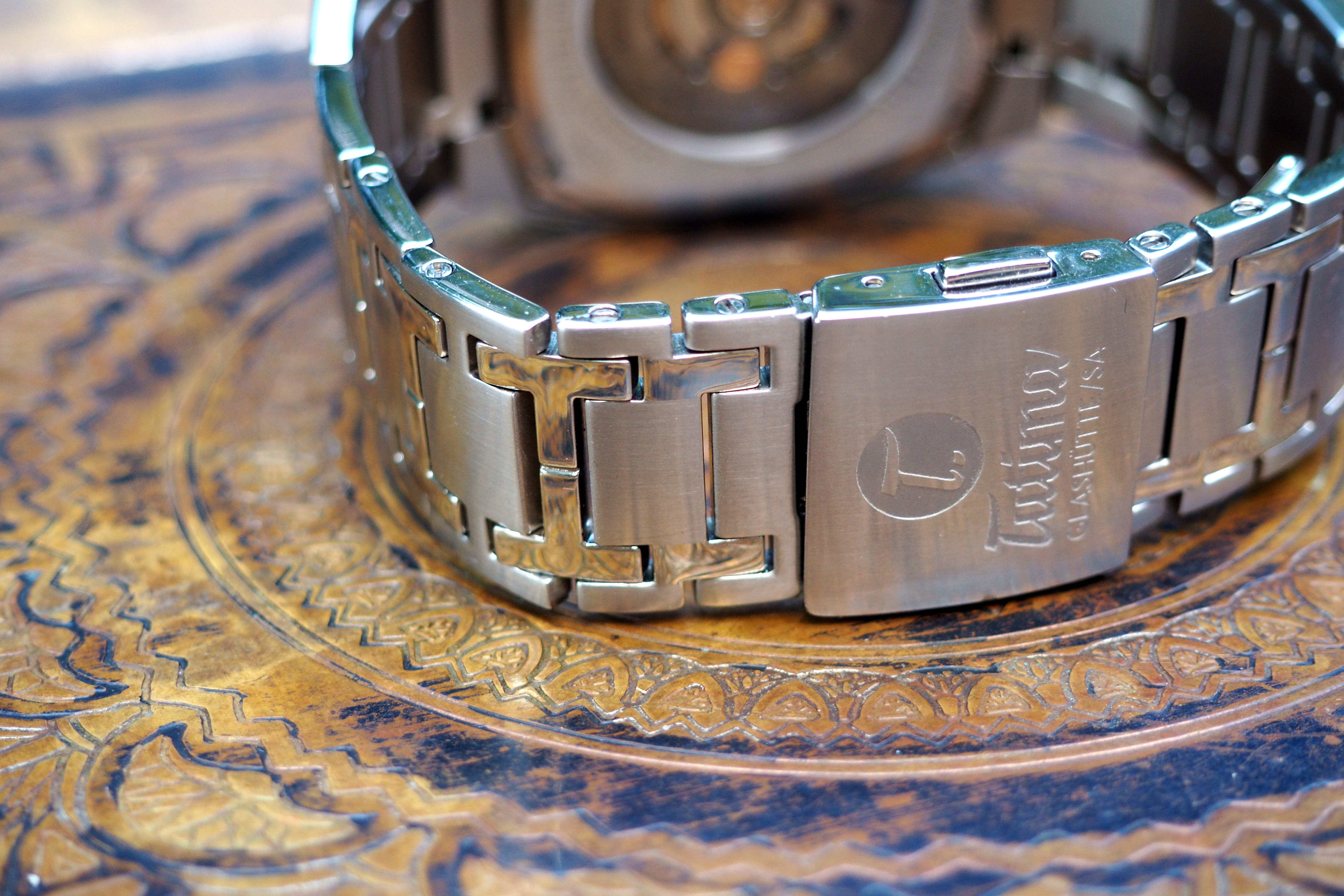 It looks good but not great, and I feel that another pattern would suit the overall design better. The Saxon One is also offered with a handsome hand-stitched alligator skin band, so make sure to check that out if you find that you also don't love the stainless-steel bracelet.
Final Thoughts
The Saxon One model 6120-05 is a beautifully styled timepiece. It might not be a Swiss-made watch, but Tutima is proud of their German heritage, with "Made in Glashütte" (the city in Saxony where Tutima manufactures their watches) stamped right on the rotor, and I see no reason for them not to be. The Saxon One has many appealing features and uses an innovative design theme. It will not often be confused for another manufacturer's watch as Tutima has really forged their own path with this one, and I always appreciate originality in the watch market. Even though I find other variants of the Saxon One slightly more appealing, this mostly comes down to personal stylistic taste. Overall, I feel that this is absolutely a watch worth considering.
To have a look at Tutima's entire range check out their official website here.