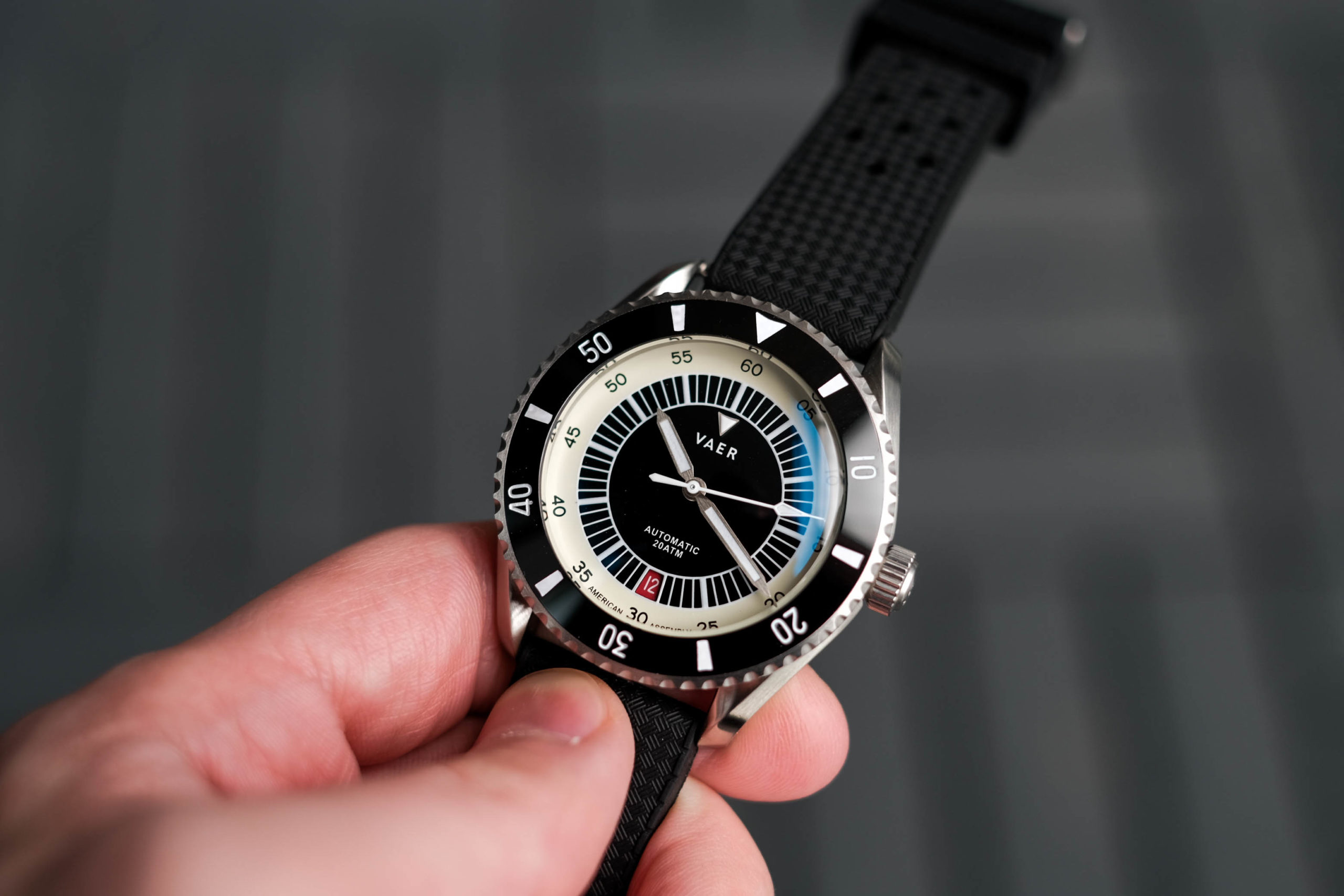 Vaer is a new, up-and-coming microbrand that was founded in 2016, when friends Reagan Cook and Ryan Torres pooled their savings, and built a prototype dive watch. These guys weren't just watch enthusiasts; they also loved the ocean, and made waves by testing their watches in the real world as well as in their lab. When their first watch successfully withstood 10 atmospheres of pressure, they knew they were ready to hit the market.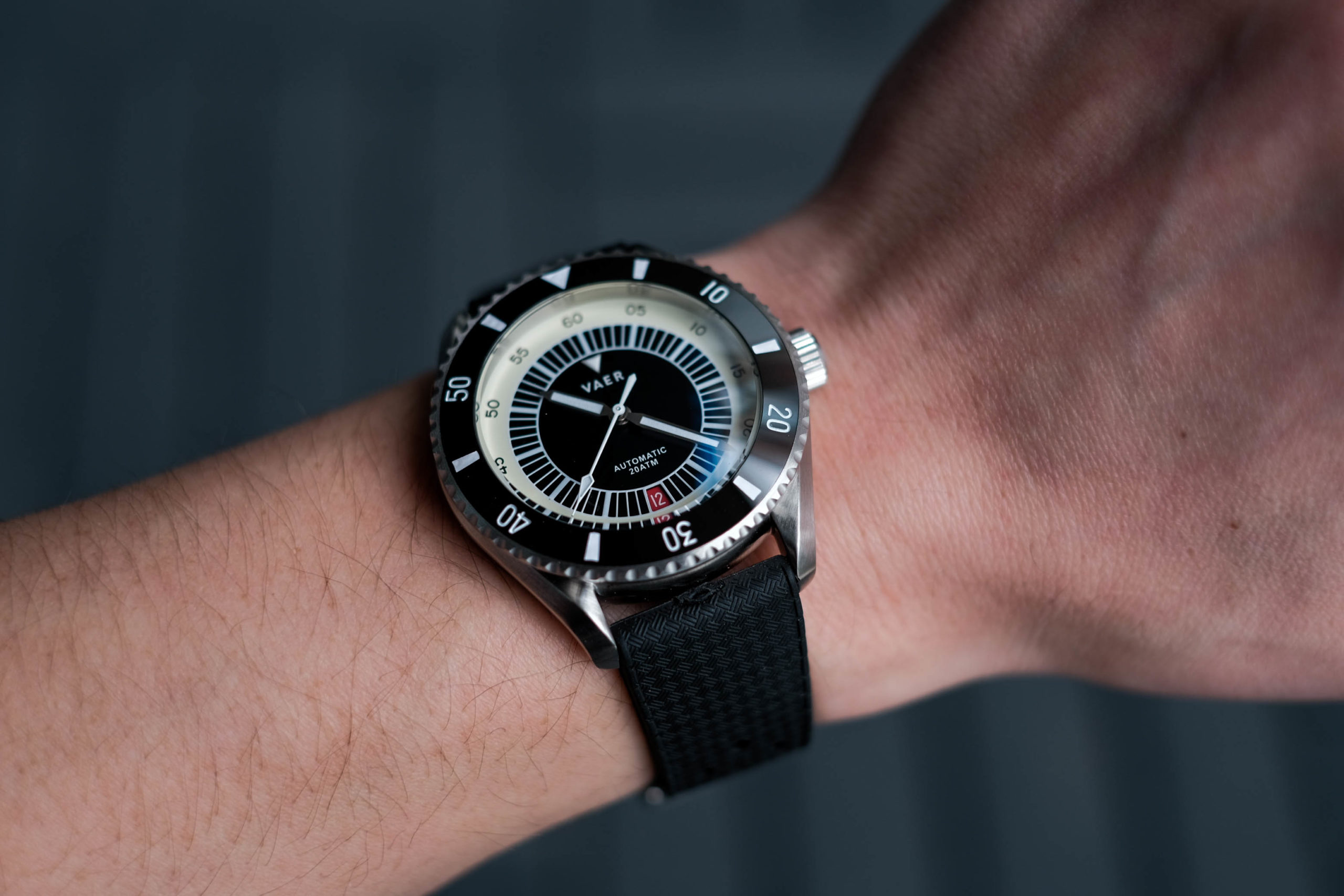 In 2017, they launched their first watch, and after some initial success, they made the decision to move all of their operations to the US. Their first American watches released in 2018, and were entirely crowd-funded. That's been part of Vaer's tradition since the beginning, and it's something they still do today. Another tradition that continues is a love for the ocean, and for stylish watches that truly stand up to the outdoors; Torres still starts out every day on his Surfboard.
In 2019, Vaer made another major leap, and started making automatic watches in addition to their basic quartz line. Vaer has just announced the launch of a new mechanical dive watch, the D5 Tropic. I got the opportunity to try one out, and was able to get a good impression of how it feels and functions. Here's what I came away with.
Diver Two-Tone Dial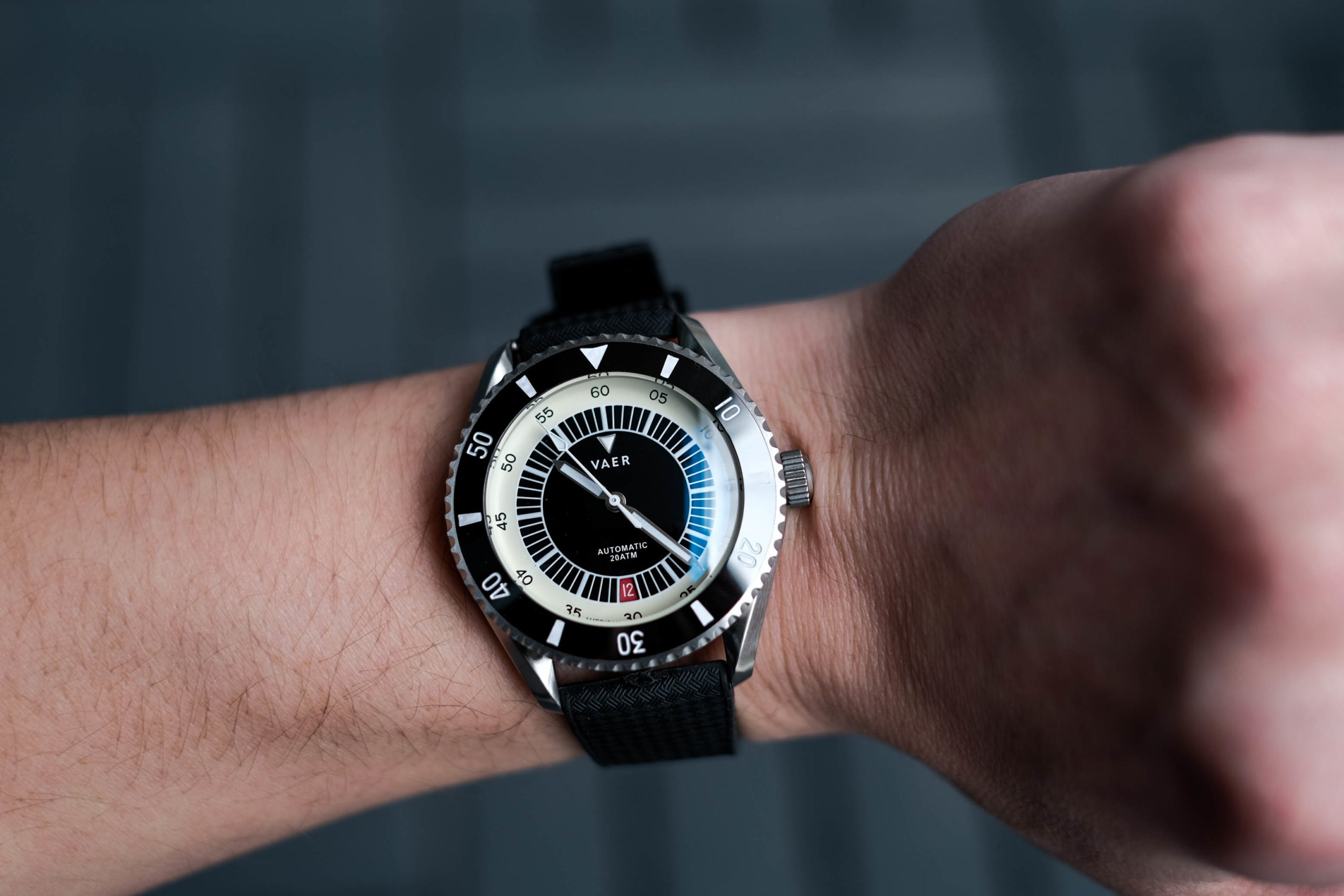 The Vaer D5 Tropic has a two-tone dial that is truly unique in the dive watch market. I've seen plenty of bezels, but nothing exactly like this before. The inner portion of the dial is a rich black, while the wide outer ring is cream in color. Where the two meet, cream lines extend down into the black to form an index. Black Arabic numerals are located in the cream ring, listing off the minutes at every five-minute position. The inside of the dial is also attractive. It has a large cream triangle at 12 o'clock, along with the Vaer logo and the words "Automatic 20ATM" at 6 o'clock.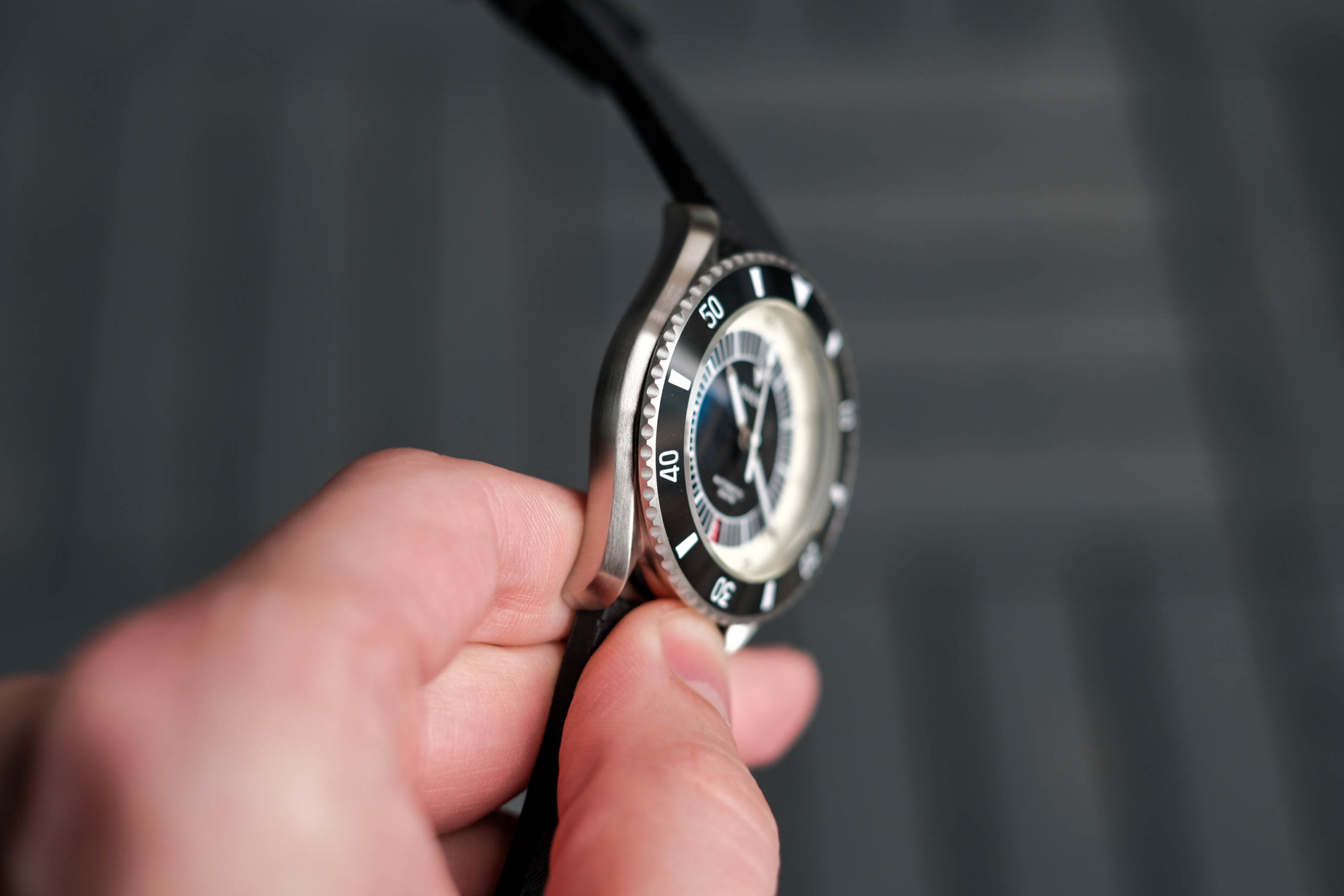 This unique profile also looks beautiful at night. In the dark, the Super Luminova index turns into a ladder index, ringing the middle portion of the dial. It's not every day a watchmaker surprises me with their design choices, but this is one of those days. The 6 o'clock date window also has an unusual design, with an alternating color pattern. It's white and black for the first four days of the month before switching to red for the next four days, and so on.
Sturdy Case and Bezel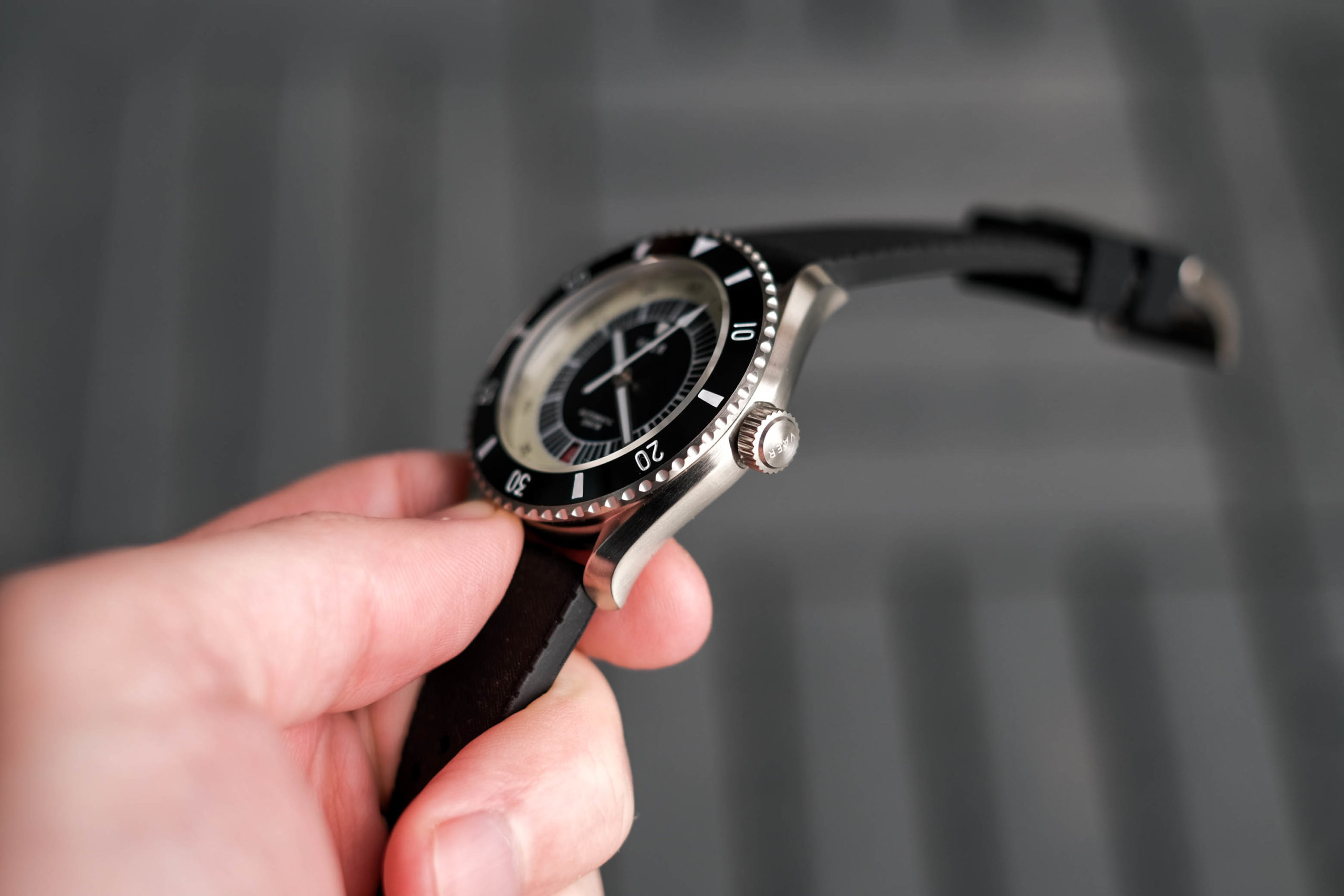 The D5 Tropic's 39mm stainless steel case is just what you'd expect from a quality dive watch. It's waterproof to 200 meters, with a screw-down crown and caseback. The caseback itself has a see-through design, with a similar quality sapphire crystal to the main crystal. The only appreciable difference is that the main crystal is double-domed, with both inside and outside anti-reflective coatings.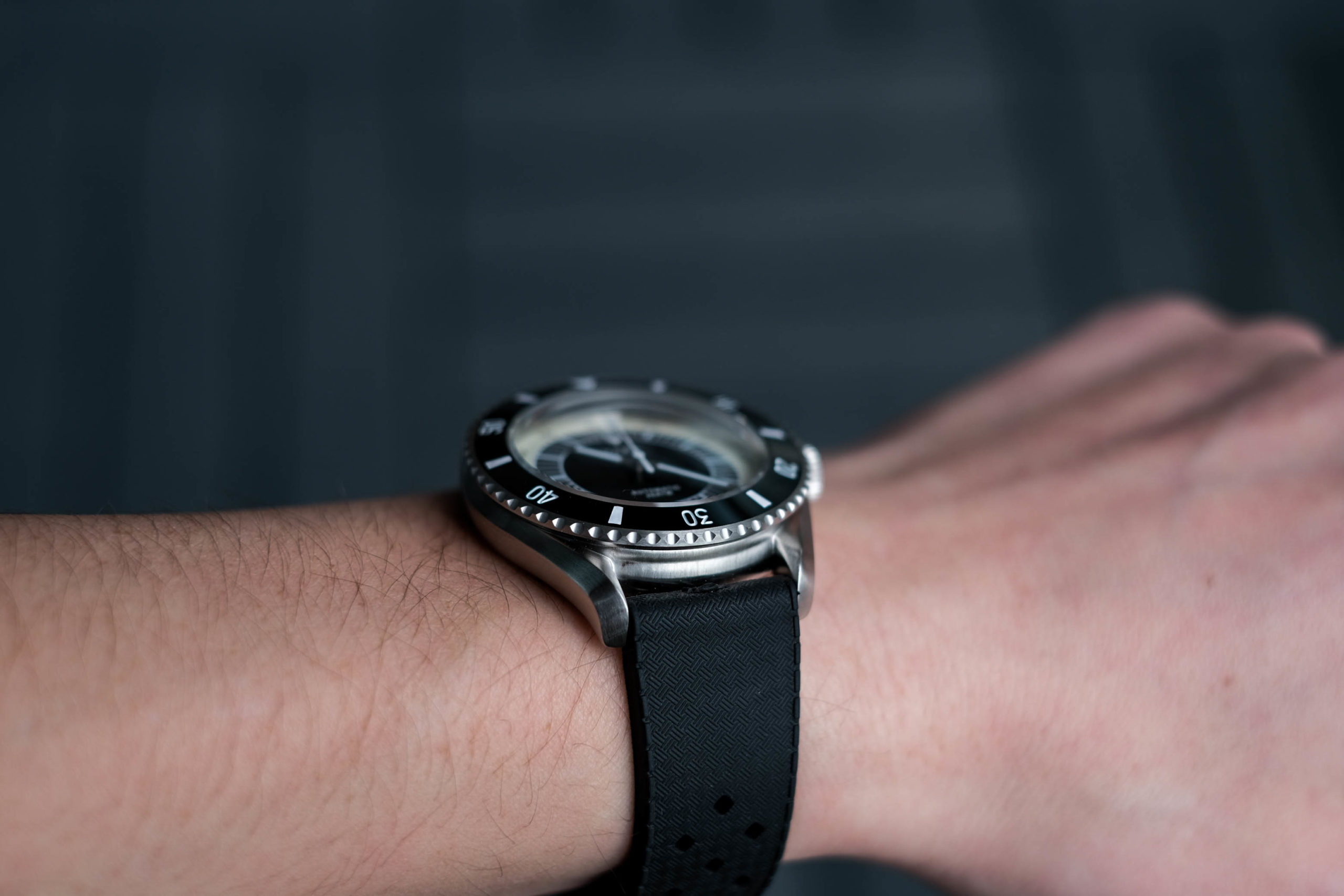 The bezel is also as good as you'd expect. Crafted from ceramic, it has a rotating, 120-click design that's easy and accurate to adjust. It sports lume markings at the 12, 1, 3, 5, 7, 9, and 11 o'clock positions, so it's also easy to use in the dark.
Miyota 9015 Movement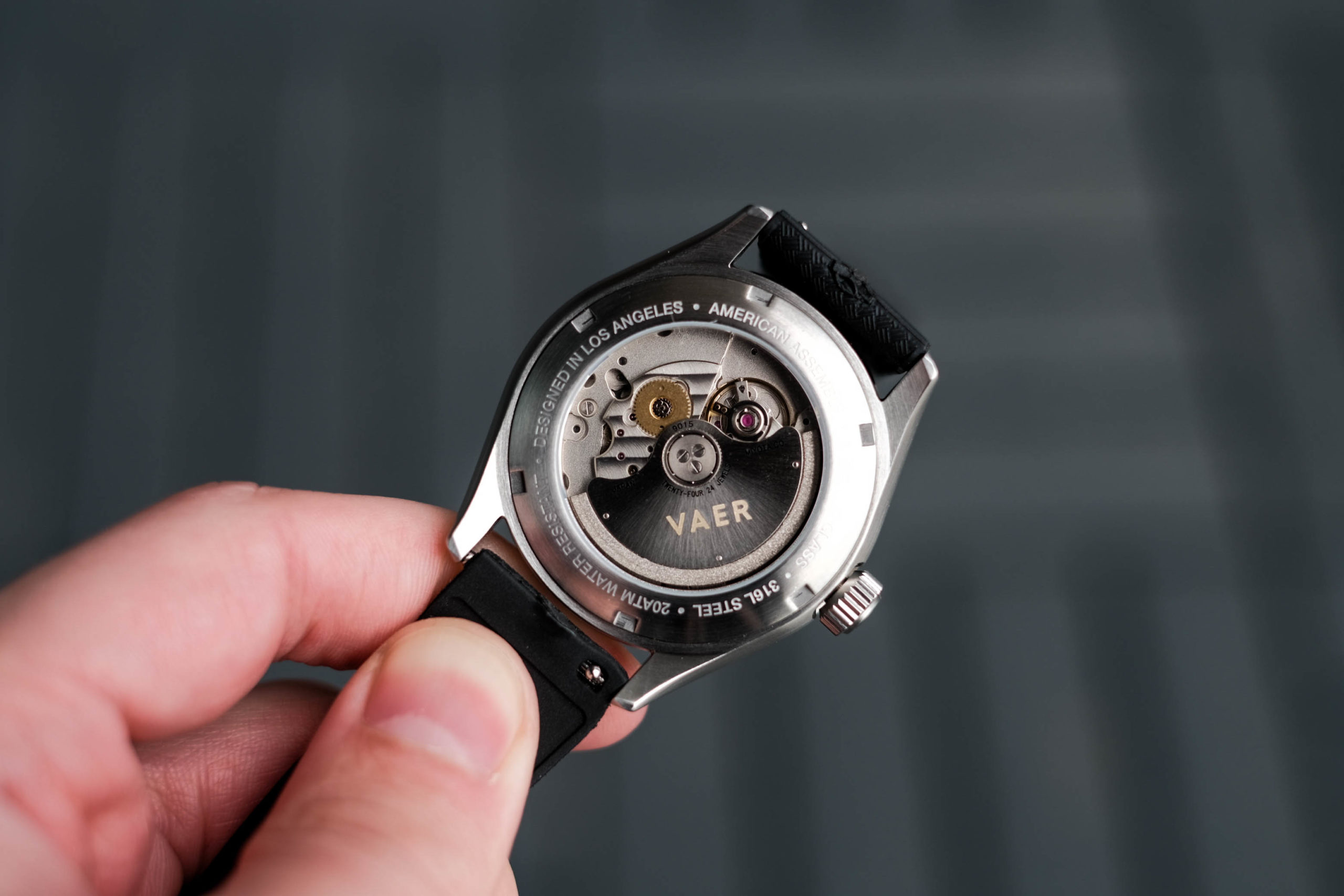 The D5 Tropic uses the Miyota 9015 movement, which is a popular choice among microbrands. First released in 2009, it represents an improvement on the older Caliber 8215. It boasts an accuracy of -10 to +30 seconds a day when it rolls out of Miyota's factory. However, it can be regulated further, and Vaer regulates the D5's movement to -5 to +15 seconds per day. That's in line with what you expect from most watches in this price range. Moreover, the hacking seconds function makes it easy to adjust. Hold the crown out, and the seconds hand will stay in place while you fiddle with the minutes as needed.
The movement oscillates 28,800 times per hour, and has a built-in shock absorber to remain accurate even under demanding conditions. Its power reserve is rated at 40 hours, which is enough to get through a short weekend. All in all, you're looking at a reliable movement that's better than you'd expect from such a young brand.
Strap and Extras
The D5 Tropic comes with a 20mm stainless steel three-link band. The band is flexible enough for comfort, and feels nice and secure. Even as secure as it is, it's easy to remove, with a quick-release clasp you can snap open with two fingers. If the fit is already "close enough," you may not even need to take it to a jeweler to be fitted. There are four adjustment points built into the clasp housing.
Like all of Vaer's offerings since 2019, the D5 is assembled in America, and ships in an attractive gift box. It also comes backed by a 24-month warranty, which specifically guarantees the 200 meters of water-resistance.
To view all of Vaer's offerings visit their official website here.