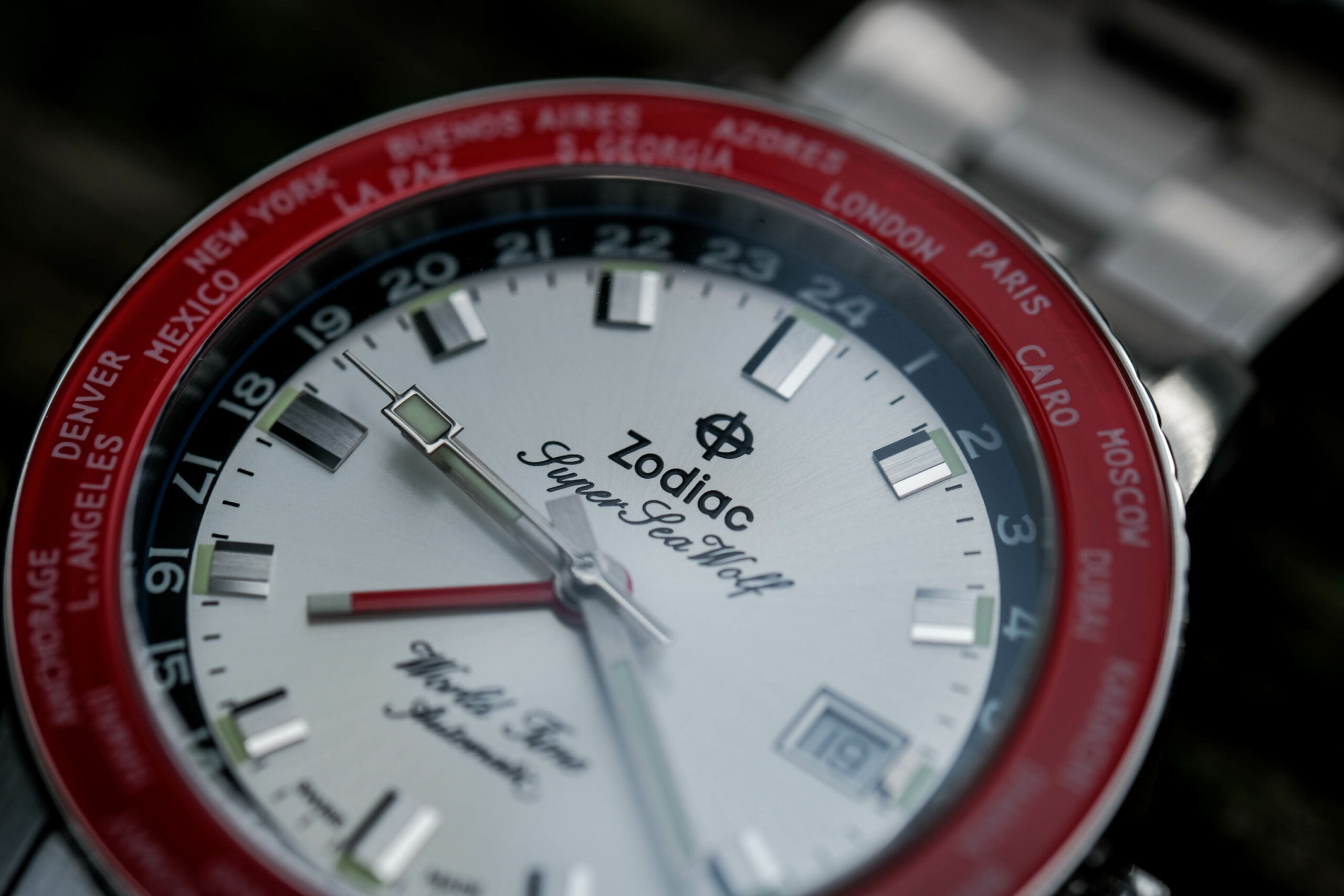 Some types of watch are instantly identifiable. Dive watches are a good example; with their rotating bezels and high-contrast dials, they're purpose-built for underwater use. Another good example is a world time watch. These watches can come with any number of bells and whistles, but they all have two things in common: a bezel with world time zones, and a GMT hand. And since they're the preferred watch style of international travelers, they exude an aura of sophistication.
Of course, nobody actually needs a world time watch today. Our smartphones automatically adjust to local time, and we can look up other time zones on Google. But that's part of what makes these watches so special; by their very nature, they're retro. In that spirit, Zodiac is reissuing their classic 1970 World Time Automatic.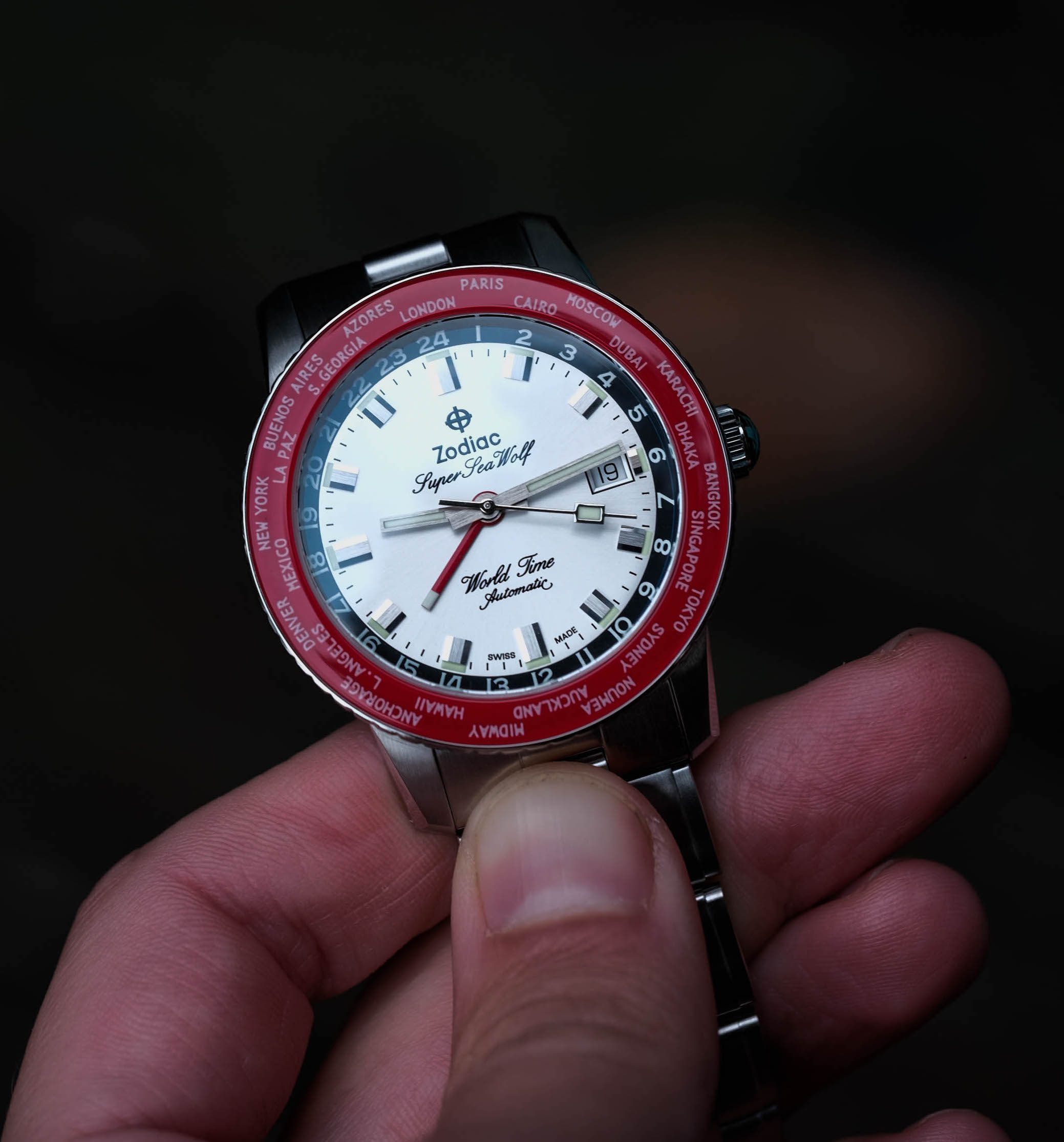 The reissue, the Limited Edition Super Sea Wolf World Time, is not an exact replica. It's the same in most respects, but Zodiac has made a handful of tweaks to the original design. I recently obtained one of these limited edition watches, and given it a thorough test drive. Here's what I learned.
Classic World Time Watch Design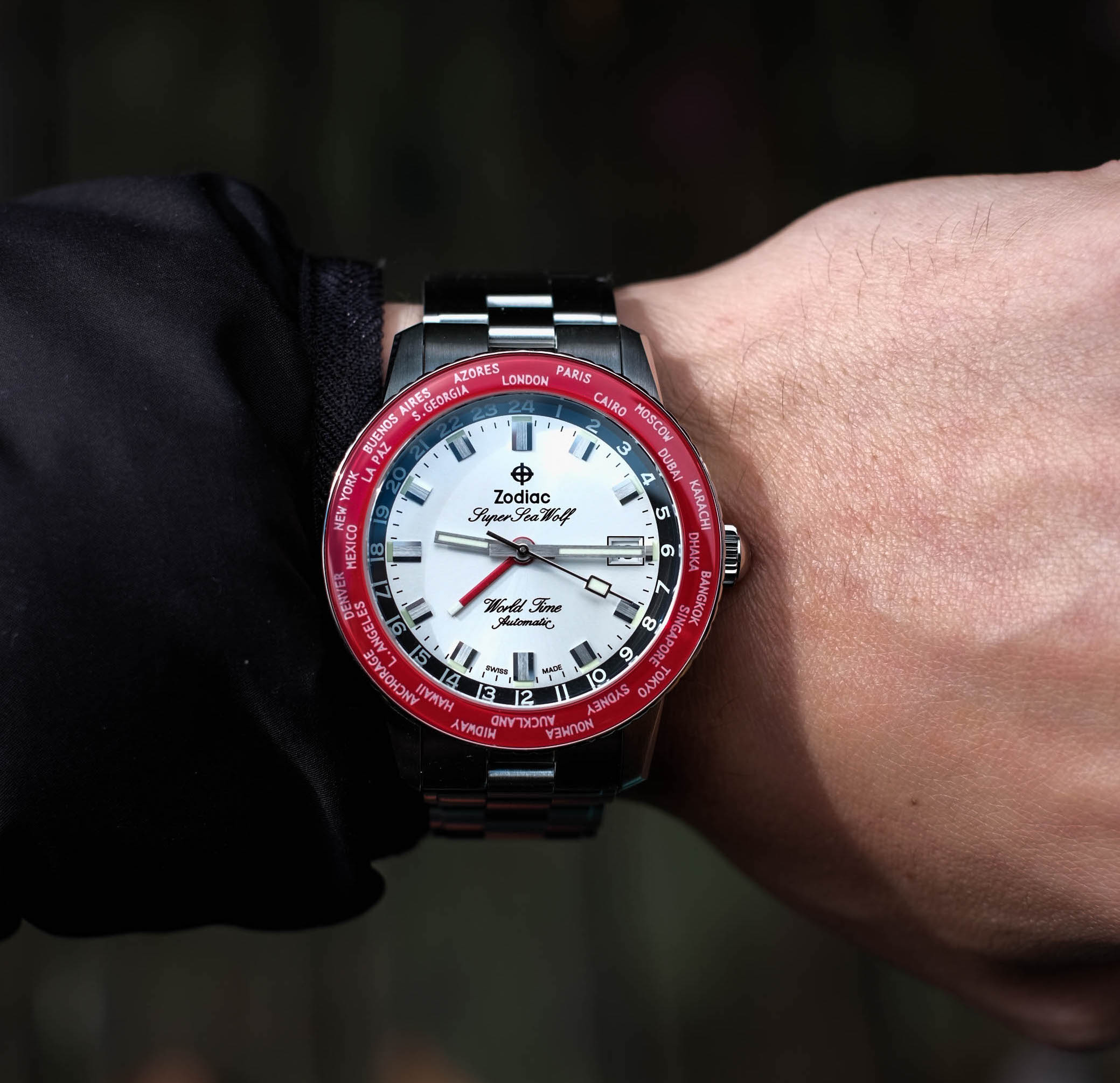 The first thing fans of the 1970 version will notice is that the Limited Edition Super Sea Wolf World Time is noticeably larger, with a diameter of 40mm instead of 36mm. This allows for a larger, less-cluttered dial, and a wider 24-hour chapter ring. The chapter ring on my watch is blue, with white Arabic numerals, but other color schemes are available.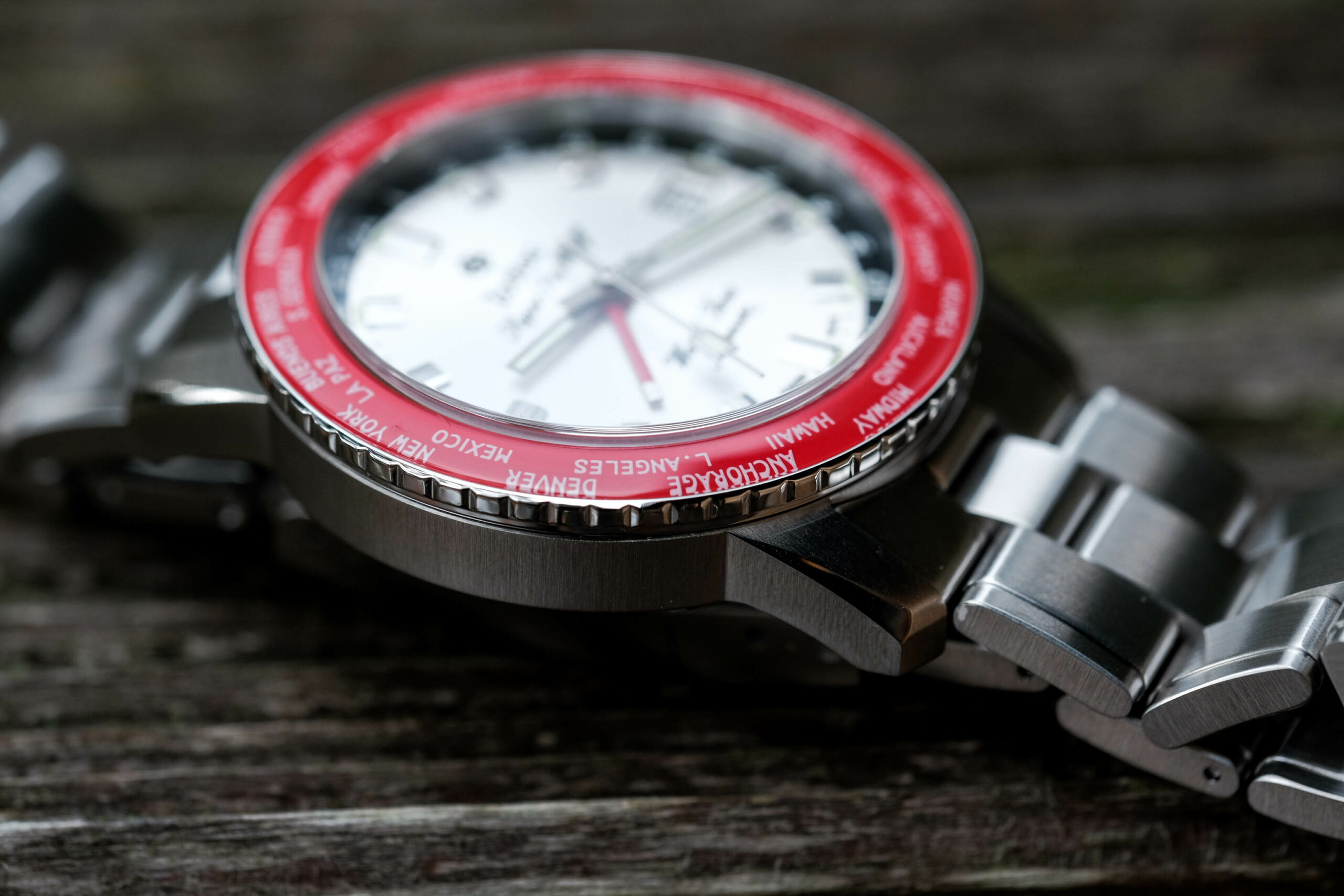 A lot of GMT watches have a chapter ring and GMT hand. But a true world time watch also has a rotating bezel. This bezel is red on my watch, with white text indicating 24 major cities in all time zones. This is a notable improvement over the original, which had up to 28 cities crowded into a smaller bezel. The new and improved version is far more legible and functional. To use the world time function, simply align London on the bezel with the GMT hand. This will show you the current time anywhere in the world. You can also do this by aligning your current time zone with the chapter ring marker for your local time.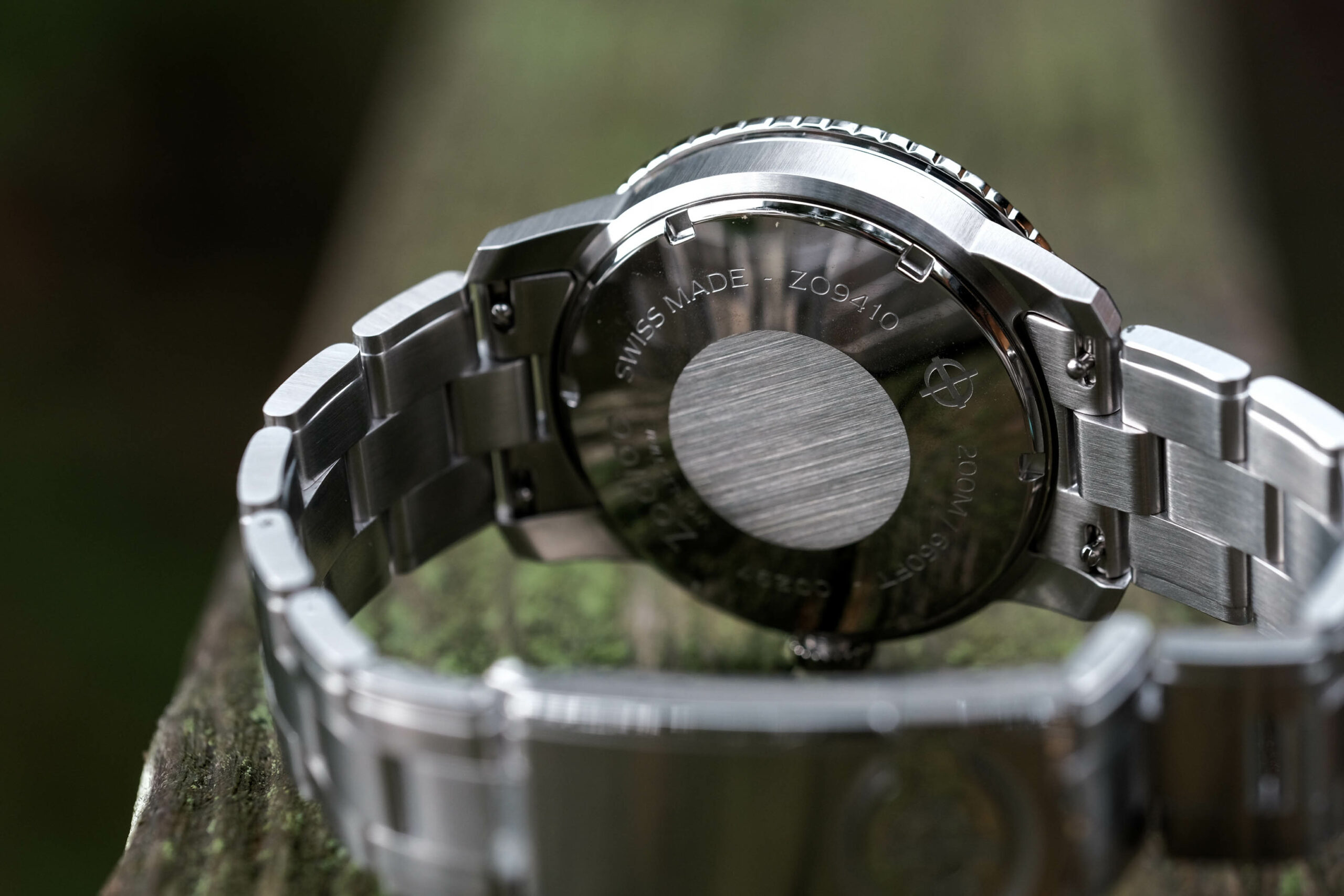 The case back is smooth steel, with a Zodiac imprint and some basic information etched into the back, and the entire case is rated for 200 meters of water resistance.
A Beautiful Brushed Dial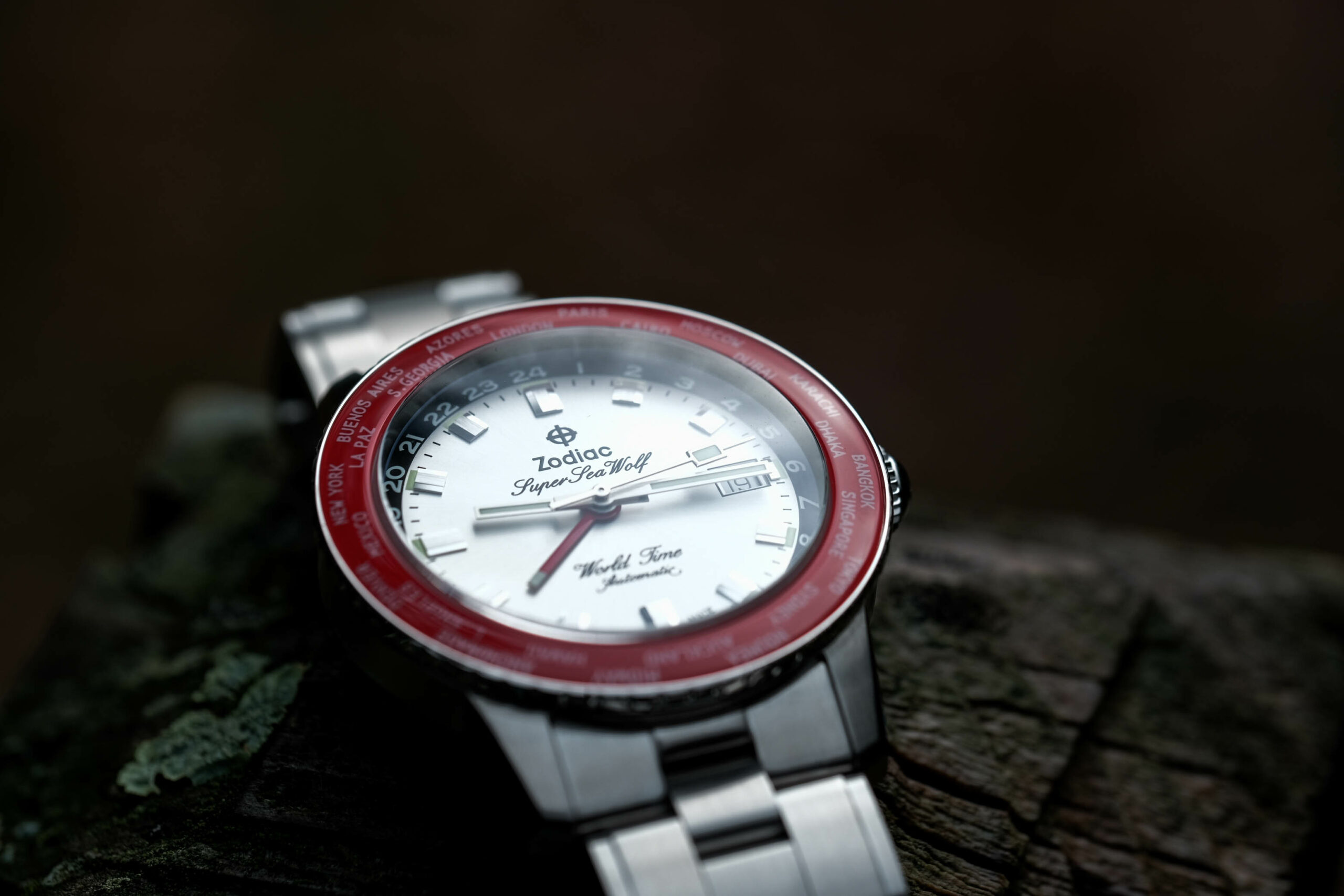 Inside the blue chapter ring, the rest of the dial is brushed steel, with the brushstrokes radiating outward from the center. In the top half, the words "Super Sea Wolf" are printed in blue cursive, with the Zodiac emblem just above. In the bottom half of the dial, the words "World Time Automatic" are printed in a similar script.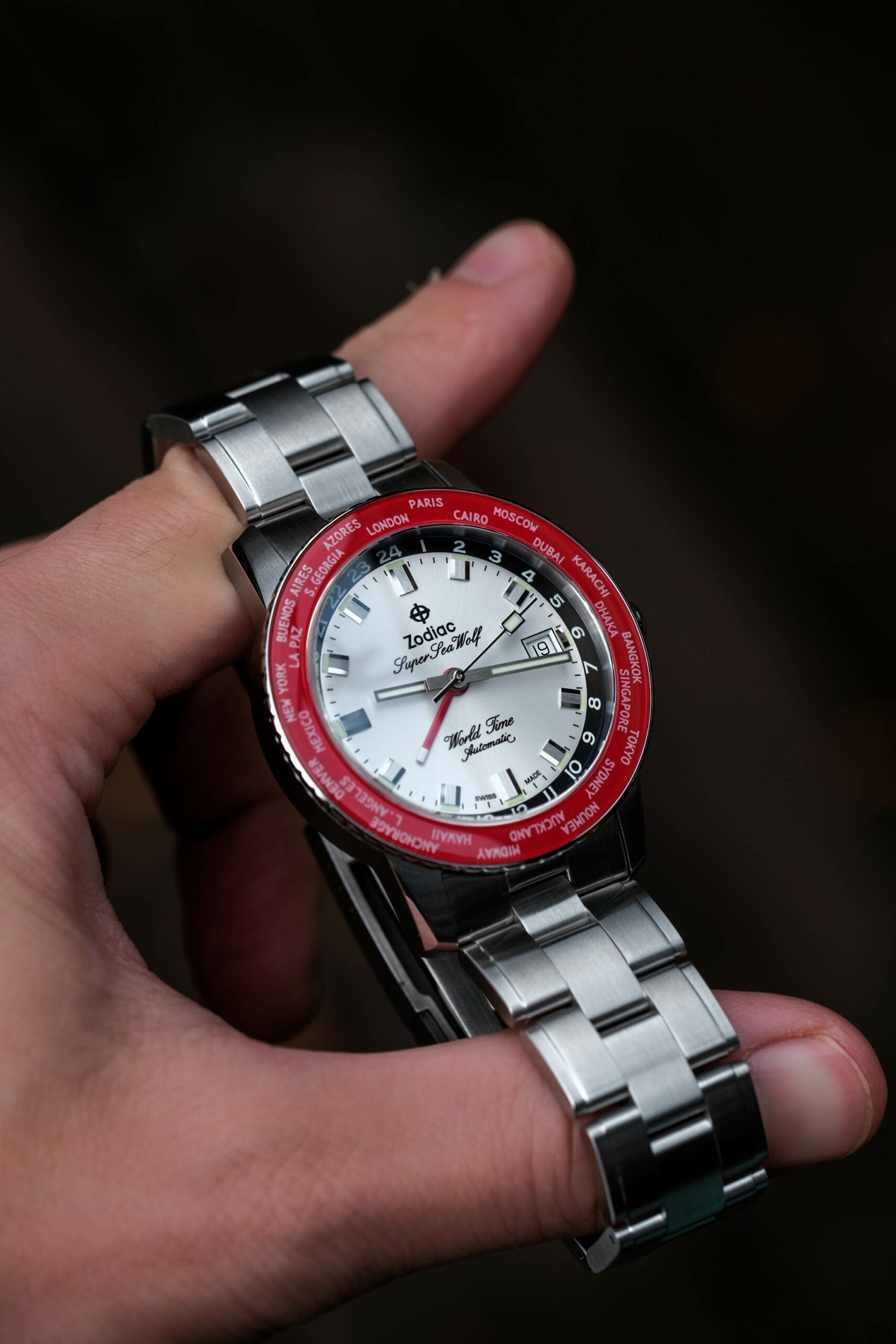 There are small black hashes towards the outside, just inside the chapter ring, to indicate individual minutes. The five-minute positions are marked by large, silver applied indices, with lume stripes at their outer edges. These indices are actually beveled on the sides, which breaks up the color pattern and makes them easier to see. At 3 o'clock, there's a plain white date window, with black Arabic numerals on the inside.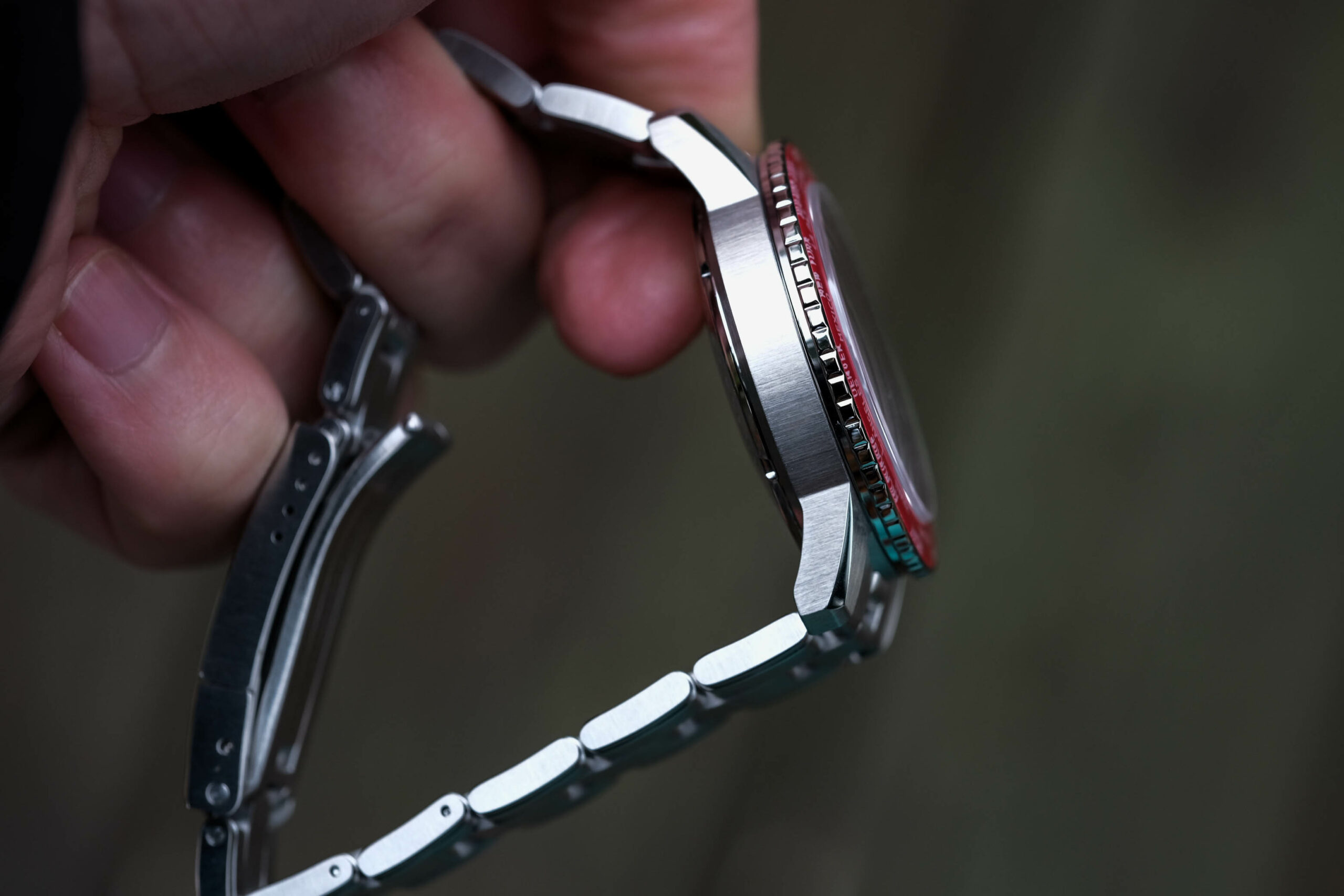 The minute and hour hands have a similar design, silver and rectangular, with lume stripes down the center; the only difference is that the minute hand is longer. The second hand is very slender, but has a square lume marker towards the end. Finally, there's the GMT hand, which is rectangular like the hour and minute hands, but metallic red in color, with a lume rectangle at the tip.
An Upgraded Movement
The final upgrade in this limited edition is the movement. The original 1970 World Time used a Caliber 75 movement. There's nothing wrong with the Caliber 75, but it's an outdated movement, and a quality reissue deserves a modern one. Instead, the Super Sea Wolf is powered by a Soprod C125. This automatic movement has a 42-hour power reserve, in line with most of today's watches. It also has a hacking seconds hand, which makes it easier to reset. Finally, you'll need to reset less often, thanks to the C125's accuracy and reliability.
High-Quality Extras
The Super Sea Wolf's strap is a simple stainless steel tri-link, with a secure lobster clasp. There's nothing fancy about it, but it doesn't need to be; the dial and case speak for themselves. That said, the links are tightly assembled, which makes them comfortable to wear.
Along with the watch itself, you get an attractive black storage box, with a felt liner to keep your investment safe. There's also a beautiful polishing cloth, with a world map print. The time zones are colored into this print, in case you're not sure which one you're in. Even if you never use it, it's a nice added touch.
For more details and specs visit the official Zodiac website here.