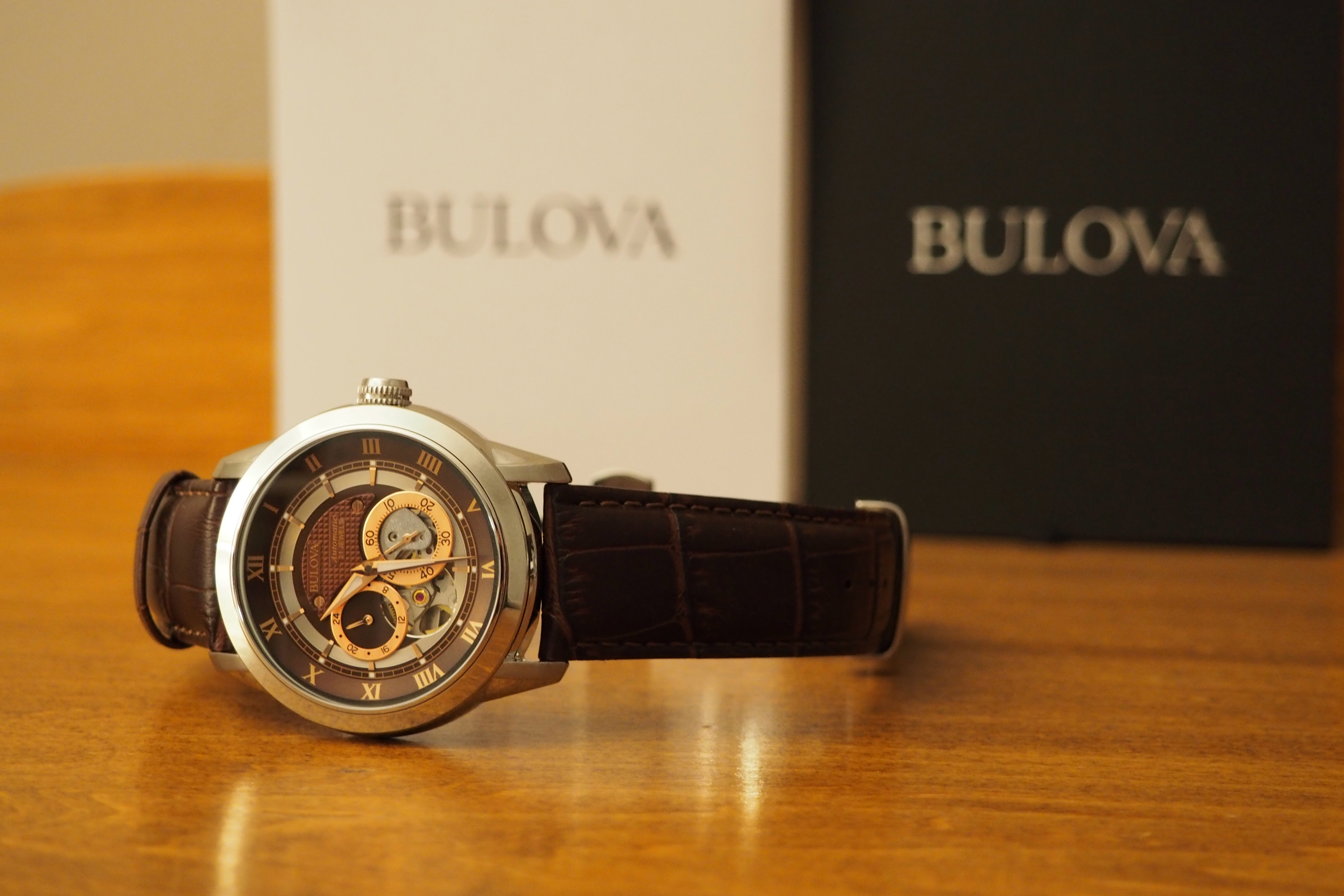 We have a real statement piece for you today with the Bulova 96A120. Various rich finishes and intriguing design flourishes create real drama on the dial, sure to turn heads wherever you take it. Best suited for formal affairs where it will be paired with a long-sleeved collared shirt, the 96A120 gracefully balances delicate features with some macho mechanical elements, like some sort of elegant steampunk creation (but totally in a good way). A great watch for those who feel that life is too short to be boring, this Bulova seems to have taken the style-over-substance approach in its development.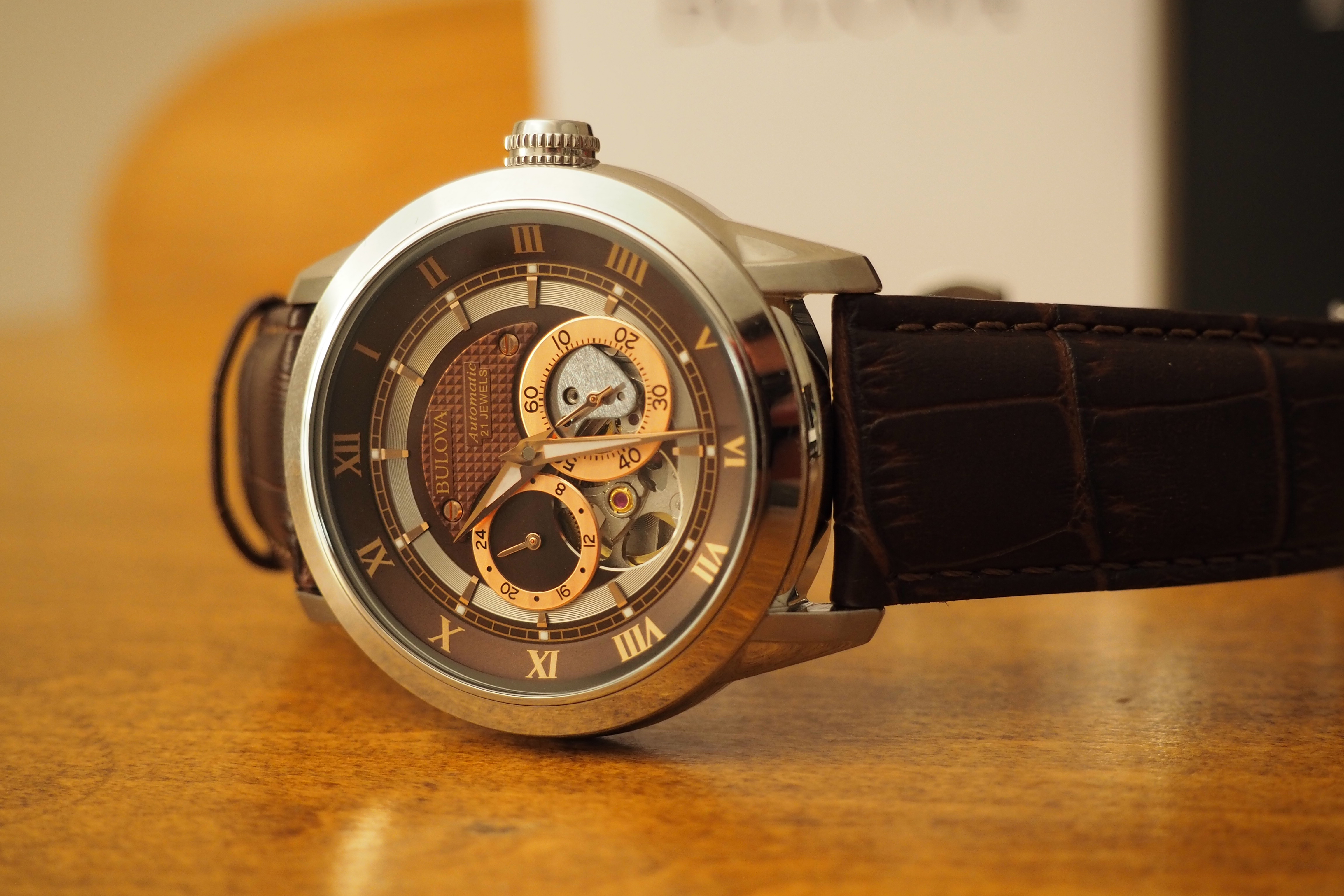 > > > Click here to see ratings, reviews, specifications and prices on Amazon < < <
Not that this is a mechanically substandard piece, but it is clear that the designers intend to wow consumers with the visual appeal of the watch rather than relying on a fancy list of specifications. Let's dig in and see if you agree.
Two-Tone Dial
The 96A120's chocolatey-brown dial has rose gold accents on the various subdials, hands, and hour markers. Bulova uses a silver-finish on the dial as well, primarily on the ring that sits just within the outer chapter ring; a nice touch that matches the finish on the case.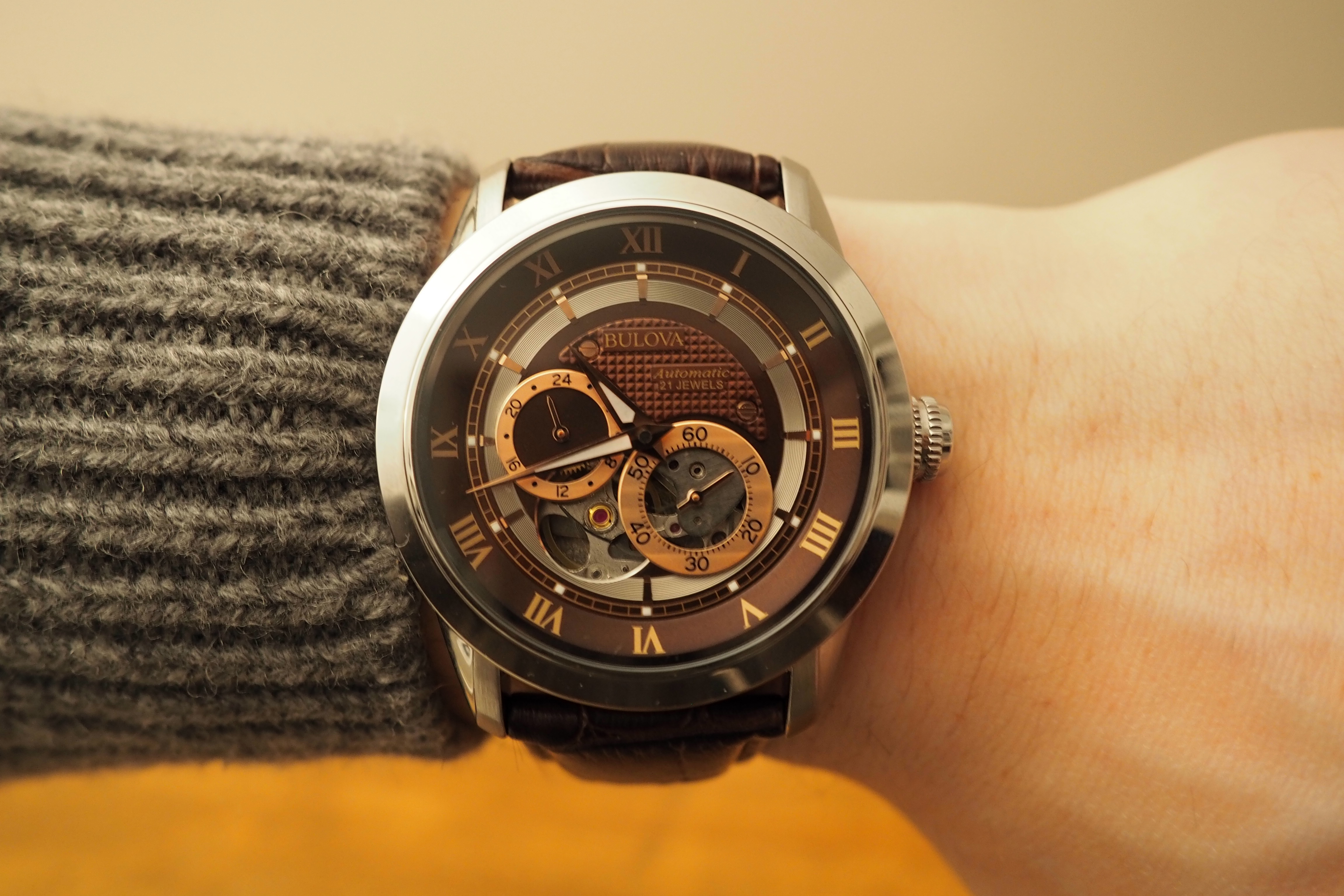 Speaking of the outer ring, it features rose-gold Roman numeral hour markers, adding to the sophisticated feel of the watch. The two main hands, the ones measuring hours and minutes, have a luminous fill so you will be able to use the watch for more than just well-lit affairs. The textured top third of the inner dial is interesting, and at this point I'm still not sure if I like it or not. While it certainly isn't a boring detail, from some angles it really picks up the reflection of the lights and seems to clash with the style of the rest of the dial.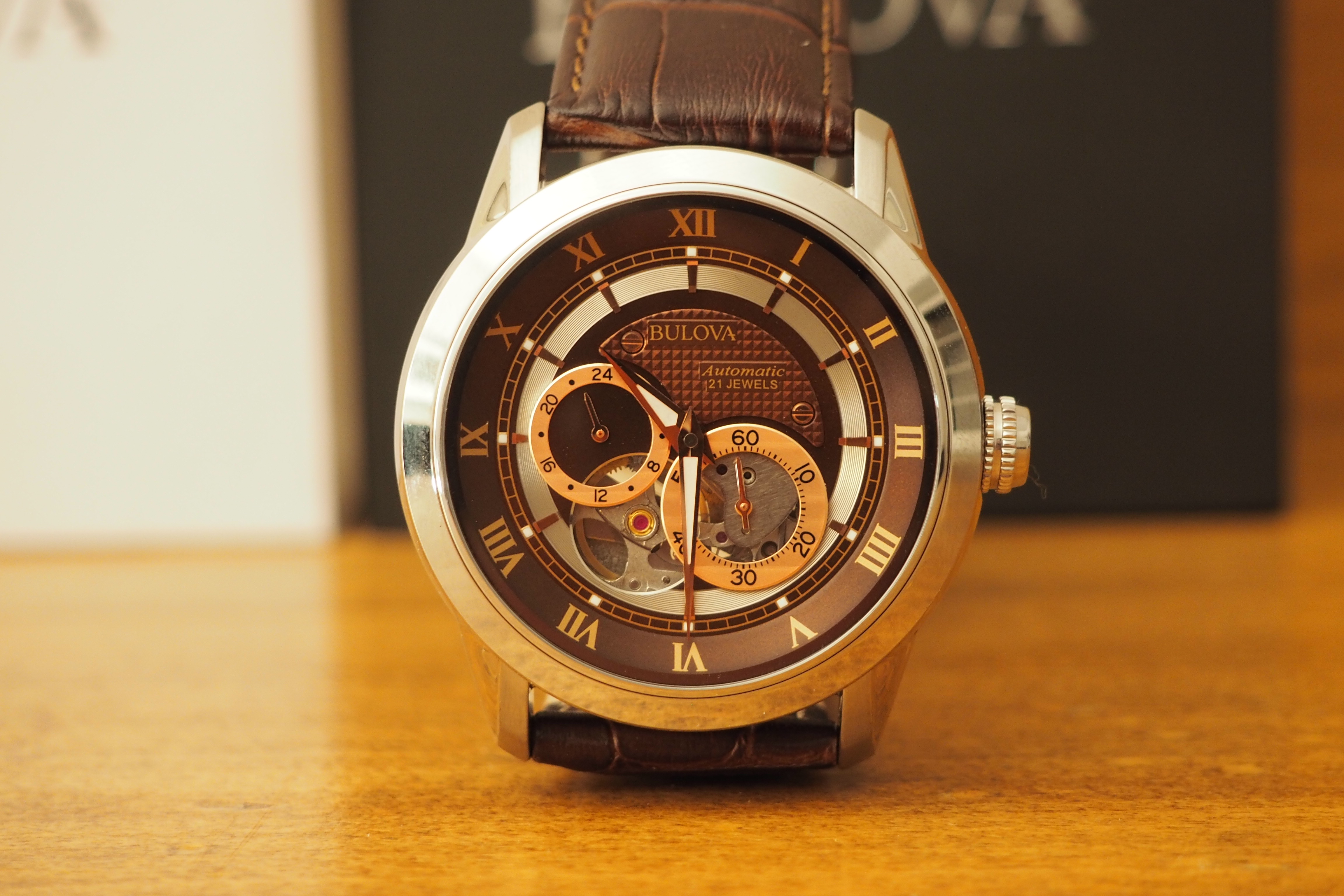 > > > Click here to see ratings, reviews, specifications and prices on Amazon < < <
Two apertures on the dial provide a glimpse of the automatic movement. Two subdials, one measuring seconds and one measuring in 24-hour increments, are each outlined in rose gold. While this is a good look on the watch, the small hour hand can get a little lost when it sweeps directly over any of these subdials, causing some difficulty in reading the time. Overall, I am very impressed by the design of this dial, with the various elements and finishes interacting in a very cohesive layout that keeps the whole thing from feeling too cluttered or mismatched.
Smooth & Slim Case
The stainless-steel case has a silver finish. Not to be outdone by the dial, the caseback has a large display window of its own. The screw-back case does not have much else to it besides some specifications listed around the outside of the window, but it is always a joy to watch the inner workings of an automatic watch.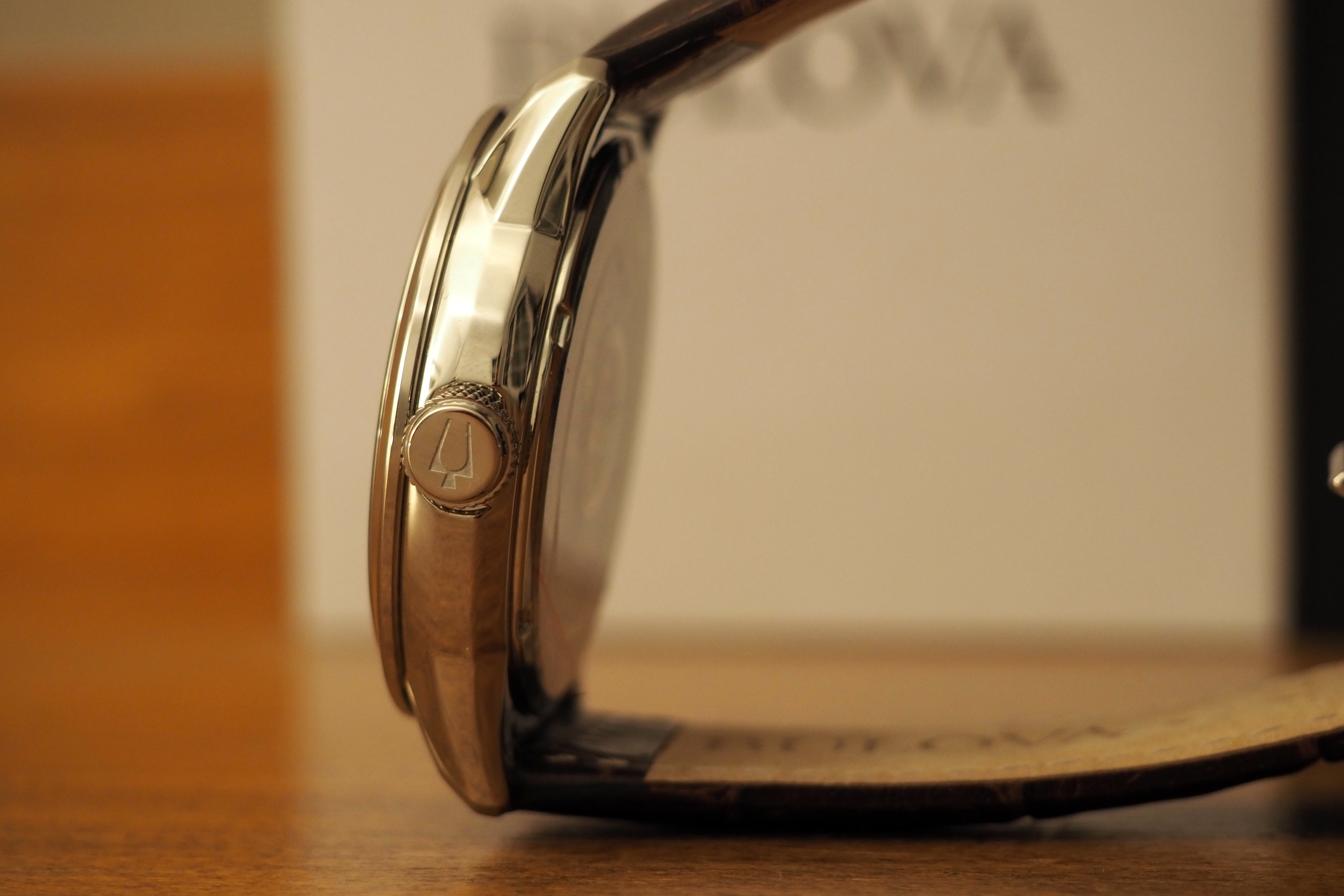 The crystal is a simple mineral type, with a slight dome to it. While plenty of watches in this price range feature a sapphire crystal, this mineral one is hardly a deal breaker.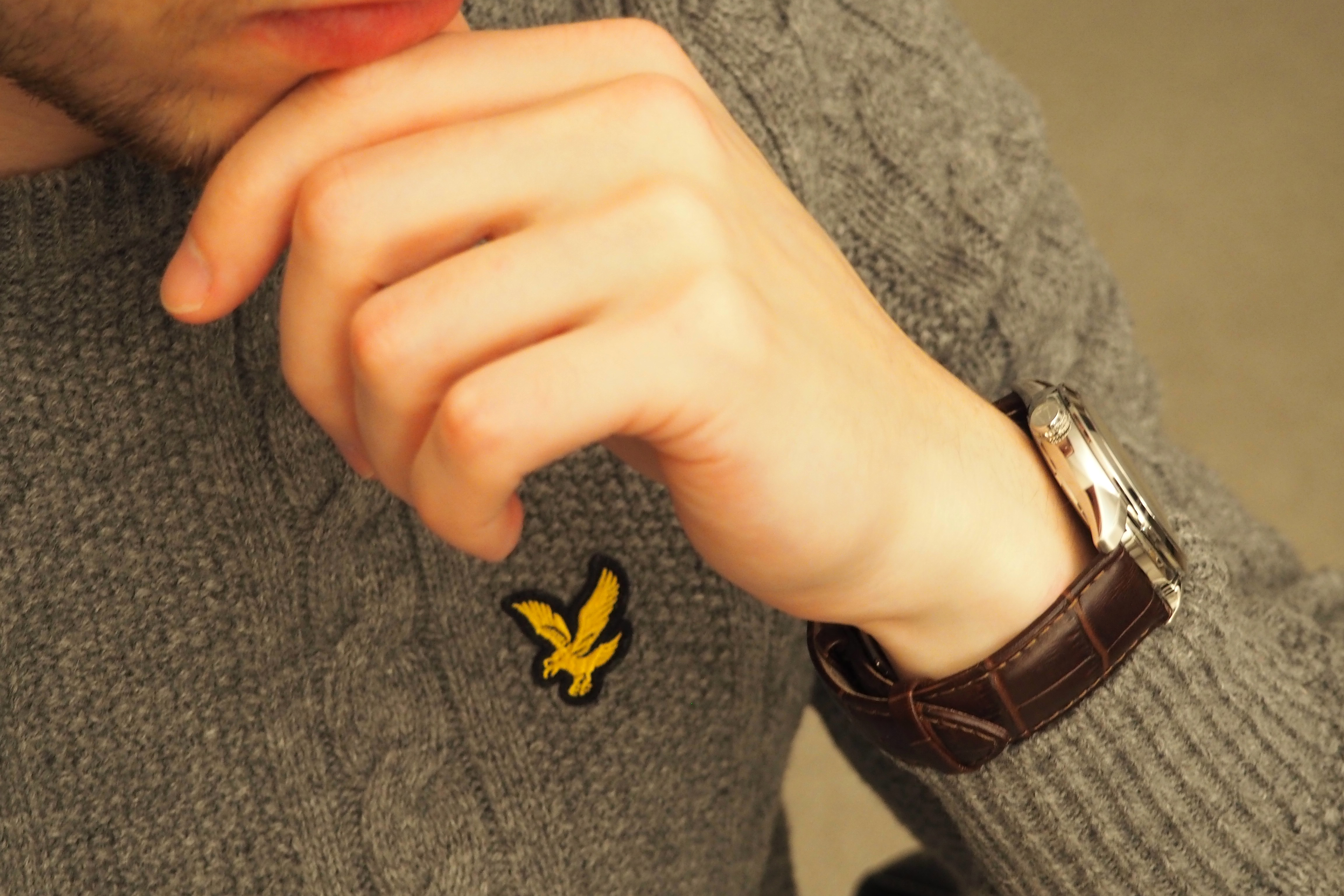 At 42 millimeters wide by 11.2 millimeters thick, this watch is a very nice size; it should work on just about anyone's wrist. And with a water resistance rating of 30 meters, you needn't worry about minor splashes and the like, as long as you take it off before showering or swimming.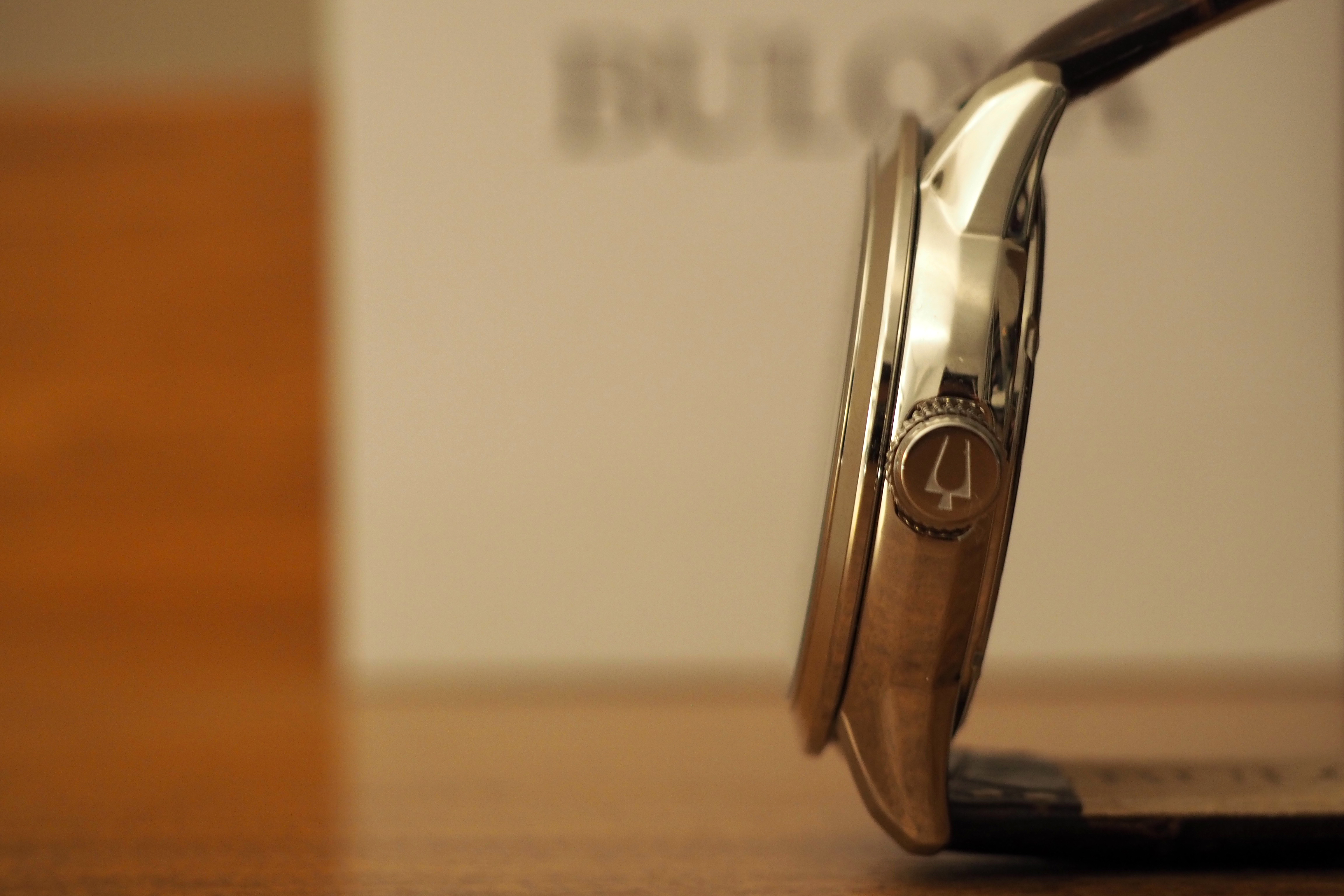 Croc Pattern Leather Band
The rich brown leather strap complements the case and dial well. Measuring 22 millimeters wide, this band uses a double-press deployment closure, a fitting addition to the mechanical aesthetic of the rest of the watch. A light tan interior has "Bulova" and "genuine leather" stamped on it. All in all, this is a solid band that doesn't let the rest of the watch down.
96A120 Miyota Movement
The 96A120 uses a Miyota automatic movement, although Bulova doesn't seem too keen on letting us know exactly which model number it is. Manufactured in Japan, this particular movement uses 21 jewels, leading me to believe it is the 8215 or some other 8200-series movement.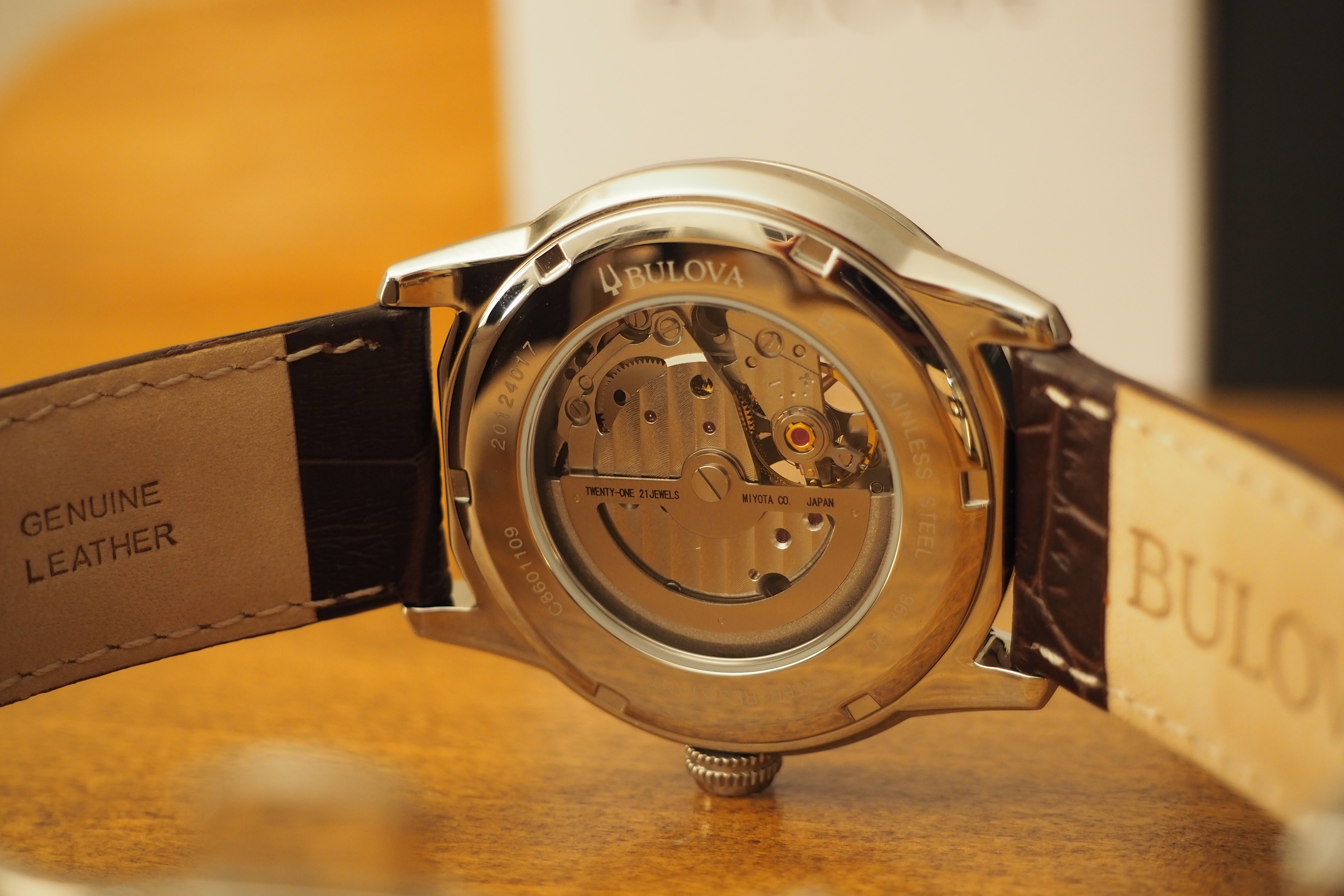 > > > Click here to see ratings, reviews, specifications and prices on Amazon < < <
While it is not the prettiest movement you'll ever see, it attempts to dress up with a visible jewel, skeletonized rotor, and various gold-finished pieces. Mainly, though, this movement represents an affordable and reliable alternative to some of the well-known Swiss movements.
Final Impressions
Not just a plain old dress watch, the 96A120 strives for more. This is a fun watch to study and admire, and I am sure it would prove to be a more than adequate conversation starter for the wearer.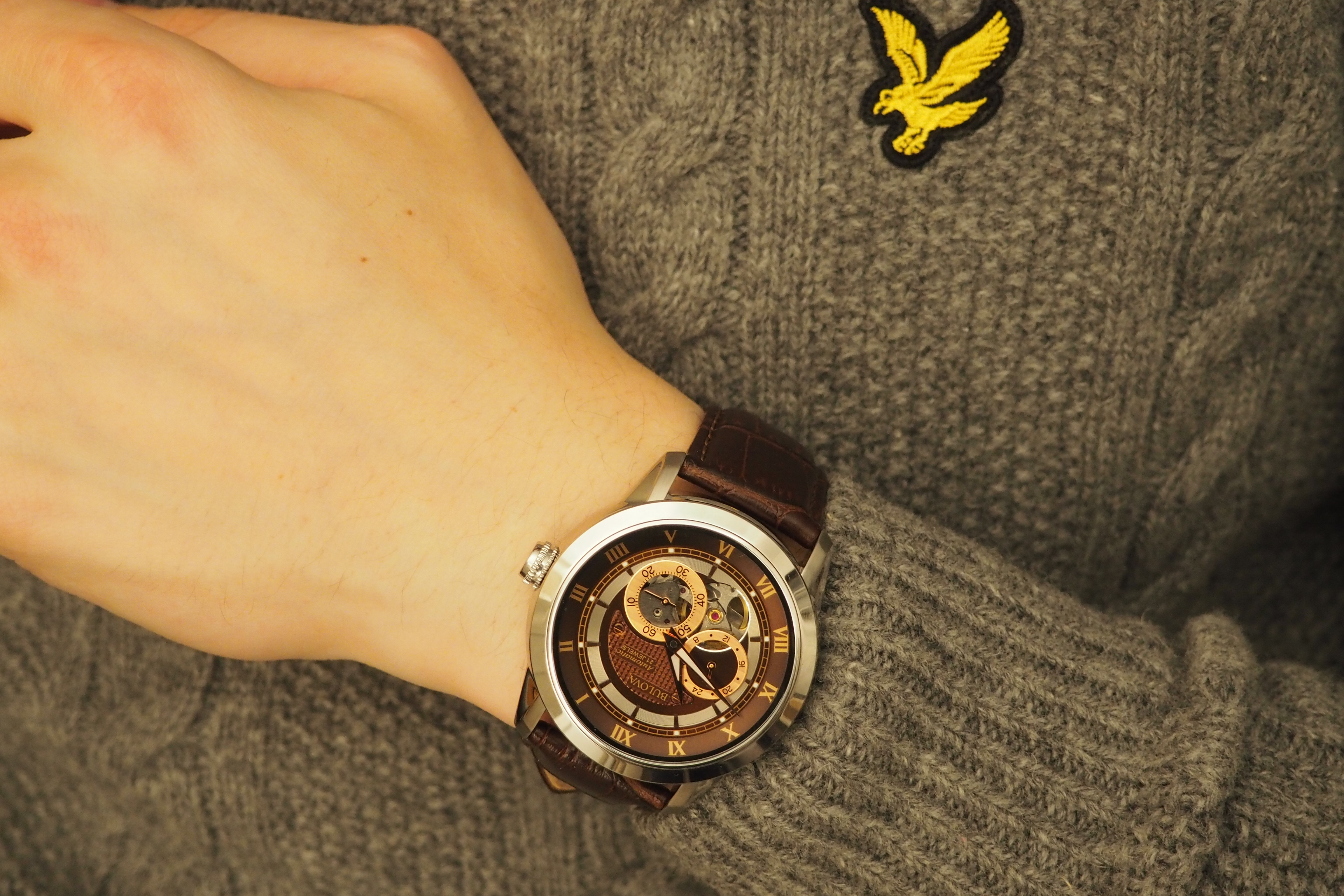 The list price of $450 seems a bit steep, considering some of the parts used on this watch are lower quality than what many watches in that price range use. But you have to consider the incredible styling of the 96A120 and decide if that outweighs those factors. Purchase of the watch will also include a 3-year limited warranty in case anything should malfunction.
To have a look at Bulova's entire range of watches visit their official website here.