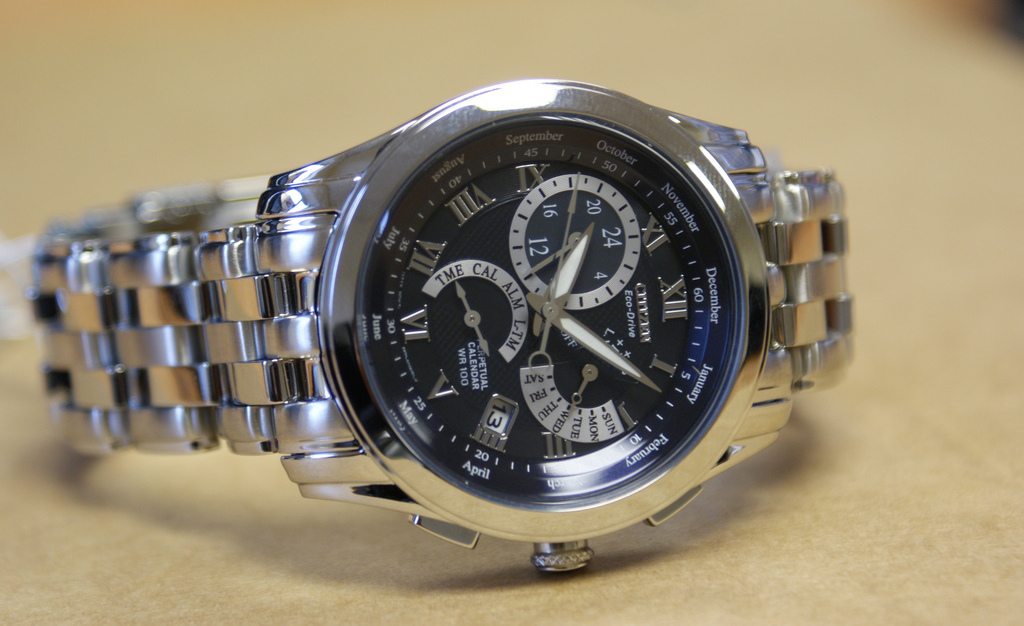 Citizen has been creating timepieces since 1930, and over the years they have brought incredible technological advances to the watch marketplace. With their development of Eco-Drive, Citizen has made it easier for people to keep accurate time simply by shedding some light on their watches. From the first pocket watch labeled with the Citizen moniker to today's high-tech wrist watches, the reputation of this firm has grown, and their popularity has flourished. With over 300 watches available in the current collections, you are sure to find a timepiece that fits your needs and lifestyle.
The Eco-Drive watch was first introduced in America in 1996 and with its launch came a new way to power watches besides batteries. Since the release of Eco-Drive watches, over 10 million batteries have stopped going into our waste systems. The fundamental mechanisms in Eco-Drive watches are the solar cells that convert natural and artificial light into energy. This energy, in turn, is stored so the watch can run for anywhere from 5 months to 7 years. This technology has made wearing watches even more exciting, and individuals no longer have to worry about a battery dying while on vacation or before you have to be in that important meeting.
> > > Click here to see ratings, reviews, specifications and prices on Amazon < < <
BL8000-54L Features & Design
The Citizen BL8000-54L Eco-Drive Watch is full of features and attractive design elements. Made with stainless steel,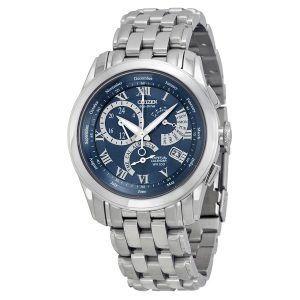 the strong case is 39mm in diameter and 10mm thick. This watch is a substantial piece but still is comfortable on the wrist. The mineral dial window allows easy reading of the time although it is not as scratch resistant as a sapphire crystal case window. With a stationary bezel also made of stainless steel and an adjustable crown that is simple to use, the BL8000-54L Eco-Drive watch is resilient and can be worn for any activity and lifestyle.
The face of this Citizen watch has a dark blue hue with contrasting silver Roman numerals that is pleasing to the eye. With silver hands that are laminated, it is easy to see what time it is day or night. The outer rim of the face has each month printed so you can enjoy the perpetual calendar at a glance. This feature auto adjusts for varying month lengths and leap years up to 2100. There are three subdials located on the BL8000-54L's face that read 24hr, day and month and the position of the dials are esthetically pleasing. A handy large sized date window, located at 4 o'clock, is surrounded by a raised silver band.
> > > Click here to see ratings, reviews, specifications and prices on Amazon < < <
Movement & Comfort
The Japanese Quartz movement is quiet and accurate to 1-5 seconds per month on the analog display. With a water resistance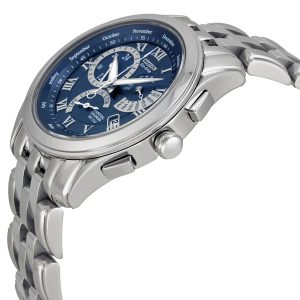 rating of 100m/330ft, the BL8000-54L can be used for swimming and snorkeling but is not recommended for diving or scuba. You will find the stainless steel bracelet is both comfortable and easy to size. With a width of 20mm, this watch situates nicely on the wrist with very little pulling or pinching. The links have a brushed finish which helps hide scratches, and there is a fold-over clasp with a double push-button safety closure for added security and peace of mind.
By and large the BL8000-54L Eco-Drive watch has all of the features and style needed for everyday use. The dial seems to change color from mid to dark blue depending on the light and the contrasting silver, and white markings are easy to see. With so many watch selections on the marketplace, having a Citizen watch in your collection that is solar powered is a great investment. The price point is moderate for the quality of craftsmanship you are receiving, and the overall look and feel of this Citizen watch will grant compliments from many onlookers.
Overview
If you are looking for a stylish watch with athletic flair, the Citizen Men's BL8000-54LEco-Drive watch may be the perfect candidate. It has style and brawn wrapped up in one dependable watch that will last for years to come. If you have not purchased a Citizen watch before, the BL8000-54L is a great starting point to create your personal collection of timepieces and become a watch enthusiast.
Citizen produces finely crafted timepieces using comprehension manufacturing procedures and processes to bring to its consumers quality products that are both affordable and steadfast. Citizen has been a pioneer in watch technology from the beginning and has brought advances in radio controlled watches, eco-drive technology, and satellite synchronized timepieces. There is no doubt that Citizen will continue to be a leader in the watch arena and bring more amazing breakthroughs into the realm of time keeping. Over 100 years of creativity and excellence is behind the Citizen Men's BL8000-54L Eco-Drive Watch.
> > > Click here to see ratings, reviews, specifications and prices on Amazon < < <