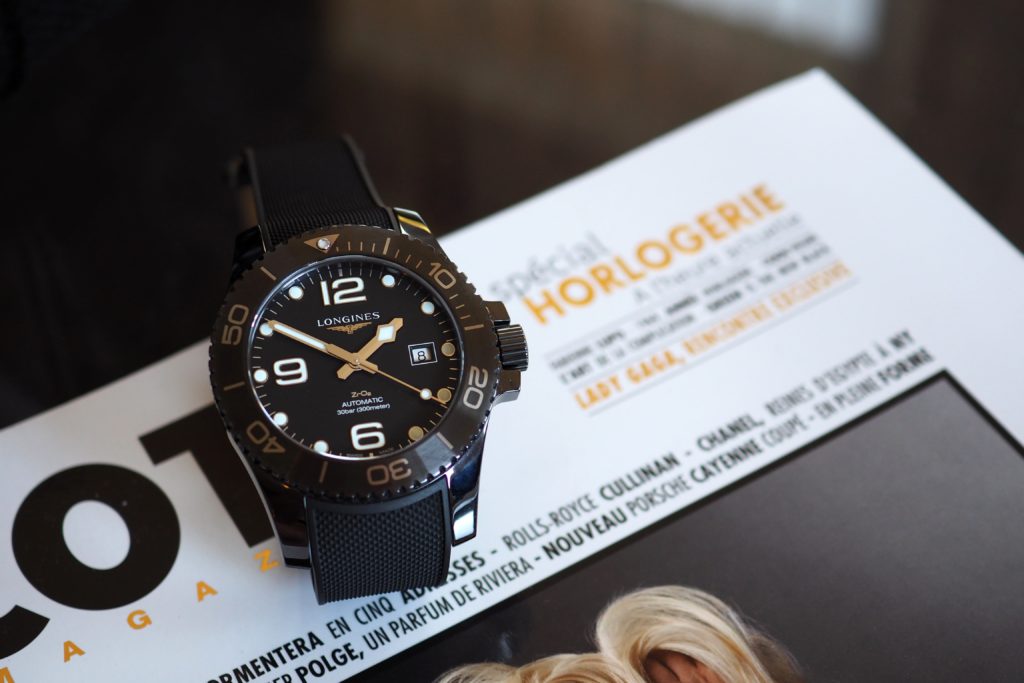 The Longines Ceramic ZrO2 Hydroconquest struck me right away as a one of a kind watch. I had the chance to wear this watch during my trip to the 2019 Longines "then and now" Press event in Switzerland. Ian, our local Canadian Longines brand representative handed me this beautiful new release the moment we met up in the Toronto Air-Canada lounge. I was a bit skeptical regarding its size when I first saw it, and wasn't sure if it would fit my small wrist.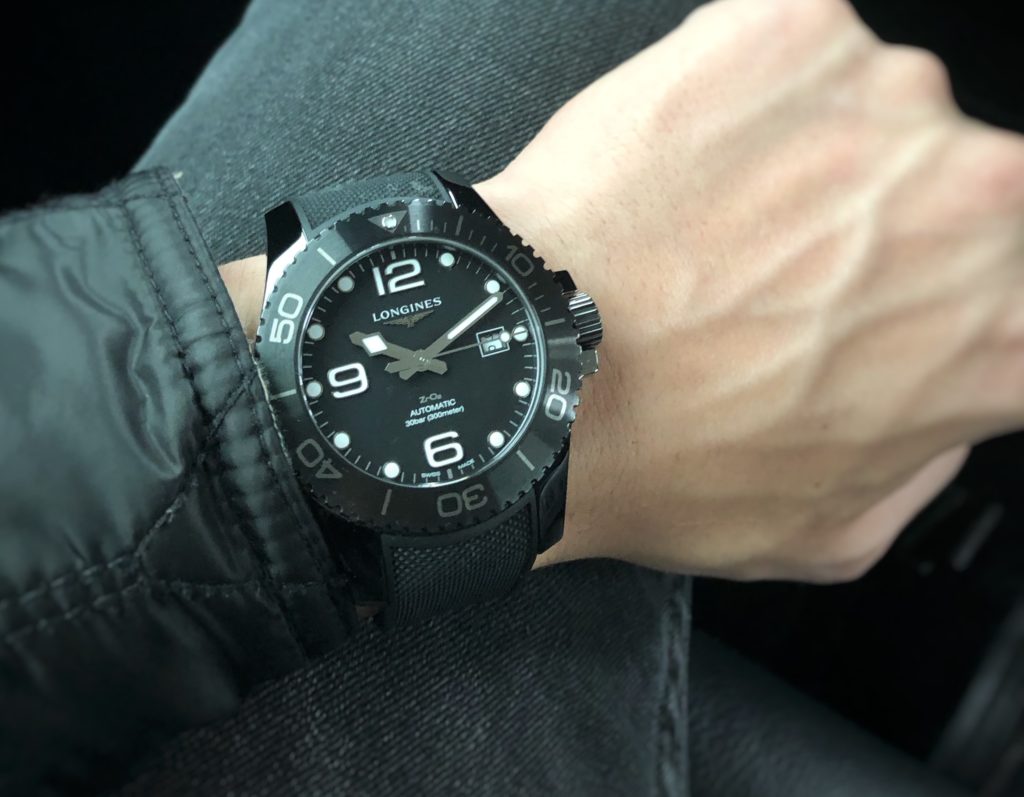 To my surprise it fit my wrist absolutely perfectly despite its 43 mm case size and long lugs. The bracelet was easy to adjust and had a very intuitive "easy glide" type of adjusting mechanism that allowed me to find the perfect fit. It was almost unusually comfortable for such a large watch, and then it dawned on me that it may be due to the light weight all ceramic case (the bracelet clasp is also ceramic). The watch was sitting flat and centered on my wrist, it was secure with very little movement, and it felt somewhat weightless!
The ZrO2 Case
Lets start with the stand out feature of this new release from Longines, it's fully ceramic ZrO2 case. On paper Longines has stated this as a black case, but this can change depending on lighting and angle you look at it. In dimly lit rooms the case was indeed a true deep black, in brighter areas and outside the case can take on a deep purple and occasional dark blue/turquoise sheen, it was quite incredible to experience and kept the watch feeling fresh and new every time I looked at it.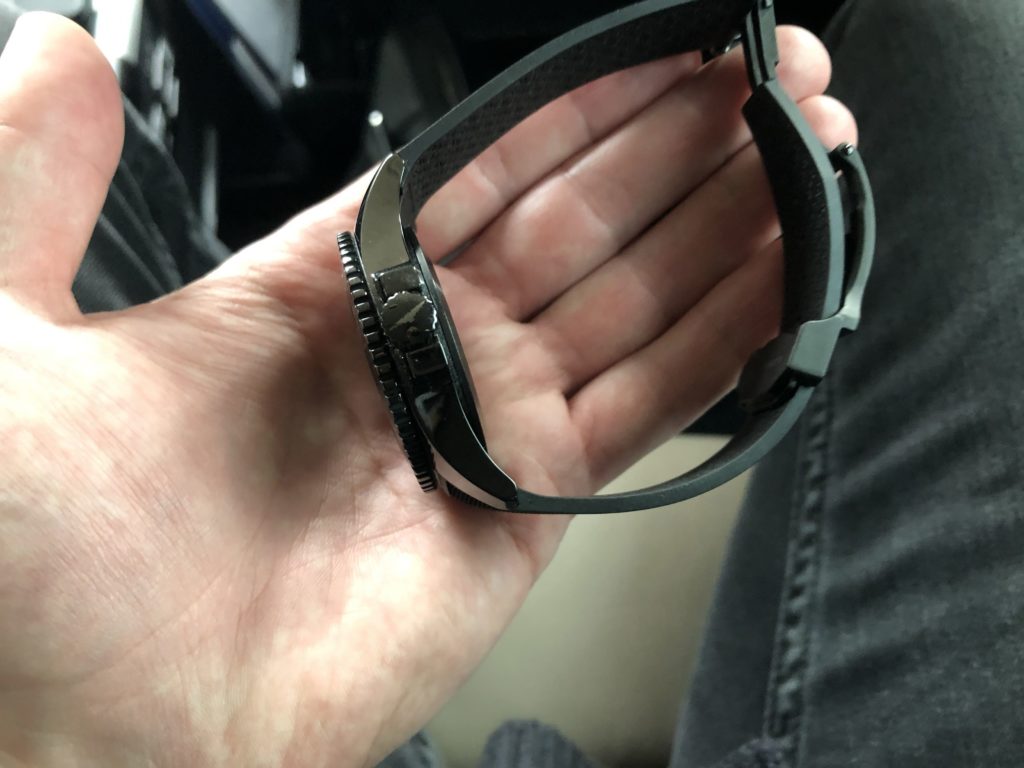 The case itself was fairly slim, but of course was not able to slip under a shirt cuff as easily as a dedicated dress watch or smaller sized tool watch. The unidirectional bezel had a satisfying ratcheting noise, it was also easy to turn with the sharp machine grooving on the edge.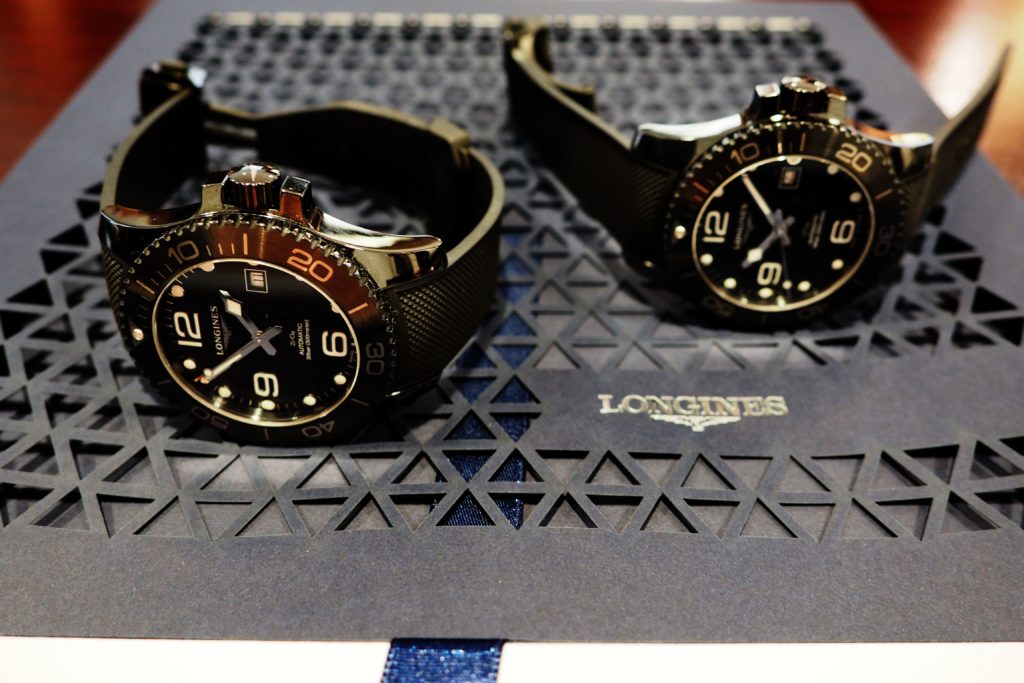 The lugs are long but relatively thin and did not look bulky on the wrist. The case back was smooth with a matt like etching on the back with model name, Longines logo, and ref number.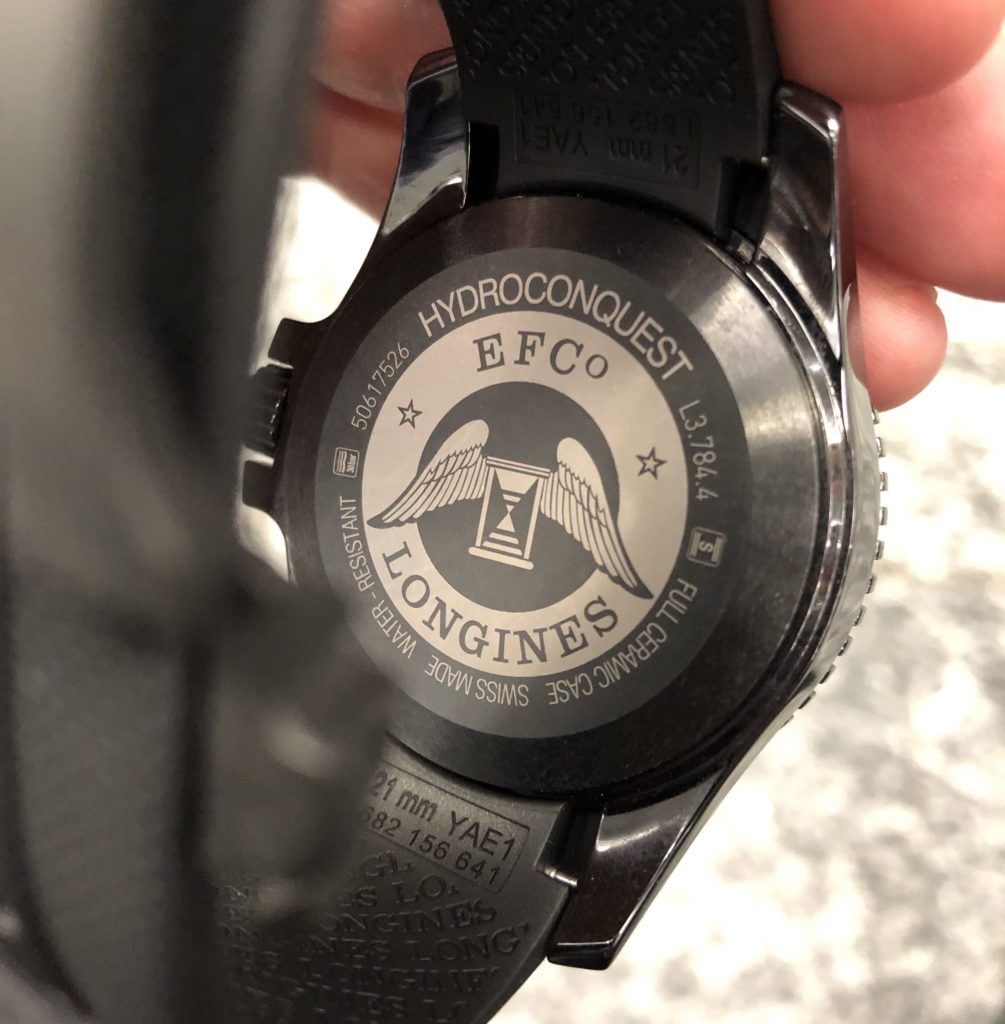 The crown is easy to grab and Is protected by adequate crown guards.
The only downside I can see to this case is its fragility, as you know ceramic can shatter if dropped or hit against an equally hard surface. Extra care is needed when wearing this watch, especially when it's being removed from your wrist
The Dial
The dial is easy on the eyes, no straining is needed to tell the time, and it's actually very legible and relaxing to look at. The white on black indices and large Arabic numerals only accentuates this feeling, and I would suppose it would make a great functional dive watch because of this. The date window is a little bit on the small size in relation to the rest of the dial, but the proportional size of the date box does make it aesthetically good looking. The actual number itself on the date wheel does require a closer look to see compared to the rest of the layout.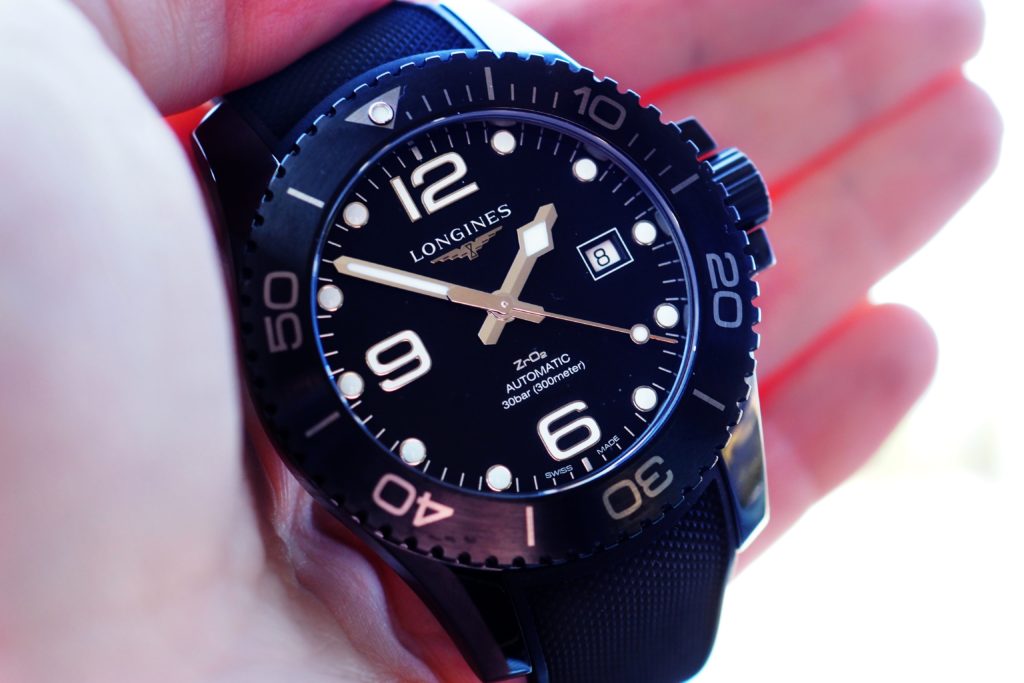 The round 5 minute markers are an excellent choice in my opinion and are reminiscent of a classic dive watch, despite the modern black ceramic case. The Longines logo can be found at 12' oclock, along with Automatic and ZrO2 inscribed at 6' oclock.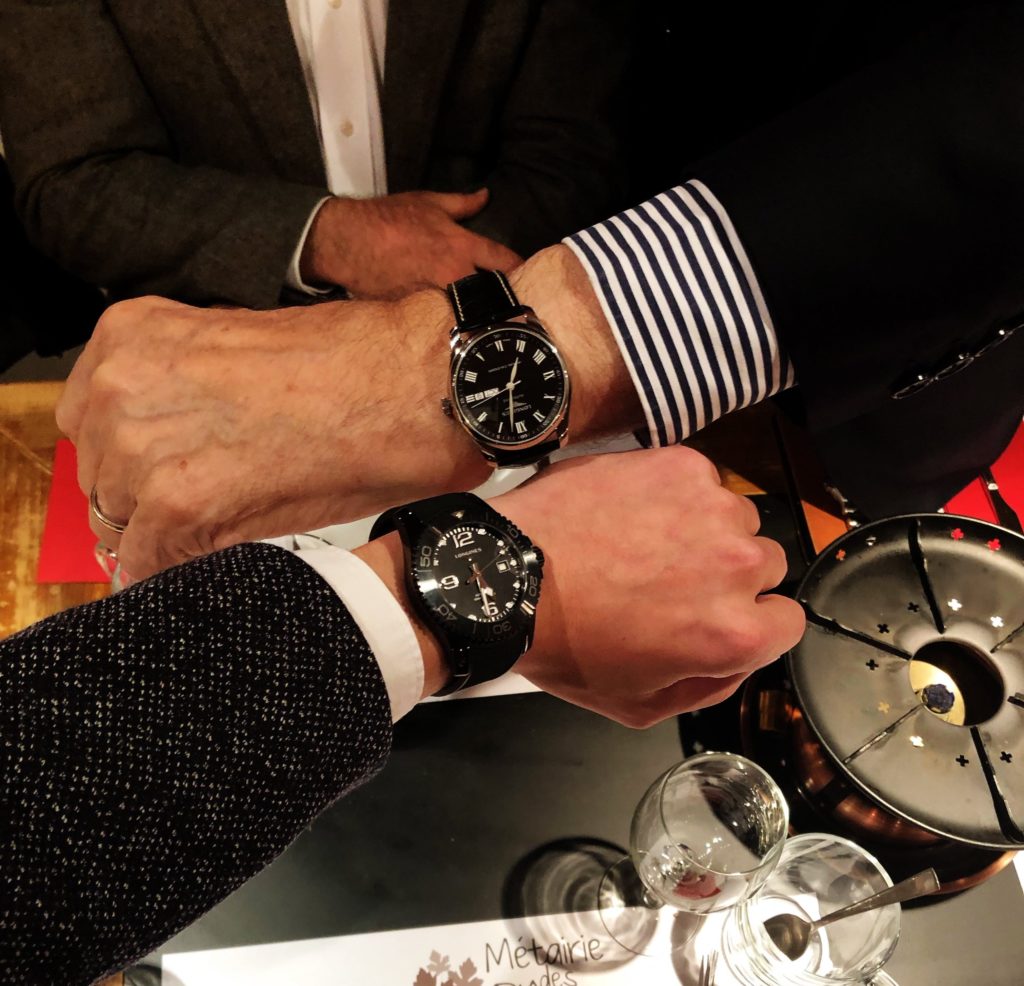 The lume on the dial is blindingly bright, and can easily be read from a distance even if you had the watch laying on your night table next to your bed. Unfortunately I didn't get the chance to shoot this watch in the dark, it would have made for a great lume shot.
The Hands
The hands are very large and contrast perfectly against the black background, just like most dive watches should. The hands are nice and thick, with a sword shaped minute hand and a tudor style T shaped hour hand, the second hand is a lollypop style matching the round indices very well.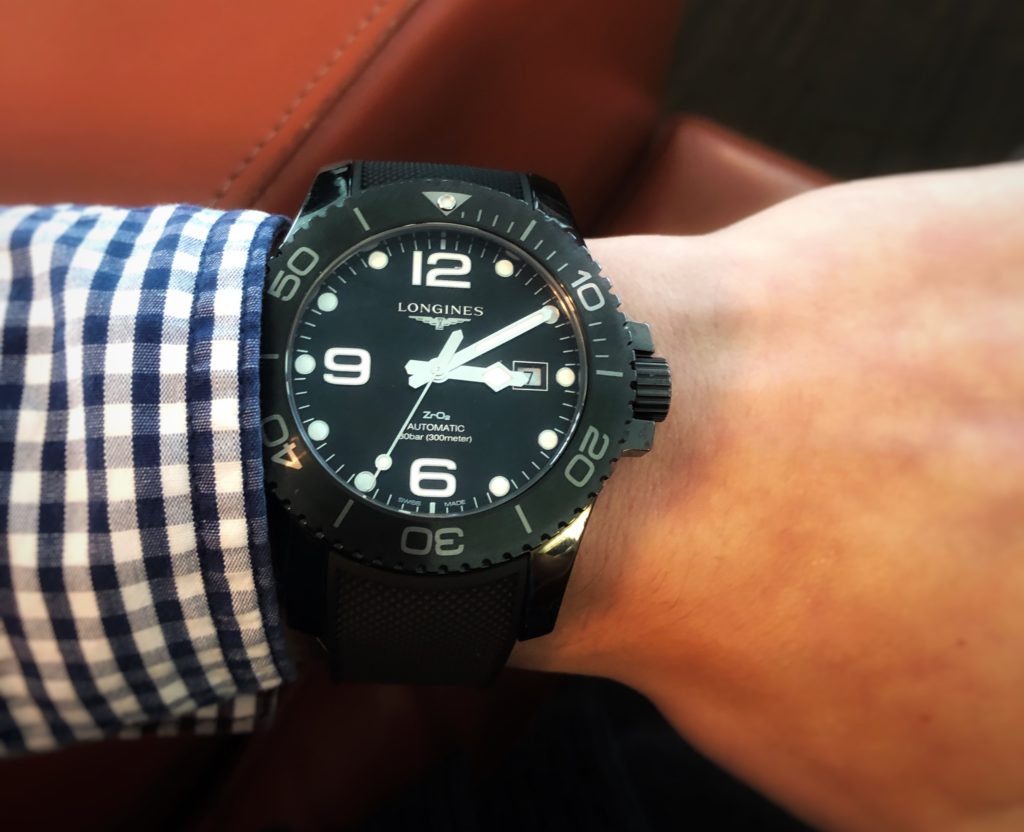 The hour and minute hand have loads of lume applied, which is a nice bright white during the day. The second hand has the lume applied on the lollypop, and is also white during the day.
Movement
The HydroConquest is built around Longines' Calibre L888.3 movement. This is an automatic movement, which can also be hand wound if you feel the power reserve may be low. If you're wearing it every day, this won't ever be a concern, but it also won't matter if you want to wear the HydroConquest during the week and leave it on a watchpod display stand for the weekend. The 64-hour power reserve is definitely more than enough to get you through.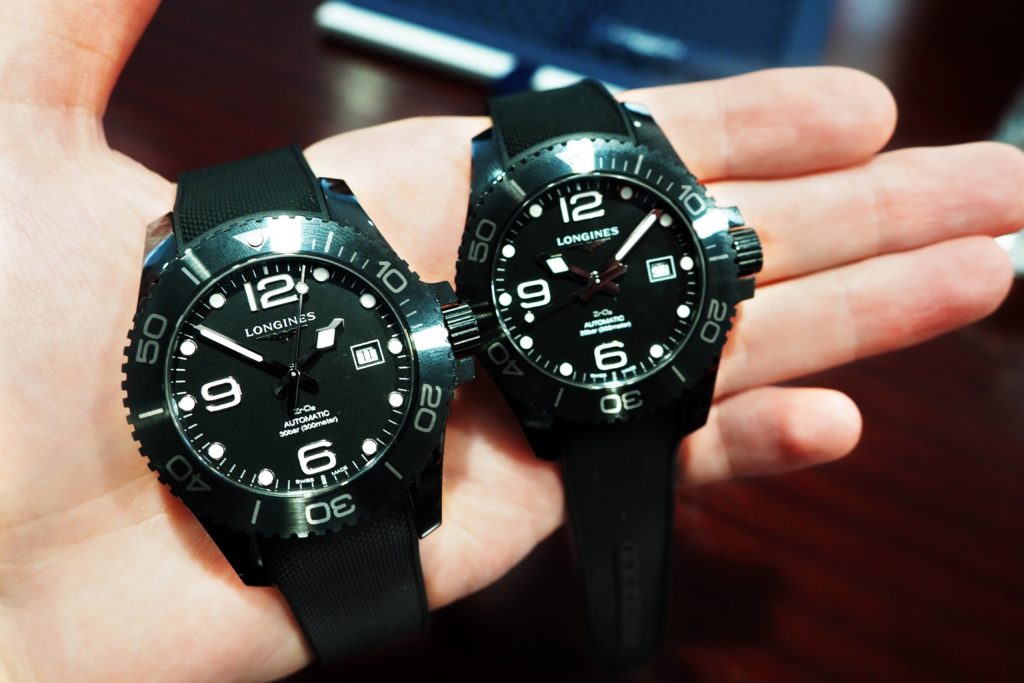 This movement is based on the ETA A31.L02, a longstanding favorite among quality watchmakers. It's a 21-jewel movement, which puts it above the minimum, and that's really all you need to get reliable accuracy. The L888.3 runs ever so slightly fast, at +10 seconds a day, with a variation of +/-3 seconds a day. It ticks at a brisk 25,200 beats per minute, so it moves very smoothly.
Conclusion
This watch is going to be a big hit amongst watch collectors. It's definitely targeted more towards the younger fresher watch enthusiast due to its unique ceramic design. Walter Van Konel even needed a bit of persuading from his trendier employees to go ahead and produce this model. This is a watch that you really need to see and feel in person before purchasing due to its chameleon like appearance depending on lighting. Make sure to venture down to your local Longines authorized dealer to have a good look at this beauty.
In the meantime you can also check out all of Longines offerings on their official website here.