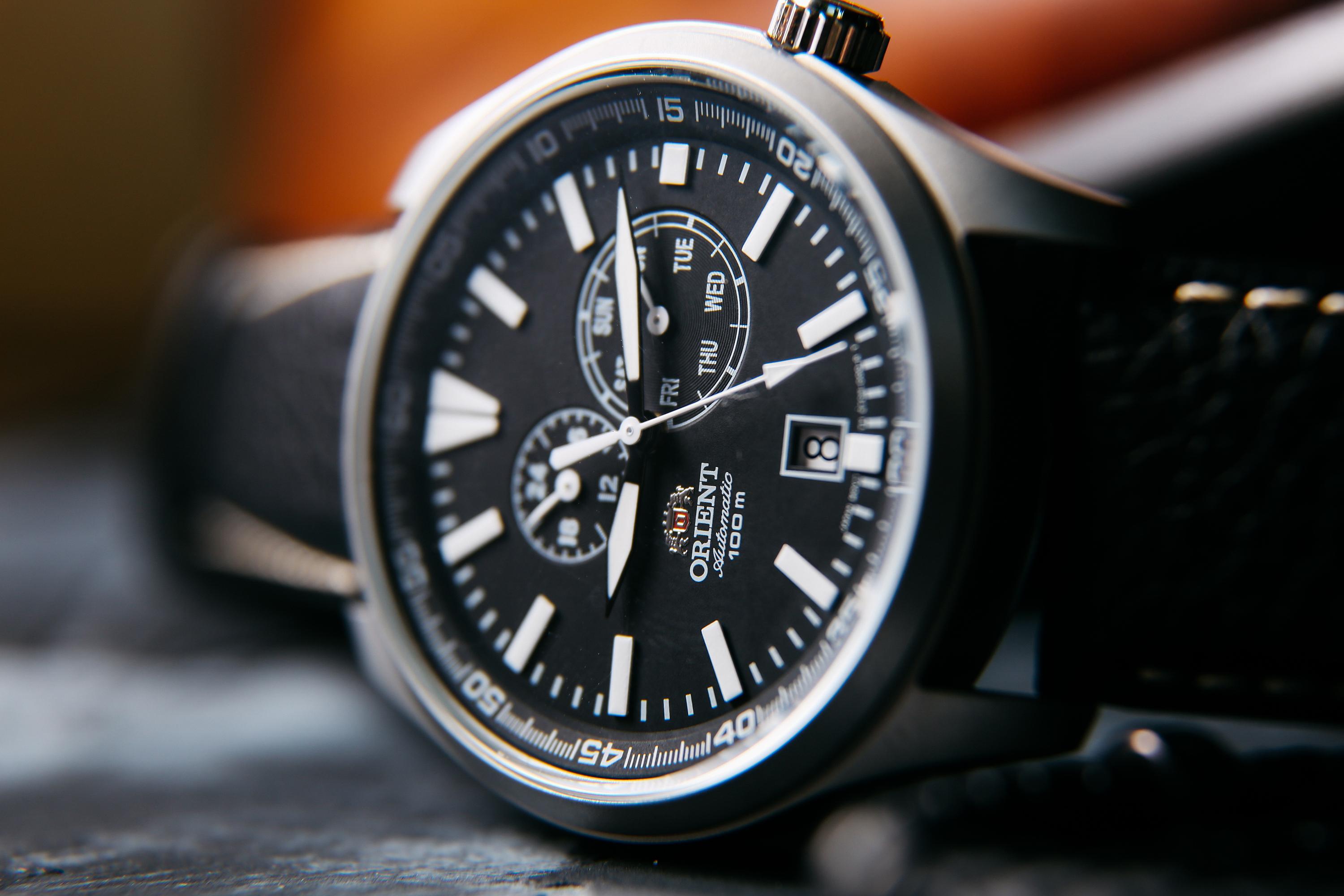 The Orient FET0N002B0 Defender is a field watch to keep an eye on which encompasses practical, legible style with a simple, yet reliable movement. A Japanese answer to the needs of those who enjoy traversing in the outdoors, the Defender has a lot to offer at its budget friendly price tag – an automatic Japanese movement, water resistance up to 100 meters, and a remarkable dial design.
Created with active owners in mind, it's a humble piece with lots of personality. It proudly carries the Orient logo just off the lower center of the dial, as it meets all four criteria of a perfect field watch – it is affordable, reliable, durable, and easy to read.
> > > Click here to see ratings, reviews, specifications and prices on Amazon < < <
Unique Dial
The set of sub-dials scattered across the face of the watch isn't everybody's cup of tea but you can't deny their purpose. Besides, they feature circular graining decoration for an added touch of the military aesthetic and are slightly debossed into the dial's surface. The AM/PM indicators are extremely rare among other field watches out there and the hands somehow look more aviation-inspired than actually belonging to a field watch.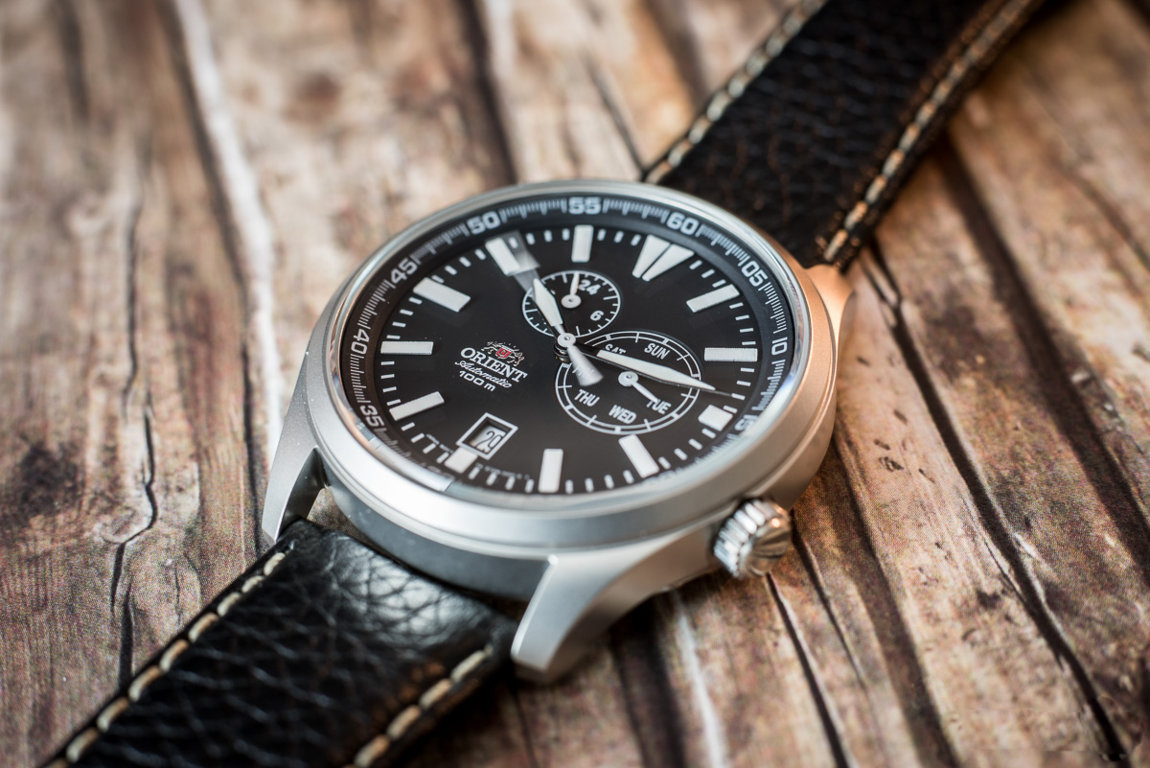 Still, the dial is without doubt carefully planned out and is a stunning piece of brave designing. The watch's character resides in this modern military style and is painted a sunburst granite color that has simply been called grey. It has a mix of brown shade thrown in, too, which definitely adds up to the aggressive design of the watch.
A 42mm-wide sandblasted steel case guards the modest dial design and features an unconventionally located (below the 3 mark) screw-down crown that supports the 100m water resistance. With mineral glass covering the case, this watch isn't particularly sturdy, but it seems that AR-coating has been laid over the glass to bolster the legibility even more, which is a plus side.
Excellent Legibility
Time-telling has never been easier with the FET0N002B0 defender and its chunky, white markers. The main index follows a pattern of sharp lume shapes, with the split triangle at 12 being very bold and in-your-face. Also, the chapter ring adds a nice touch to the design and contains minutes/seconds index. At 6 o'clock is a vertically rectangular date window with a white line trim to it.
The Roman sword style hands are filled with lume on the minute and hour hands and although a bit small, they add to the overall militaristic look of the watch. The seconds hand features a pointed tip and a long, thin, white body.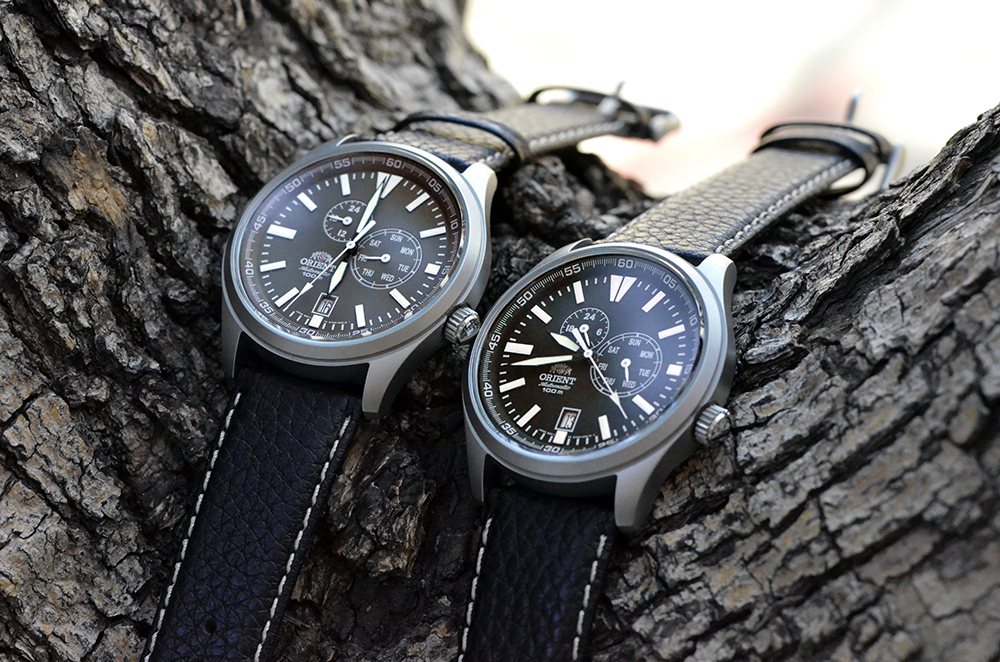 > > > Click here to see ratings, reviews, specifications and prices on Amazon < < <
The lume, although present across all the large indices, doesn't provide much brightness but still improves visibility in the dark.
Automatic Movement
The Japanese-made Orient 46B40 caliber is what keeps the defender ticking. The 21-jewel automatic movement beats at 21,600 BPH and provides date, 24 hour hand, and day hand features. The 40-hour reserve is nothing exceptional but is worsened by the lack of self-winding and hacking capabilities, especially considering the watch's style. On a more serious note, the lack of a date quick set presents a much more significant issue.
FET0N002B0 Strap
The strap that comes with the Defender is probably one of the most comfortable and versatile straps that the brand offers. There is a touch of padding for increased comfort and the leather really has a soft, natural feel to it.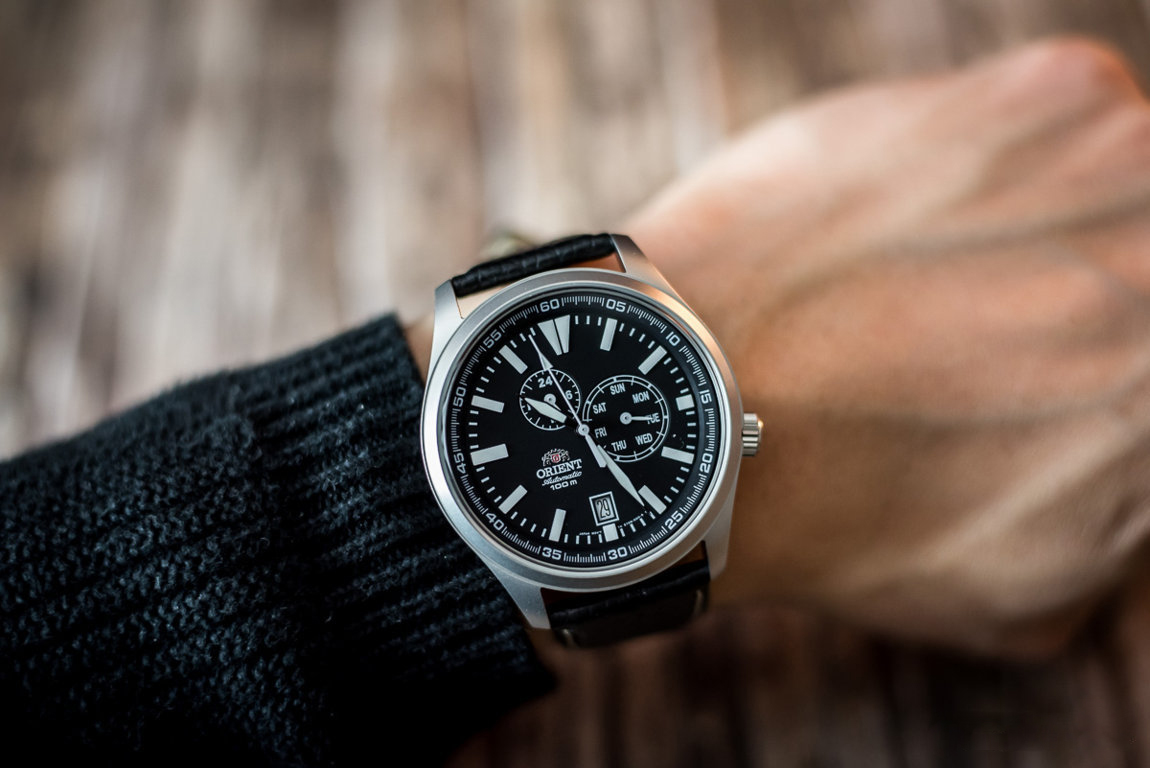 For all those who believe that the strap doesn't do the watch justice in terms of being too sophisticated are more than welcome to swap it for a more aggressive band, such as a heavy-duty rubber one. I, however, am pleased with the deceptively high quality of the strap even though it looks a bit ''too nice'' on this watch.
Casual Dress
The watch is obviously better paired with a casual, masculine attire, but is by no means to sporty to be worn in an office environment. The granite shade works well with more muted and washed colors and the combinations would depend on varying the strap, too.
Final Thoughts
The Orient FET0N002B0 Defender once again proves us how devoted the Japanese brand is to creation of affordable, high-quality watches. It is a well-built, feature-packed watch that has a cool, unconventional design. Lots of in-depth texture, patterns, and detail that make this watch stand out from other field timepieces.
The only issue is the lack of some basic movement settings and including quick date, but at this price point, I can turn a blind eye to these issues. The Defender is a great option for anyone who is looking for a legible, affordable, and reliable watch for all of their sporting activities. There is plenty of character about this watch, communicating your active lifestyle whilst on your wrist. In a sentence, it is a water-resistant, durable piece of watchmaking that features a unique army style with a reliable automatic movement under the hood. For the price, there's not much to like.
> > > Click here to see ratings, reviews, specifications and prices on Amazon < < <