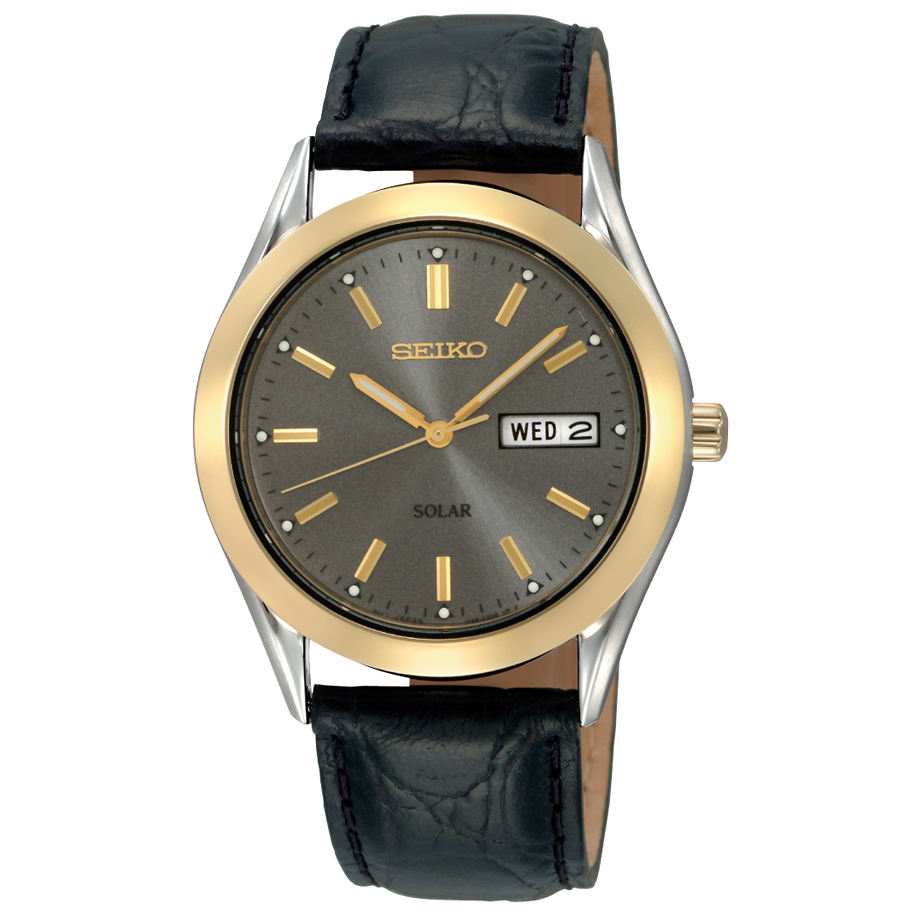 If you want a dress watch but don't want to mess with the hassle of an automatic movement or confusing complications, Seiko produces some fantastic and affordable solar quartz watches. You will be hard-pressed to find an easier watch to maintain. Case in point is the Seiko SNE050, which is all about understated elegance. Employing a unique style that combines a variety of colors and finishes, this entry-level dress watch keeps it classy with no sporting pretensions or techno-gadgetry.
> > > Click here to see ratings, reviews, specifications and prices on Amazon < < <
Dial
The round, charcoal colored dial uses a straightforward layout, with gold baton hour markers and three hands. The sword-shaped hour and minute hands are delicate and fancy-looking. Seiko's LumiBrite has been applied to the hands and hour markers, which glow brightly for hours. Black second markers ring the outside of the dial, right above the hour markers.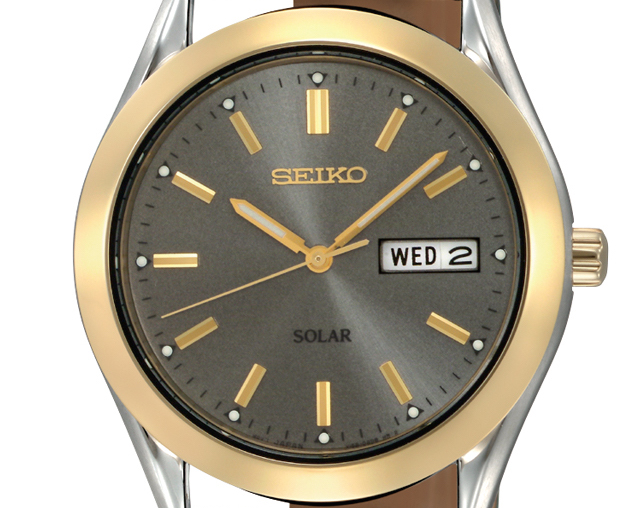 > > > Click here to see ratings, reviews, specifications and prices on Amazon < < <
Both English and Spanish options are available on the day/date calendar. Speaking of the calendar, it uses a black retro-style font on a white background. I imagine Seiko decided on this arrangement because the date fields are small and the contrast with the grey dial makes them easier to read. I don't love this look, though, as it cheapens the classiness of the rest of the dial. Maybe a cream or black background would match the rest of the dial better.
A gold "Seiko" logo is applied beneath the 12 o'clock hour marker, and "Solar" is written in black above the 6 o'clock marker. I love how, no matter what angle you hold the watch at or how bright the lighting is, Seiko's solar cells remain invisible. Because this is a discreet dress watch, this feature is especially nice on the SNE050.
Case
The two-tone, gold and silver stainless-steel case measures only 37 mm wide, so this watch is on the smaller side compared to most watches on the market today. At 10 mm thick, the SNE050 is thin enough to fit under a sleeve cuff, which is good news for a watch that will most likely be worn with its share of suits. The Hardlex dial window represents an improvement over standard mineral crystal, but can't quite match the scratch resistance of sapphire.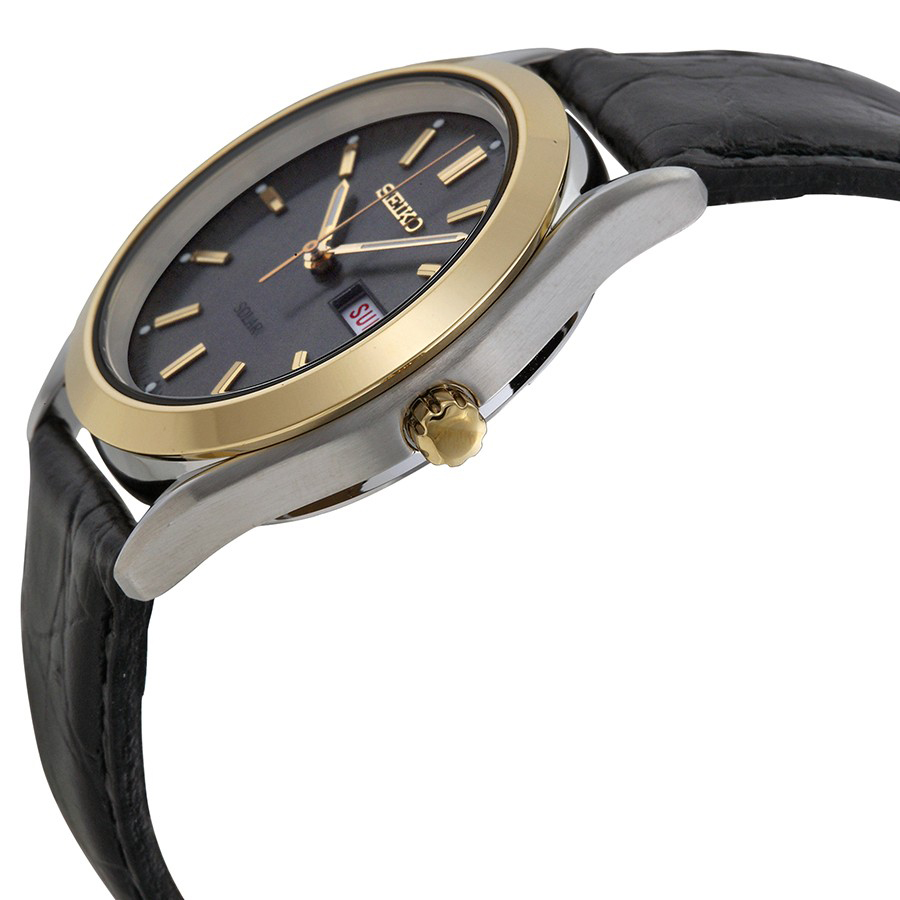 The featureless gold bezel is rather thick for such a small watch, lending a chunky look and feel. Because both the bezel and crown are gold-toned, when you look at this watch from the front, the only silver finish you can see is on the lugs. Speaking of the lugs, they extend several millimeters past the case, creating some nice negative space between the case and the band.
Water resistant to 30 meters, the case can survive some splashes or brief submersions in water, but swimming is out of the question. This watch probably won't be a common choice for water sports for most owners, so I don't see this relatively shallow water resistance being too much of a problem.
SNE050 Movement
The SNE050 utilizes Seiko's caliber V158 quartz movement, which by all accounts is . Implementing a solar cell with high performance electricity generation, it is charged by any type of light, not just sunlight. Rated at a healthy 10 months, the power reserve should prevent the watch from running down while you are not using it. I love solar watches because you never have to change out the battery, so they are both a hassle-free and eco-friendly option.
Band
The SNE050 comes with a black crocodile-print band and a silver-toned buckle closure. Many owners have reported that the band initially feels stiff, but I would expect that it will soften up with enough use.
During my research, I found conflicting information about the type of material used on the band. After some research, it appears that the band is indeed genuine leather, but uses a synthetic material for the surface. It is disappointing that Seiko skimped on the band, but you have to keep in mind that this is a relatively inexpensive watch, especially with some of the discounts that can be found off of the MSRP.
Final Thoughts
The SNE050 is a dress watch that would complement a suit or casual business attire very well, but it is much too dressy to pair with casual outfits. A good choice for those needing a decent, solid, reliable dress watch that is not too flashy or distracting. The MSRP is around$135, and with some of those discounts mentioned earlier, you shouldn't have a hard time finding it for less than $100.
I'm not a fan of some of the styling choices made on this watch, with its various metal finishes, grey dark, and black band. With such understated styling, a more cohesive assortment of finishes would greatly improve this watch. That said, the SNE050 is not short on reliability or accuracy, so if the styling appeals to you, I see no reason why this wouldn't be a solid choice for a dress watch.
> > > Click here to see ratings, reviews, specifications and prices on Amazon < < <