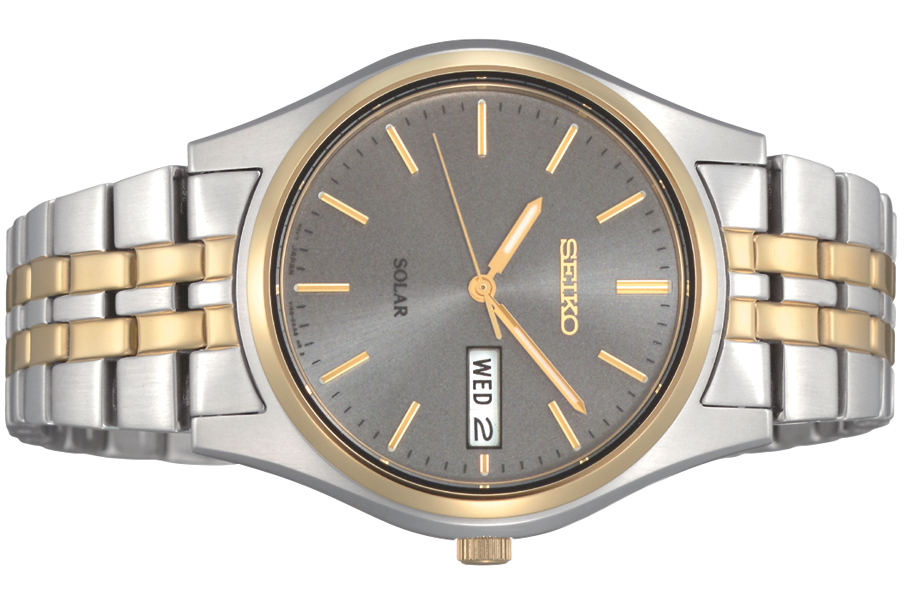 Still looking for a new dress watch for the new year? You might want to check out Seiko's model SNE098, a silver and gold-toned stainless steel timepiece that has a relatively sleek and slender design and a couple neat little features as well. Seiko is known for creating great dress watches in the $100 price range and, though there are some reported issues with this one, it's an overall solid device to add to their collection.
> > > Click here to see ratings, reviews, specifications and prices on Amazon < < <
SNE098 Pros & Cons
I'll start off with some issues I've found with the watch because there aren't too many. I personally don't quite like the size of the body/case. It feels a bit too large and bulky on the wrist and looks big. Some people might like the flashy design, but it's a little much for my taste. Don't get me wrong, I think the watch looks fantastic, but this is just a little hiccup in my book. Additionally, some of the pictures you might find of this watch online show it with a dark blue dial, but don't be confused, this model's dial is a dark gray gunmetal color.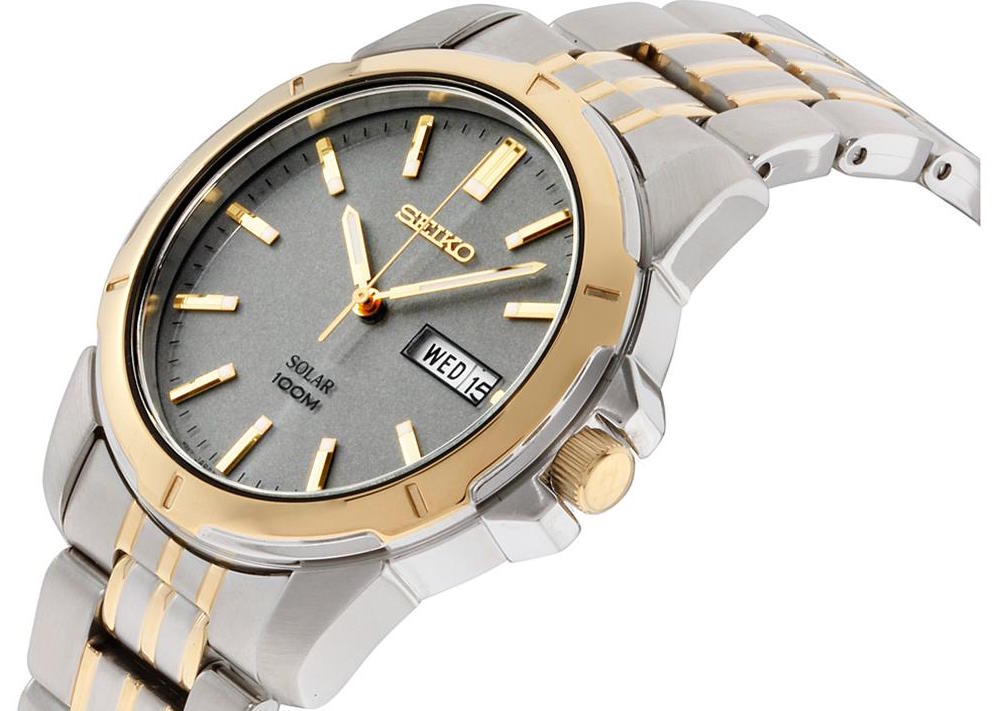 Other than the size, I really like the style of the SNE098. I dig the silver style with gold trim along the band and bezel, and I also enjoy the simplicity of the dial and characters. I do, however, think the red characters on the date window to be a bit ugly. I guess it makes it easy to read, but it just looks odd; why not make it black or gray? Another minor gripe, but a gripe nonetheless. The overall look is slick and classy though, and it's not like anyone else is really going to notice the dial window unless they're right next to you.
> > > Click here to see ratings, reviews, specifications and prices on Amazon < < <
Weight & Features
As you might guess, it's a heavy watch. It's one of those watches that definitely is as heavy as it looks, if not more. The weight isalso a reflection of its construction, and it feels super sturdy and well-made. The thickness of the case is actually 9 mm, so it's a tad thicker than I'm used to, though the diameter is just 38 mm. The hardlex window also feels decent and I'm not too worried about the dial getting busted. I actually dropped it on the floor when I was taking it off, and it landed face-down on the floor (linoleum) without a scratch on the glass.
Regarding features, the SNE098 has a nice solar-powered feature and charges fairly well. The watch automatically resets to the correct time, and has a quartz-based movement set-up. I can't really complain about any of the features except for the red font on the date window that I can't get over. I did notice the crown took some getting used to adjusting because of the raised edges on the bezel next to it, but this is a good feature to make sure you don't accidentally tweak the time. I'm sort of sad that the watch doesn't feature a chronograph; I think it would look perfect on a design like this.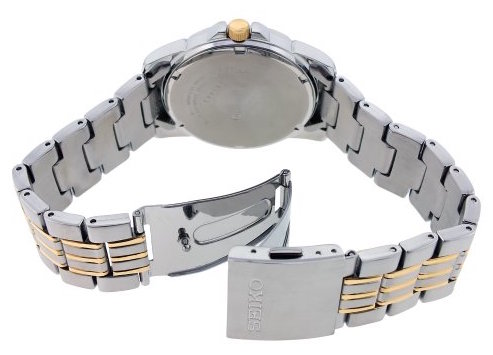 Overall Vibe
The Seiko men's SNE098 solar analog watch is a solid dress watch for the price. It's overtly silver tone with gold accents make it look pretty fancy, though I do wish the body were a bit smaller and less "in your face" sometimes. At the end of the day, it looks great and keeps time, which is all I can really ask for. Its simple design make it easy to use, but it's obviously sturdy and well-built. If you're looking for a watch in the $100—$150 price range, keep the SNE098 on your radar.
> > > Click here to see ratings, reviews, specifications and prices on Amazon < < <