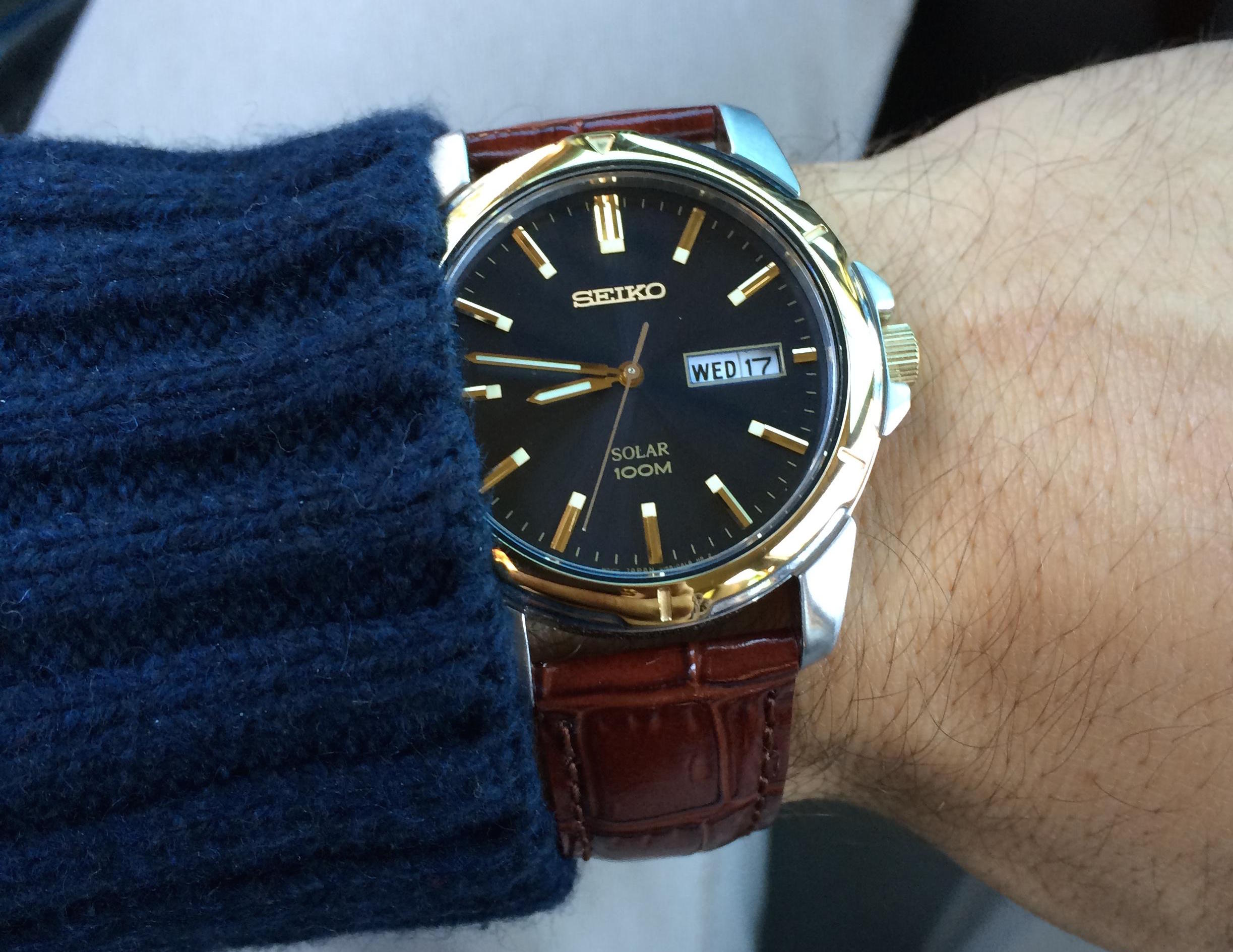 According to Seiko's 2004 ad campaign, instead of your shoes, car, or music, "It's your watch that tells most about who you are." In that case, what can we tell about the owner of the Seiko SNE102 Solar?  With a stylish design mostly devoid of technical or modern styling cues, I picture a rather distinguished gentleman who has achieved some level of success in his life. This is not a collector's watch, really, it's more for someone who wants a watch that will be presentable and reliable, but not too flashy.
A classic, handsome, no-nonsense piece that isn't pretending to be a $5,000 watch, this Seiko is still plenty refined for any occasion you may encounter. With no sporting pretensions, this watch is mainly intended for business and dress attire. Let's dig in and find out a little more about the SNE102.
> > > Click here to see ratings, reviews, specifications and prices on Amazon < < <
Dial
The SNE102's blue dial is so dark that it can appear black from certain angles, depending on the light. The handsome tint of the blue almost has a gray quality to it and really makes the watch stand out from your run-of-the-mill dress watch.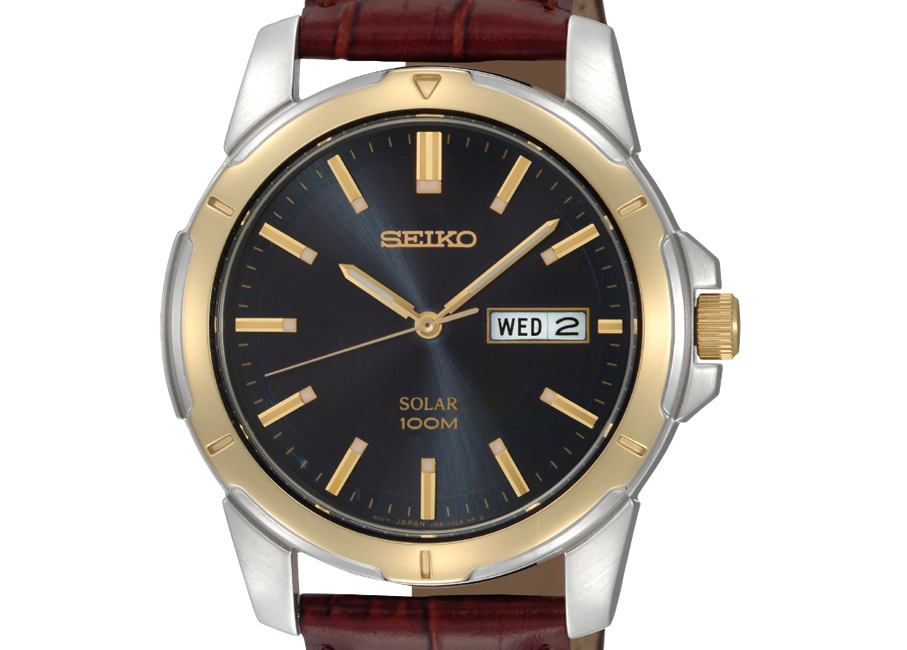 Featuring gold baton markers, this dial oozes class and sophistication. Day and date are displayed with black font on a white background at the 3 o'clock position, making them really stands out against the dark dial.
Case
The round silver finished stainless-steel case is notable for its contrast with the gold finish on the stainless steel bezel. This combination of finishes ensures that your timepiece will match your wedding ring or other jewelry, no matter what kind you wear. Continuing the two-tone theme, the gold screw-down crown is protected by silver crown guards. Seiko did a really great job on the finish of this case,it really does go above and beyond most other brands in this price range.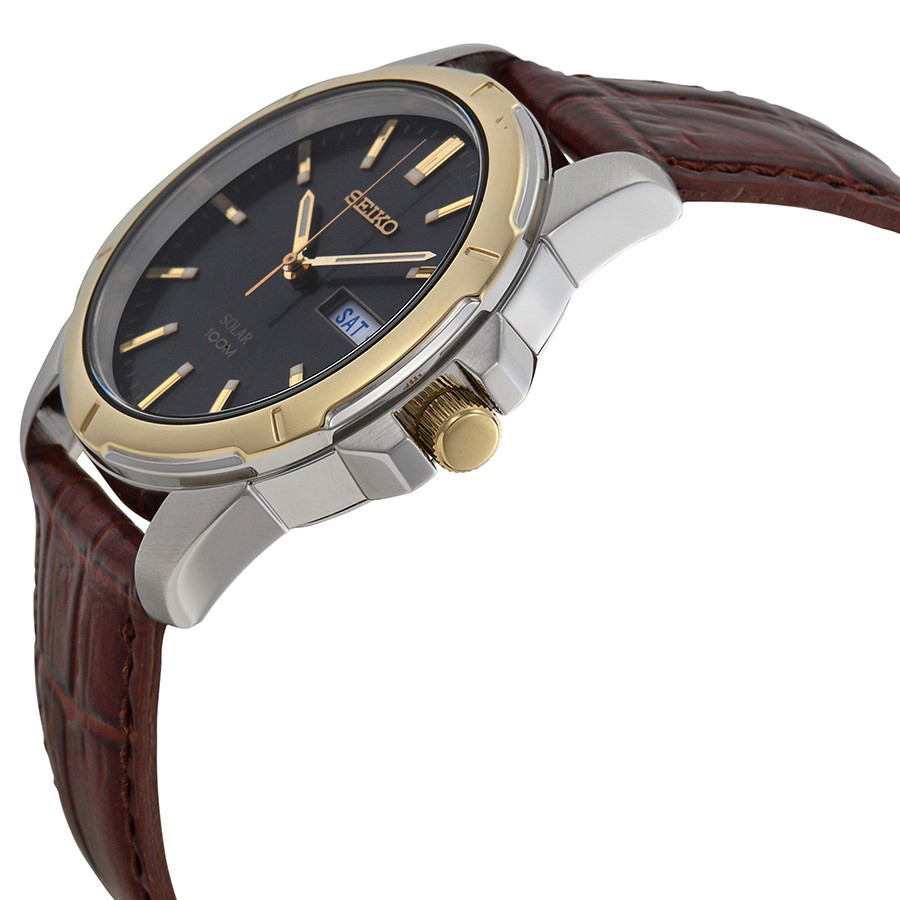 > > > Click here to see ratings, reviews, specifications and prices on Amazon < < <
The lugs extend a significant amount beyond the case, another feature that adds a little pizzazz to the design. Not surprisingly, at 39 millimeters, this case is neither ostentatiously large nor too small, and should prove to be a decent size to compliment most wrists. The thin gold hour and minute hands are luminous, as is the base of the numerals, so no need to fret when the lights go out  (although you will have to make do without a luminous second hand).
Band
The 19-millimeter wide calfskin leather band is embossed with a crocodile skin pattern. Animal skin patterns might not be as common on watch bands as they were a couple of decades ago, but plenty of people still prefer the added detail over a more standard leather band.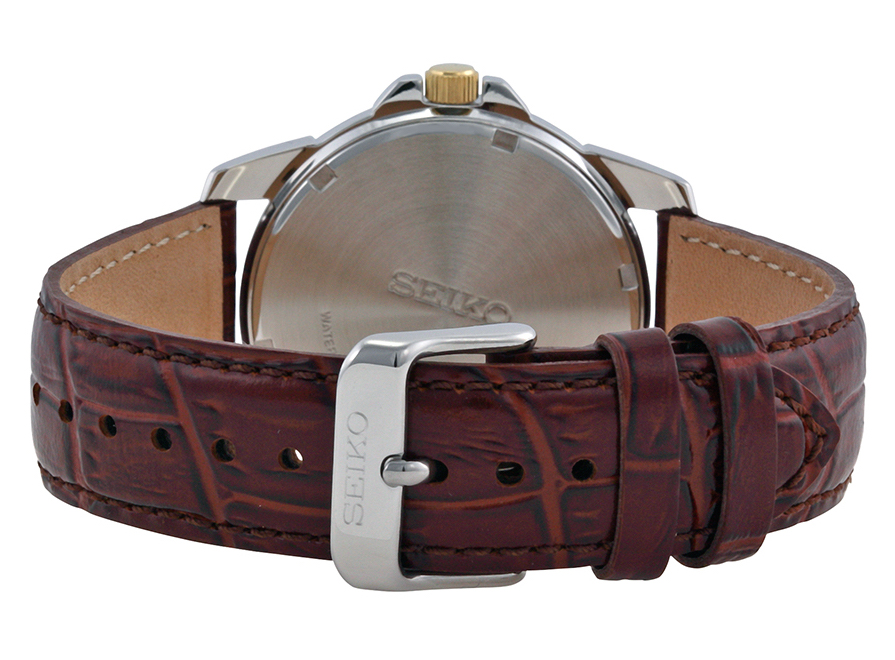 I find that the band compliments the overall style of this watch well, and I especially like the grouping of the dark blue dial with the brown leather.
SNE102 Movement & Function
The SNE102 uses a Japanese quartz movement that I have no doubt will prove to be extremely reliable. It comes down to personal preference as to whether you go with an automatic or quartz watch, as there are many fine automatic watches to be had at this price point. Whereas automatic watches are treasured for their mechanical quality, those who prefer quartz appreciate not having the hassle of worrying about keeping the watch wound.
As the name implies, the Seiko SNE102 is solar powered, but it also gains a charge from any type of light that hits the dial. Seiko claims an up to 10-month power reserve, which should allay any fears of running out of juice while you are not wearing it.
The dial crystal is comprised of Seiko's proprietary Hardlex material, which, compared to sapphire, is more impact resistant at the expense of scratching more easily. While it's certainly not a dive watch, the SNE102 is rated as water resistant to 100 meters, so no need to take it off for swimming and snorkelling.
Final Thoughts
Overall, the Seiko SNE102 represents a very solid choice for a dress watch. What it lacks in glitz, it makes up for with an ageless appeal. While I find the design a little too conservative for my personal tastes (I tend to favor more modern or technical watches), it is something I would certainly appreciate on someone else's wrist. With Seiko's reputation for reliability backed by a 3-year warranty, you needn't worry about any issues cropping up after your purchase. Coming in at a very reasonable MSRP in the $200 range, you don't have to spend a lot to look like a million bucks. So, if you are seeking a watch that embodies timeless elegance without too many complications, add this one to your list.
> > > Click here to see ratings, reviews, specifications and prices on Amazon < < <