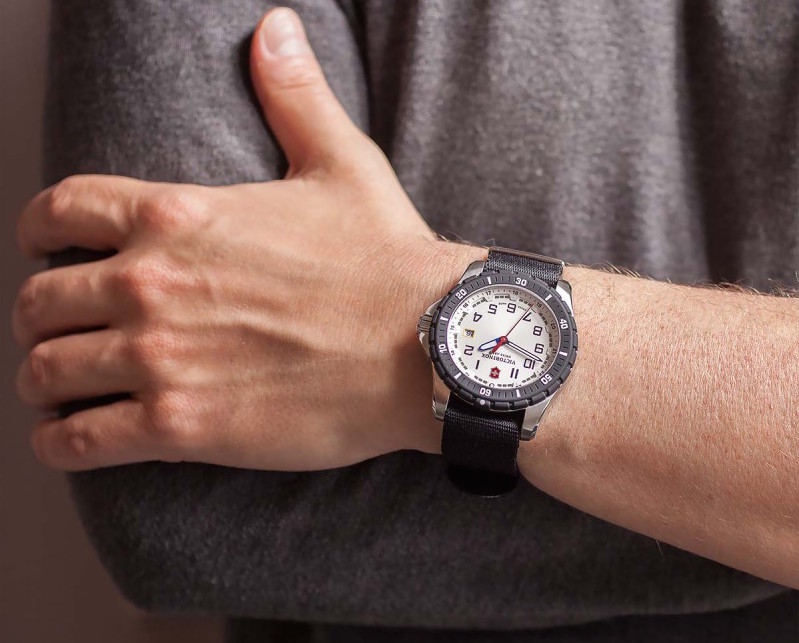 It's difficult to say which product the Swiss company Victorinox is more famous for: its knives—yes, the renowned Swiss Army knives—or its watches. Of course, with apologies to the proud tradition of Swiss Army knives, we're more interested the Victorinox contribution to horology. That said, let's take a look at the Victorinox Maverick 241677 quartz powered watch.
> > > Click here to see ratings, reviews, specifications and prices on Amazon < < <
A more expensive Wenger?
Victorinox and Wenger, both Swiss companies, have a long history of competition (Wenger makes knives, too). Their products are comparable in appearance, with similar styling and even the same equilateral cross emblazoned on their watch faces. Some detractors go so far as to write off Victorinox watches as Wengers with higher price tags. Whether or not that's a valid criticism is debatable, especially since Victorinox acquired Wenger in 2005. We'll let the Victorinox craftsmanship speak for itself, and you can decide whether the 241677 is a watch worth owning.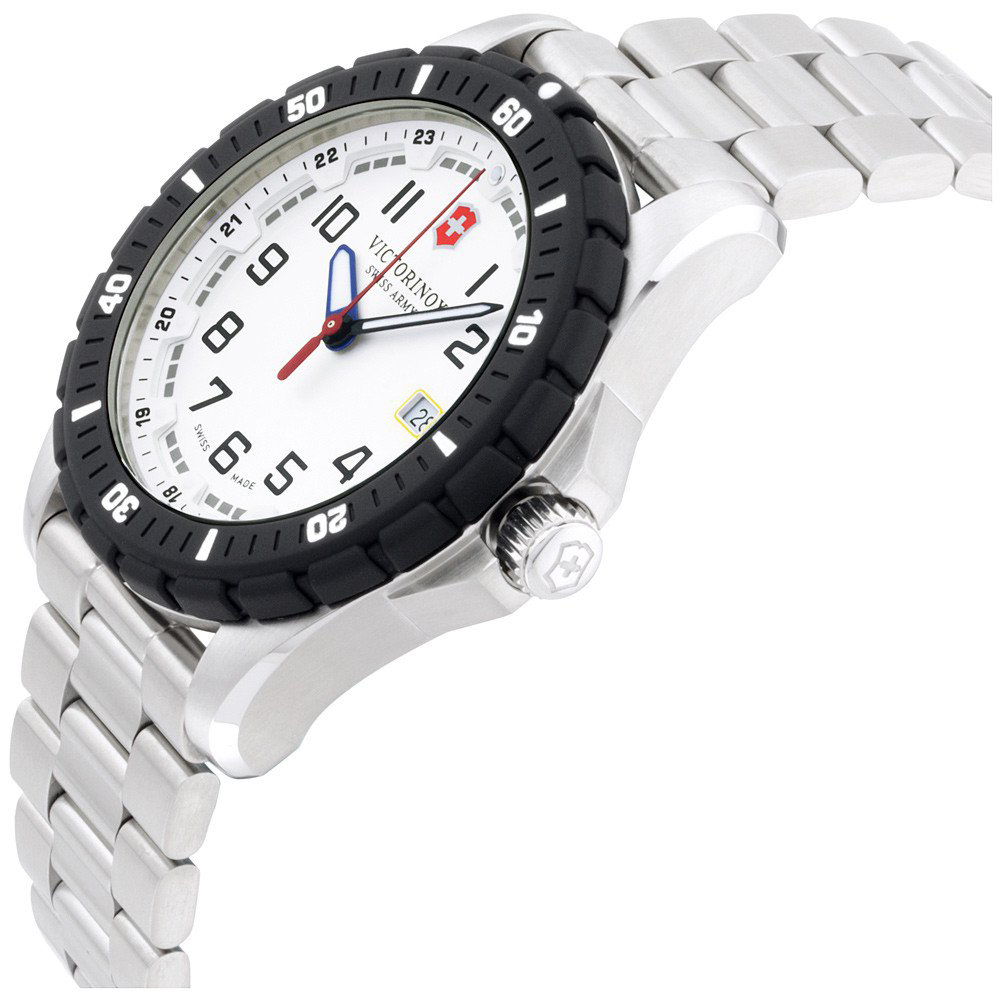 Build
The Maverick 241677 has a round body enclosed in a surgical-grade stainless steel case. It's 43 mm wide and a modest 11.4 mm thick. The widely-spaced lugs accommodate a 22 mm silver-tone bracelet. The dial window is flat, anti-reflective sapphire crystal.
The watch has no special water resistance—without a screw-down crown or screw-in caseback, it's only water resistant to 100 meters, but we don't recommend putting that to the test. It has a unidirectional bezel like a dive watch, but a dive watch this is not.
Maverick 241677 Styling
One feature that's a little disappointing is the bezel, which is made of plastic instead of stainless steel. It's not clear why Victorinox went with this material. You may think this would cheapen the watch, but you might be surprised. The bezel moves with a solid, satisfying clicking action, and at least visually, it meshes with the aesthetics of the rest of the watch. Set against the cog-style chapter ring of the dial, the studded, tread-like bezel has an almost automotive feel. In short, it looks rather like a rubber tire.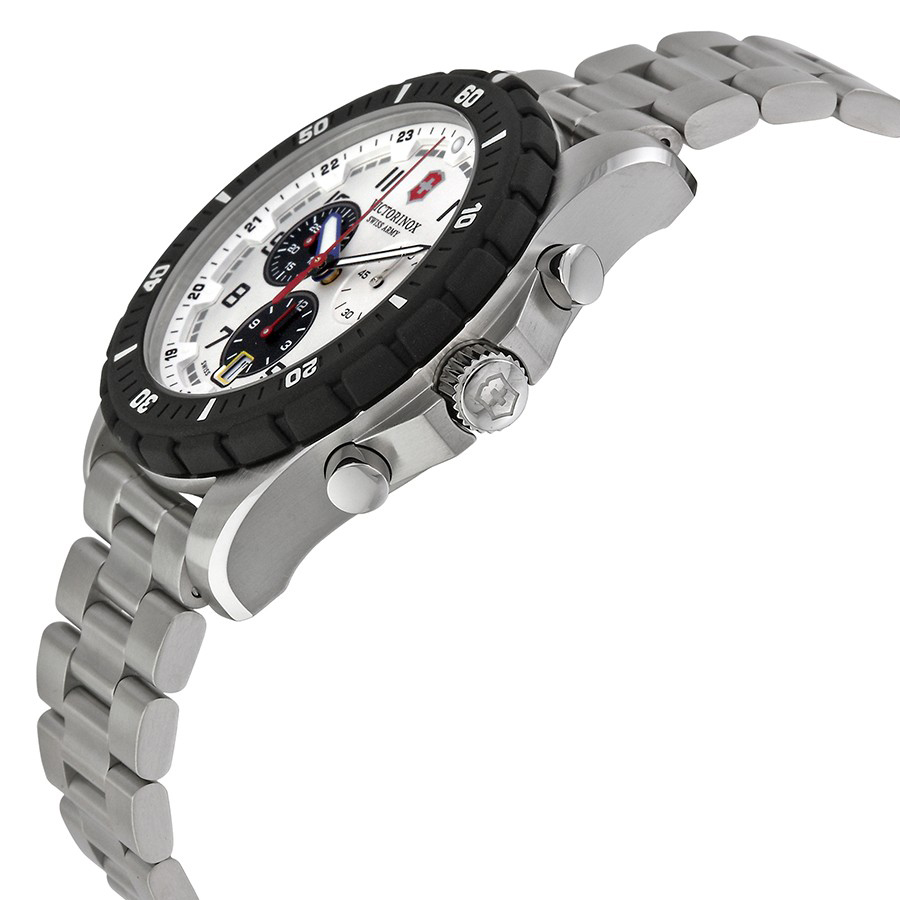 > > > Click here to see ratings, reviews, specifications and prices on Amazon < < <
As a whole, the watch is a study in visual contrasts. The bezel inscriptions are white on black, while the dial is the reverse—black on white. The crisp, angular font used on the Arabic numerals is a good choice for this modern-looking watch. Although the numbers are applied, they're a bit flat-looking. Given the unapologetic bulk of the bezel, a little more heft in these applied numerals would have given the otherwise flat watch face some much-needed depth.
Dial
Primary colors are used across the dial, from the blue of the hour hand to the red of the second hand to the slight yellow frame around the recessed date window at three o' clock. The Victorinox shield logo is proudly displayed at the twelve o' clock position.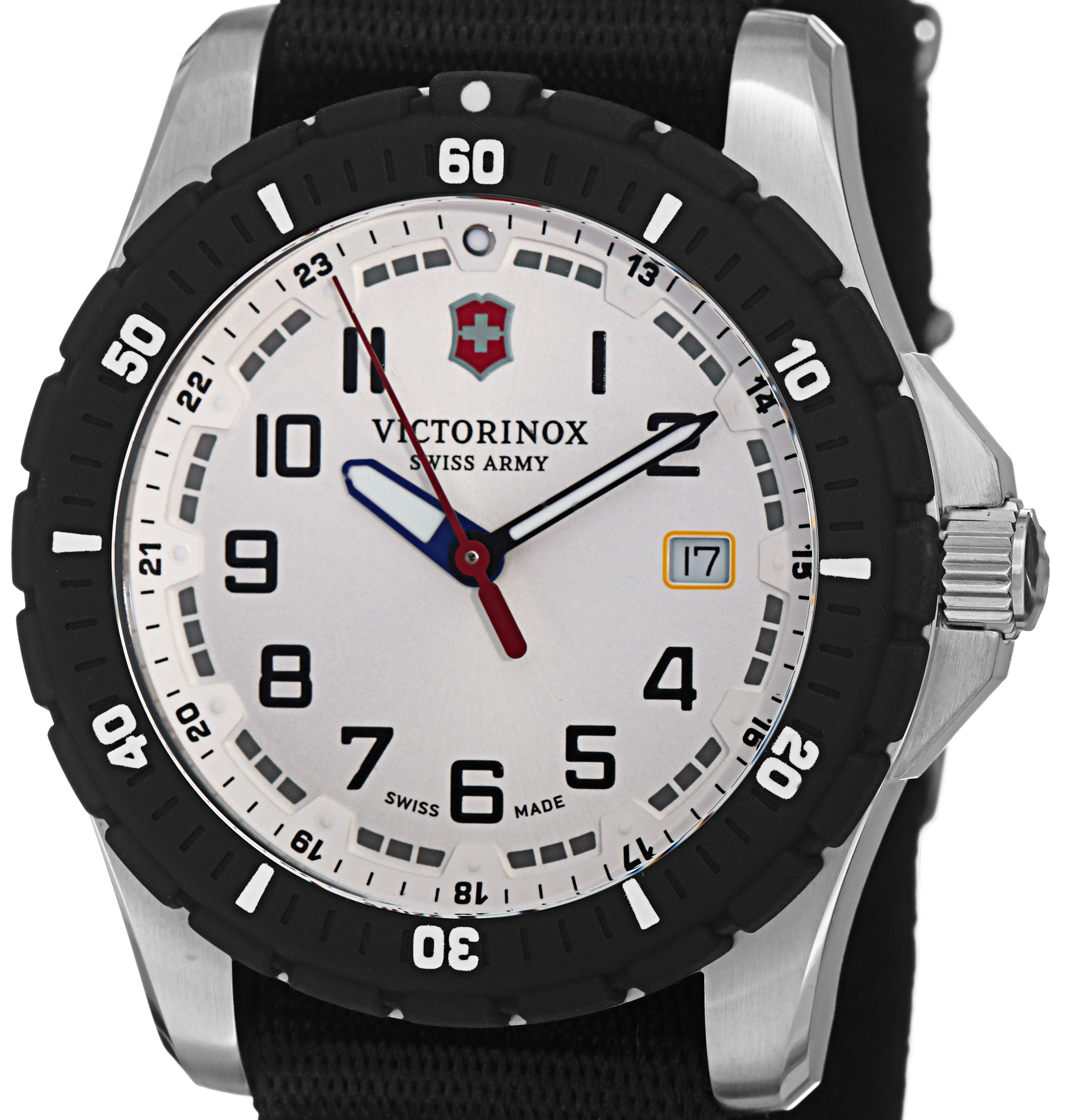 The minute and hour hands are tapered and easy to read, and they align perfectly with the indices. Both hands are lumed, but unfortunately the glow is relatively faint. It's by no means a deal-breaker; just don't rely on the lume to light your way in a darkened room or you may bruise your shins.
The outermost chapter ring is applied stainless steel and shaped like a gear, with a protruding "tooth" at each hour marker. This chapter ring displays the twenty-four-hour time and has individual hash marks for tracking minutes and seconds.
Band
The 22 mm stainless steel band lends a slightly more upscale look to what is otherwise a sporty, casual watch. It's silky-smooth gives the watch a comfortable wrist presence. If you're looking for something a little more laid-back, the watch still looks great in a plain black nylon strap.
Movement
It should come as no surprise that the thoroughly Swiss Victorinox Maverick 241677 uses a Swiss-made quartz movement. Specifically, you'll find a Ronda caliber at the core of this watch, and Ronda is one of the largest and most reliable manufacturers of watch movements in the world. While the movement in the 241677 is not considered ultra high-end, it's still an extremely accurate timekeeper, especially for the price point.
Victorinox quality
The 241677 is a nice entry-level option for beginning collectors who are looking for a quality Swiss timepiece that won't cost a fortune. Of course, Swiss watches can easily run into the thousands of dollars, but Victorinox always seems to be a decent middle ground where quality meets affordability. So if you're a novice collector or just looking to add an everyday Swiss watch to an existing collection, you could do worse than the Maverick 241677.
At an extremely modest price, this watch offers a casual, sporty look coupled with the craftsmanship and reliability of a Swiss-made Ronda quartz movement. It's not a formal watch by any means, but neither is it something you'll want to treat as a "beater" watch. With its durability and bright, unassuming looks, it just might be the piece you're looking for to add to your everyday rotation.
> > > Click here to see ratings, reviews, specifications and prices on Amazon < < <